Trouble in Shangrila
Another Tourism Day passes while we continue to struggle with a litany of problems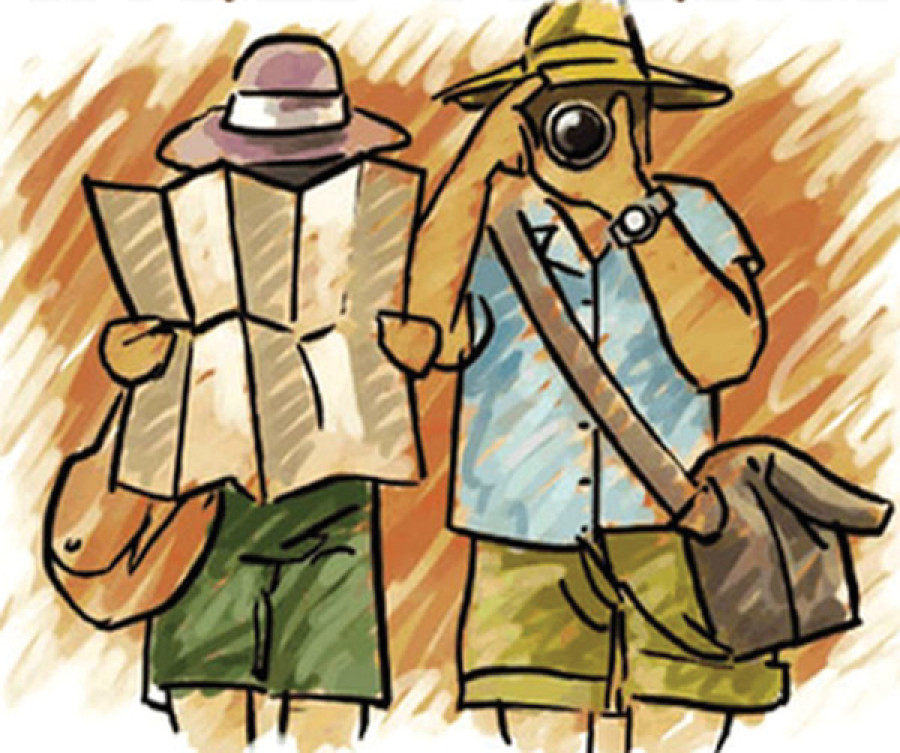 bookmark
Published at : September 30, 2016
Updated at : September 30, 2016 18:32
World Tourism Day has been celebrated annually on September 27 with the aim of enhancing awareness and education about tourism among UN member countries. This year's theme—Accessible Tourism—has great significance for Nepal as there is so much to be done to make Nepal tourism accessible to the communities that have been left behind in the country's march towards development. Nepal has been marking the special day for decades, but there has not been any significant improvement in its tourism industry. In fact, Nepal tourism has been deteriorating in terms of economic value, ethical value, trust and reliability, environmental sustainability and safety and security.
The Nepal government has identified tourism as a priority industry, but practice has not followed policy. We are just beginning to work on the six global measures that the UN World Tourism Organisation has put forward as being vital to achieve its Tourism Vision 2022—environment, employee, customer, community, infrastructure and business values. In 2012, the government of Nepal declared Tourism Vision 2020 which envisages welcoming 2 million tourists annually by then. Today, the country is struggling to cross the 700,000 mark even by including frugal backpackers and penniless sadhus. Nepal needs to resolve a litany of problems before it can even think about achieving this grandiose goal.
Existing hurdles
Frequent political instability, strikes, blockades and fuel crises have severely affected the peace, safety and security situation of the country, eventually creating threats to tourists. Peace and stability are very important for consistent growth in tourist arrivals as safety is always at the top of their list. The policy of the Nepal government is not consistent and clear to overcome these threats. Tourism industry must be declared a zone of peace and translated into action as well.
Harmful regulations and weak monitoring is another problem facing the tourism sector in the country. Many government regulations at different levels and domains of tourism operations are not industry friendly. Both tourists and businesses have been facing many obstacles. The many different permit systems for tourists are very time consuming and tedious. They have to pass through multiple doors and pay multiple charges. On the other hand, the government has not been able to implement proper monitoring and regulation measures in the tourism market, which has encouraged unhealthy competition and unethical business practices. This has eventually degraded trust and reliability. There are around 1,000 travel agencies and about 2,000 trekking agencies in Nepal. Each company has its own practice regarding prices of products and service quality. Unhealthy competition and unsustainable profit-making activities have been turning away potential tourists, and Nepal is slowly being left out from their priority destinations.
Safety and security are the top priority of any tourist, but the Nepal government has no such policy commitment and strategic action plan to ensure adequate safety and security. Nepal is prone to many forms of natural disasters like floods, landslides, avalanches and earthquakes. Adventure tourism always bears some sort of risk factors.
In this situation, we must have a high level of disaster preparedness to minimise loss of lives. We still lack highly skilled and well equipped national level coordinated bodies for immediate response to such disasters. Such bodies must be on stand-by in every tourist region. Also, the number of security posts must be extended to uninhabited places and jungle areas to prevent looting, kidnapping and killing of tourists.
Many shortcomings
Tourism is a service industry which needs an adequate number of employees who are well equipped with professional knowledge, skills and ethical values. As Nepal's tourism industry is mostly seasonal, tourism and the hospitality industry cannot provide year-round jobs to many employees. The government has no policy to address the problems of such seasonal employees. Eventually, most experienced and skilled employees switch to other professions and many go for foreign employment. New and inexperienced employees with insufficient professional knowledge and skills frequently create problems and dissatisfaction, thus producing a negative impact on the tourist market.
One of the major problems that have marred the development of Nepal's tourism industry is lack of basic infrastructure. The national flag carrier has almost no access to international tourist markets. Flight safety issues in Nepal are always listed in the high risk zone by international authorities. Road transport to a majority of tourist destinations is very poor, unsafe and insufficient.
Major city roads are filled with dust and smoke. The accommodation capacity of Nepal's hotels is not sufficient even for half a million tourists in a single season. Transport syndicates and plate category issues of motor vehicles have made life hard for tourists. Destination communities have not been provided adequate technical and financial support to develop community and home stay tourism. Power shortages have always been the reason behind many problems relating to service quality and accommodation facilities. However, we have no option but to make a joint commitment and move forward by overcoming all these shortcomings.
Pant is the president of Tourism Care Nepal and a former CEO of the Trekking Agencies' Association of Nepal
---
---