More out of love than reverence
Seven to 10 cases of calves being killed by stray dogs are reported daily from different parts of Kathmandu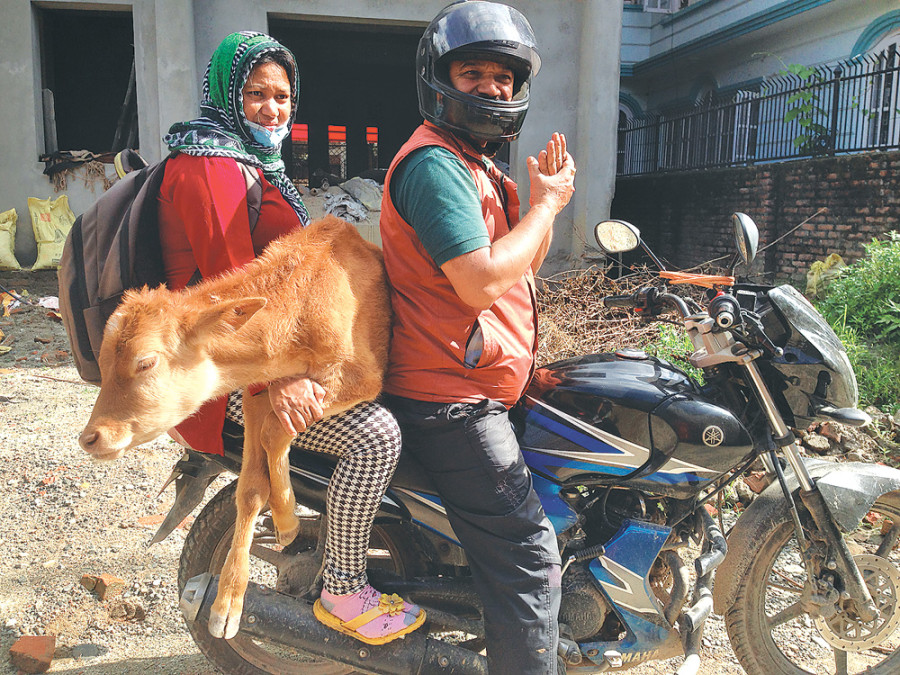 bookmark
Published at : June 26, 2016
Updated at : June 26, 2016 08:17
As the car's brakes screeched it to a halt, the calf trying to cross the road was flung a few meters away by the impact. Passersby gathered to help pick and move it towards the green belt just off the Ring Road that winter night. Everyone left as there was no blood upon inspection by flashlights. I went back looking for the calf the next morning but could not find him. Instead, there were many other calves on the green belt.
For weeks after that incident, I could not get that image out of my mind. I experienced a repeat of that horror this week. In the wee hours, I was awakened by the sound of a helpless bleat. At first, I thought it must be a goat some neighbour had purchased. But the bleating got louder and louder, coupled with gnarling dog sounds. I looked out the window and, to my horror, a calf was being attacked by a pack of dogs.
I jumped out of bed and raced outdoors, with my brother following me. The half dozen dogs clinging to the calf fled as we arrived. The calf had injuries caused by dog bites all over its body, and his already wide eyes appeared even wider with trauma.
A fellow journalist, Pushpa Dhungana, helped me get in touch with RS Neupane, alias Gopal, who runs a shelter for abandoned calves. Neupane arrived on a motorbike with his colleague Binita and the two immediately began inspecting the calf's wounds, offering it bananas. In the absence of resources, Neupane has been using his two-wheeler to pick stranded quadrupeds. We helped haul the animal on to Binita's lap and watched them leave, the bike staggering under the weight.
'Unwanted' calves
The calf has now become a member of a herd of 156 abandoned bovines being taken care of by Neupane in Pashupati's Bankali area. The shelter was registered officially as 'Maath-Mandir Gai Bachha Bachau Tatha Samaj Bikas Abhiyan' two years ago. Neupane, a former small-time businessman, began by feeding stray bovines and paying for their treatment a decade ago. When he realised that more and more quadrupeds were being left on the streets, he got a loan and set up a space that would shelter abandoned cows and calves. Two years ago, the Pashupati Area Development Trust allocated eight ropanis of land to the initiative. The centre has two big sheds, a treatment room and five caretakers now. But the number of cattle at the centre continues to swell. It has become a challenge for the shelter to find resources to buy feed and pay for treatment of the injured.
Male calves, especially the hybrid ones without a hump required to carry a plough, are abandoned before they can consume their mother's milk, a source of income for the farmers. Old, sick or non-lactating cows are also left on the streets to die. Some days, the centre gets so many distress calls, it becomes hard to respond. Some farmers bring 'sifaris from the nagarpalika', recommending that their 'unwanted' calves be taken in. It does not make things any easier for Neupane, who is already struggling with finances. He tells me that calves and dogs left by owners on the streets of Kathmandu are a huge social problem. He explains how it works in a vicious cycle. Dogs left on the streets are mostly hungry and searching for food. When they see an unfamiliar being, like quadrupeds, they gang-up and attack. Sometimes, they also eat them up.
Seven to 10 cases of street dogs killing calves are reported from different districts of Kathmandu every day. Most cases are reported from Gokarna, and Sallghari and Saraswatikhel in Bhaktapur. Incidents of hot water or kerosene being thrown on cattle for grazing crops have also been reported.
Beefy issue
According to the Kathmandu Metropolitan office, there are around 2,000 stray cattle, with 430 of them captured and auctioned off this year. There were reports in the local media saying that those not sold were left in the jungles. The government has just announced stringent action against anyone who abandons their cattle. Yet the details of the punishment remain unclear. Strict laws need to be enforced, and the plan to register adoption of animals should be followed thoroughly by the government. While sterilisation of dogs should be practiced better, the government should also set aside land for abandoned cattle and perhaps set up bio-energy plants run by dung. Regulating dairy farms and managing sex specific insemination—already introduced in some places in Nepal—can help reduce the number of male births.
It is not uncommon to see pedestrians touching a cow or a bull and motioning it to their foreheads, a sign of reverence. Ironically, Neupane says most cases of the calves being abandoned are reported from Hindu families and feels that it is in stark contrast to what the religion prescribes. The fact that Nepal is a largely Hindu country always figures in the argument about the protection of bovines. There has been much debate over whether the cow should still be the national animal in a secular Nepal. The law imposes two-year imprisonment and Rs20,000 in fine for cow slaughter, even though one might not subscribe to any religion. However, leaving an animal on the streets to die is tantamount to slaughter. The challenge is not to argue for the protection a breed only for the sake of the religious motif we have tied them to, but to ensure they, and any other animal, are treated well.
Tuladhar is a journalist
---
---