Scores dead as 6.4M earthquake jolts west Nepal
Over 250 casualties have been confirmed in the quake that occurred late on Friday. Prime Minister Dahal directs for immediate rescue and relief.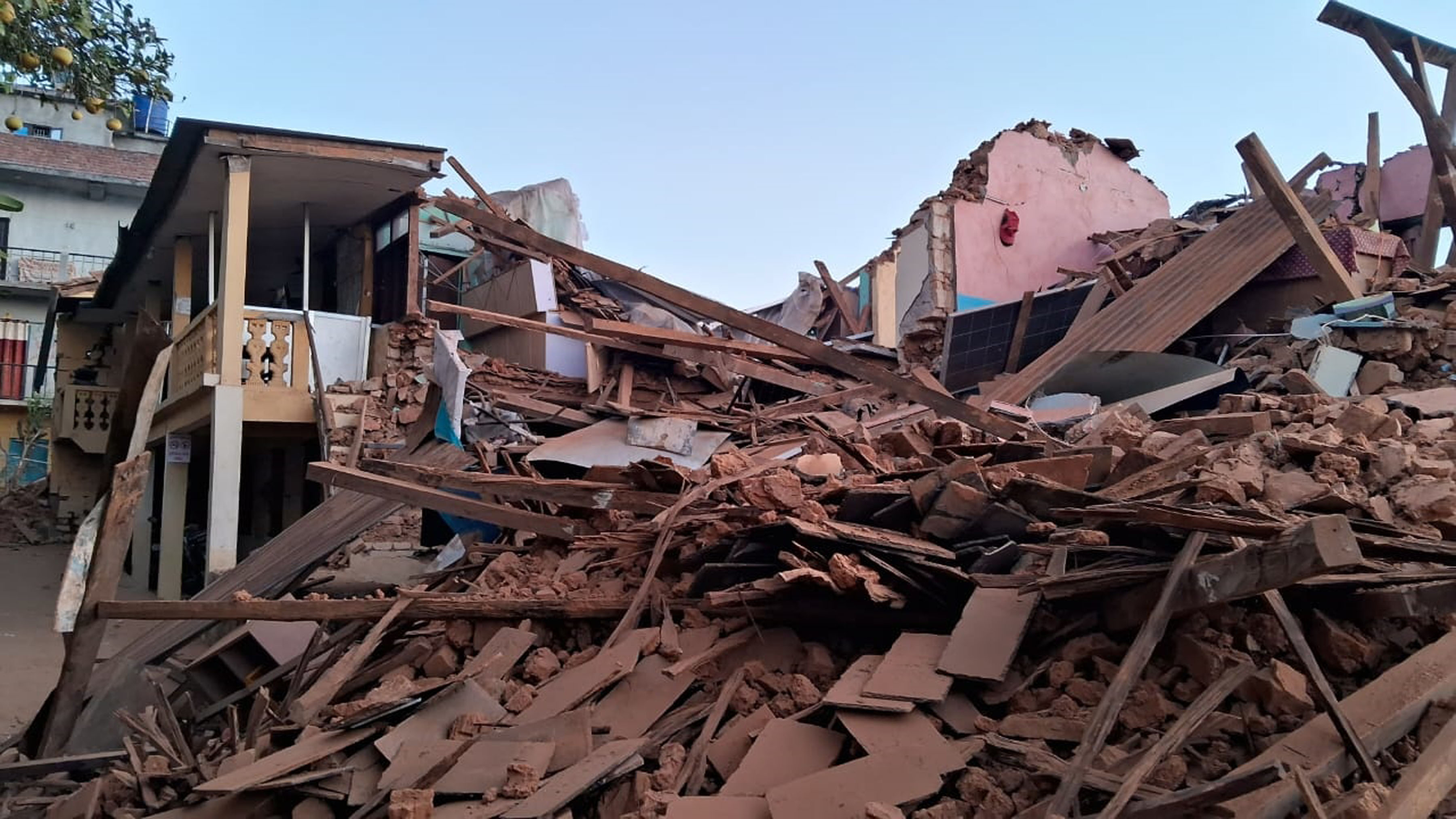 RSS
Published at : November 4, 2023
Updated at : November 4, 2023 12:17
As many as 136 people have been reported dead, and 141 injured, after a 6.4 magnitude earthquake jolted west Nepal late on Friday.
According to the National Earthquake Monitoring and Research Centre, the earthquake with an epicentre in Jajarkot district was recorded at 11:47pm.
As per reports, Jajarkot and West Rukum have dealt the most damage, with 98 deaths in Jajarkot alone, said Deputy Superintendent of Police of Jajarkot district Santosh Roka. Among the dead also includes Deputy Mayor of Nalgad Municipality Sarita Singh, Roka added.
According to the Karnali Province Police, 114 casualties—44 dead, 70 injured—have been recorded in the district's Ramidanda of the Barekot Rural Municipality.
More than 55 people have sustained injuries in Jajarkot. Of them, 22 have been referred to Surkhet for further treatment while the rest are being treated in the district itself.
Similarly, the death toll in West Rukum has reached 38, preliminary data shows, said Deputy Superintendent of Police of West Rukum district Namaraj Bhattarai. Twenty seven people were reported dead in Aathbiskot Municipality, and eight more in Sanibheri Rural Municipality.
Seven among the 85 injured in West Rukum have been taken to Surkhet for treatment while 10 more have been taken to Nepalgunj. Other injured have been admitted to the district hospital.
The earthquake has severely hit Bheri, Nalgad, Kushe, Barekot and Chedagad in Jajarkot district. All the security forces in the district have been mobilised in the search and rescue work, said Chief District Officer Suresh Sunar.
Security forces from all three levels are coordinately carrying out the search and rescue operations. Three helicopters and a sky truck of the Nepal Army carrying security and medical personnel were deployed to various earthquake affected areas earlier in the day.
Previously on October 22, a 6.1 magnitude earthquake had rattled Kathmandu Valley and adjoining districts at 7:39am. There are no reports of damage or casualty.
Earthquakes are common in Nepal which is situated on the ridge where the Tibetan and Indian tectonic plates meet and advance two meters closer to one another every century which results in pressure which is released in the form of earthquakes. A 7.8 magnitude earthquake and subsequent aftershocks killed around 9,000 people in 2015.
As the government's post-disaster needs assessment (PDNA) report noted, Nepal is the 11th most earthquake-prone country in the world.
Prime Minister Dahal directs security bodies for immediate rescue and relief
Prime Minister Pushpa Kamal Dahal has directed all three security agencies to engage in rescue and relief operations immediately and expressed grief over the disaster.
"Prime Minister Pushpa Kamal Dahal has expressed his deep sorrow over the loss of lives and property in the earthquake on Friday night and has mobilised all the three security bodies for the immediate rescue and relief," reads a post from the prime minister's office on X.
Indian Prime Minister Narendra Modi also expressed his grief over the loss of lives and damage caused due to the disaster.
"Deeply saddened by loss of lives and damage due to the earthquake in Nepal. India stands in solidarity with the people of Nepal and is ready to extend all possible assistance," Modi wrote on X. "Our thoughts are with the bereaved families and we wish the injured a quick recovery."
---