Exploitation fears as more contractors become lawmakers
Stakeholders say contractor-turned lawmakers could misuse their influence to skew laws and policies in their favour.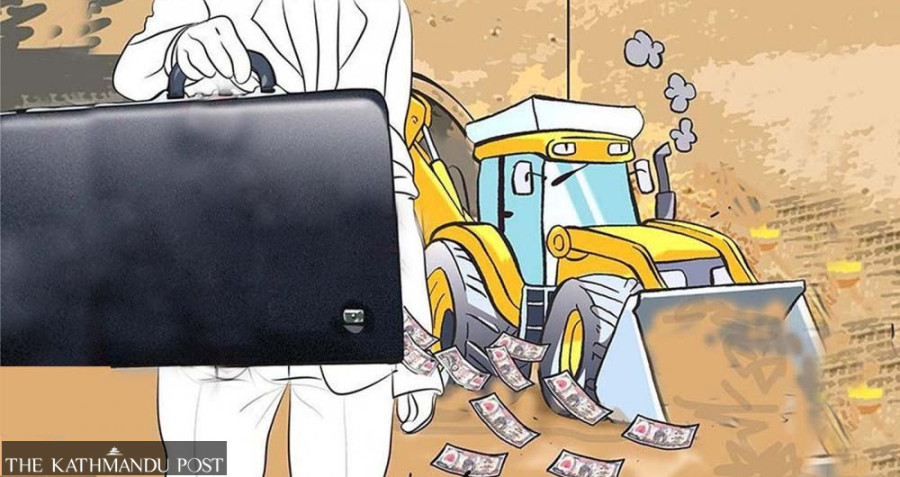 Post Illustration
bookmark
Published at : November 28, 2022
Updated at : November 28, 2022 09:09
Kathmandu
As more contractors have been elected to parliament and provincial assemblies through last week's elections, stakeholders have raised concerns about its potential adverse effects. They fear that the contractors could skew laws and policies in their favour.
At least half a dozen contractors have been elected to the House of Representatives under the first-past-the-post (FPTP) electoral system, according to the Federation of Contractors' Association of Nepal (FCAN), the umbrella organisation of contractors. Likewise, another dozen have been elected to various provincial assemblies, the umbrella body said.
The country held federal and provincial elections on November 20 and almost all results are already in.
"There will be more lawmakers representing contractors in both the federal parliament and provincial assemblies," said Rabi Singh, president of the FCAN. "This time, a significant number of contractors have been elected directly by the people unlike in the elections five years ago. And more contractors could be elected under the proportional representation system as well."
Some of the big names elected to the federal parliament include Bikram Pandey, owner of Kalika Construction Private Limited and a former minister; Mohan Acharya, owner of Rasuwa Construction and former lawmakwer; and Purna Bahadur Tamang, owner of Kanchharam Construction Company Ltd.
In 2017, Pandey, who contested the elections on a Rastriya Prajatantra Party ticket from Chitwan-3, was defeated by CPN (Maoist Centre) chair Pushpa Kamal Dahal. But this time, Pandey defeated Maoist Centre's candidate Bhojraj Adhikari in the same constituency. Likewise, Acharya won from Rasuwa on a Nepali Congress ticket.
Similarly, contractor and former minister Krishna Kumar Shrestha (Kisan) won the lower house seat from Bara-4 on a CPN (Unified Socialist) ticket. Also in 2017, Shrestha had won from Tanahun-1 by defeating Congress leader Ram Chandra Poudel.
Likewise, Dhan Bahadur Budha Magar, another contractor, has been elected to the lower house from Dolpa on a CPN (Unified Socialist) ticket.
And in the provincial assembly elections, some notable figures who got elected include Bahadur Singh Lama, owner of Himdung and Thokar Pvt Ltd and former federal lawmaker; and Indra Bahadur Baniya of Baniya Nirman Sewa.
Lama won from Nuwakot 2 (B) and Baniya from Makawanpur 2(B).
"The main reason for more contractors winning the elections is the good works they have done in their constituencies and campaign spending also has some role," said Singh. "Contractors are not the people who have huge amounts of money, but they are not afraid to spend when needed."
Their election comes amid an ongoing debate over growing election spending and elections getting costlier and unaffordable for many candidates.
During the 2017 elections, average spending by a first-past-the-post candidate for the House of Representatives was Rs10.1 million and it was Rs8.1 million for provincial assembly candidates, according to a study by the Election Observation Committee, Nepal (EOC-Nepal), a poll observer body.
EOC-Nepal studied campaign finance in this year's elections also.
"In the local elections last May, mayoral candidates in metropolitan cities spent up to Rs100 million in campaigning while the average spending by such candidates was around Rs30-40 million," Binod Sijapati, an economist who has been coordinating a study on campaign finance for the EOC-Nepal, told the Post last month. "This suggests federal and provincial elections are increasingly getting out of common people's reach."
According to Sijapati, the trend of businessmen and contractors contesting elections is growing. Earlier they used to finance political parties' elections campaigns. "They believe they can better protect their interest by joining lawmaking bodies instead of staying outside," Sijapati had told the Post.
Also, contractors have easy access to finance. After winning a contract, they are paid a certain amount in advance to start the project and they can use such money to finance their campaign.
"I heard a contractor, who has just been elected to the House of Representatives, had received Rs50 million in advance from a government entity to start a road project," said Ramesh Sharma, chairperson of Sharma and Company, a contractor firm.
Sharma concurs that there is a possibility of the contractor lawmakers misusing their positions to influence laws and policies.
"There is the risk of conflict of interest," said Sharma. "If a lawmaker who owns a contractor firm uses his influence to land lucrative government contracts for his own firm, this will be wrong."
Also, if a firm owned by a contractor who is also a lawmaker or minister fails to complete projects on time then officials may not dare to take action against such a firm. "But if they act in good faith, it will help in good governance," said Sharma.
When a number of contractors were nominated to the Development and Technology Committee of the erstwhile House of Representatives in 2018, a number of lawmakers openly opposed their participation.
Contractor lawmakers Jip Chhiring Lama, Bahadur Singh Lama and Hari Narayan Rauniyar were among the members of the parliamentary committee responsible for monitoring development projects.
A few years ago, lawmakers representing certain businesses were accused of attempting to influence lawmaking.
For example, in 2016, a bill on the Banks and Financial Institutions Act was registered in Parliament with a provision that barred those occupying constitutional posts from becoming board members of banks and financial institutions. But a group of then lawmakers—Ichchha Raj Tamang, Bhisma Nath Adhikari, Prem Bahadur Ale, Ganesh Kumar Pahadi, Umesh Shrestha, Baburam Pokharel and Yagya Raj Sunuwar, all of whom represented various businesses—registered an amendment proposal demanding that only chiefs and members of constitutional bodies be barred from holding positions in the boards of banks and financial institutions.
Also, some lawmakers, who owned private schools, had in 2016 thwarted a government plan to convert all private schools into trusts through an amendment to the Education Act.
Rajendra Raj Sharma, a retired joint secretary at the Ministry of Physical Infrastructure, said contractors' influence was pronounced in the frequent amendments to the public procurement regulations in the last few years.
The regulations were changed twice in an interval of just three months this year as the government made the 12th amendment to the public procurement regulation in July this year to give domestic firms an edge over foreign firms in construction projects. The amendment barred foreign firms from bidding for construction works valued below Rs5 billion.
Stakeholders say the new provision stifles competition resulting in compromise in the quality of work.
Contractors elected to the House of Representatives
ContractorConstituency
Bikram PandeyChitwan-3
Purna Bahadur TamangRamechhap
Mohan AcharyaRasuwa
Raju Thapa Syangja-1
Dhan Bahadur BudhaDolpa
Krishna Kumar ShresthaBara-4
Dikpal Kumar SahiDailekh-2
Ambar RayamajhiUdayapur-2
Source: Federation of Contractors' Association of Nepal
Contractors elected to the Provincial Assemblies
ContractorConstituency
Bahadur Singh LamaNuwakot (2B)
Indra Bahadur BaniyaMakawanpur (2B)
Buddhi Kumar RajbhandariSolukhumbu (B)
Dipendra Kumar ThakurDhanusha 3(B)
Chhetra Bahadur BamjanSindhuli 2(B)
Birendra Prasad SinghSarlahi 4 (A)
Nagendra SahRautahat 1(A)
Tirtha Bahadur LamaKavre 1(B)
Devendra Bahadur ShahiJumla (A)
Purna Bahadur KhatriDailekh 1(A)
---
---