How the state is failing the poor as they fall prey to loan sharks
Poor access to finance lies at the root of the problem just as moneylenders enjoy nexus with the people in power to fleece poor communities in rural areas, experts say.

Chawahari Chamar of Ratanganj in Susta, Nawalparasi West is a victim of exorbitant interest. Manoj Paudel/TKP
bookmark
Published at : August 13, 2022
Updated at : August 14, 2022 01:36
Kathmandu
About eight years ago, Hridayash Kurmi of Ratanganj, Susta Rural Municipality-5 in Nawalparasi took a loan of Rs100,000 from Sunil Kumar Gupta, a village moneylender, to go to Qatar for foreign employment. But he returned within eight months after failing to find the promised job. He was well aware of the fact that he had a loan of Rs100,000. What he did not know was the interest on the loan.
According to Mansa, his wife, they sold the land they had mortgaged and paid Rs238,000 three years ago. But the couple were shocked when the lender said they still owed him money.
"We are being asked to pay an additional Rs400,000," said Mansa. "We are struggling to make our ends meet; from where can we bring the money?"
Saraswati Musahar, 65, another local of Ratangunj, narrated a similar story. According to her, her husband Ram Shubhak had taken a loan of Rs150,000 from Baburam Shubhak when both her sons decided to go on foreign employment. "The money sent home by her sons was used to pay off the loan to Shubhak," said Saraswati.
According to Ramnath Musahar, Saraswati's elder son, the two brothers sent home approximately Rs1,200,000 which was used to pay off the loan. Additionally, they sold off their family's land plot and paid Rs1,800,000 more to the lender.
"But still the lender says we owe them Rs5,000,000," said Ramnath. "Our father has gone to Kathmandu to seek justice. Where else to go?"
It has been almost two weeks since Ram Shuvak and Hridayash Kurmi from Ratanganj, along with six dozen villagers, have been in Kathmandu.
After their continued protest in Kathmandu demanding that the government act to rid them of the unwarranted interest charged by loan sharks, the Home Ministry on Friday formed a task force to look into the matter. The talks between the task force and loan shark victims, however, failed.
Ratanganj villagers are not the only ones in Nepal who fall victim to loan sharks. Often called "meter byaj" colloquially to denote the interest, already very high at the time of taking the loan, increases "as fast as a meter rotates."
Experts say such loan sharks often prey on the poor and illiterate villagers, who are in desperate need of money but are unaware of how the interest rate functions.
A loan shark is a person or a group that loans money at extremely high interest rates and often resorts to threats of violence to collect debts. Such loan sharks operate outside of the law, often making it difficult for law enforcement agencies to crack down on them. Loan sharks can be members of organised crime groups as well, due to which loaners often feel scared to report about being cheated.
Home Minister Bal Krishna Khand formed the task force led by joint secretary Bhisma Bhusal on Prime Minister Sher Bahadur Deuba's instructions.
The task force includes Senior Superintendent Dinesh Acharya who is with the Central Investigation Bureau of Nepal Police; Home Ministry's under secretary Shree Krishna Poudel; Superintendent Krishna Prasad Koirala from the Crime Investigation Section of Nepal Police; and Deputy Investigation Director of National Investigation Department Mukunda Marahattha as members.
Deputy Superintendent Roshan Khadka, who is with the Central Investigation Bureau, has been nominated member secretary of the task force. The task force has a month to complete its investigation.
The task force has been mandated to visit the affected districts to find out the reasons why loan sharks are active, ways to control such unlawful operations and to bring the culprits to book.
Though the task force held discussions with the victims who are staging sit-in protests at Maitighar Mandala in the Capital for the last 10 days, the members of the task force could not convince them to end their struggle.
"We are not hopeful that the task force would resolve our problems," said Ram Surat Gupta, chairperson of the Meter Byaj Kisan Sangharsha Samiti. "Our friends are not convinced so we will continue our protests and more of our friends are coming to Kathmandu."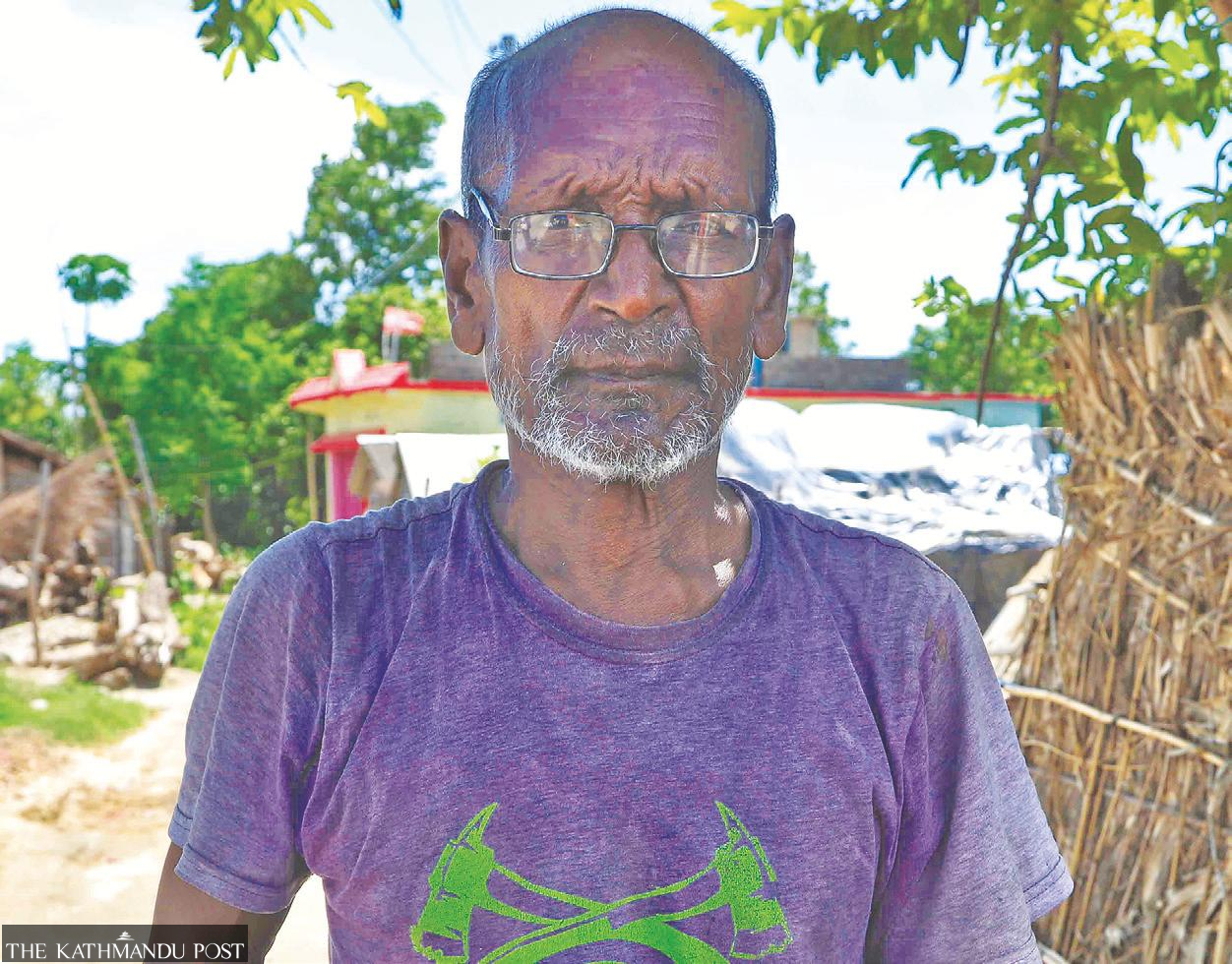 Chandal Chamar of Nawalparasi West says he is a victim of a local loan shark. Manoj Paudel/TKP
Financial experts said access to finance to small retail borrowers is extremely costly and not available and there has not been any effort to facilitate these borrowers through appropriate policy and institutional structures.
"It is also linked to the political protection of those who finance politicians by earning this lucre," said Achyut Wagle, a professor at the School of Management, Kathmandu University. "They don't even have access to cooperatives which have been like a huge cartel of their groups."
According to Wagle, Saving and Credits Cooperatives are basically urban centric where there is the prevalence of other banks and financial institutions.
"This committee must not be a window bashing practice as the roots of the problem are very deep and the task force must be able to reveal," Wagle said. "But given the structure of the committee there is not much ground to be hopeful because they cannot understand the problem."
This incident, Wagle said, has also revealed the country's status of access to finance and such issues of access to formal financial services and financial education should be incorporated in the government's policies.
According to Wagle, local governments could help these people by devising certain mechanisms so that the victims could be relieved.
"We can have two solutions, we must penalise the erring parties in such a way a precedent could be set," said Wagle. "Local governments should regulate the small retail loans."
Since the problem is deeply rooted it also has links to black market of the country, according to experts.
"Many of the loan sharks are only operatives of black marketeers, and that nexus must be broken," Wagle told the Post. "It's all about demand and supply. You cannot resolve issues by booking a few people. The government should think of a long-term solution."
Another expert Rameshore Khanal said the peasants don't have access to formal financial channels which leads them to loan sharks as they need the money immediately and most of them also don't have collateral to get the loan.
"I think the government could set a certain interest rate used in the rural areas as the ceiling and start cracking down on loan sharks," Khanal told the Post. "The government should have formed a committee giving more time to study this problem throughout the nation so that its report could be useful for developing appropriate financial policy."
He said the victims are usually from the lower strata of society and the problem is rampant throughout the nation including the Capital city but with different names.
Khanal said the government should ensure that nobody can collect more than double the principal amount as interest.
Coordinator of the task force joint secretary Bhisma Bhusal said they listened to the woes of the victims who had different stories. "We have told the victims to collect as many proofs as possible and ask similar victims in different districts to select one focal person to collect such proofs," said Bhusal. "We are planning to visit several districts next week to study the matter."
Bhusal said the task force comprises officials experienced in financial crimes investigations, and therefore it can find out ways to resolve the problem after studying in different parts of the country.
"During our meeting with task force members, we were asked to end our sit-in protest, but we are not convinced yet," said Uma Shankar Loniya, secretary of the committee formed by the victims. "We will continue our protests."
---
---