Nepal census: Some highlights from preliminary report
Around 750 people live in Kalapani, Lipulekh and Limpiyadhura areas and other key figures.

Source: CBS
bookmark
Published at : January 27, 2022
Updated at : January 27, 2022 19:56
Kathmandu
The Central Bureau of Statistics on Wednesday unveiled the preliminary data of the 12th national census conducted in November last year, putting Nepal's population at 29,192,480, a rise of 10.18 percent from the last population count in 2011.

Nepal has been conducting national census since 1911.
Last year's census was the first since the country adopted federalism, with seven provinces and 753 local units.
Here are some key numbers:
6,126,288: Population in Madhes, which is the highest among provinces.

1,570,418: Population in Karnali, the lowest among provinces.

2,017,532: Population in Kathmandu, the highest among districts.

5,645: Population of Manang, the lowest among districts.

8,65,906: Population of Kathmandu Municipality. The municipality has the highest population.

10,187: Population of Thuli Bheri Municipality. The municipality has the lowest population.

14,901,169: Population of females.

14,291,311: Population of males.

17,78,104: Population in the mountain region of Nepal.

1,17,48,548: Population in the hilly region of Nepal.

1,56,65,828: Population in the Terai region of Nepal.

750: The number of people estimated to be living in the Kalapani region where the government conducted its first census since 1961. Though officials did not reveal the exact number, they estimate the number of people living in Kalapani, Lipulekh and Limpiydhura to be around 750. The census was conducted through "indirect means."

0.93: Percent of annual growth of population, which is the lowest in 80 years.

66.08: Percent of the population lives in urban areas.

33.92: Percent of population lives in rural areas.

21,69,478: Population living abroad.

53,43945: Houses in Nepal.

198: Population density of Nepal.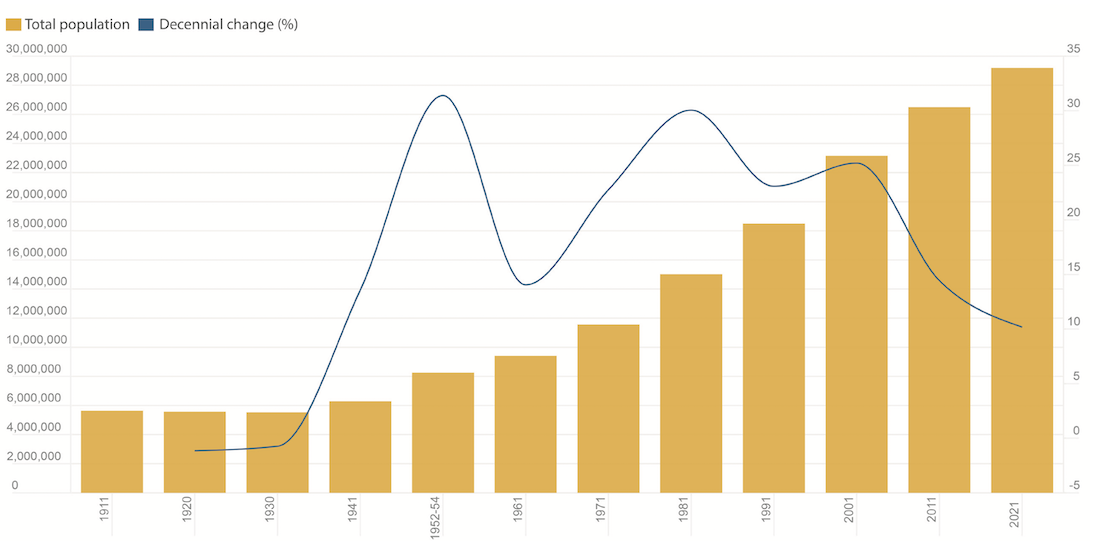 Nepal's population graph since the country started the census in 1911. The Central Bureau of Statistics unveiled the preliminary data of the 12th population count on Wednesday. Source: CBS
---