Indigenous groups feel deprived of their access to land and natural resources
Indigenous rights activists blame the state for its coercive approach, the latest examples being the eviction of Chepangs in Chitwan and plans to displace the Newars from Khokana.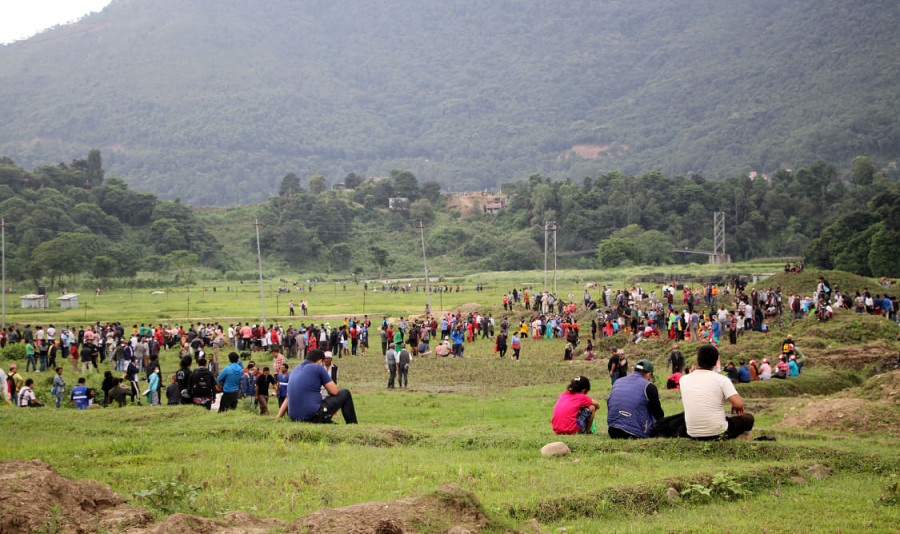 Locals of Khokana protested against the construction of the Kathmandu-Tarai expressway through the ancient settlement last month. Beeju Maharjan/TKP
bookmark
Published at : August 10, 2020
Updated at : August 10, 2020 08:26
Kathmandu
Last month, forest officials and Nepal Army soldiers evicted the families from the indigenous Chepang community from their settlement in Chitwan National Park. The battle over land rights between the authorities and the Newar community, who have been living in Khokana, Lalitpur, for centuries, is ongoing.

As Nepal's population increases and pressure on 'development' grows indigenous groups' right to land and unrestricted access to natural resources have remained curtailed by the state on various grounds, indigenous rights activists said at a discussion organised on the International Day of World's Indigenous People on Sunday.
"Indigenous people are being compelled to struggle against forceful eviction from their lands on accusation of encroachment and in the name of development," said Kailash Rai, author and researcher on indigenous issues.
During the virtual discussion organised by Amnesty International Nepal and Lawyers' Association for Human Rights of Nepalese Indigenous Peoples (LAHURNIP), rights activists concluded that indigenous groups continue to be deprived of their access to land and natural resources in the name of development and nature conservation from the state.
"Existing laws, be it the Forest Act or National Park and Wildlife Conservation Act, have encroached on indigenous groups' right to land and natural resources," said Shankar Limbu, secretary of LAHURNIP.
Nepal's commendable conservation model at the expenses of keeping local indigenous groups away from natural resources have been questioned lately for human rights violations.
"People from indigenous groups have been killed and have been charged under these laws while trying to enjoy their rights enshrined in the constitution and international conventions," said Limbu.
Indigenous people have been relying on their lands, where they have been living for centuries, and resources around for their livelihoods and preserving their identity. Lands are not mere properties for them, but their identity, traditions and lifestyle. They have been protecting and utilising these lands and surrounding environment through their indigenous knowledge, expertise and skills, according to international conventions on indigenous peoples and their rights.
Several international treaties and conventions like the ILO 169, which Nepal has ratified, have highlighted the link between indigenous communities and lands and ensured their rights over the land they occupy and natural resources.
"Around the world, the state has been an adversary to indigenous people. In Nepal, they also face a similar challenge of preserving their unique lifestyle and right to land and natural resources," said Rai.
In Khokana and Bungamati areas of Lalitpur, the local farmers are being told to move to make way for an expressway that will join Kathmandu with the country's southern plains.
Rights activists also pointed out that the 'Free, Prior and Informed Consent' principle was not followed whenever the state intrudes on indigenous people's land.
"Deployment of Nepal Army in Khokana could be seen as a reenactment of Prithvi Narayan Shah's act of land grabbing. If the state uses force then we have to believe that they have resorted to 'might is right' approach," said Limbu.
"International conventions like ILO 169 guarantees that lands used by these groups will belong to them. Outsiders and even the state can only invest in development projects after taking prior consent from the indigenous groups. But the narrative being set is that those lands belong to the state and it can do anything which is completely wrong."
Khokana has become a hotbed of several development projects—the Tarai Expressway, the Outer Ring Road Development Project, the Bagmati Corridor, a satellite city and a high-tension power line, among others.
As these projects are being built on agricultural lands and heritage sites of local communities, the locals fear displacement. This planting season, there have already been clashes among security forces and locals who went for paddy plantation on their lands.
"The Newar community of Khokana and Bungamati is centuries-old civilization. But our history and tradition are facing threats now," said Nepal Dangol, chairperson of Khokana Jana Sarokar Samiti.
"Our rights to land and identity have been encroached upon by the state. Despite our continuous protests, there have been at least nine projects, which only pushes us on the verge of displacement. It seems whoever is in power, the state and its mechanism are only interested in snatching our lands."
According to activists, indigenous people's movement, which started as a struggle for recognition of their socio-cultural and political rights, is now moving towards reclaiming their rights to land and natural resources. Rights activists have argued that the state has not shown its commitment to protecting its constitution and other international obligations like ILO Convention 169, which supports the principle of self-management and guarantees the right of indigenous people to consultation and participation in issues relating to their own development.
"Indigenous people should not face any discrimination just because of their identity. Despite constitutional protection, they are being deprived of their lands and resources. The historical injustices against them have not been addressed," said Raju Prasad Chapagain, chairperson of Constitutional Lawyers' Forum.
Chapagain had filed a writ petition against the government for forceful eviction of Chepang families in Chitwan.
"The right to food and housings are enshrined in the constitution. If socio-economic rights are not effectively ensured, then it disproportionately impacts marginalised groups like, Tharu and Dalit," he said. "Different commissions have been set up to address their concerns, but these commissions have remained without appointments, only showing state' causal nature towards indigenous causes."
Some participants at the discussion also blamed the political leadership for exploiting the indigenous groups, which comprises nearly 36 percent of total population and are guarding natural resources, as political capital during elections.
"Most of the people living in squatter shanties along the river bank or forest areas across the country are indigenous groups. Politicians use them as vote banks during elections," said Bimala Tamang, chairperson of Mahila Ekta Samaj. "If these people had not been living in the forest areas, those forests and unused land would have already gone to some individuals' ownership.
The state says these groups are damaging natural resources, but they never try to understand that they are the ones protecting those valuable lands and resources."
---
---