Who is the controversial swami everyone can't stop talking about?
The self-proclaimed Swami Balyogeshwor has been implicated in multiple fraud cases and has disappeared ever since the charges became public.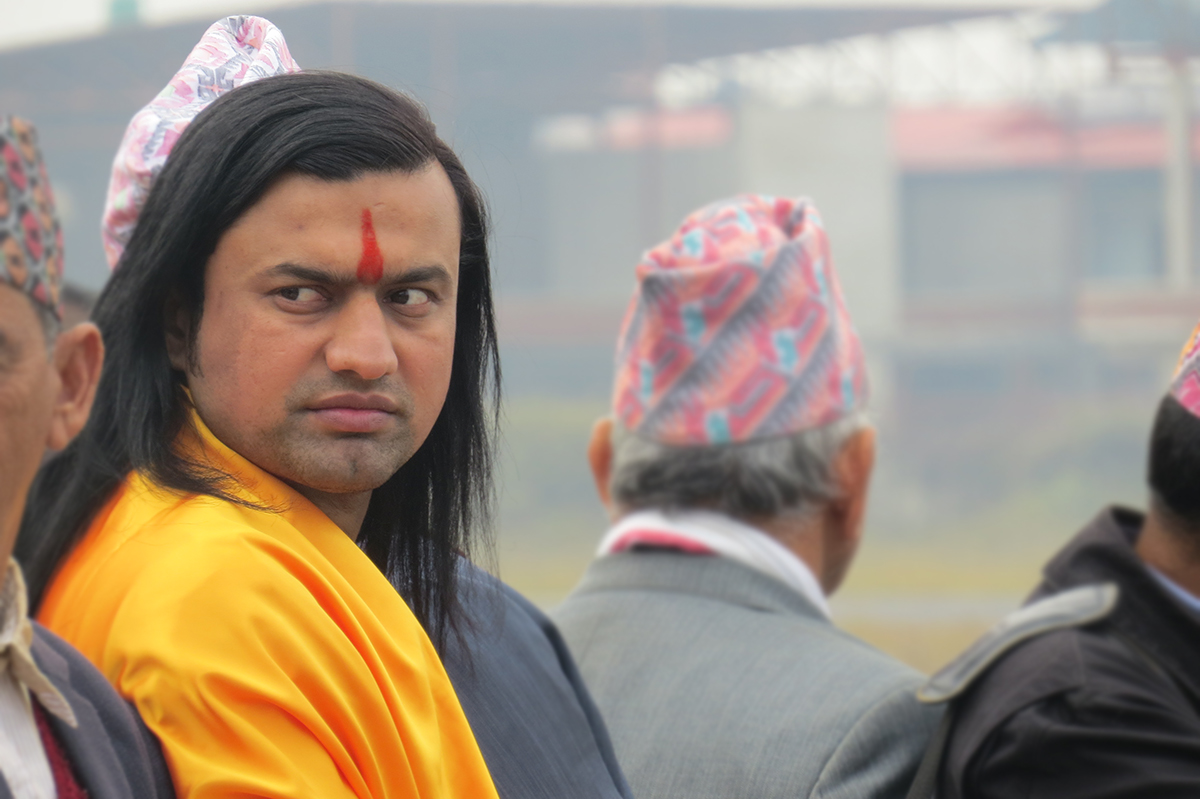 Swami Balyogeshwor, whose real name is Bijay Bhandari, had convinced Vice President Nanda Bahadur Pun to inaugurate a Mahayagya in Bharatpur. Ramesh Kumar Paudel/TKP
Published at : February 5, 2020
Updated at : February 6, 2020 07:16
Last week, Vice President Nanda Bahadur Pun arrived in Bharatpur to inaugurate a religious ceremony organised by the Pashupati Temple management committee. Waiting to welcome Pun at the airport was the self-proclaimed godman, Swami Balyogeshwor, whose real name is Bijay Bhandari. Pun was the chief guest at a month-long religious ceremony to take place on the banks of the Narayani River where Bhandari was the designated preacher.
Bhandari, although self-styled as a religious leader, has been outed as a fraud and conman in a series of reports published in Kantipur daily in the past month. Since being accused of defrauding people of millions of rupees, Bhandari has disappeared.
Here is all you need to know about this mysterious fraudster.
Who is Swami Balyogeshwor?
Originally from Ghurkotbasti in Gulmi, Bhandari joined a sister organisation of the Maoist revolutionaries after clearing his eighth grade exams. When the police came looking for him, he fled to Kathmandu and lived at the Aurobindo Yoga Mandir Ashram in Thankot. While at the ashram, Bhandari completed his School Leaving Certificate (SLC) from Mount Valley School but was expelled from the shelter after he was charged with stealing and selling a tyre from the ashram's vehicle.
Ashram chief Chandra Mani Bhusal said that he had warned Bhandari, following rumours that he had been using fake business cards of the Ashram some six years ago.
"We heard he was also collecting money from people saying they would be flown to America," said Bhusal. Bhandari has been banned for life from the ashram after a series of fraud cases came to light.
Bhandari, believed to be in his thirties, claims he studied extensively at Vrindavan and Banaras in India before he started preaching. But there is no proof that he ever studied in India, as students from Vrindavan and Banaras do not remember Bhandari.
In his native district of Gulmi, people say Bhandari would use a translated copy of texts to preach during religious ceremonies and barred anyone from entering the podium lest his reading of translated texts be discovered.
When did Bhandari's fraudulent activities first come to light?
Reports of fraud by Bhandari, who was then calling himself Shree Bishnu Prapanacharyaji Maharaj, were first published on September 9, 2012, by Nepal Magazine. A year before Bhandari's fraud cases came to light, students from Sampurnanand Sanskrit University and Mangala Gauri Sanskrit University in Banaras had come to Kathmandu looking for Bhandari. As it turned out, he had raised Rs100,000 each from over 100 students to take 108 preachers to the United States for a host of religious functions.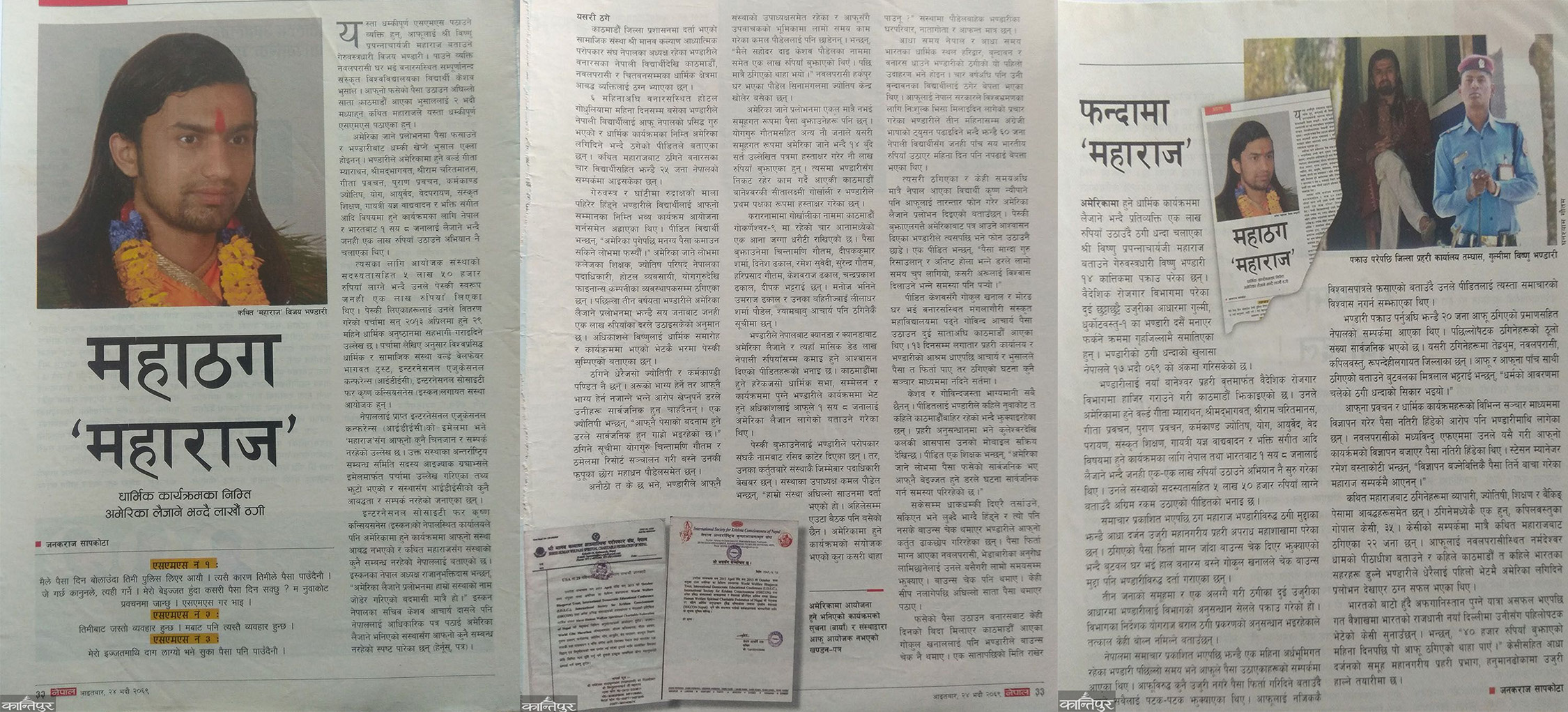 The reports of fraud was first published by Nepal magazine back in 2012. Kantipur daily
Following the search, Bhandari disappeared from public sight and settled some of his fraud cases with the victims himself. But following news reports, Gulmi police arrested him while he was returning from home after celebrating Dashain in 2012. Bhandari was later released on bail of Rs300,000 but was soon produced at the Kathmandu District Court, where the judge handed him a prison sentence.
Bhandari served his prison term at the Central Jail in Sundhara from September 22, 2014 to March 17, 2017. Soon after his release, he took on a new title--Swami Balyogeshwor Maharaj. When asked about his new name, Bhandari said it was a result of his graduation to preaching the religious Shreemad Bhagwad text.
What are the charges against Bhandari?
Defrauding individuals by assuring them of a trip to the United States is not the only case against Bhandari, who had used tricks to be declared chief priest at the Radha Krishna Dham in Kawasoti, Nawalparasi. But after a series of fraud, he was removed from the position. Nilkantha Bastakoti, then chairman of the temple management committee, told Kantipur daily that a meeting of the committee had then ousted him. Even then, he was often dragged into controversy over pocketing donations from the several religious functions he presided over.
During one ceremony organised by the Runkhadaha Secondary School in Gulmi, Bhandari announced that he would not charge a single rupee if donations totalled Rs5 million. But according to Thakur Prasad Sharma, the former principal of the school, Bhandari walked away with Rs4.8 million in cash and gave the school just Rs200,000.
There are multiple cases in various districts, including Chitwan, Pharping of Kathmandu and his home town in Gulmi, where he has pocketed much of the money and valuables donated by devotees at religious functions. In Chitwan last year, he was given Rs2.5 million for a religious ceremony organised by Bhanu Secondary School.
Why are preachers so popular in the first place, and why do people donate to sermons?
Much of Nepali society remains deeply religious and while it all comes down to individual choice, people do things that they value and can get happiness from. Preachers and fraudulent godmen like Bhandari tend to be charismatic people who prey on the gullible. Many believers thus end up thinking of them as messengers of god. These fraudsters propagate the belief that donations will help pacify people's sins.
What is the new controversy all about?
The organising committee of the ongoing ceremony in Chitwan say they planned to raise Rs 250 million to establish the first ayurvedic school in Chitwan and help poor people suffering from cancer. Bhandari, who now goes by the title of Swami Balyogeshwor, managed to convince Vice-President Pun to attend the opening ceremony.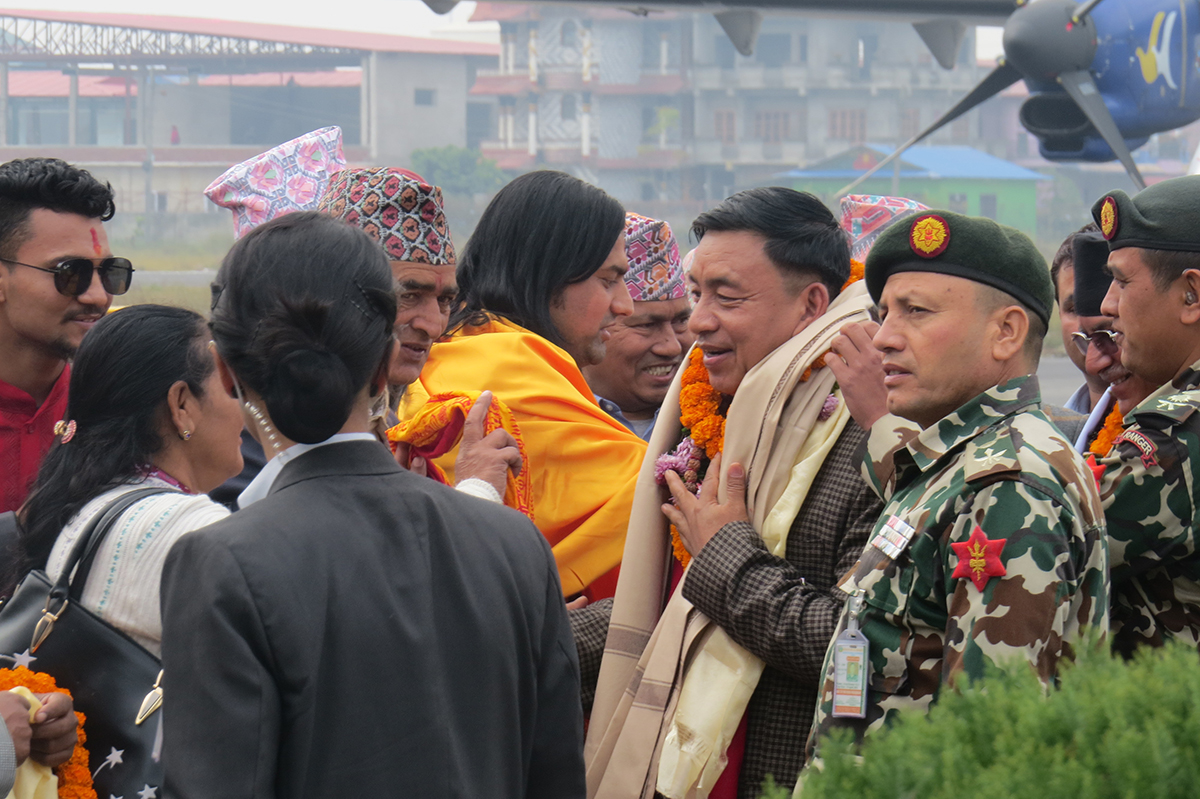 Bhandari seen welcoming vice president Pun at Bharatpur airport. Pun later refused to take part in the opening ceremony fearing it would court controversy. Ramesh Kumar Paudel/TKP
But following fresh reports of his activities in Kantipur daily, Pun refused to take part in the opening ceremony fearing it would court controversy. Meanwhile, Bhandari, speaking at the opening ceremony, warned that there would be consequences for Pun for pulling out of the ceremony.
Devoting a large portion of his speech to refute all news reports about his history of fraud and arrests, Bhandari claimed that they amounted to an attack on religion. However, Bhandari has disappeared since he last preached on Monday. Public participation in the ceremony has also dwindled since the reports came out.
How did Bhandari build and misuse his political connections?
Leaders from political parties and government officials have time and again graced events organised by the controversial ascetic. On April 26, 2018, Pun attended a religious function conducted by Bhandari at the Pharping-based Tribhuvan Adarsha Boarding Secondary School. Pun's personal secretary Milan Dangi, issuing a statement, said that Pun had been invited by the school, not the ascetic.
Foreign Minister Pradeep Gyawali and National Assembly Chairman Ganesh Timalsina are other high-level government officials who have attended Bhandari's religious programmes at Ridi in Gulmi district. There is also a photograph on the ascetic's Facebook page where Timalsina can be seen accepting a gift from Bhandari at a different function in Kanchanrup, Saptari.
The most recent political attendee at Bhandari's religious event was Nepal Communist Party co-chair Pushpa Kamal Dahal, in December 2018. A religious function was organised at the Bharatpur-based Bhanu Secondary School and Bhandari insisted on inviting Dahal to the event. But it wasn't just Dahal who attended the event. According to locals, party General Secretary Bishnu Poudel was also one of the participants.
During the 11-day religious ceremony, which started on December 16, Bhandari was also put up at the residence of Nepali Congress district member and Bharatpur Municipality-21 ward chairman Chitra Sen Adhikari.
High-profile politicians attending his events allowed Bhandari to brag about his connections. He would show photographs of him with political leaders in order to dupe his followers with false promises of sending them abroad.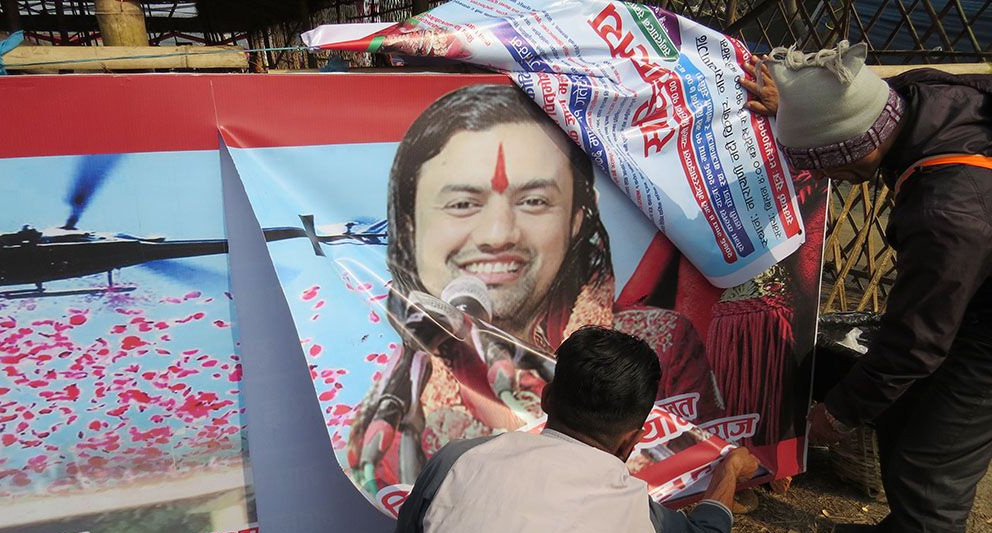 Organiser of the ceremony in Chitwan remove Bhandari's photo from advertising posters. Ramesh Kumar Paudel/TKP
Following news reports about his fraudulent activities, Bhandari has stopped his sermons and is out of contact. The controversial ascetic abstained from appearing in a press meet of the organising committee on Tuesday, regarding the religious event that is underway at Narayangadh, Chitwan.
A member of the Nepal Communist Party, also a member of the organising committee, Dilip Neupane, who has close ties with Bhandari, failed to answer questions regarding the preacher's whereabouts.
According to another member of the organising committee, the ascetic is gathering evidence against the allegations levelled against him. Meanwhile, a security official told Kantipur daily that Bhandari is in Chitwan--hiding out for fear of being arrested.
On February 3, the Kathmandu District Court issued an arrest warrant against Bhandari.
---