With ruling party dynamics satisfied, the hunt begins for a new House Speaker
Subas Nembang and Agni Sapkota are the strongest candidates from the ruling party but Deputy Speaker Shiva Maya Tumbahangphe will not be giving up her claim easily, party leaders say.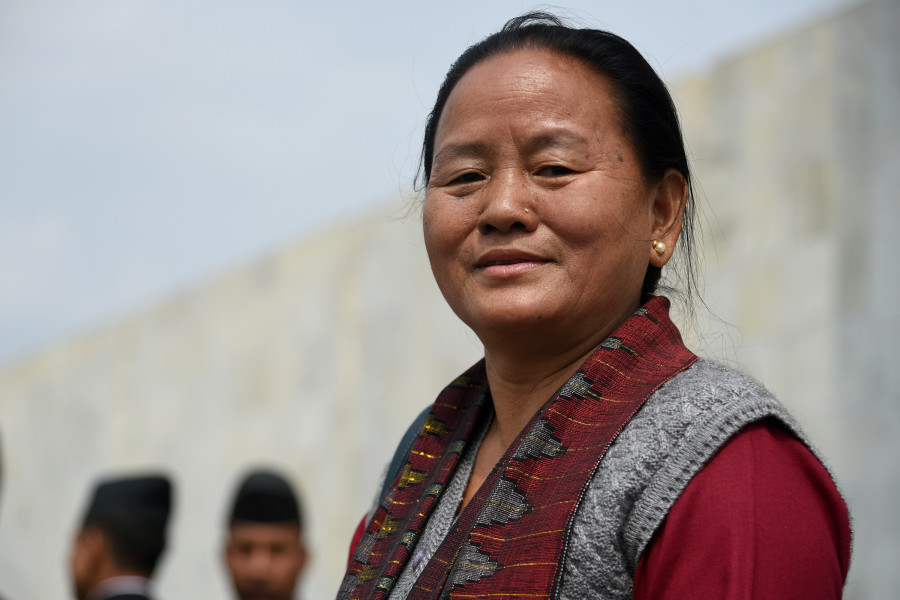 Shiva Maya Tumbahangphe Post Photo
bookmark
Published at : November 25, 2019
Updated at : November 25, 2019 10:18
Kathmandu
Now that Prime KP Sharma Oli and the ruling Nepal Communist Party have resolved most outstanding issues—like work division for the party co-chairs and the Cabinet reshuffle—one major issue remains—finding a new Speaker for the House of Representatives.

The Speaker's post has remained vacant since early October, when Krishna Bahadur Mahara stepped down in the wake of rape allegations.
According to party leaders, Oli is in favour of former Speaker and chairman of both Constituent Assemblies Subas Nembang to lead the House while Co-chair Pushpa Kamal Dahal wants the top post for his faction.
"If the former UML gets the post, then Subas Nembang will be the Speaker but if that post goes to the former Maoists, it will be Agni Sapkota," said Bishnu Rijal, a central committee member of the party. "I don't think any other leader will have a chance."
Nembang, who is currently deputy leader of the Nepal Communist Party (NCP) parliamentary party, declined comment on the matter.
However, Deputy Speaker Shiva Maya Tumbahangphe could throw a spanner in the ruling party's plans. Tumbahangphe has refused to step down as deputy speaker as she believes that the post of Speaker should rightfully be hers, say party insiders. She twice met President Bidya Devi Bhandari in a span of a week to lobby for herself, according to leaders familiar with the recent political developments. Bhandari's support for Tumbahangphe's bid could tilt the position in her favour, as the President, despite her constitutional role, has recently been active in helping iron out internal party matters and providing tenure to some Cabinet members.
"Bhandari seems to be in favour of elevating Tumbahangphe to the role of House Speaker," said a central committee member on condition of anonymity.
Many female Members of Parliament—mostly former UML leaders, including Binda Pandey, Nabina Lama and Niru Pal—have also been lobbying hard for Tumbahangphe.
"It shouldn't come as a surprise if the deputy speaker is elevated to Speaker," said another party leader who is aware of the intense lobbying for Tumbahangphe.
According to former Maoist leaders, their faction has been making a strong pitch to get the post of Speaker.
However, the two party chairmen are not very keen on Tumbahangphe as she is not a directly-elected Member of Parliament, largely because those elected under the first-past-the-post system might take offence. Former Maoist leaders have already expressed concern over the increasing lobbying for Tumbahangphe as she was not directly-elected and that the Maoist faction has the 'rightful' claim over the position after Mahara's exit. Former Speaker Onasari Gharti Magar has also publicly spoken that the Speaker should be awarded to the former Maoists. Tumbahangphe is a former UML leader.
However, both the co-chairs, if they are not influenced by the President, are not likely to elevate Tumbahangphe. She will possibly be asked to step aside in return for a ministerial portfolio later, said a party leader.
Tumbahangphe told the Post that she would only speak to the media after holding official talks with Oli and Dahal.
"The top leaders have started discussions among themselves about selecting the Speaker," said Tumbahangphe. "They have not invited me yet."
Whosoever is made Speaker, the deputy speaker will have to be a different gender and from a different political party, according to constitutional provisions. Although Mahara and Tumbahangphe were both from the ruling Nepal Communist Party, they were elected speaker and deputy speaker before their parties had merged.
The deputy speaker, once Tumbahangphe resigns, will possibly go to the Rastriya Janamorcha, which had an electoral alliance with the ruling party. It is unlikely that the Samajbadi Party Nepal or the Rastriya Janata Party Nepal will get the deputy speaker position as that will guarantee the party a seat on the constitutional council. The council is the body that makes appointments to numerous high-level positions, including ambassadors and heads of constitutional committees.
"I don't think the ruling party has any other option than Durga Poudel for deputy speaker," said Rijal.
Poudel is the Janamorcha's only female Member of Parliament. She is also the spouse of Mohan Bikram Singh, a veteran communist leader. Singh is the general secretary of the underground Communist Party of Nepal-Masal and Janamorcha is its recognised external outfit.
Oli, however, has said that he cannot decide unilaterally and the party will take all necessary decisions, according to a leader who has close relations with Oli.
***
What do you think?
Dear reader, we'd like to hear from you. We regularly publish letters to the editor on contemporary issues or direct responses to something the Post has recently published. Please send your letters to [email protected] with "Letter to the Editor" in the subject line. Please include your name, location, and a contact address so one of our editors can reach out to you.
---
---