In chaotic Kathmandu, cycling is dangerous. Yet, thousands continue to do it
On October 27, Shyam Sundar Shrestha left for a midnight bicycle ride to Chobhar, a late night activity that he often enjoyed. When he hadn't returned in hours, his family called the police.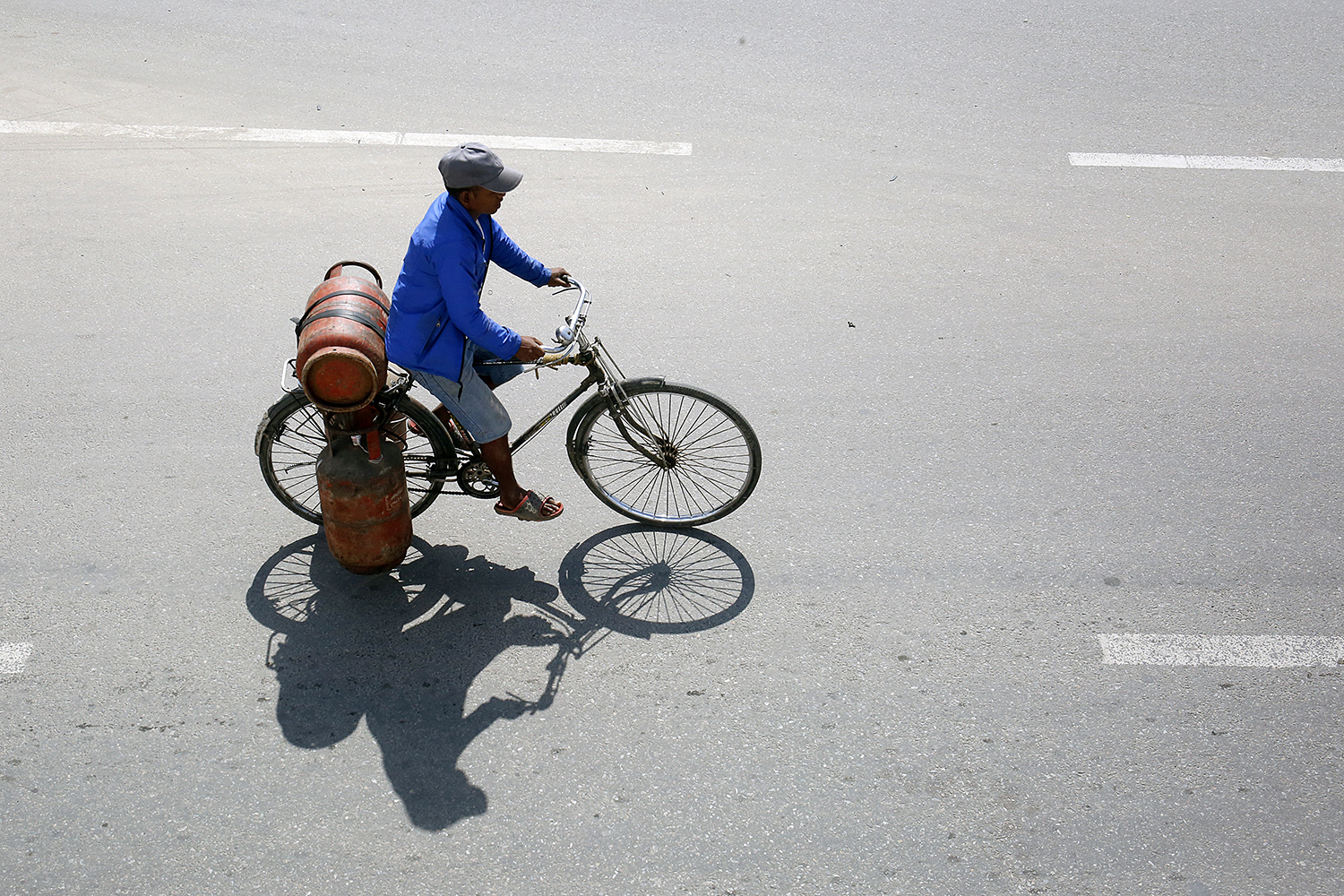 Published at : December 15, 2018
Updated at : June 25, 2019 13:21
On October 27, Shyam Sundar Shrestha left for a midnight bicycle ride to Chobhar, a late night activity that he often enjoyed. When he hadn't returned in hours, his family called the police. It was early in the morning when the police found Shyam Sundar and his bright red bicycle, inside an open sewer by the Tribhuvan University entrance in Kirtipur. He had drowned—and died.
The death of the soft-spoken, environmentally conscious, 38-year-old made headlines the next day. The Kathmandu Upatyaka Khanepani Limited, which had failed to cover up the manhole, was lambasted for its carelessness. Some newspapers went so far as to call it a 'murder'. In memory of Shyam Sundar, a bicycle painted in all white, a 'ghost bike', has now been installed at the accident spot.
"The purpose of the ghost bike is not just to remember our friend or to remind passing motorists to share the road with cyclists, but also to let the government realise the consequences of its negligence," says Ratna Ram Shrestha, founder and president of the Nepal Cycle Society.
Cyclists getting into accidents like that of Shyam Sundar are not a new phenomenon. On October 31, nearly seven years ago to the day, Prahlad Yonzon, one of Nepal's leading conservationists, was killed in a hit-and-run while cycling along the Ring Road, near Kalanki. Yonzon, like Shyam Sundar, was a man who believed in the health and environmental benefits of cycling, even in a dusty, dirty city like Kathmandu. But as the two deaths have shown, cycling in the city can be lethal, and raises a critical question: Can Kathmandu ever be a city for cyclists?
"There are many cycling accidents that go unreported," says Basanta Kumar Panta, chief of the Metropolitan Traffic Division, pointing out that there were three-four cycle accidents in each fiscal year since 2073/2074, the highest being eight in 2072/2073.
Panta agrees that sufficient measures have not been taken to ensure the safety of the riders in Kathmandu but he blames the conditions of the roads as the primary reason behind the accidents, followed by the recklessness of riders. Furthermore, since most accidents take place at night, he suggests that cyclists wear reflective gear.
But often, it is not about the cyclists themselves but others on the road. Cycle activist Ratna Ram Shrestha reports an incident six years ago when he nearly fell for the same fate as Shyam Sundar. At Chabahil, blinded by the high beams of a tipper coming from the opposite direction, Ratna Ram fell into an open manhole and broke his collarbone.
"I still shudder when I think about that moment," says Ratna Ram. In his case, there were numerous problems—the constant use of high beams, the lack of reflective gear, lack of headlamps, an open manhole and most importantly, the lack of a proper cycle lane.
Post Photo: PRAKASH CHANDRA TIMILSENA
Since Ratna Ram's accident, a few kilometres of cycle lanes have been constructed on the Maitighar-Tinkune stretch, but they too are narrow and fail to meet cycling standards. Most are not even aware of their existence, says Ratna Ram, who has long been lobbying for more cycle lanes across the Valley. Even government officials agree with Ratna Ram's assertion that Kathmandu needs better cycling infrastructure.
"I know this is a matter of shame for us," says Mukti Gautam, spokesperson for the Department of Roads. "I personally feel that fuel-run vehicles in Kathmandu are nothing more than pollutants. They should be displaced and the alternative could have been proper cycle lanes. This is a failing of both the Department of Roads (DoR) and the Kathmandu Metropolitan City," he says.
The ongoing ring-road expansion could have considered constructing separate cycle lanes but according to Gautam, no one deemed them necessary.
"I do not think we need more cycle lanes because we do not have that large a number of cyclists here in Kathmandu," says Shivahari Sapkota, regional director of the DoR. "The lanes that exist are already more than enough."
There are no plans from the municipality or the DoR to construct any new lanes as of now. And that's a good thing, says Sapkota, as he believes that cycling cannot become the norm in the most accident-prone city in the country.
Ratna Ram disagrees with Sapkota. He believes that there are more cyclists than are visible on the streets. "He [Sapkota] sees no cyclists because nobody wants to go out and cycle on roads full of motorised traffic," he says. "First construct the necessary infrastructure and watch our numbers grow."
Unlike Ratna Ram, who is a dentist by profession and only cycles as a hobby, for Govinda Singh Thakur, 56, his bicycle is part of his livelihood. Thakur has been selling seasonal vegetables door-to-door at Tyanglaphant in Kirtipur for almost two decades now.
But he has set boundaries for his route. The longest he cycles is from his residence in Kirtipur to the vegetable market at Balkhu, or sometimes to Kalimati, but not beyond. He remembers getting into an accident a few years ago when a tipper approached him while he was trying to cross the road at Balkhu. As he tried to avoid the incoming vehicle, Thakur lost his balance, spilling the 30 kilograms of vegetables he was ferrying.
For many like Thakur, cycling is not just the cheapest mode of transportation and commuting but also the only means for ferrying goods. Unlike motorised vehicles, they neither demand fuel nor expensive servicing and maintenance.
However, Kathmandu has recently seen an influx of high-end mountain bikes that cost more than Rs 50,000, with some even costing as much as a mid-range motorbike. These are the preferred choices for those who cycle for recreation, according to Tirek Manandhar, cycle enthusiast and owner of Panc Bikes, the oldest bicycle shop in Kathmandu.
Rising health and environmental concerns, along with a growing interest in the sport of mountain biking and downhill racing, has led to more people purchasing these relatively expensive mountain bikes.
"This group of people cares for the environment and also wants to avoid Kathmandu's traffic," says Manandhar. Many of his customers and friends take regular rides to Chobhar, Champadevi and the outskirts of Kathmandu. It is from this group that the most vocal of activists calling for a more cycle-friendly Kathmandu come from. First among the benefits of cycling, they say, is good health.
Research by Arthur Kramer, a neuroscientist at the University of Illinois, showed that those who cycle on a regular basis have balanced levels of adrenaline, endorphin and other hormones in their bodies, compared to those who cycle sometimes or do not cycle at all. Cycling is thus seen as not only a medium to stay physically healthy but also to maintain mental well being.
"I bought a bicycle to lose some weight," says Anisha Amatya, who recently started cycling on the premises of Tribhuvan University to get back into shape after the birth of her son. She's been inspired by blogs that consider cycling to be a healthy way to decrease risks of heart and lungs diseases.
A cycle rally in Lalitpur in July earlier this year. Photo: MILAN ADHIKARI
But is cycling really healthy?
In a city like Kathmandu, where there is so much dust and pollution in the air, there is a debate over whether cycling can really be healthy for you, especially if you're breathing in all of the toxins, says Dr Manjita Bajracharya, General Physician at KIST Medical College and Teaching Hospital.
Patients who visit the Institute of Medicine (IoM) at Maharajgunj with breathing difficulties due to air pollution are 40 percent more likely to be diagnosed with heart-related ailments, says Dr Bajracharya. Around 11 percent of them are found to have developed asthma, 6 percent lung cancer and the remaining with some kind of allergy, hypersensitivity, sinusitis and dryness of skin.
With so many cyclists using simple clinical cloth masks while cycling around the city and breathing in pollutants, they need to aware that such masks do not block small particles present in the air, Bajracharya suggests.
Studies conducted by the US Embassy in Nepal have also shown that the concentration of pollutants in Kathmandu's environment is comparatively higher in the morning than that during other times of the day. So, people like Amatya, who choose mornings to cycle should also be aware that they are heavily breathing in pollutants that are collected throughout the night, as these do not find their way out because of the topographical structure of the Valley, says environmentalist Bhushan Tuladhar. "Pollutants accumulated before two or three in the afternoon are generally considered hazardous to health," he explains.
Besides air pollution, foreign bodies getting into the corneas has also been one of primary reasons for patients visiting the Department of Optometry at IoM, says optometrist Sandeep Kandel. For cyclists, the dust suspended in the air is more likely to get into their eyes as many don't wear protective eyewear. And conventional sunglasses don't help much, says Kandel. "Those are just for blocking sand and glass particles. There are no ways we can protect our eyes from micro particles that enter our eyes from the gaps between our eyes and the glasses," he says.
What suits the topography?
Despite these health risks, Kathmandu can be considered one of the most suitable cities in the world for cycling, says Tuladhar. The primary reason being its moderate climate throughout the year, except for a few days in the summer when average daily temperatures reach their extreme. "Let us compare ourselves to Delhi. The extreme temperature there ranges from -2.2°C to 48.4°C, despite which people have adapted to cycling," he explains. Kathmandu's extreme temperature ranges from 2°C to 32°C, which is much milder.
Tuladhar also provides the example of Copenhagen, Denmark's capital, where the most preferred mode of transportation is the bicycle. Danes prefer to cycle in all kinds of weather and during all times of the year, even when it is snowing or raining. If the Danes are willing to do so, Tuladhar sees no issue with temperature in mild Kathmandu.
The second reason Tuladhar provides as to why Kathmandu should adapt to cycling is the average travel distance. Even at a speed of 14 km an hour, the average speed of a bicycle, most places in the Valley are in a nine kilometre radius, meaning they can be reached in 40 minutes. Furthermore, the Valley's numerous alleyways makes it much easier for cyclists to take the shortest possible routes and avoid traffic.
Even the topography of the Valley is not much of a problem for modern cycles with gears. If you are unable to cycle or cannot afford a high-end bicycle with gears, you can always hop off and walk, suggests Tuladhar. "For anyone who cycles, it will not be difficult to walk a few metres up steep roads," he says. You cannot do the same with a motorbike or a car.
Besides constructing dedicated cycle lanes along the major road networks of Kathmandu, Urban Designer Som Rana thinks the use of river bank networks could be a suitable alternative to avoid traffic. Since Kathmandu rose up around the Bagmati river, most places in the city are close to this river, or its tributaries. But there are no such plans, as most of our major construction projects are focused only on expanding the Ring Road and other highways, says Rana.
In a 2017 paper presented at the University of Hong Kong, 'Kathmandu Ride Green', Rana had outlined how cycle lanes are not the only infrastructure that make a cycle city. He pointed to bicycle stands, maintenance stations and workshops as vital requirements before Kathmandu could truly become a cycle-friendly city.
Still, for people like Ratna Ram, whether Kathmandu is cycle-friendly or not is a moot question, although it is something they have been working towards for a long time. "Cycling has been a crucial part of my life and I do not think giving up would ever be a choice," he says.
The ghost bike that marks the site of Shyam Sundar Shrestha's death. Photo: SHILPA KARNA
---