Poverty and the price of happiness
'Saanghuro' doesn't shirk from showing poverty in all its endless despair.

Screengrab from YouTube
bookmark
Published at : September 26, 2023
Updated at : September 27, 2023 07:54
The dawn breaks with a gentle light, a stark contrast to the beckoning darkness. It's the quiet, misty obscurity of the early morning, punctuated by the raucous caws of early birds, signalling the start of a new day. It seems serene, but reality often dispels such romantic notions, especially for those burdened by the harshness of everyday life, particularly those residing in the poverty-stricken corners of our economy. This is the poignant truth that 'Saanghuro' lays bare—the beautiful dawn set against the backdrop of congested slums, where the promise of a new day is overshadowed by the relentless grip of poverty on the characters' lives.

The film opens with the dim light of dawn as Krishna (played by Shushank Mainali) and his mother (played by Aruna Karki) begin their daily routines as a newspaper carrier and a cleaner, respectively. For a significant portion of the film, we observe the routine of their lives—the fragile tin-framed, cardboard-lined house they live in, Krishna pedalling through the streets, delivering newspapers, Krishna's mother meticulously cleaning the streets and savouring her ritualistic Coca-Cola (a seemingly insignificant detail that gains significance later in the story), and their return home to cook and clean once more. We are also introduced early on to Krishna's infatuation with Kamala (played by Deeya Maskey), a housemaid for a family he delivers newspapers to.
Krishna and Kamala's relationship starts off in a lighthearted manner, typical of most romance stories. They fall for each other at first sight, knowing little about each other but eager to leap into marriage. Their budding romance is portrayed through shy, playful glances and one memorable interaction marked by palpable awkwardness. This portrayal felt authentic, akin to observing the imperfect yet charming beginnings of a new relationship, much like witnessing a first date. It also highlights the contrasting personalities of Krishna and Kamala—Kamala, candid and feisty, while Krishna, reserved and bewildered by the intricacies of a relationship, a source of future discord in their marriage.
Their married life faces hurdles due to their cramped living conditions. Krishna shares a single room with his mother, and now his new wife must also inhabit this confined space. Watching their efforts to initiate physical intimacy over several days is uncomfortable, awkward, and saddening. Still, it stands as a testament to the performances of Mainali and Maskey, as well as Joes Pandey's direction, which creates an atmosphere of discomfort while maintaining sensitivity towards the couple's desires and frustrations. Their shared affection proves insufficient to transcend their dire circumstances.
Pandey masterfully unravels the bleak and blocked reality of Krishna and his mother's lives, showing how they encounter one obstacle after another, never basking in happiness for more than fleeting moments. Financial troubles mount as Krishna borrows money from his friend Tika (played by Dayahang Rai) for his wedding. This decision returns to haunt him when Krishna must choose between using the money borrowed from Kamala to admit his mother to the hospital after a life-threatening accident or repaying Tika. This pivotal moment leaves the audience yearning for Krishna to choose his mother's life, but his downcast eyes and mechanical movements, as he hands the money to Tika, shatter those hopes.
In both Pandey and Binod Paudel's work, we find meticulous attention to detail that brings freshness to Nepali cinemas in terms of direction and writing. Pandey's vision is unflinching—he avoids sugarcoating and presents the cycle of poverty in its devastating reality. Paudel shoulders the responsibility of carrying this vision forward, unveiling the inevitable tragic end gradually, without being overtly dramatic or preachy. In fact, 'Saanghuro' might be one of the quietest Nepali films I've seen—it relies on authentic, conversation-driven dialogue and cinematography to convey its narrative. This approach aligns with the film's core message—the impoverished must silently endure their struggles while seeing little change from the government.
The screenplay unfolds like an everyday routine, gradually leading to tragedy. The foreshadowing is meticulous, albeit somewhat obvious in the case of the Coca-Cola. From its first appearance, the camera captures Krishna's mother, tired and sweaty, taking a long swig of the drink. Later conversations reveal her growing obsession with it, making it clear that this detail will hold significance later in the story. However, it's the 'why' and 'how' that truly matter, tying seamlessly into the film's bleak hopelessness—she drinks Coca-Cola as one of the few fleeting moments of joy in her life, only to suffer a major accident on her way back from buying it. Whatever little happiness and respite she finds are cruelly snatched away, mirroring the broader theme.
'Saanghuro' is a crucial film that portrays the reality of poverty in a raw and ultimately tragic manner. It eschews grandiosity and loudness, relying on subtlety and delicacy in direction, writing, and performance to handle the sensitivity of its storyline effectively.
Saanghuro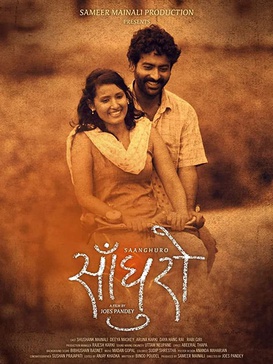 Language: Nepali
Director: Joes Pandey
Cast: Shushank Mainali, Deeya Maskey, Aruna Karki, Dayahang Rai
Duration: 2 hours
Year: 2013
Available on: YouTube
---
---