Nepal needs more films like 'Julebi'
It is warm, honest, and interesting—three adjectives I thought I'd never get to use for a Nepali movie.

Surakshya Panta as Maya in a scene from 'Julebi'. Screengrab via YouTube
bookmark
Published at : August 23, 2023
Updated at : August 24, 2023 13:12
Kathmandu
I've always wanted to see romance in Nepali films. No, not the hero meets heroine, 'I'll die for you' caricature of romantic love. I wanted to see the real thing—in all its awkwardness and, most importantly, its plainness. We've glorified romantic love to a point where it seems unreal, cartoonish and absolute—like there's nothing beyond or around it. The hero—once he is in love—is just that. A guy in love. His career, ambitions, family, college, friends, everything becomes meaningless. But real life is rarely like that. Romance here is grey, confusing, and complicated.

'Julebi' shows exactly that. And it does it well. Written and directed by Ganesh Dev Pandey, the film is an anthology of stories on romantic love—primarily set in and around Ratna Park. It features an ensemble cast of Surakshya Panta, Usha Rajak, Nisha Adhikari, Sushil Sitaula and more. All of their characters somehow come together—knowingly or unknowingly—within the plot. The director was clearly inspired by circular storytelling, popularised by Tarantino's 'Pulp Fiction' and also recently seen in Anurag Basu's 'Ludo.'
We start with a typical but well-executed story of two youngins who start giving each other heart eyes while crossing paths. Rabin wants to enlist in the military, and Trishna is still in school. Unlike the timid Nepali heroine, Trishna is flirtatious and daring, and they meet in the nearby jungle for some good old-fashioned romance. The film doesn't shy away from showing what first love actually is like—awkward, a little scary (and, of course, much cringe). Everything felt natural—this is important because there is always a type of alienation while watching Nepali cinema; the audience is painfully aware that what's on-screen is just a bunch of video sequences. From the setting (a typical village on the cusp of modernisation) to the characters, the cinematography pulls you in and takes you into their world. Their kiss, too, wasn't manufactured but honest (and, might I add, well done).
After their tryst abruptly ends due to some 'foreseen' incidents, the film moves to Kathmandu, the brimming capital. This is where we meet some interesting characters. Two stories flow together—one of a sex worker named Maya and a migrant worker named Chhaman and another of an urban photographer and a wife looking for her missing husband.
Surakshya Panta as Maya is phenomenal. Maya, with her dark kohl eyes, kitschy t-shirts, and block heels, roams the streets of Ratna Park, looking for customers. Panta captures the playfulness and eccentric mannerisms of Maya so perfectly that I ended up letting out a little shriek, pleasantly surprised that I finally get to see an artist perform—be in their element. From the way she holds her 'captain' cigarette to how she squats beside the filth on the streets of Ratna Park, there is a humanness to Maya—one that immediately sparks interest and empathy.
When Chhaman—who has become enamoured with Maya—asks her to leave her job and marry him, she rebuffs him swiftly. "Just who are you to decide what I do is right or wrong?" she asks him. The film's stance on legalising sex work doesn't come off as preachy—it gives agency to Maya and puts her voice at the forefront.
In another parallel storyline, we meet an urban photographer, a man, looking for a subject to photograph nude (my eyes were already rolling). This Vans-wearing, hydro flask-carrying urbanite (the only thing missing was a 'Mheecha' bag) helps a woman (who is participating in a protest asking the government to find individuals disappeared by the army during the insurgency), and they strike up a friendship.
The guy is an abundance of red flags, taking pictures of other people without consent and dropping by her flat unannounced. Eventually, he convinces (well, he doesn't ask verbally) the woman, Asha, to let him shoot her nude, which she agrees to only because she has developed feelings for him. Perhaps a satire of the objectifying, insensitive male-artist trope, their storyline was uncomfortable but honest.
This particular story has the most visually stunning cinematography. The use of rectangles—doors and mirrors—in the frame emulated the man's probing camera and hinted at how their relationship would never move beyond his desire to film the woman.
The last storyline is of Chhaman and Bhumika, a Kathmandu elite. In a class-conscious tryst that would make Marx proud (this is a joke), Bhumika, somewhat forcefully, takes Chhaman to a hotel where they spend the night. She ridicules Chhaman's full name and diminishes his desire for more money, calling it meaningless and superficial. Their encounter sharply satires the different realities the characters live in, albeit brought together by heartbreak.
The charm of 'Julebi' is its subtlety. It shows romance as it is—sometimes profound, other times selfish. No character is just one thing—they are informed, aware of their circumstances. The sweet taste of 'Julebi' (or jeri)—which some characters end up eating—is also another device used in the film, mainly to show the blossoming of romantic love. Moreover, the twisted spirals of the beloved dessert also cleverly allude to how all the characters' stories are intertwined in a not-so-perfect symphony.
Julebi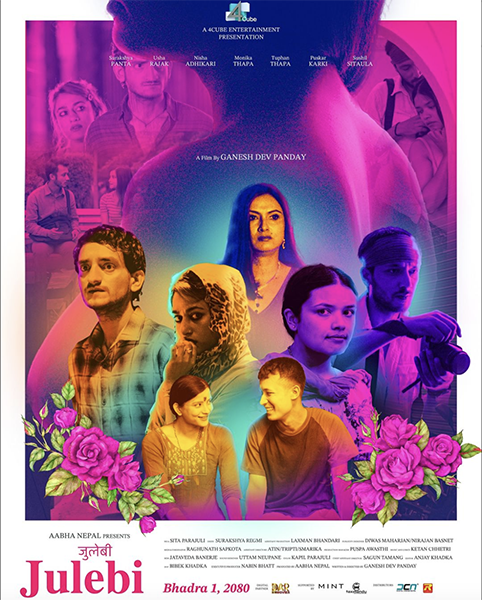 Language: Nepali
Director: Ganesh Dev Pandey
Music Direction: Jataveda Banerjee
Released on: August 18
---
---