Beyond happily-ever-after
The 2016 modern Marathi classic 'Sairat' is a nuanced, honest portrayal of an inter-caste love story.

Akash Thosar and Rinku Rajguru in a scene from the movie. Screengrab via YouTube
bookmark
Published at : June 20, 2023
Updated at : June 21, 2023 07:18
Nagraj Manjule's 'Sairat'—which translates to 'wild'—has a special place in Marathi cinema. The movie is a love story between Prashya (Akash Thosar), a talented young man from a lower caste, and Archie, or Archana (Rinku Rajguru), the rebellious daughter of the local upper caste politician of a village.

As we follow Parshya and Archana through their romantic journey, we see them break caste-based boundaries and traditional romance cliches. We also see them struggle against a bigoted society and family, and their story continues beyond the 'happily-ever-after' to the hardships afterwards.
Released in 2016, 'Sairat' has been publicly acclaimed for its realistic depiction of romance and complexities associated with inter-caste relationships. What makes the movie interesting is that along with the socially aware aspect, the movie also weaves in epic, sometimes even flashy, elements commonly associated with blockbuster cinema. 'Sairat' is the first and only Marathi movie to earn over $14 million at the box office and is to this day considered a cinematic trendsetter.
'Sairat' is not a romantic movie in the traditional sense. It does not imagine a utopia for our characters to go and live happily ever after. Even in the first half, when the movie takes a more jolly, carefree tone, remnants of reality are still there. When Parshya jumps into the well to interact with Archie for the first time, he is violating the 'sacred nature' of water bodies under the caste system. Similarly, Archie is fierce and independent yet is regularly shut down by her much younger brother just because of her gender. There is no loud proclamation of love with the actors breaking into a musical number. In fact, the confessions from both sides are short and even slightly awkward.
Yet, the movie still does not shy away from its well-loved dramatisation. The songs may not be heavy-handed, but the music is still grand, which helps add stakes to every scene. The story, although very common in South Asian cinema, is still a cathartic one. There are long romantic conversations, elaborate slow-motion captures, and refreshing camera work. These elements are well-balanced, the movie never lets the stakes or romance take away from the issues it wants to dig into. That balance makes the movie fit for all kinds of audiences.
The nuanced way of showing class discrimination and cross-cultural marriages 'Sairat' is also commendable. An important element of the caste system is the issue of water, ie the 'lower caste' is not allowed to come in contact with water reserved for the rest, like in wells, ponds, rivers and lakes. Parshya's first daring act of showing his love for Archie is jumping into a pond where upper-caste women are bathing. Later, when Archie and Parshya get together, they envision a common well for their future home, where they share water equally. Archie takes the initiative to break caste stereotypes, as her reciprocation of Parshya's love comes with her accepting water from the latter's family.
Finally, there are various elements of caste discrimination and power abuse that the movie shows. Archie's brother Prince slaps his teacher after being called out for not paying attention in class. But this doesn't lead to any punishment. In fact, he is given a birthday party and a pat on the back by his father. Parshya and his friends are threatened with rape and kidnapping charges by the police until Archie, an upper-caste woman, comes and vouches for them. The movie does a great job of giving us smaller moments, which don't directly link to the main plot, but show the severity of caste discrimination in the community.
Stylistically, 'Sairat' is a unique blend of a Bollywood-style romance movie and a docudrama about the struggles of eloping couples in Maharashtra. The transition to the latter happens when the couple are caught kissing on Prince's birthday. After this scene, there is a lack of romantic songs and slow motions. Now, things are paced more like real life.
I personally believe that there is so much our movie industry can learn from the case of 'Sairat.' The movie is grand but not loud, and there is room for social commentary without forceful hand-holding of the audience. Importantly, it shows that dramatic one-liners and overt focus on humour are not entirely necessary for a blockbuster. While Nepal's moviegoing audience is more limited than that of Maharastra, 'Sairat' can act as a template for romance storytelling, one that is authentic and can make money. Thus, either to merely enjoy a socially conscious romance story or to look for avenues to improve our local cinema, 'Sairat' is an immersive, thought-provoking watch.
Sairat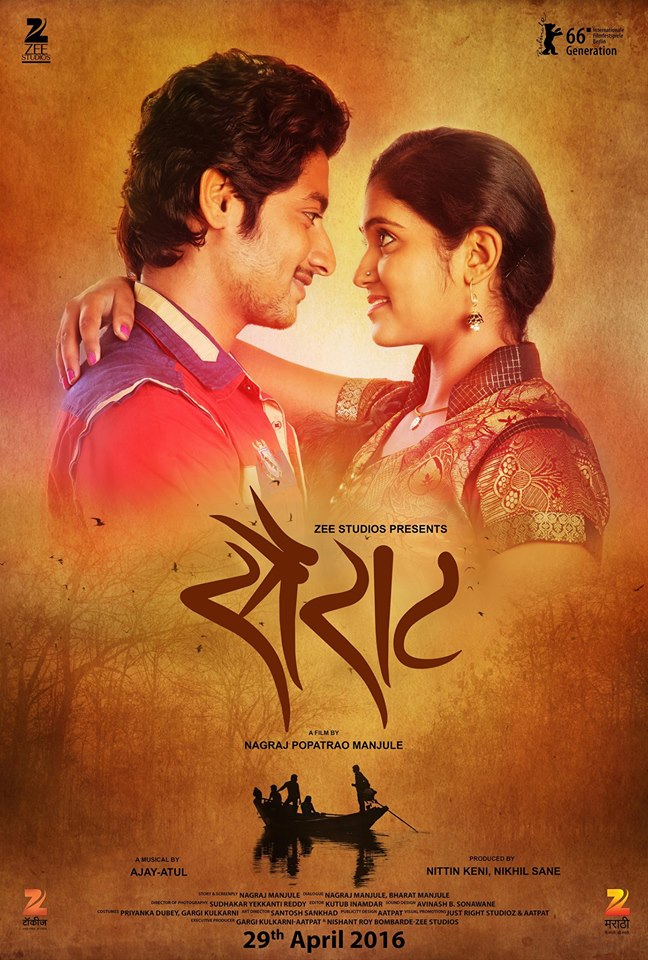 Director: Nagraj Manjule
Released: 2016
Duration: 2 hours 54 minutes
Cast: Rinku Rajguru, Akash Thosar, Tanaji Galgunde, Arbaz Sheikh and Suraj Pawar
Language: Marathi, Hindi (subtitles available in English)
Available on: Zee 5
---
---