Ningwasum: Nepal's foray into futuristic filmmaking
In Ningwasum, Subash Thebe creates a politically aware, enriching cinematic experience—something that's different from the passé entertainment on offer nowadays.

Photo courtesy: Manish Tamang
bookmark
Published at : March 4, 2023
Updated at : March 9, 2023 13:57
On March 1, Nepali artist Subash Thebe Limbu's movie 'Ningwasum' premiered at London's Tate Modern, one of the world's most prestigious art institutions. The movie marked his debut as a film director. There are only two characters in the movie— both of whom happen to be women, and that's not the only unusual thing about it. They are also time-travellers seen walking endlessly over the Sherpa nation's breathtaking terrains and the Newa nation's classical townscape. Along this journey, Thebe presents us with something that has never been seen in any other Nepali movie.

Ningwasum is not limited to its art form. It manages to set a precedent for the toughest set of questions that transcends the visuals on screen to make the viewer aware of oneself and one's community. From a future where interplanetary civilisations are thriving and living sustainably by adopting indigenous knowledge and technology, the characters of Miksam and Mingsoma (played by Subin Limbu and Shanta Nepali, respectively) return to the present-day Yakthung nation of Nepal. These women are clad in white spacesuits, carrying boat-shaped weaving tools in their hands. Around them, three-dimensional rhombi, rings and flower-shaped spaceships make appearances in the eternal sky.
In Thebe's own words, climate change has been a recurring motif in his art practice alongside the themes of migration and indigeneity. The artist received his intermediate degree in Fine Art from Lalit Kala Campus and started out as a painter. However, in the last decade, Thebe shifted his focus to sound, music and film—prioritising indigenous movements and stories. As I watched Ningwasum, I found his experience in these different mediums converging in the film— making it a politically aware, enriching cinematic experience—something that's different from the passé entertainment we see nowadays. Making a film like Ningwasum needs courage, clarity and critical thinking.
You will be utterly disappointed if you are expecting the same Bollywood-inspired couple dances on the hillside. Against the technically flawless drone imagery of Himalayan glaciers, the protagonists here ask you an important question: 'What have these indigenous communities done wrong to face the impacts of climate change on our glaciers and mountains?' Thebe forces the audience to question why these communities should bear the brunt of a climate catastrophe brought about by their oppressors.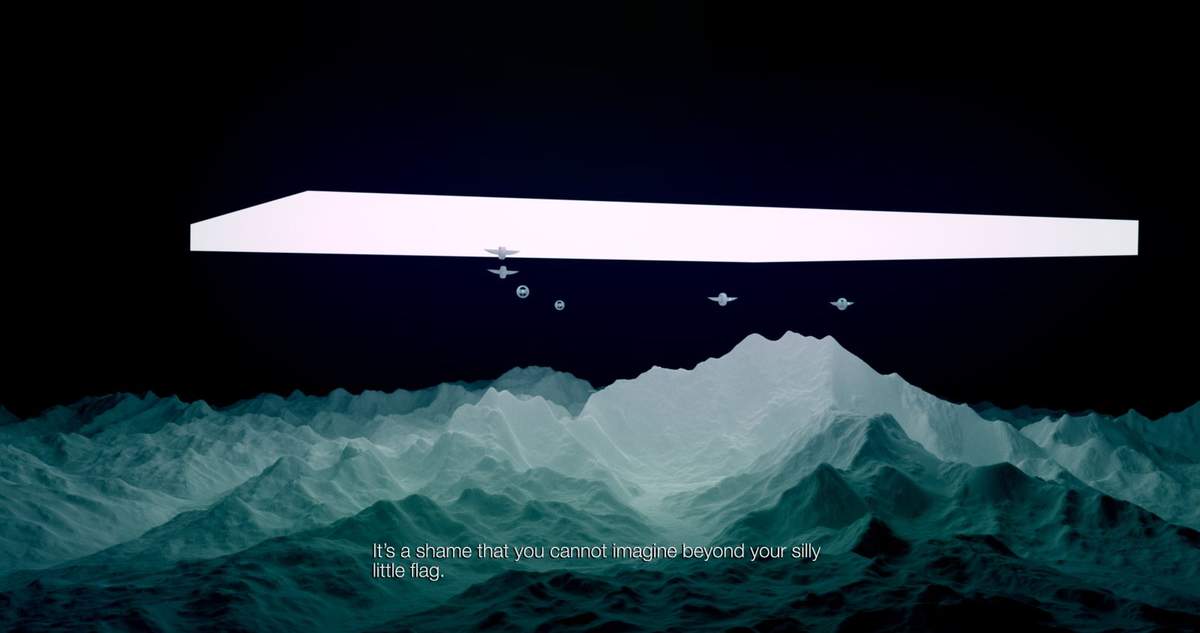 Still from 'Ningwasum' (2021)
A line from the film reads, 'Memories can fade away, and that is why our ancestors created stories'. Ningwasum makes a deliberate attempt to create its own value system for indigenous knowledge. I found it truly beautiful how it borrows indigenous weaving technologies as a metaphor to express the constant progression of time while the narration indulges in multiple timelines that its characters traverse through. In Ningwasum's universe, a deceased mother's aura can be felt on the traditionally woven shawl. The shawl can also be interpreted as a symbol of the decline of indigenous knowledge in our present timeline.
For Thebe, science fiction is an interesting genre. He blends it blends with local and global issues of indigenous people in what is called Adivasi Futurism (or Indigenous futurism). Thebe reveals that he came across the idea while in his final years at the Central St Martin's College of Art in London. Ningwasum feels no urgency to hop timelines to and fro— something often seen as a typical trope in a sci-fi film. Instead, it sets its own pace that immerses you in its series of unfolding questions over a backdrop of everything indigenous. The sounds, nature, the people and their practices excel as a cinematic collage resulting from in-depth research.
As compared to a much more relaxed first half, the final dots around the climax do look a little rushed with more restless camerawork. A seamless blend of earthy and electronic music is the strength of the film, it complements the introspective quality of the cinematography. With a conscious emphasis on human hands repeatedly touching water, fabrics and tools, the visual language does justice to the underlying narrative. During the Q&A session, when asked about his views on technology within the indigeneity debate, Thebe had a clear take, 'Technology should not be posed as an antithesis to indigeneity. We should deploy technology that is at our disposal. But the end question should be, who is ultimately benefitting from the introduction of new technology?'
I hope that more Nepalese filmmakers will take the path of making meaningful cinema that celebrates indigenous cultures. Ningwasum is a truly rare example.
_________________
Title: Ningwasum
Language: Yakthung (Limbu)
Subtitle: English
Duration: 44 minutes
Director: Subash Thebe Limbu
Cast: Subin Limbu, Shanta Nepali
Released: 2021
---
---