'Every film we do is a reflection of our personal stories'
Award-winning filmmakers Pooja Gurung and Bibhusan Basnet on their cinematic journey, their creative process, future projects and why they like to stay away from the limelight—even after achieving so much.

Photos Courtesy: Bibhusan Basnet
bookmark
Published at : November 8, 2020
Updated at : November 9, 2020 06:56
Kathmandu
Since the release of their first short film, The Contagious of Apparitions of Dambarey Dendrite, in 2013, Pooja Gurung and Bibhusan Basnet have been on a creative roll. Over the years, they have swiftly moved from television to advertising to music. Their current medium of expression is cinema.
Currently working on their first feature film, The Whole Timers, which was picked at L'Atelier de la Cinéfondation at 2016's Cannes Film Festival and developed within the Jerusalem International Film Lab, the duo have been regularly screening their work at prestigious festivals like Venice, Sundance, Toronto and Busan and others.
Their second film, Dadyaa: The Woodpeckers of Rotha, grabbed the special jury award for cinematography at the 2017 Sundance Film Festival. Likewise, their recent short film, The Big-Headed Boy: Shamans and Samurai, is also being screened at the International Amsterdam Documentary Film Festival, which is going to be held from November 16.
In an interview with the Post's Ankit Khadgi, the creative duo talk about their cinematic journey, their creative process, future projects and why they like to stay away from the limelight, even after achieving so much in their filmmaking careers. Excerpts:
The two of you have been part of films for years now. How has the overall experience been like?
Bibhusan: We have been working together for the past 10 years. Our overall journey has been filled with struggles, as it always has been a hurdle to get financial resources for our projects due to which there have been difficult and exhausting times as well. Sometimes, we wonder about how we have been able to financially sustain ourselves and create cinema all these years.
Pooja: Yes, every project has been an experience filled with struggles. Whenever we work on a new project, it feels like we again have to face another uphill struggle. However, to be honest, these struggles have been learning lessons for us, as we believe that if we didn't endure these struggles, we wouldn't have that hunger to make movies and express what we want to.
You guys mostly work as a team and co-direct. How challenging is co-directing and how do you try to be on the same page so the vision of a movie won't get affected?
Pooja: Honestly, for us, co-directing has been really helpful and we don't find it challenging at all. For any duo, if they want balance, there should be a fulcrum that maintains the equilibrium. For us, it's movies. That's why even before we go to location for shooting or we start writing, we discuss a lot beforehand.
I feel that co-directing has rather helped us, as we complement each other. However, the way others view our collaborative effort is something that I find awkward. It also makes me angry. Sometimes, I am seen less as a filmmaker or a 'female' filmmaker', even when I have been equally involved in the film.
Bibhusan: There's no lying that conflicts do arise when you work in a team. But we solve it by working together in every aspect, whether it be writing scripts, developing storyboards, or even having discussions with our crew. We mostly write by giving space to each other's vision. For instance, when I start writing, I write non-stop. She does the same. But yes, complications do arise when we write taking inspiration from our individual experiences, which may be different from each other. However, we do think a lot about whether our imagination or ideas serve the purpose in the writing and if the other person can connect to it.
All of your past projects were screened, with some even bagging awards, at many film festivals. How has that helped shape your craft?
Bibhusan: All of our experiences have been helpful and eye-opening, as we got to witness some amazing and experimental cinema that we usually were unaware of or had no access to.
We actually found producers for our films through the festivals only, as we got to meet so many talented people there, working to make movies.
Pooja: Attending film festivals has been a great way of experiencing mind-blowing films that made us understand the power of story-telling. You get to meet wonderful people and your horizon and worldviews get expanded.
We honestly live in a bubble, and there are times when we need to come out of it. For filmmakers, film festivals are such events, as it helps us to be humble and stay guarded as well.
Can you briefly tell us about what your upcoming The Whole Timers is about?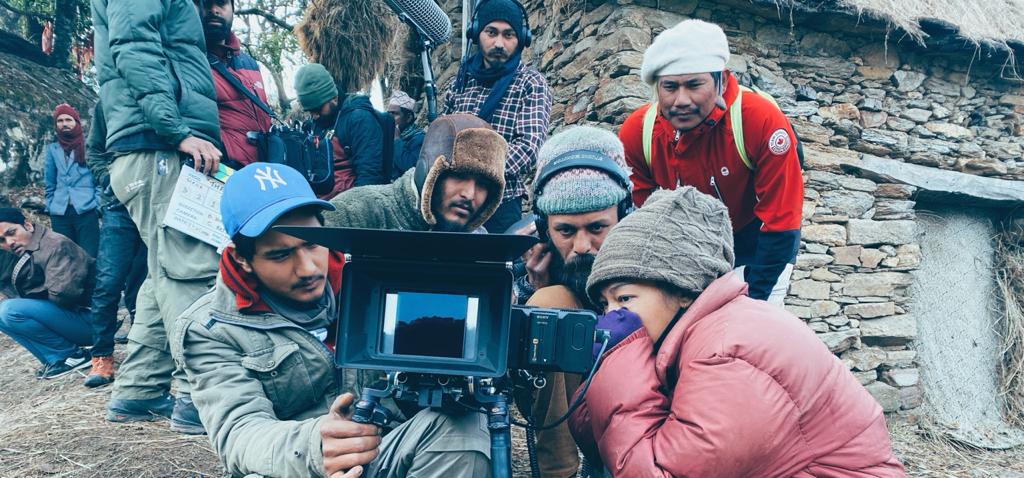 Pooja Gurung and Bibhusan Basnet behind the scenes of The Whole Timers, their first feature film which was picked at L'Atelier de la Cinéfondation at 2016's Cannes Film Festival. The director-writer duo is currently working on the film. Photo Courtesy:Bibhusan Basnet
Bibhusan: We have already shot 50 percent of the film. However, we had to stall shooting due to the lockdown. The duration is not exactly fixed but it will be four hours long as we will cover the last three years of the Civil War.
The film is about a 13-year-old boy who becomes part of the war. He's furious, as he has lost his family to the war and wants to own a gun, to take revenge. However, instead of a gun, he has a Handycam, through which he captures the war, his experiences and his friends.
All of your previous movies featured a personal story that resonated with the viewers. As a story-teller, what kind of stories are you interested in telling?
Pooja: We don't like to make issue-based films. For us, whenever the camera starts rolling, everything becomes personal. Dambarey Dendrite was never a film about street children only for us. Likewise, Dadyaa wasn't just a movie about migrants who left their hometowns.
Everything we do, everything we create has to come deeply from our heart and is a reflection of our personal stories. We can't even write the first sentence of the film if we can't make it personal.
Your films are not only appreciated for their heartfelt story-telling, but also for their impeccable visuals. How important is cinematography for you guys, as storytellers?
Bibhusan: For as long as we can remember, writing has been the medium through which we have expressed ourselves. However, coming from a writing background did affect us in filmmaking, as we viewed cinema as something similar to the craft of writing.
But thanks to the company of some friends, we understood the value of cameras. Cinema is not just about writing. At the end of the day, it's a visual medium, and you need to understand the nitty-gritties of camera work. I feel that it's okay for a director to not know everything about writing, but if you don't know how the camera works and how to handle it, then you miss a lot.
It's through the medium of cinematography that you set the tone of the film, it's pacing, mood and build the world you want to show. That's why we like to experiment with cinematography. For instance, in our latest short film The Big-Headed Boy, we have experimented by using an 8mm film, even when it's old and difficult. However, as filmmakers, we believe in challenging ourselves and experimenting with various mediums.
The Nepali film industry is going into two polar opposite directions. There's the 'mainstream' cinema earning the big bucks and there is an independent cinema, which is limited within a group. Why do you think we haven't found the right balance?
Pooja: We don't give priority to making films based on our roots and stories that are original to us. Most of our movies, especially commercial movies, are doing nothing, except aping. There's no effort to tell genuine and rooted stories, which happened during the Golden Age of television in Nepal.
We still haven't made a good love story or a horror story. I believe it has to do with the fact that we have normalised mediocrity as people hardly express their dissatisfactions. I strongly feel we need to speak the truth and say things that we don't agree or like about movies.
Likewise, we, the filmmakers of the current generation, shouldn't give up. There will always be difficult days. But that doesn't mean we give up. We have to work and strive continuously for the betterment of movies. That's what South Korean filmmakers did and look at the quality of South Korean cinema now.
Even after achieving so much, you guys are mostly low-key. Why so?
Pooja: It's a mutual and conscious decision we took for our mental well-being and sanity. As filmmakers, we like entertaining our inner voices more. There are many voices insides us which we want to focus on more. That's why we have shifted from film circles and for us, it has been a good choice.
Making cinema in itself is a herculean task. Then, there is a lack of appreciation and film culture in Nepal. Surely, that must be demotivating at times. What then drives you to show up to work?
Bibhusan: For us, we don't have any option except making movies. Our lives revolved around movies. We don't know what fuels or drives us, but movies are everything for us.
When we had to stop our shoot for The Whole Timers due to the lockdown, it was a sad experience for us, as we had given five years of our lives to the movie and when we had finally started shooting we had to stop.
But we didn't let the experience affect us. We instead resumed our work by editing the clips of the feature as well as our latest short movie, The Big-Headed Boy.
Pooja: We don't make movies just to sustain ourselves. It's part of us. Our movies are not just us depicting our inspirations, stories, and experiences. We are also depicting the stories of the people we interviewed and met during our filmmaking process, who opened up to us and shared their dreams and experiences. That's why every morning we wake up, we feel charged to fulfil our responsibility of telling the stories of people and us through our movies.
---
---