Revisiting 'Uma'—a Maoist combatant's story
Looking back at the 2013 film, it remains a triumph. But could it have done more?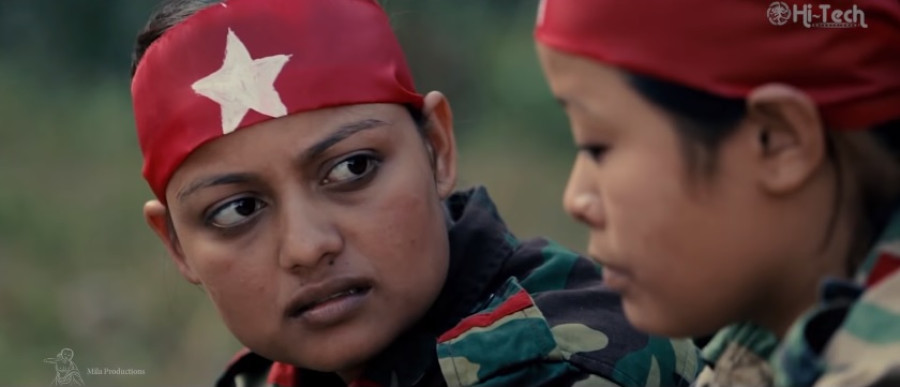 Screengrab via YouTube
bookmark
Published at : April 10, 2020
Updated at : April 11, 2020 15:07
Kathmandu
While I was watching Uma, directed by Tsering Rhitar Sherpa, the first thought that came to my mind was, "The flippant jokes made on Reecha Sharma on Comedy Champion were utterly unfair." The movie is a sombre reminder of what the country went through during the Maoist war. And, as it has been seven years since its release, I will take the liberty of spilling spoilers as well—readers, consider yourself informed.

Uma is about a young woman of the same name, who journeyed from being a high school student interested in poetry to a Maoist revolutionary. Uma, played by Reecha Sharma, is the daughter of a deceased police officer and the role of her mother is performed by the terrific Mithila Sharma. Uma's elder brother, Milan, portrayed by Saugat Malla, is also a police officer. These three main characters have done an exceptional job in showing the emotions running through a family with a police officer and a Maoist combatant. If you want to witness Dayahang Rai before he reached stardom, there are a few good comic scenes of him. Other actors have also done a commendable job.
The best thing about Uma is its non-partisan approach. It does not have black and white characters, rather it treads in the grey zones of reality. It is not a revolutionary fable, nor it is a piece of anti-Maoist propaganda. It is just a story of the times we lived in. Uma has cleverly shown intentions of both warring parties. On one hand is Milan, a dedicated police officer, who has completely bought the dominant narrative of the state. He believes that Maoists are terrorists and containing them is his responsibility. For those who were born after 2000 and had not got an opportunity to listen to the state broadcasters of the time, a taste of state propaganda is given in a scene when a police officer's voice is heard on the radio. He defends the killing of a child and vilifies the child as a Maoist. The film also has several scenes where Nepal Police embark on extra-judicial killings with absolutely no remorse. In one such scene, two police officers callously talk about investing money in a business while they were digging the ground to bury the bodies they had just killed.

On the other hand, the ambiguous motivations of Maoists are also portrayed in the movie. Initially, as any young revolutionary would, Uma's Maoist friends were encouraged to shoot a police officer by the sheer desire of avenging their teacher's killing. Uma herself was initially not convinced by the Maoist's strategy of violence. However, after she is taken in by the Maoist army, trained and indoctrinated, she begins to speak their language. One can hear the words 'proletariat', 'imperialists' and 'bourgeoisie' littered through some sections of the movie, which could also make it a bit inaccessible to an audience who may not be politically astute. Nevertheless, the movie is not at all a dose of Maoist idealism. Uma's comrade in arms, Asha, informs her how they have also killed innocent civilians, just like the security forces. In another scene Uma's comrade, with a criminal past, attempts to rape a girl, which is immediately condemned by Uma. She says, "Those who have set out for revolution do not go about raping women. Nor do they kill the innocent." But the hypocrisy within the Maoist movement is immediately exposed after another Maoist character replies, "You are absolutely correct. But if we start talking about these things, it could break the (Maoist) camp. Such minor incidents keep happening in war. We should ignore these things."
Director Sherpa has shot the movie beautifully with stunning camera work and angles. There is a scene which could be taken straight out of the movie and framed on a living room wall—just before Uma and two of her comrades are called back to go to a mission in Kathmandu, a frame is captured in which a long chain of Maoist silhouettes walk up a mountain under the light-orange setting sun.
Uma, being a movie about a young woman, is a commentary on the gender politics of the Maoist movement. It allows Uma to come home late in the nights after participating in a poetry workshop and spending time with her boyfriend. The movie also allows Uma to fall in love twice, a rare feat in movies made in South Asia. Her first lover is killed by the police, then she falls for a hardcore Maoist combatant. A poignant and funny moment is when Uma knows about her pregnancy outside of the wedlock, in front of her hospitalised mother. That, I found, radical—given the context of Nepal where pregnancy before marriage is considered akin to serious crime.
Uma is a story of the protagonist. It starts with her and ends with her. While that seems to be the sole intention of the director, I feel as though the immensely talented man missed an opportunity to comment on the wider politics of the then Community Party of Nepal (Maoist). Prachanda's name was invoked once and that was all. The movie did not talk about national issues and demands of the Maoists. Politics of ethnic identity, a major aspect of the Maoist movement, was not explained. Since the movie was released in 2013, after the country was already witnessing the gradual degeneration of the movement, it did not touch on the post-revolutionary times. But these expectations are probably too much to fit in a single movie. Who knows, if Sherpa wants to make another movie drawing on the contemporary parliamentary power play of the former Maoists? Watch Uma on YouTube and judge yourself.
---
---