Thappad makes the entitled uncomfortable
Directed by Anubhav Sinha, the latest Bollywood film is a tight slap on the unjust social structure that entitles men with unfair privileges.

Screengrab via YouTube
bookmark
Published at : March 3, 2020
Updated at : March 3, 2020 08:04
Kathmandu
Every day it's Amrita who wakes up early in the morning, prepares breakfast for her husband, Vikram, and takes care of all household chores. From waking her husband up to preparing his tea, even taking care of his office files, the constant montage shown in the film not only helps the audience understand the husband-wife dynamics but presents a larger picture of our society—where it's always the women who are obligated to put their wishes aside, take care of the home, and help 'the man of the house' achieve his dream.
Exploring this unfair privilege, which many men of our society are entitled to, is Thappad directed by Anubhav Sinha. Based in Delhi, the movie puts Amrita (Taapsee Panu), a homemaker, in the titular role, who is married to Vikram (Pavail Gulati).
At the beginning of the movie, and their marriage, everything is well—until one night when Vikram slaps Amrita in a fit of anger. The slap—performed in front of an audience at a private party—makes her realise how unimportant she is in his life and that her sacrifices have no value. The incident is regarded by many characters in the movie as a petty issue, but for Amrita, it makes her question the unjust nature of their relationship, where she is the one who has to discontinue her passion for dance so she could devote her full time in making his dreams come true.
Vikram is the darling entitled son of his family. He is taught to greet his elders by bowing his head down but not to apologise for his wrong demure and physical violence. The fact that his failure to apologise to his wife speaks of how our culture disregards the gravity of an incident of physical violence between a couple and expects women to forgive and forget.
And as Amrita decides to file for a divorce from him, the whole world, even her family members, are against this decision. "It's just one slap. Women must have the ability to tolerate pain," they say. Amrita, however, is undeterred; she is determined to end the marriage.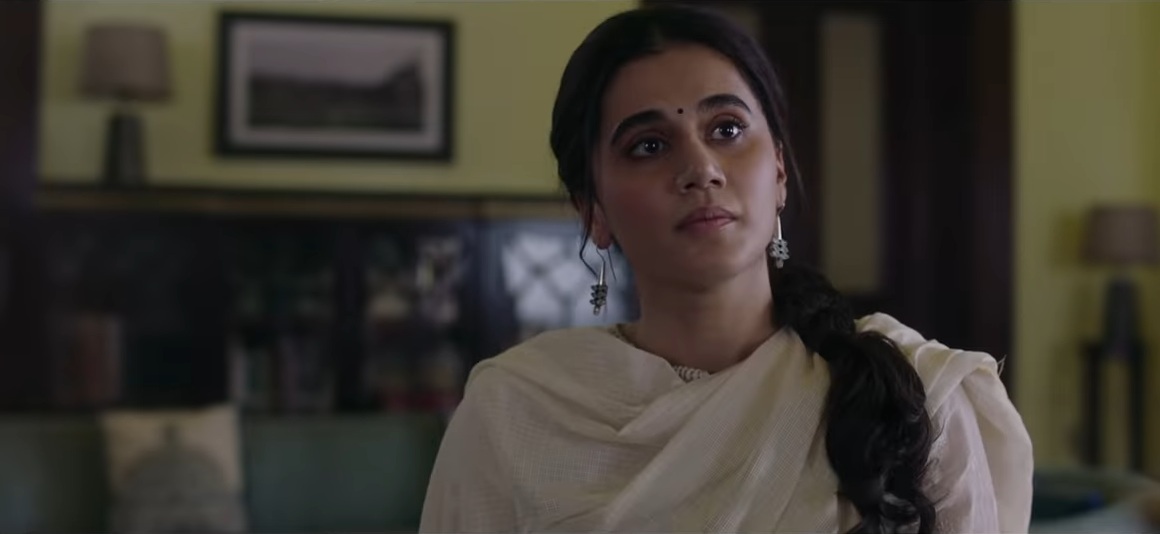 Screengrab via YouTube
In the movie, it's not only Amrita who's suffering at the hands of an unequal relationship. Juxtaposed in the film's plot are the stories of two other women, belonging to distinct class groups, whose lives are somehow affected because of the unjust rules and the failure of society to acknowledge women and men as equal.
Nethra (Maya Sarao), an acclaimed lawyer, a beacon of women rights, is Amrita's lawyer. Even though Nethra is an independent and privileged woman, her husband constantly devalues her efforts and achievements.
But what's more disturbing is the fact that in one scene, her husband forces himself upon her and she can't resist him, even if it's against her will. While, on television, news of her successful court victories are playing, in real life, her consent is getting violated. Through this particular scene, director Sinha reflects how even if women are strong and independent, they still have to suffer because of entitled men who treat their wives like someone on whom they have full ownership.
The other character is Amrita's househelp Sunita (Geetika Vidhya), who has to put a constant smile on her face and be in a jolly mood even if she gets constantly beaten by her husband.
There are no preachy dialogues that create animosity for the male characters. And the writers Sinha and Mrunmayee Lagoo brilliantly tackle the issue of men's entitlement with subtle portrayal and their nuanced characterisation.
Instances in the movie, like Vikram and the male members of his family eating before the women in the family, the expectations society has from Amrita, to be tolerant, even accepting of the physical act and move on, and the ignorance of the characters who perceive physical violence as just an expression of extreme love—all portray deeply rooted sexism, making a lasting impression on the audience.
The film's victory however lies on the actors' brilliant performances and the ability of the director to successfully convey the message it set out to disseminate. It shows how although many women are making leaps in their professional lives, they are still expected to fulfil home-maker duties. Even if they are tired and work the same hours as the men in their family, they are the ones who cook. For some this may not be a big deal, but when you start unravelling the small things, you find out that it's still a man's world out there and the film subtly portrays that.
The film also makes you realise that waiting for a big, unfortunate event to take place to speak out against inequality is not the way to go about things, that by adhering to patriarchal rules you are directly maintaining the current unequal status quo.
At a time when films like Kabir Singh, which was a remake of Telugu movie Arjun Reddy, that glorify toxic masculinity and misogyny, are being celebrated and being remade (Yuva Films, a Nepali production company has already bought the rights of Arjun Reddy), it is important films like Thappad be made.
And while one might argue that it's the choice of the filmmakers to decide on what subject they are interested in making a movie on, we need movies like Thappad for our Nepali audience not only because of its sheer brilliance but also to make people more aware about entitled privileged men and their toxic masculinity rather than making movies that celebrate it.
Film: Thappad
Starring: Taapsee Panu, Pavail Gulati, Geetika Vidhya, Maya Sarao
Director: Anubhav Sinha
Stars: 4 out of 5
---
---