Maruni's heart might be in the right place but the end result is disappointing
A film about the trans community should do its subject justice, but Maruni seems to pity its lead character.

Screengrab via YouTube
bookmark
Published at : September 7, 2019
Updated at : September 7, 2019 07:07
Kathmandu
[Editor's note: This review contains spoilers. Read on at your own risk.]
Samragyee RL Shah, the lead in the new film Maruni, said in an interview that her mother had advised her to take up the film as it was a once-in-a-lifetime opportunity. Maruni really is like no other Nepali film, in that it is about the trans community. But then again, it is exactly like most other Nepali films, in that it is purely a commercial take on a sensitive topic.
The Nepali word maruni literally means 'a person who dances and sings in the disguise of a woman'. With a subject matter this powerful, you'd expect the film to be a deep character study. Sadly, the film pities, rather than empowers, its LGBTIQ character, saying things like "you will never be enough".
The film's plot is your regular love triangle, but with a twist. Raj (Aayush Shrestha) and Yash (Puspa Khadka) are best friends who grew up together. Raj has always been in love with Yash—he'd even dress up and play bride to Yash at school events. Yash, however, falls in love with Madhu (Rebika Gurung), a common friend. Upon realising this, Raj walks out of Yash's life and undergoes gender reassignment surgery to become Suman (Samragyee RL Shah).
Years later, Suman meets Yash as a business partner. They spend quality time together—which, in Nepali films basically means to get drunk at a party—and kiss. This incident rekindles Suman's feelings for Yash, only this time she's not willing to backout. She turns into a possessive lover, sending up obvious red flags. And if you've seen the trailer, you know where this is headed. Suman finds out that Yash is married and very faithful to his wife Madhu, but that won't stop Suman, who is almost psychotic in trying to convince Yash to leave his wife through a series of cliché scenes of stalking, invading privacy and throwing herself on Yash.
Yash eventually finds out who Suman once was, and decides to spend more time with his once best friend. Yash's affection now makes his wife jealous and she tries her tricks to separate her husband from Suman. And thus continues the seemingly never-ending saga of who gets to be with Yash.
This is the first time a Nepali commercial film has a transgender character as the lead, and that is why a little more detail into the trans community would be desirable. Although we get an elaborate flashback on how Raj became Suman, these scenes do nothing more than paint a sympathetic picture. There is no empathy and no connection, and this is where the director fails the issue at hand. The transgender community faces frightening prejudice on a daily basis. Any filmmaker portraying this community on film needs to be very thoughtful in how they choose to depict characters. Because Suman's only identity is that she is a transwoman, Samragyee's millions of young fans will shape their opinions based on this role. Do the filmmakers really believe that trans people should be feared or pitied?
In the epilogue to this film, Yash and Madhu's son is seen putting on his mother's makeup (lipstick and red tika) in an ominously shot scene that has the aesthetic of a horror or thriller film. This film seems to tell the audience that being trans is a curse.
Another example is the opening (after the prologue) of the film. Maruni begins with montages of Raj and Yash. In the first montage, a schoolteacher is lecturing on the topic of 'diseases'. Do the writer and director not realise what that implies? Things like these can't be ignored because the opening is called 'the setup' for a reason—audiences form their idea of where the film is going based on the opening.
The writers Govinda Phuyal and Nawal Nepal, who is also the director, are both cis-men and they never give Suman, the titular trans character, any agency in her own story, besides that of an obsessive lover. She even attempts suicide after her father (Arjun Shrestha) tells her that she can't bear a child. Basically, if you can't give birth to a child, you're not worthy of love. Her father also goes on to tell Yash that "God gave her [Suman] desire, but no solution". This breaks Yash's anger and rekindles his friendship with Suman, more out of pity than anything else. Also, let's not ignore what this film essentially is—two women fighting for a man's affection.
Most scenes are clichés, but the film is marred with bad directing choices more than anything. The actors simply stand and talk and every scene has the same flow, right from establishing shots to close-ups. While the cinematography gives us bright and pleasant frames, Sanjay Lama, the director of photography, makes it almost too pretty at times, as if you were watching a high budget advert. It doesn't do much for the story. The art director, Menuka Rai, has taken care to place visible element of red (or maroon) throughout the film, especially in scenes depicting Suman.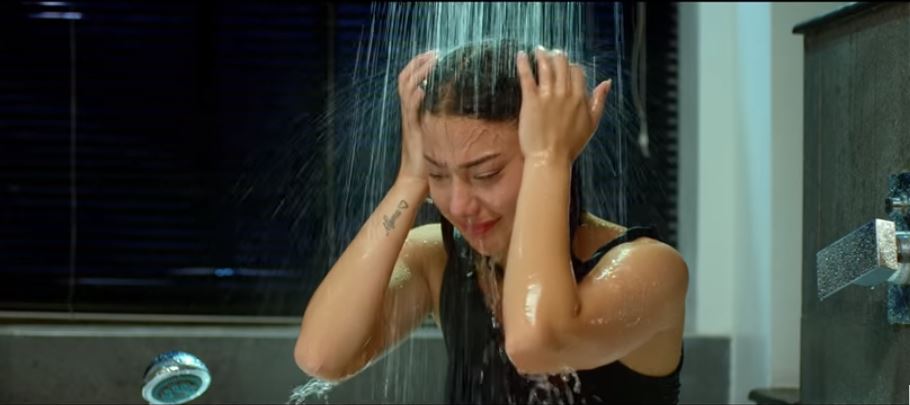 Screen grab via YouTube
Samragyee's casting must have seemed like a great idea at the time for the filmmakers because of her accent. Perhaps Maruni is the only film that could justify why she talks the way she does. Raj doesn't have an accent, but Suman does, so the accent must've come after her gender reassignment surgery. But as an actor, badly-made wigs aside, Samragyee is the same girl we saw in Dreams (2016). Her mother was right, this was the role of a lifetime, but the role demanded so much more and she does it no justice. And as impossible as it might seem, the other actors are even worse.
Nepali films on the LGBTIQ community are few and far between. The Nepali media has constantly depicted the community as people to be ridiculed. So, credit should go to this film for go beyond comic relief for LGBTIQ people. But how we represent each other in the media influences how we perceive each other in the society. The LGBTIQ community faces many obstacles in daily life. There are no strong legal guarantees to simple amenities like workplace or marriage equality. While we've seen pride parades and marches, demanding an end to discrimination, we still have a long way to go.
Based on the team's interviews, it seems like Maruni has its heart in the right place but with cinema, no matter how important the issues you raise, poor storytelling will always ruin the impact it could've had.
Maruni
Stars:1.5 out of 5

Starring: Samragyee RL Shah, Pushpa Khadka, Aayush Shrestha, Rebika Gurung

Producer: Punam Gautam

Director: Nawal Nepal
---
---