Xira the film won't let you admire Xira the character
As with most Nepali films, the film's writing is weak—making it unrealistic at times. The filmmakers' biggest sin, however, is using rape as a mere plot device.

Screengrab via Youtube
bookmark
Published at : August 31, 2019
Updated at : August 31, 2019 10:11
Kathmandu
You want to like Xira, you really do, but it just won't let you.
Consider this scene: Xira opens the door to a hallway. She is ready for hand-to-hand combat with around eight men. She kicks, throws punches, and beats the goons to a pulp. The norm in most films is that goons collapse after just one hit from the protagonist, but not in this film. Here, they shrug off their bruises and attack again. The audience thinks it is in for a treat, but then, slowly, you realise that this scene is a little too familiar. Dedicated watchers of film and television from recognise this hallway fight as having been lifted straight from the South Korean cult classic Oldboy (2003) and the Netflix TV series Daredevil (2015).
In Xira (pronounced Zaira or Jaira), Namrata Shrestha, as the lead, performs her own stunts in a series of long, single takes. This is new to Nepali cinema, and it should be applauded, were it not for the film's other cardinal sins.
Xira is a mixed martial arts fighter, a role that Shrestha is quite convincing in. Since debuting with Sano Sansar more than a decade ago, Shrestha has mostly played girl-next-door characters. She's also done a few thrillers and action films, but those were neither here nor there. Since 2008, she has only had two solo leads to her credit—Soul Sister (2015) and now, Xira—both films produced under her banner, Namrata Shrestha Films.
But back to the film, Xira is a fighter who performs in a poorly rendered CGI octagon with very young audience members cheering her on. After winning her opening fight, she is all set to face Dikshya 'Bullet' Regmi (Srijana Regmi) for the 'final' fight. But these women have a connection. While Xira's husband Rao Rana (Anoop Bikram Shahi) is a police officer with the Central Investigation Bureau, Bullet's beau is a well-connected don, Raja (Pramod Agraghari).
Rao has accused Raja of raping a young girl but has been unable to formally charge him because of a lack of evidence. After Raja goes on a rant about how the police are helpless in front of him, the insulted Rao cuts off his finger. Now Raja, being the deadly villain that he is, kills Rao with a chainsaw in front of his MMA fighting wife, which happens right before the interval. You can guess where the story will go from here. Post interval, we go on a journey of revenge with Xira.
Xira's screenplay is written by Niraj Maharjan and Aashutosh Raj Shrestha, with the latter also credited as the director and story (writer). But like with most Nepali films, the writing is weak and it turns the film too unrealistic at times. The filmmakers seem so focused on individual imagery that the scene as a whole becomes meaningless.
Let's take an example: Rao's funeral scene plays out in the rain with all family members under umbrellas. Now, the image and execution is well thought-out but something odd happens. Everyone in Rao's family leaves even before the funeral pyre dies out. Of course, this produces an interesting image of Xira, alone in the frame. But does it make sense? Did everyone just leave the grieving widow by herself at the funeral pyre of her husband?
The screenplay is also full of redundant training montages. There is nothing wrong with montages, and credit should go to Shrestha who has physically challenged herself, but the filmmakers insist on showing all of her training—in the octagon, in the gym with multiple pieces of equipment, trail running in the jungle, and climbing walls. Xira might want to keep pushing her limits, but the audience has little patience for overwrought sequences like these.
While Srijana Regmi as Bullet deserves special mention for her stellar performance and great screen presence, the filmmakers undo all that she brings to the film by choosing to grossly objectify her. Instead of developing her as a strong antagonist for Xira, the film is full of unnecessarily sexualised scenes like Bullet walking out of the swimming pool in slow motion, with the camera tracing her skin from her feet to her legs in an embarrassing closeup. There's a scene where Raja snorts cocaine from in between her breasts and somehow, even in 2019, the filmmakers think an action thriller still needs a scantily dressed woman dancing to an item number.
The makers' biggest sin, however, is using rape as a mere plot device. There are two instances in the film, where, if you substitute rape with any other form of physical violence, the scene would have played out exactly the same. It's alarmingly obvious that the writers are simply using rape as a narrative device.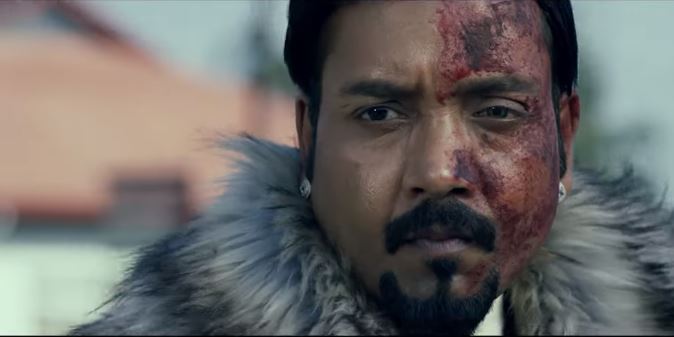 Screengrab via YouTube
Remember the scene where Rao accuses Raja of rape? Well, this scene plays out while the victim is present in the same room. Now, I am not sure if this is meant to be a commentary on police procedure, which I doubt, but Rao subjugates a rape victim to the psychological torture of facing her assaulter. Then, in another instance, another rape victim is treated even worse.
Shilu (Suzta Shrestha) is an annoyingly loud girl who is introduced as having 21 boyfriends. She is a vlogger who repeats the 'single and ready to mingle' ad nauseam. Later, she infiltrates Raja's lair and makes a TV report about his criminal activities. In the next scene, we see that she's bruised, hospitalised, and crying in front of Xira. Even though we clearly understand what has transpired, the film insists on an unnecessary flashback where Raja and his goons kidnap Shilu and record her with their phones while Raja throws her into a swimming pool, disgustingly licks her, and smells her hair. Then, she is made to unbutton her jacket and remove her blouse. Shilu's character is reduced to nothing but a victim as she is left in the hospital, reliving the horror of her sexual assault.

Because we never learn the predicaments of either women, the film trivialises rape and its victims. A film can deal with rape but it needs to be done with sensitivity. This consciousness must arise as early as possible in the writers' room. The way Nepali films casually use rape as a mere plot device points to a bigger problem: either we don't have enough women in our industry who are willing to speak up, or like in many other areas of our patriarchal society, they're simply not heard.
Xira ends hinting a sequel and hopefully, the filmmakers will do better next time. But for now, when Xira is eventually made available online, I hope the filmmakers consider removing the swimming pool flashback, which does nothing more than treat violence as a spectacle. Removing this offensive scene will have no consequences whatsoever on the storyline.
Xira
Actors: Namrata Shrestha, Srijana Regmi, Pramod Agragari
Director: Aashutosh Raj Shrestha
Screenplay: Aashutosh Raj Shrestha, Niraj Maharjan
Stars: 2 out of 5
---
---