Judgementall Hai Kya is not a typical Bollywood flick, but its many story arcs feel forced
The director baits the audience into judging the characters but they probably end up judging the movie.

Screengrab via youtube
bookmark
Published at : August 3, 2019
Updated at : August 3, 2019 07:40
It's past interval for Judgementall Hai Kya and you're juggling between the two protagonists. You don't really know who is sane and whom to believe, because the story running clockwise has now turned anti-clockwise. You pay attention for some time and then you find yourself going back and forth between the two characters. The story never makes a complete cycle, alternating between the two directions, until the very end.
If this mind exercise reminds you of Imitiaz Ali's Tamasha, where you don't know who's gone cray-cray: the girl, the guy, or you after watching it; brace yourself for Judgementall Hai Kya.
Just as the trailer implies, the film asks the audience to pick a side, with director Prakash Kovelamudi trying to convince you to either play for team Bobby (Kangana Ranaut) or team Keshav (Rajkummar Rao) until the game finally ends. Basically, you'll be the one asking yourself if you're judgemental or not.
Penned by Kanika Dhillon, the movie begins promisingly, introducing Ranaut's Bobby as a peculiar protagonist burdened with a disturbing past. She's smart, artsy, and knows how to deal with unwanted sexual advances—dangerously. With a pocket knife in hand, Bobby, who works as a voiceover or dubbing artist, even ends up slicing up her boss's nose, easily agreeing to live in an asylum as penance.
We know something's off with Bobby. She suffers from acute psychosis and makes fun of things we'd normally feel sorry for.
'I'm an artist,' says Bobby. She clearly is, but a little too literally.
She starts impersonating the characters she contributes her voice to, and begins to recreate herself as the characters on Adobe Photoshop, putting them up on a wall in her home.
Things get even stranger for Bobby as she begins to fail to determine what's real and what's imaginary. Through an illuminating aesthetic presentation, the director of photography and the post-production make certain, even the audience experiences Bobby's hallucinations.
I could go on about Bobby, as we're given 130 minutes straight to get to know her, but that's where the film slips up. Dhillon's story doesn't have enough space for other characters, not even Keshav. Though Bobby and Keshav are supposedly the two protagonists of the film, the latter remains an ambiguous character who drifts along with Bobby's life.
Had the movie's initial name, 'Bobby', not been changed, it might have made more sense, but the current name appears to hint at something more that never really arrives.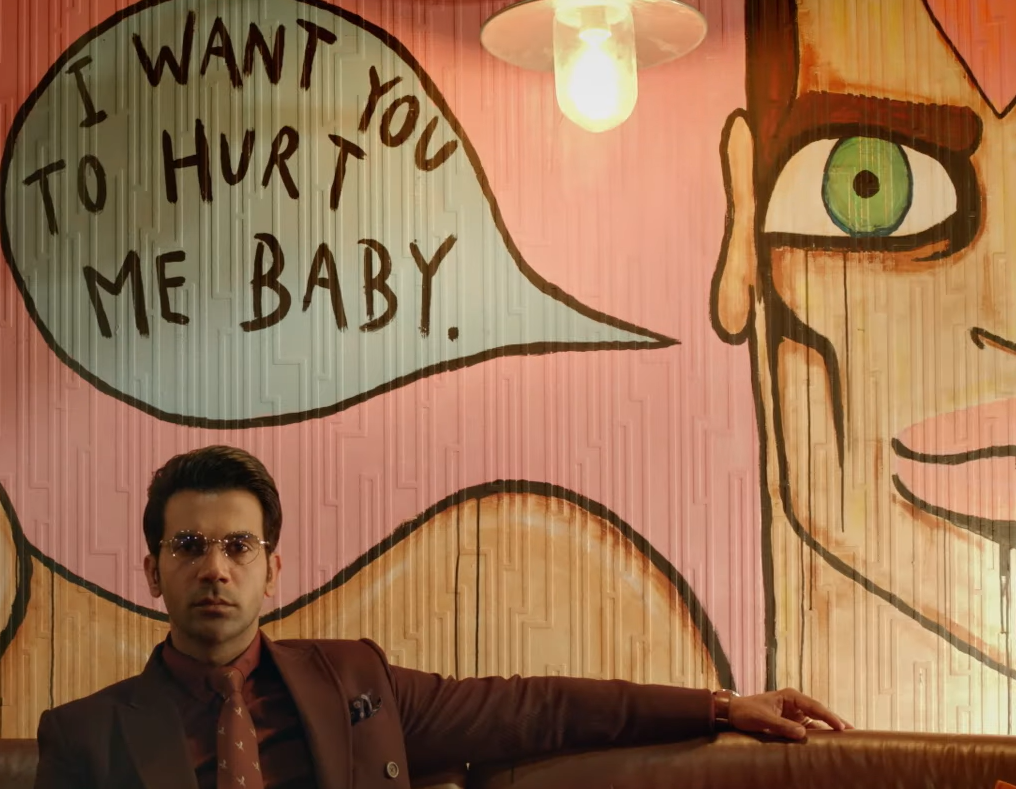 Screengrab via youtube
Keshav eventually shows up with his wife Reema (Amyra Dastur) as Bobby's tenant. Our first look at Keshav is as a loving and caring husband. But since we're in Bobby's mind, we can't be sure of anything. Considering all the effort the film takes to invite suspense, Keshav is a stranger to us. But even at the end, we don't get to know him too well or in any logical manner.
There is, of course, a murder, and a series of accusations by Bobby towards Keshav. There are moments when the film pretends to be a thriller, but is essentially a comedy. With witty, dramatic wordplay, the script is filled with punchlines for the audiences. Some might make you laugh, but others will scare the laugh out of you.
Judgementall Hai Kya is not a 'typical' Bollywood film. It doesn't have a dreamy and too-good-to-be-true romance between the two co-stars, which is a good thing. Although, a heartwarming moment between Bobby and Jimmy Shergill's Shridhar could have been explored a bit more. However, as I said earlier, the film doesn't house anyone other than Bobby. Like she says herself, "I don't need friends in my life."
The movie's score is also a collection of songs you barely notice playing in the background. You can't differentiate if its an official soundtrack or just a compilation of dramatic sound effects. While 'Para para' is Bobby's 'theme song' it doesn't really offer anything new.
There are also forced allegories, as in we never discover what is so futuristic about Futuristic Ramayana. But we do realise that the irrelevant use of the holy epic was only made in order to fit a character. Given how many decent actors are in the film, the audience might feel deceived by the script, realising that much more could have been made out of the same scenes.
Judgementall Hai Kya started out bold and engaging, and it was fun trying to crack its mystery. But as it developed, it felt forced and had too many arcs in its story. The rich scenes with balanced colour grading and robust performances do compensate but in the end, you still walk home judging the movie and maybe also judging yourself.
Judgementall Hai Kya
Director: Prakash Kovelamudi
Writer: Kanika Dhillon
Actors: Kangana Ranaut, Rajkummar Rao, Amyra Dastur, Jimmy Shergill
DOP: Pankaj Kumar
Stars: 2.5/5
***
What do you think?
Dearreader, we'd like to hear from you. We regularly publish letters to the editoron contemporary issues or direct responses to something the Post has recentlypublished. Please send your letters to tkpoped@kmg.com.np with "Letter tothe Editor" in the subject line. Please include your name, location, and acontact address so one of our editors can reach out to you.
---
---