There is promise in Appa's director, but not so much in the film
In his first film, Anmol Gurung has directed the ubiquitous Dayahang Rai in such a way that he looks and feels like a different character. 

A screengrab via Youtube.
bookmark
Published at : July 6, 2019
Updated at : July 6, 2019 12:10
Ever since the 70s, there have been numerous talented directors and storytellers from across the border making films in the Nepali language. Many films that are now considered Nepali classics were directed by Nepali-Indian filmmakers, like Pratap Subba's Paral ko Aago (1978), Ugyen Chhopel's Saino (1987), or Tulsi Ghimire's Kusume Rumal (1985), Laure (1989), Cheeno (1989), Deuta (1991), Balidaan (1996), and Darpan Chhaya (2002).
These films laid the foundation for a style of storytelling whose remnants can still be seen today. Each film had a unique storyline, a superstar performing at the peak of their career, and hit songs that have retained their popularity until today. For the Nepali cinema industry, this collaboration opened up opportunities for co-production between the two countries. Exchanges of finance and artists—actors like Danny Denzongpa, singers like Asha Bhoshle, and cinematographers like Binod Pradhan, of Rang De Basanti and Devdas fame—were regular occurrences.
In the last decade or so, however, political, financial, technical, and other reasons had almost put a halt to this collaboration. So when I saw the trailer for Appa on YouTube last month, I was thrilled. The trailer, with its swift cutaways, the local Nepali dialect of West Bengal, the rich cinematography of Shailendra Karki, and superstar Dayahang Rai in a very different avatar, led me to look up its filmmakers, Anmol Gurung. Turns out, Gurung is a singer, writer, poet, and a romantic who lives right next door to Tulsi Ghimire in Kalimpong. I was impressed.
The film's lead character reminded me of the mythical 'Hum Jayega', a Nepali-speaking driver in West Bengal who loved to crack jokes and didn't mind occasionally being the butt of one. I was excited for an outing with an interesting character. But alas.
Upon watching Appa, my first regret was that I had watched it's trailer. The trailer revealed most of the story, with Birkhey (Dayahang Rai) as a simple driver who cracks jokes with his colleagues, and offers rides from the local railway station. A Bengali family from the station hires him to go to Sandakpur but since Birkhey is an alcoholic and has been drinking, he loses control of his vehicle and gets into a horrible accident. All of his passengers die, except for a child, who Birkey ends up adopting. The child calls Birkhey 'appa' (father).
But when the child falls horribly sick, Aangi (Aruna Karki), the local pub owner, tells Birkhey that he is not fit to raise a child. Determined to give the child an education, Birkhey goes to the local priest (Tulsi Ghimire), who also runs a fancy school. The priest makes an absurd proposition, that Birkhey cannot meet the child for the 12 years of his education. Birkhey agrees, becomes sad, and drops the child off. And we break for an early interval.
Flash forward 12 years later and Birkhey's child, Siddharth (Siddhanth Raj Tamang), is all grownup and likes to sing. He meets Kavya (Allona Kabo Lepcha) and falls in love with her. An older Birkhey meets his son after a long hiatus, but Siddharth rejects him immediately. Now, Birkhey needs to win back the love of his child.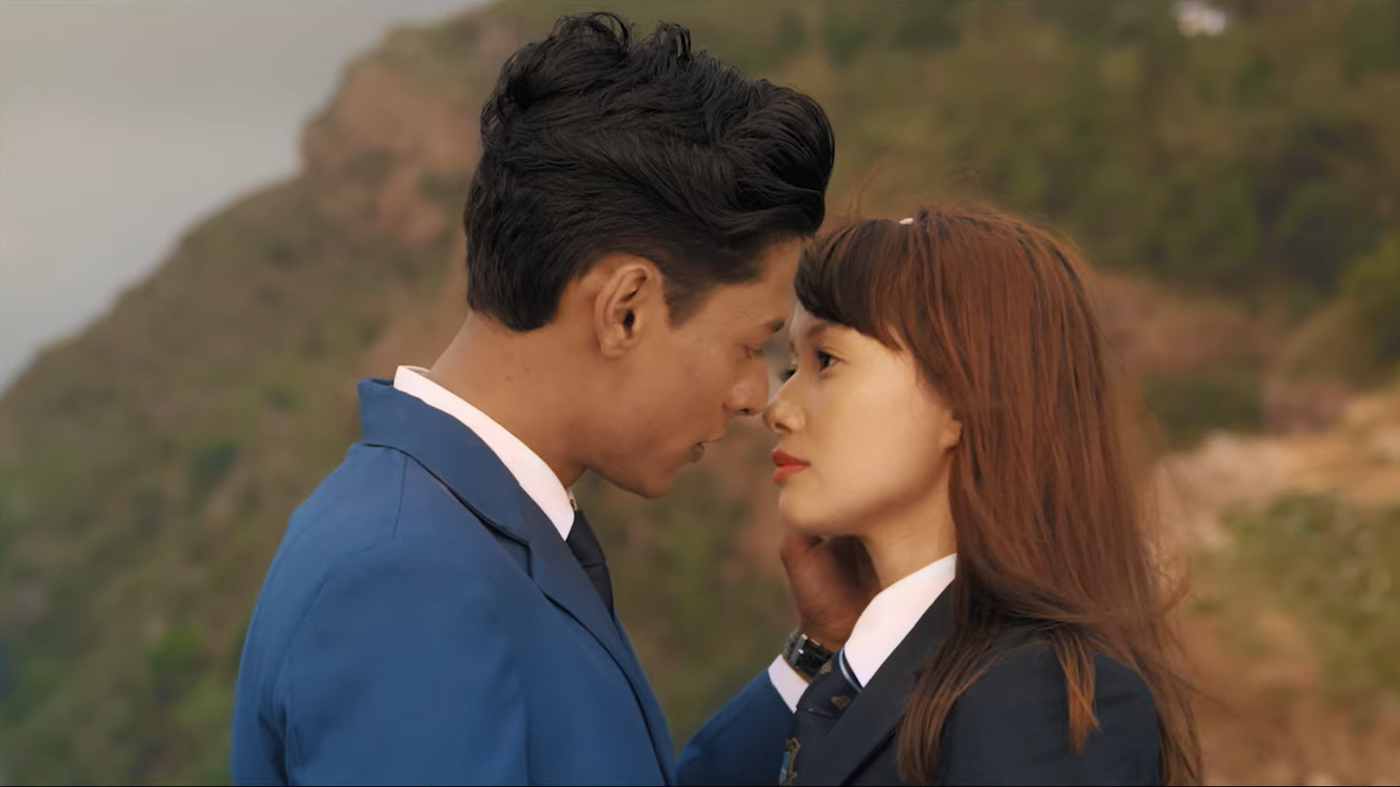 A screengrab via Youtube.
The trailer reveals all of this, barring the final twist, robbing the audience of their cinema hall experience. The drama is ruined because we already know what happens.
​​​​​​​
Adding to the lethargy, Gurung gets carried away with elements unnecessary to the plot. Right after the interval, we begin with a music competition where the director has a cameo as the host. We are treated to two songs each from Siddharth and Kavya. Then, the host announces that the competition is over and both of them are going on to a bigger competition, maybe nationals (I forget, but it doesn't actually matter in the context of the story). What matters is that Siddharth and Kavya meet, practice singing together, and Siddharth falls for Kavya. Gurung could've devoted more time to this development rather than the nitty-gritty of the competition.
Gurung is not an incapable talent. What follows these lethargic scenes is the wonderful 'Sanjha Pare Pachi' sung by Gurung himself. But everything that came before feels it was included to pad out the length of the film. The director and editor Surendra Poudel spend too much time on the mundane, rather than character building and storytelling.
To make matters worse, writing-wise, Gurung doesn't give you any more incentive to watch this film. You can watch the film for Dayahang Rai's performance, but that too gets old. Birkhey, Rai's character, has fundamental design flaws that don't allow Rai to stretch out. Birkhey is the 'appa' of Appa, but he doesn't actually do anything in the film except react to situations laid onto him by the script. He never initiates any action, or attempts to lead a scene. Everything feels a little too convenient. Even Birkhey's drinking, something that is established numerous times as a big problem, is never dealt with in a proper manner.
When you don't give your character agency, the audience never empathises with them; so we never feel what Birkhey is feeling. If the audience feels sympathy, rather than empathy, your audience will not care if the lead character dies of alcohol poisoning or in a car accident.
But Gurung shows potential. This is his first film and he has directed the ubiquitous Dayahang Rai in such a way that he looks and feels like a different character. Also, having cinematographer Shailendra D Karki to capture contemporary Kalimpong and Darjeeling is a masterstroke. The outdoor locations, school, and the iconic Ghoom railway station feel gloriously mystic. A special shout out to his lighting team too, because the film is very consistent with the tone.
But, Karki's work isn't without flaws. Many times, Karki's close-ups feel constricting. His framing works when the character is waking up from a dream sequence, but not when a character is being a mentor. His close-ups, especially the ones with Tulsi Ghimire are claustrophobic, rather than up close and personal.
The bar for Nepali films is quite low at the moment. Contemporary films made in Nepal are churning out Loot (2012) reboots, or ugly romance flicks that are misogynist or sexist. Compared to them, Appa is beautiful. Gurung deserves respect for not bowing to the market.
I really hope the film has a great run in Nepali theaters so that we can see more from Gurung and others from across the border. I am quite excited to see Saurav Rai's first feature film. More importantly, filmmakers from across the border will make sure that films like Appa will be released in Indian cinema halls, and this will open up even more avenues for co-production for Nepali cinema as a whole.
Appa
Director: Anmol Gurung
Actors: Dayahang Rai, Tulsi Ghimire, Siddhanth Raj Tamang, Allona Kabo Lepcha
Stars: 2.5 out of 5
---
---