Nepal's electric vehicle imports surge after tax cuts
According to the Department of Customs, 1,103 battery-powered cars worth Rs3.24 billion entered the country between mid-July and mid-January.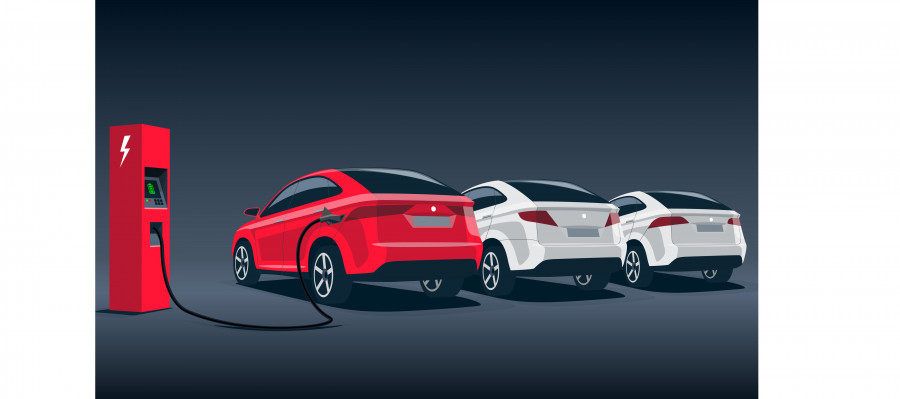 Price of an electric car starts at Rs2 million, according to automobile dealers. Shutterstock
bookmark
Published at : February 2, 2022
Updated at : February 2, 2022 08:12
Kathmandu
Electric car imports jumped more than twentyfold in the first half of the current fiscal year, with auto dealers attributing the surge to government moves to abolish excise duty and slash customs duty to boost internal consumption of electricity.

According to the Department of Customs, 1,103 electric cars worth Rs3.24 billion entered Nepal during the period mid-July to mid-January. In the same period of the last fiscal year ended mid-July 2021, imports totalled 51 units valued at Rs105.19 million.
"There is no doubt that the sharp rise in electric vehicle imports is due to government policy," said Krishna Prasad Dulal, immediate past president of the Nepal Automobile Dealers' Association.
The budget for the current fiscal year slashed import duty on battery-powered autos from 40 to 10 percent in a bid to expand electricity use and promote environment-friendly transportation.
Car dealers say that demand for electric vehicles is very high but production is down in India from where Nepal imports most of its vehicle needs.
"Less than 30 percent of the requirement of electric vehicles is being fulfilled currently," Dulal said.
Nepali traders were keenly following the 2022-23 Indian budget statement on Tuesday. The Indian budget made a big direct announcement in the form of a new battery swapping policy on electric vehicles.
Indian Finance Minister Nirmala Sitharaman said that there would be increased focus on expanding electric vehicle infrastructure across India, with more charging stations to help vehicle owners to shift to electric with less worry of connectivity.
The policy will facilitate faster rollout of battery swapping centres where car owners would be able to refuel their vehicles by replacing exhausted batteries with charged ones.
This will also save time taken in charging the embedded batteries in electric cars.
Nepal's import data shows that the new policy on battery-powered cars seems to be working effectively as more and more buyers are opting for them.
During the KP Sharma Oli administration, the then finance minister Bishnu Prasad Paudel announced Nepal's plan to shift from gasoline-powered light vehicles to electric ones by 2031.
The budget statement even announced that the world's top 10 brands of electric vehicles would be encouraged to set up manufacturing and assembly plants in Nepal by offering them tax subsidies and land on lease.
Following the elimination of excise duty and reduction in customs duty, the price difference between electric and gasoline vehicles ranges from Rs1 million to Rs3 million, depending on the motor capacity.
According to automobile dealers, the lower cost has boosted sales. The price of an electric car starts at Rs2 million, the association said.
In addition to electric cars, the import of electric two-wheelers also soared by more than double in the first six months of the current fiscal year 2021-22.
Nepal imported 1,922 electric motorcycles worth Rs1.67 billion in the first half of the fiscal year compared to 695 units valued at Rs797 million in the same period in the last fiscal year.
A regular electricity supply has attracted more consumers to buy battery-powered vehicles, said automobile dealers. Customers are gradually shifting from gasoline vehicles to electric, they said.
"Besides zero excise and lowered customs duty, buyers have been encouraged by auto loans of up to 80 percent of the price of the car provided by banks and financial institutions. This has boosted electric vehicle sales," said Sandeep Sharma, marketing manager of Laxmi Intercontinental, the authorised distributor of Hyundai cars in Nepal.
"Demand for Hyundai electric vehicles has surged by more than 50 percent compared to last year," said Sharma. Hyundai maintains 40 charging stations across the country.
"We are receiving more enquiries for the Hyundai Kona and sales are also high," said Sharma, adding that they were planning to introduce the Hyundai Ioniq 5 in February. Hyundai electric vehicle prices start from Rs5.6 million.
While lower taxes have enthused buyers, electric vehicle prices have increased due to a drop in output, increase in demand and shortage of automobile components, Nepali traders say. Shipping costs have also gone up.
Many countries, including India and China, have announced dates to phase out fossil fuel-run vehicles.
China has announced an ambitious plan to require all new car sales in 2035 to be either hybrids or new-energy vehicles.
India has set a target of 30 percent electric vehicle sales penetration for private cars, 70 percent for commercial vehicles, 40 percent for buses and 80 percent for two- and three-wheelers by 2030.
---
---