Nepal's best hotel hit the bottom. Can it rise again?
How a high-end resort fell victim to the nation's political vicissitudes, becoming a microcosm of how politics and conflict impact businesses.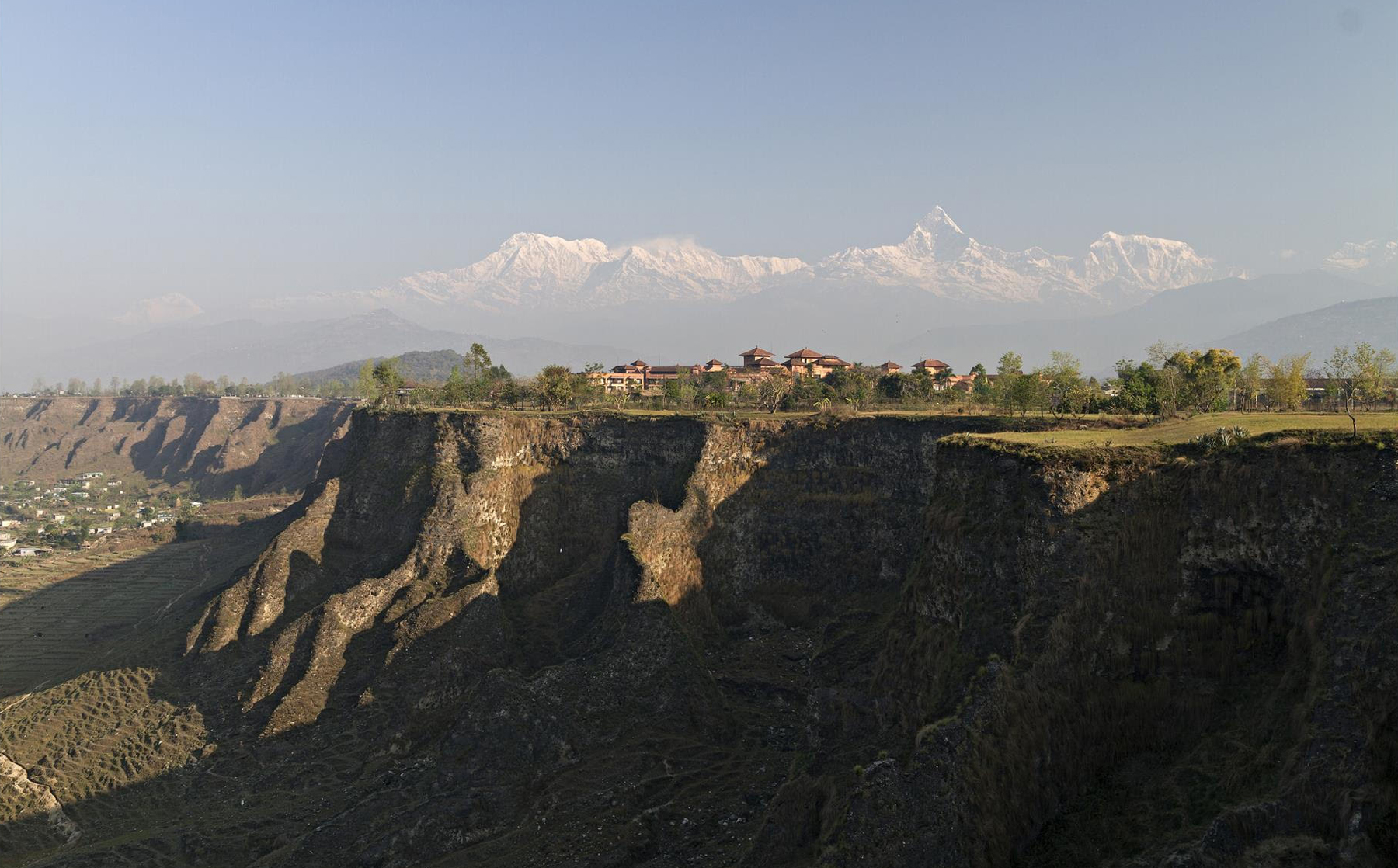 The resort, one of Nepal's most iconic properties, is set to reopen by mid-April, after being shut down for 2.5 years. If it fails to do well this time, the property will be auctioned. Handout Photo
Published at : January 31, 2020
Updated at : January 31, 2020 20:56
In the late 1990s, the Fulbari Hotel and Spa in Pokhara was a resort like no other in the country. At a time when there were few hotels catering to high-end visitors to Nepal, there would be Russian tycoons milling around in the hotel lobby alongside Malaysian, Thai and Singaporean business people waiting to charter a helicopter to Annapurna Base Camp or the hunting reserve in Dhorpatan.

Spread out over 209 ropanis of land, the 165-room resort was a marvel of architecture, fusing classical Newar wood-and-brick style with a sleek, modernist aesthetic involving marble and tile. Fulbari had swimming pools, restaurants, spas, and even its own golf course and helipad. If built today, the 140-ropani golf course alone would cost billions of rupees.
"When the resort started operations, Pokhara was just a location and Fulbari Resort was the destination," recalled Subodh Thapa, who joined the hotel as its first director for sales and marketing in 1996. "It was a complete destination by itself, with excellent rooms, good location, swimming pools, health spas and a golf course."
But as the millennium approached, Nepal would undergo a series of political events that would send the country's tourism industry spiralling. On December 24, 1999, an Indian Airlines plane was hijacked after takeoff from Nepal and the high-profile incident discouraged high-end tourists from India.
On June 1, 2001, the royal massacre occurred, bringing perhaps more attention to Nepal than it had ever gotten. Only, the image was of murder and bloodshed. That year, 2001, was one of the lowest points yet for Nepali tourism as arrivals dropped 22 percent--just 361,237 tourists visited the country. The following year, arrivals fell even further, plunging 24 percent to 275,468.
In less than five years of its opening, a resort that was to attract high-spending tourists fell victim to the nation's political vicissitudes, becoming a microcosm of how politics, conflict and a moribund democracy impact businesses. This is especially true for the tourism industry, which relies so much on a welcoming image, promises of rest and relaxation, and a hassle-free environment.
Fulbari hobbled through the 2000s and into the 2010s. But in September 2017, after 21 years of operation, Fulbari Resort and Spa formally closed down, citing a lack of visitors and ballooning loans.
Two-and-a-half years later, the resort is set to reopen by mid-April this year under new management. But this will likely be its last avatar, especially if things go the way they have for the past two decades. If they fail this time, the property will be auctioned and one of Nepal's most iconic properties will cease to exist.
Built by businessman Piyush Bahadur Amatya and designed by Kothari Associates, a renowned Indian architecture company, Fulbari was so meticulously planned out that over 80 percent of its rooms offered a panoramic view of Machhapuchhre and the Annapurna mountain range. The resort had five-star billing and charged tourists between $100 to $500 for a room.
Upon arrival at Tribhuvan International Airport, some high-end clients would charter a helicopter from Kathmandu and arrive directly in Pokhara, spending little time in the Capital.
"There was no hesitation to pay $300 a night," said Thapa.
Fulbari Resort and Spa was built at Chinnedanda, on a hilltop overlooking the Pokhara Valley. To the north are unparalleled panoramas of the mountains, and to the south, a breathtaking view of the Seti River gorge.
In August 2002, Fulbari was named one of the world's greatest hotels, alongside international brands such as The Ritz Carlton, The Grand Hyatt, The Oberoi Bali, The Banyan Tree and The Royal Meridien Yacht Club.
Architecturally ambitious with a range of amenities on offer, the resort was supposed to be an exclusive destination for the upper-end of Nepal's visitors--business people, luxury tourists and celebrities. And for a while, it was that. But management issues amidst an increasingly volatile political environment meant that Fulbari's days were numbered from the moment it began operations.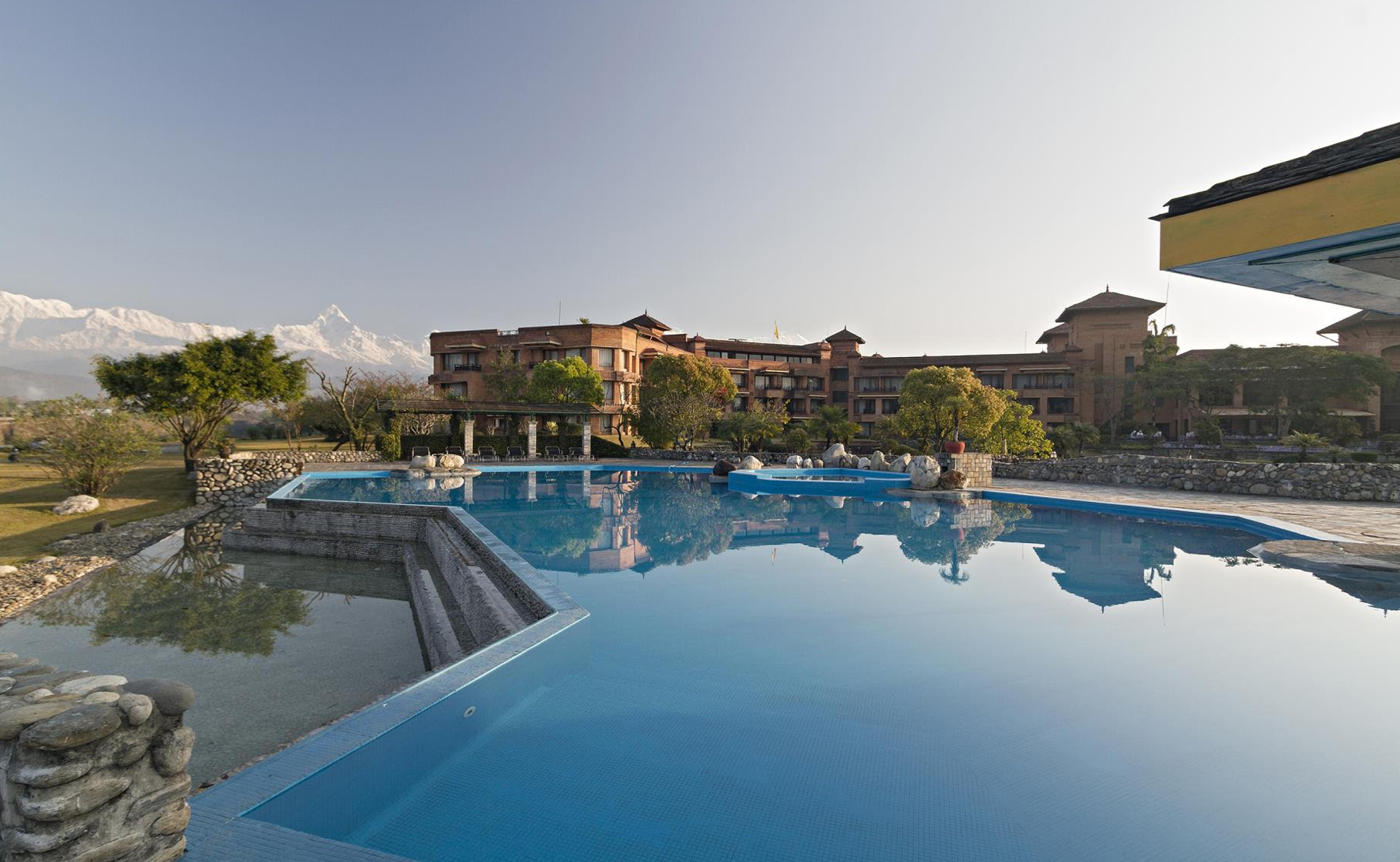 During the insurgency, many hotels started to cut their tariffs because of low occupancy rates. Fulbari followed suit, offering its luxury rooms at rates as low as $30 a night. Handout Photo
When Fulbari opened in 1996, it was managed by one of Asia's top brands, the Bangkok-based hotel and resort chain Dusit Thani International. But the Asian financial crisis of the late 90s hit Dusit Thani hard. The crisis, also called the 'Asian Contagion', was a sequence of currency devaluations and other events that began in the summer of 1997 and spread through many Asian markets—mainly South Korea, Thailand, Malaysia and Indonesia.
Dusit Thani and the resort signed a management contract in 1998 and the resort was renamed Dusit Thani Fulbari Resort & Spa. At this time, the resort had started full-fledged operations. But the partnership ran into trouble again, this time due to crises in Nepal owing to the Maoist insurgency. Dusit Thani pulled out of its partnership with Fulbari in 2000.
An employee who worked at the resort for decades told the Post that the insurgency wasn't the only reason that Dusit Thani left. The Thai chain was uncomfortable with the resort failing to abide by its own standards. As the insurgency took hold of the country and guest numbers began to drop, the hotel began to let its standards fall, which was unacceptable to Dusit Thani, as high-paying guests expect high standards, said the former employee.
"Cash flow troubles started haunting the resort because the number of quality tourists [high spenders] started to dwindle when the resort was built explicitly for them," he said.
After Dusit Thani's exit, the owner, Amatya, was adamant about not bringing in any foreign management partner. Some tour operators and hotel entrepreneurs in Kathmandu say that Amatya was "so proud of his property" that he did not feel that he needed a foreign hospitality partner. Amatya thought that his property was so good that tourists would come searching for it, even without a foreign management partner that would charge a high rate. But that meant the resort, for all its amenities, was poorly publicised abroad and many foreigners were unaware of the resort's existence.
"The resort was huge. Tourists who flew to Pokhara from Kathmandu daily would not have filled its 165 rooms or its five restaurants," said Ashok Pokhrel, managing director of Shangri La Tours. "The property was so perfectly crafted that many tourism entrepreneurs used to say 'it's too good to sell'. But the resort seriously lacked promotion abroad."
Multiple attempts over the course of a month to reach Amatya for comment were unsuccessful.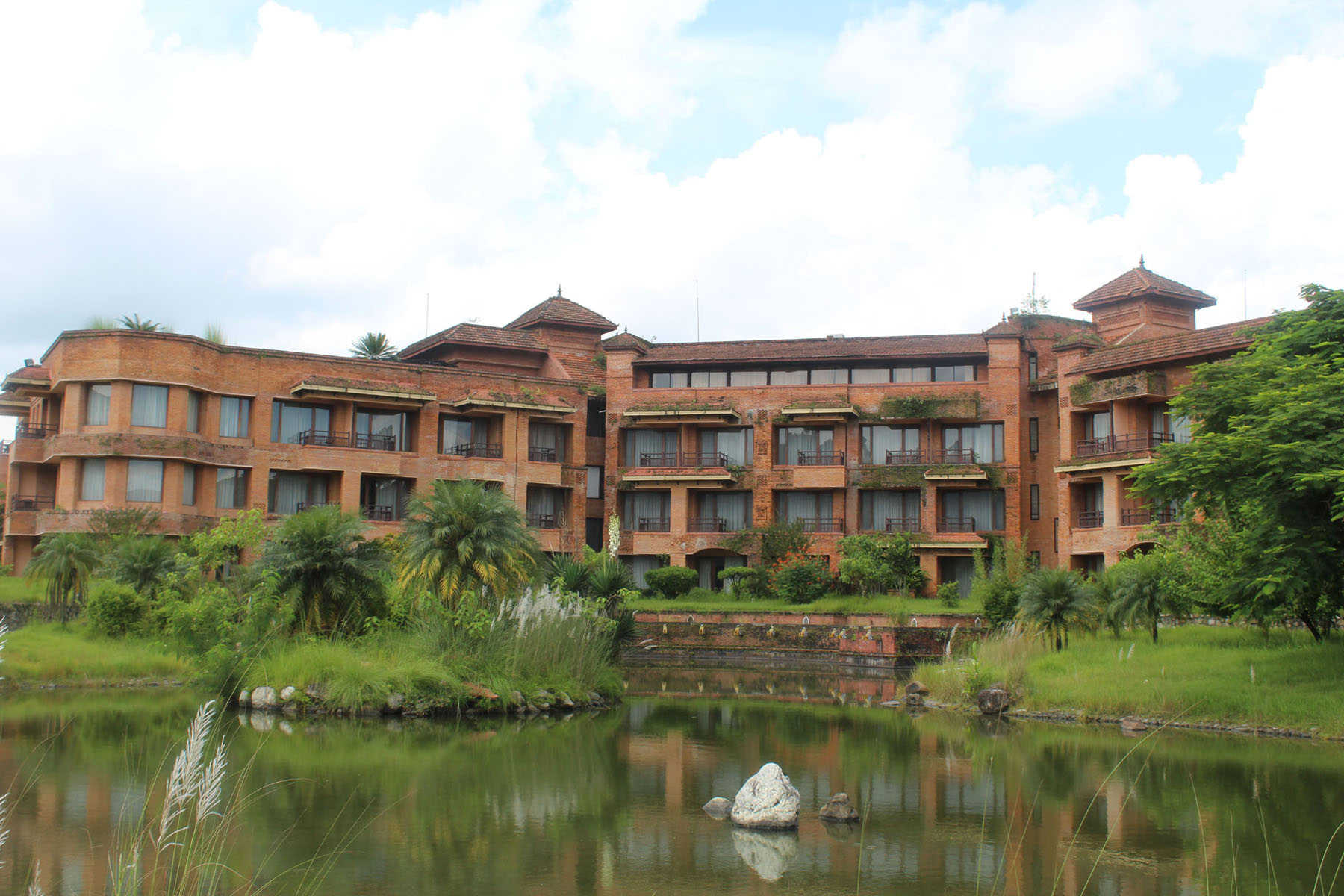 In September 2017, after 21 years of operation, Fulbari Resort and Spa formally closed down, citing a lack of visitors and ballooning loans. Lal Prasad Sharma/TKP
The Pacific Asia Travel Association's Adventure Travel and Ecotourism Conference, which took place at the Fulbari in 2000, brought over 200 travel and tourism entrepreneurs from around the world to Nepal and certainly gave a much-needed publicity push to the luxury resort. But soon after the conference, the tourism climate in Nepal started to deteriorate. With the Maoist insurgency—it began the same year Fulbari launched in 1996—reaching new heights, the hospitality sector in Pokhara almost collapsed.
The period from 1996 to 2006, the duration of the insurgency, was the worst for the resort.
"On some days, there used to be zero occupancy," said a resort official who is involved in Fulbari's restoration and is not allowed to speak to the media. "Who could have imagined that such a luxurious property will not get a single tourist?"
In Pokhara, hotel occupancy rates collapsed from 80-90 percent to almost 20 percent during the Maoist insurgency, said Pokhrel.
"How would high-end tourists come to Nepal for a holiday when the Nepal Army was everywhere," said Thapa, the resort's one-time director for sales and marketing.
During the insurgency and immediately after, Nepal lost out on high-end visitors but a different kind of tourists began to arrive--backpackers and budget travellers. Because of low occupancy rates, hotels had started to cut their tariffs, which attracted low-spending tourists. Fulbari followed suit, offering its luxury rooms at rates as low as $30 a night, on par with two and three star hotels.
When the insurgency ended in 2006, the country embarked on a political transition that would drag on for another decade. Even when tourist numbers began to pick up, high-end clients remained few and limited to Kathmandu. New properties began to pop up, further diverting traffic away from Fulbari. Amatya was forced to change his stance on not hiring a foreign management partner.
In December 2013, Fulbari Resort announced that it would be operating under new management from the Indian Clarks Group of Hotels from 2014 onwards.
"We expect the world-class brand will change the fortunes of Fulbari," Amatya had told the Post at that time.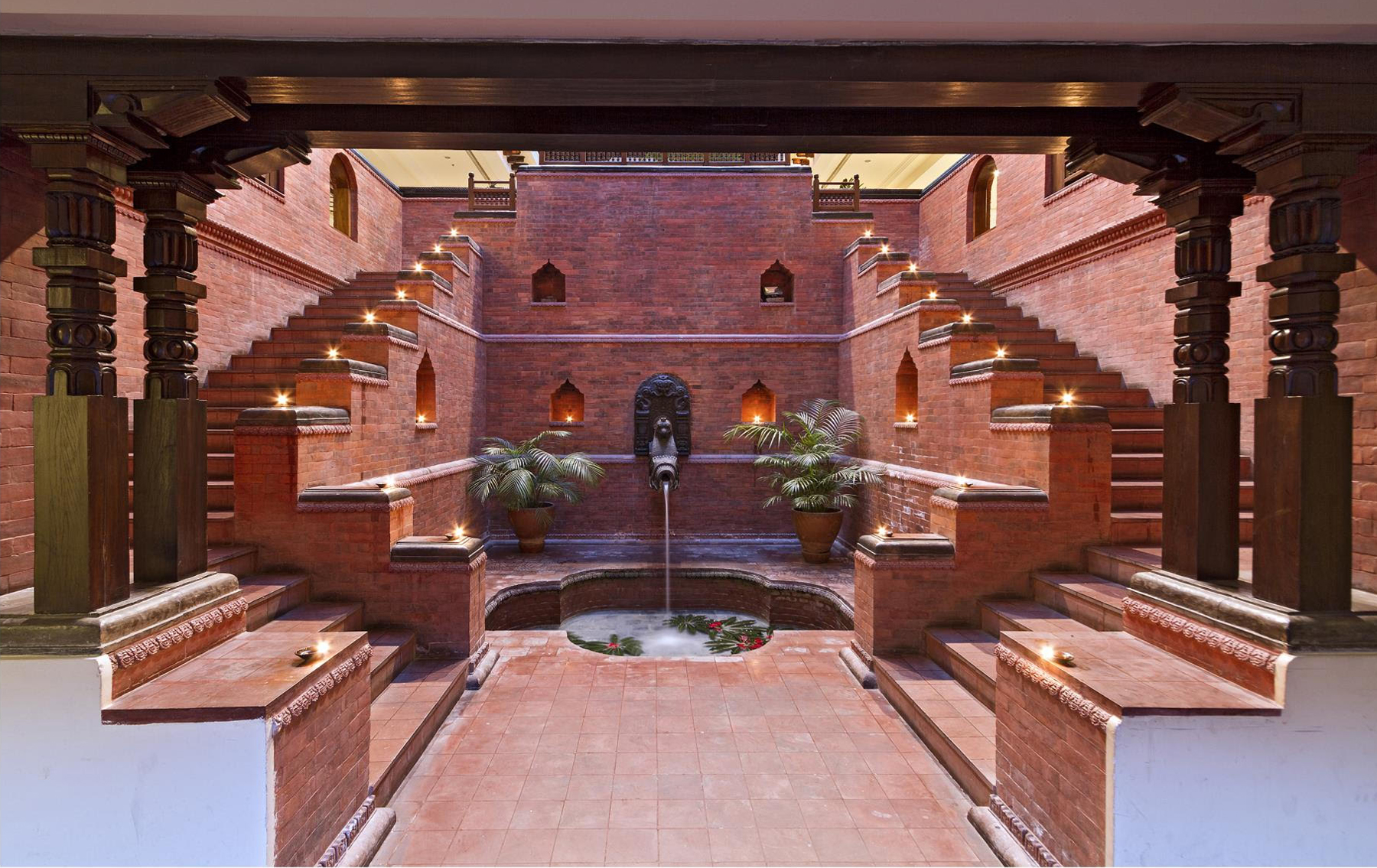 Architecturally ambitious, with a range of amenities on offer, the resort was supposed to be an exclusive destination for upper-end tourists. And for a while, it was that. Handout Photo
A 10-year operations management contract was finalised and both parties reached an agreement to market Fulbari under the brand name 'The Fulbari Resort & Spa—Member of Clarks Collection'.
But the plan never materialised, as the resort was heavily debt-laden and required a large cash injection for renovation with almost all of the owner's properties kept for collateral or sold out.
Amatya the owner was also under intense pressure from his creditors. A consortium led by Nepal Bank had extended credit worth Rs 1.31 billion to Fulbari to construct the five-star resort. The flow of loans had started in October 1994, with a repayment period of seven years. Other members of the consortium were Rastriya Banijya Bank, the Employees' Provident Fund and the now-defunct NIDC Development Bank.
The Fulbari loan was the largest for the consortium partners at that time. The resort, however, defaulted on the loan after its cash flow stopped. Interest on the loan ballooned to more than Rs3 billion.
Along with the resort's financial woes, unionised workers started to demand the salaries and perks they'd been promised. Trade unions affiliated with the Nepali Congress, CPN-UML and CPN (Maoist Centre) launched a joint protest, alleging that the management had not paid them salaries for two months, provident fund for 26 months, service charge for 14 months and health insurance for seven years.
By this time, the resort had begun to take on a deserted look. Standards had fallen sharply and even hotel staff appeared unwilling to keep up appearances. Weeds began to grow on the resort's floors and walls, algae began to bloom on the swimming pools and the rooms were dusty with disuse.
Stymied on both ends by financial woes on the one hand and workers' demands on the other, the resort was temporarily shuttered in February 2017, and in September 2017, it announced a formal closure. Nearly 120 employees made a formal exit under the voluntary retirement scheme--a scheme to reduce surplus staff as per labour laws by paying salary and allowances for the number of months of service left--launched by the resort.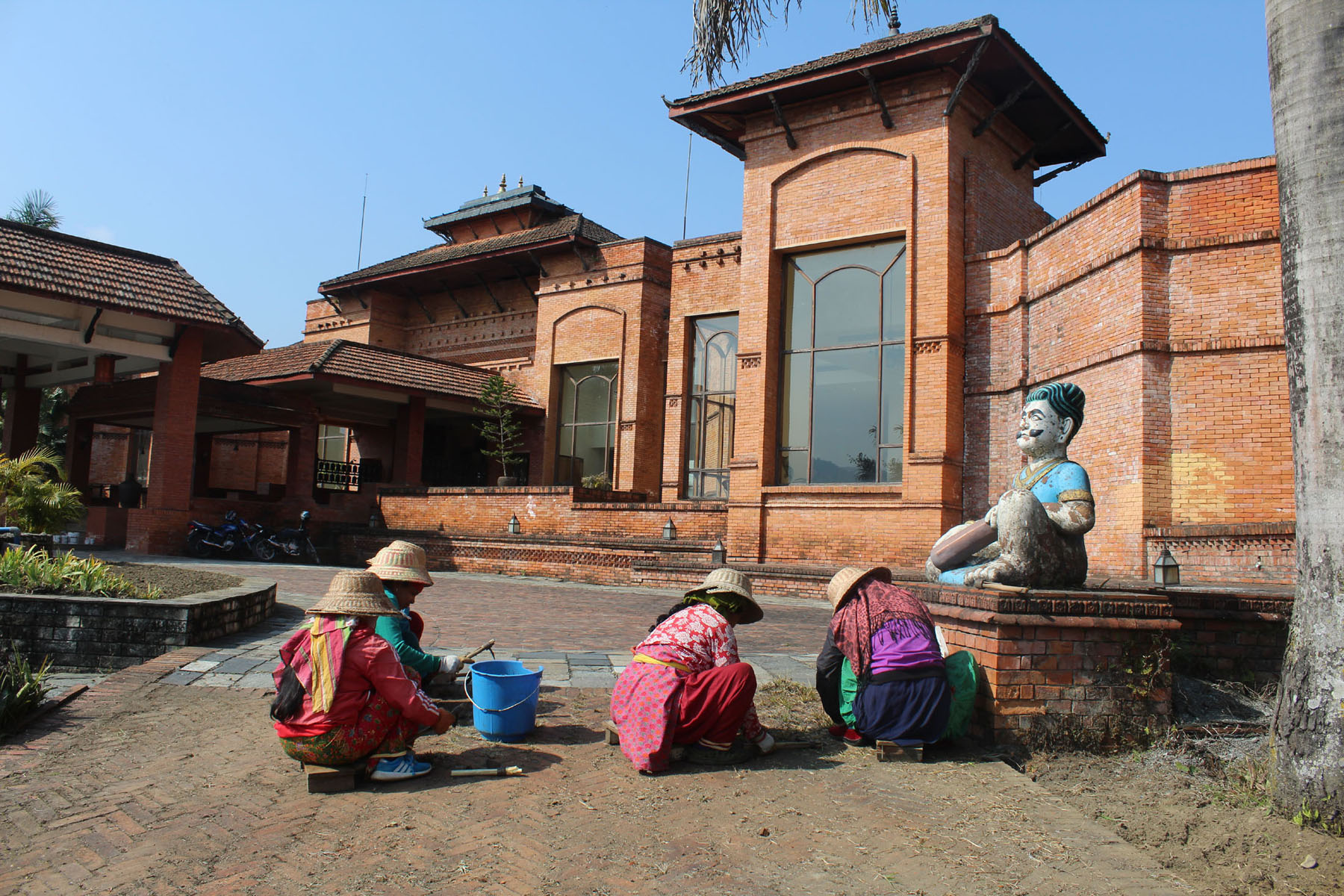 According to the resort official, they have embarked on a Rs300 million renovation project that they hope to complete by April. Lal Prasad Sharma/TKP
Around a kilometre-and-a-half from the resort, an international airport is currently under construction. The Pokhara International Airport is scheduled to come into operation by July 10 next year and the resort is betting on the airport to fuel its revival.
According to Thapa, Pokhara is now better positioned as a holiday destination and that will definitely help Fulbari bounce back.
"Until now, Pokhara has been dependent on Kathmandu. But the construction of the international airport will allow tourists to land directly in the lake city," said Thapa.
The resort has already signed a memorandum of understanding with Marriott International, an American multinational hospitality company that manages and franchises a broad portfolio of hotels. According to the resort official, they have embarked on a Rs300 million renovation project that they hope to complete by April.
Amatya Group invested over Rs 3 billion in the resort in the initial phase of its construction. Last year, the group even held negotiations with some Chinese investors to sell the entire property but the deal did not move ahead because the offer was way below Amatya's expectation, according to resort officials.
But with the resort's plans for renovation and the fact that Marriot will be managing the hotel, Amatya's creditors are willing to give him another chance.
"As the resort management has tabled its turnaround proposal by roping in Marriott International, we instantly decided to give them a last chance and the board has allowed a debt restructuring plan," said Krishna Bahadur Adhikari, chief executive officer at Nepal Bank Limited, the key lender. "The resort has been given six months to begin operations. Under this deal, Amatya has been given authority to sell some of his properties—other than Fulbari Resort—to finance the renovation project."
Debt restructuring allows a company facing cash flow problems and financial distress to reduce and renegotiate its delinquent debts to improve or restore liquidity so that it can continue operations and then pay back the loans.
Fulbari's debt restructuring started in mid-October and it has until mid-April to begin operations.
"If the resort does not come into operation by the allocated time, the process of auctioning the resort's property will begin," Adhikari told the Post.
According to Adhikari, the resort owes Rs3.45 billion—including principle, interest and penalties—to the banks.
The resort has already started the renovation. "We are hiring more than 100 employees soon," the official said.
But some officials said that a formal agreement with Marriot has yet to be signed and based on the resort's track record, there are still doubts whether Marriot will ultimately come on board after renovation.
The property was at a good location and it still is, said Ambica Shrestha, president of the Dwarika's Group and owner of Dwarika's Hotel, another property that caters to high-end tourists.
"Decades ago, it was an attractive property and now, with one of the world's most reputed brands, it can bounce back from a run of bad luck," said Shrestha. "Nepal needs such properties that define luxury."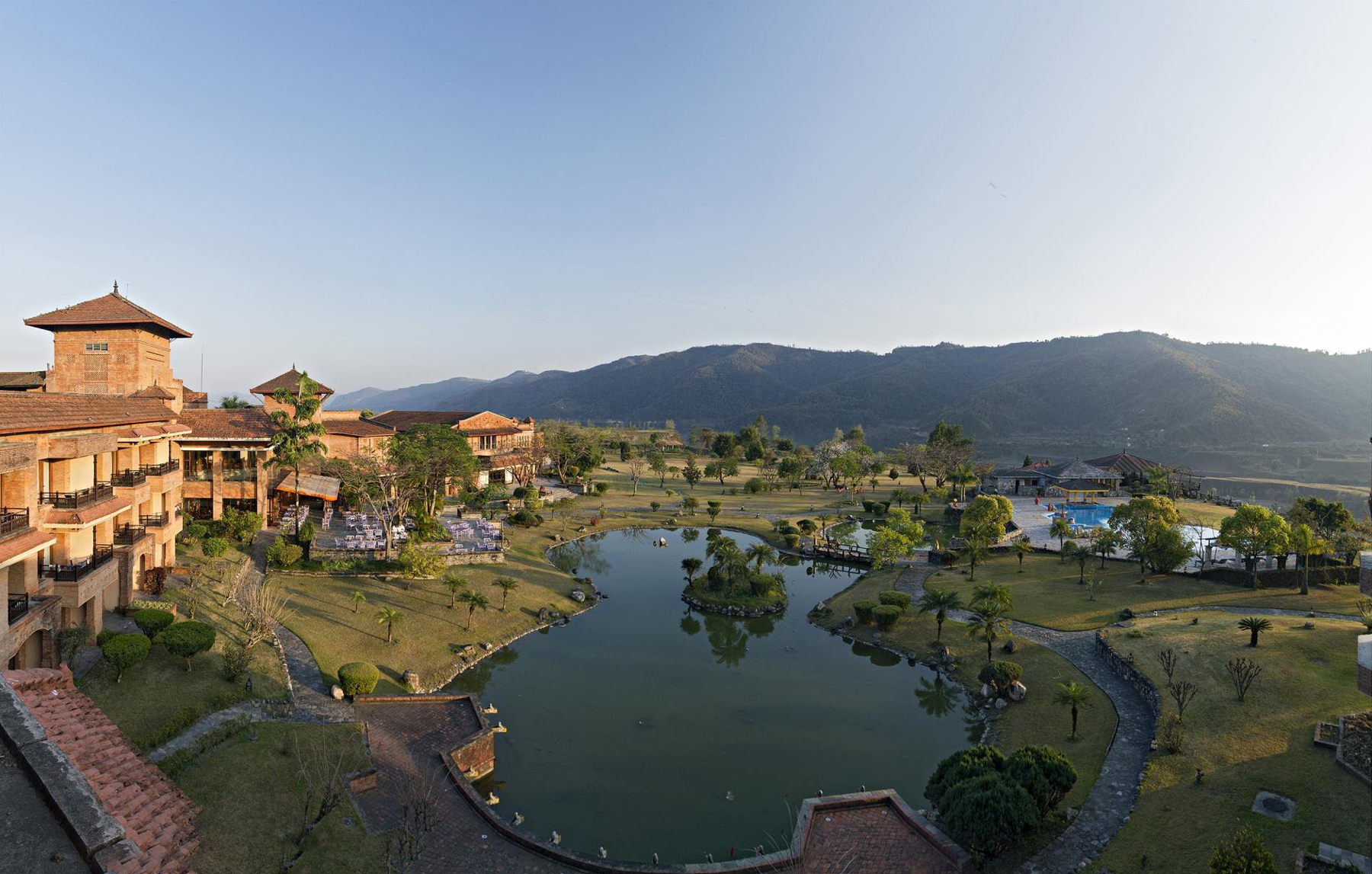 Fulbari Resort and Spa was built at Chinnedanda, on a hilltop overlooking the Pokhara Valley. Handout Photo
Dear reader, we'd like to hear from you. We regularly publish letters to the editor on contemporary issues or direct responses to something the Post has recently published. Please send your letters to [email protected] with "Letter to the Editor" in the subject line. Please include your name, location, and a contact address so one of our editors can reach out to you.
---