Dairy Cooperatives in Chitwan venture into fodder production
The factory can produce one tonne of fodder per hour.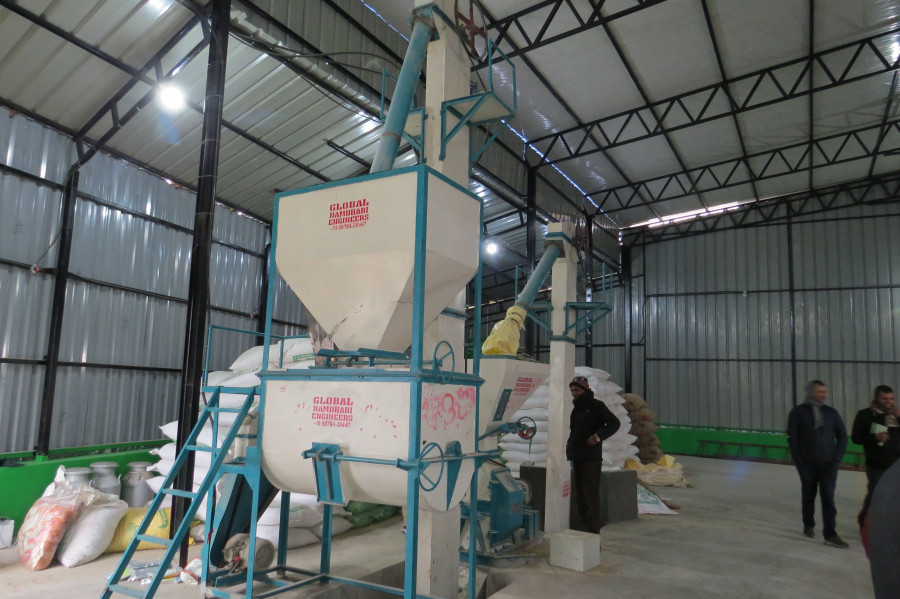 A view of the fodder factory established by dairy cooperatives in Rapti Municipality, Chitwan. POST PHOTO: RAMESH KUMAR PAUDEL
bookmark
Published at : January 11, 2020
Updated at : January 12, 2020 08:35
Chitwan
The dairy farms of Chitwan have begun operating a fodder factory at Bhandara in eastern Chitwan in a bid to provide livestock feed to farmers at lower prices.
The factory has been set up by six cooperative farms, which produce and collect milk, at a cost of Rs19 million with Rs9 million in grants from the provincial agriculture ministry.
"There are 4,500 farmers associated with the milk cooperatives in Rapti municipality and they produce 30,000 litres of milk daily," informed Dilli Prasad Thapaliya, chairperson of Bhandara Dairy Cooperative. "The cooperatives have come together to produce livestock feed to make it available to farmers at reasonable prices."
According to Thapaliya, the factory can produce one tonne of fodder per hour.
Farmers in the municipality purchase 60 tonnes of fodder from the cooperatives each month. After operating the mill, the cooperatives have also set their sights on selling livestock feed to farmers in neighbouring municipalities.
"I sell 15 litres of milk to a cooperative every day and use three sacks of fodder to feed my cows and buffalos in a month," said Ambar Bahadur Paudel, a dairy farmer. "Each sack costs around Rs900."
According to farmers, the fodder produced by the factory should be not more than the current price level.
"We aim to produce high-quality fodder and the best available feed in the market is being traded at Rs45 per kilogram in the market," said Rameshwar Singh Oli, a cooperative farm operator. "The factory will produce the same standard of feed but will sell it to farmers at a discounted rate of Rs 40 per kilogram.
Rapti Municipality has provided raw materials worth Rs1.8 million to the cooperatives for kick-starting production of livestock feed.
And the factory operators also plan to procure maize, a raw material for producing livestock feed, from the farmers who are associated with the cooperatives.
"We have to buy maize at expensive rates and as a cost-effective measure we plan to purchase it from local farmers," said Oli.
---
---