Paddy output in Province 2 down 17 percent
Experts cite delayed monsoon, fertiliser shortage and pest attacks for the fall.

All eight districts in the province witnessed a decline in the paddy acreage. POST PHOTO: OM PRAKASH THAKUR
bookmark
Published at : December 11, 2019
Updated at : December 12, 2019 09:10
Janakpur
Paddy production in Province 2 dropped sharply this year owing to a delayed monsoon, shortage of chemical fertiliser and persistent pest attacks.

According to the Agriculture Knowledge Centre, output declined by 17.15 percent to 1,041,466 tonnes from 1,257,124 tonnes in the previous year.

"The paddy acreage hit by pest and disease infestation has increased," said Farhat Ali, an expert at the National Rice Research Programme, "The fall in production can also be attributed to planting the same variety of paddy time and again, and droughts and floods during the growing season."

All eight districts in the province witnessed a decline in the paddy acreage.

Last year, Dhanusha district produced 251,187 tonnes of paddy on 63,000 hectares of land. Farmers planted paddy on 59,000 hectares this fiscal year and harvested 206,200 tonnes of the staple grain.

Farmers in Parsa brought in 225,840 tonnes of paddy from 45,000 hectares this fiscal year, compared to 227,250 tonnes grown on 47,050 hectares last year.

According to Ali, paddy output is determined by the application of chemical fertiliser, but farmers have not applied fertiliser as recommended. Use of heavy fertiliser increased the acidity of the soil, resulting in reduced production, he said.

The provincial Ministry of Land Management, Agriculture and Cooperatives established a Soil and Fertiliser Testing Laboratory after seeing a consistent drop in paddy output. The laboratory tested soil samples collected from all eight districts and found that 70 percent of the paddy fields showed an increase in soil acidity.

According to Ramchandra Yadav, chief of the Agriculture Knowledge Centre in Parsa, paddy output fell because of floods immediately after the sowing season, lack of rain during the growing season, lack of essential fertilisers, and consistent planting of the same variety of paddy.

Planting the same variety of paddy seeds every year makes the crop vulnerable to pests and disease, besides reducing soil productivity as it is unable to store essential elements because of multiple sowing and harvest periods.

"Farmers in Parsa have been planting the sona mansuli variety for over a decade," said Yadav. "This type of paddy accounts for 70 percent of the total acreage in Parsa."

In the past few years, sheath blight infestation of sona mansuli crops has increased, prompting the government to urge farmers to plant other varieties like hardinath, lalka basmati, chaite and sama mansuli.

According to Yadav, the centre distributed 86 tonnes of these seeds at a 50 percent discount to farmers this year.

Amid concerns over the gradual decline in paddy output, experts said that productivity could be increased by a balanced use of fertiliser, proper irrigation, use of varieties of paddy, measures to eliminate infestations and regular soil testing.

Abdesh Kumar Jha, Bharatjarda Magar, Om Prakash Thakur, Shiva Puri and Shankhar Acharya contributed reporting.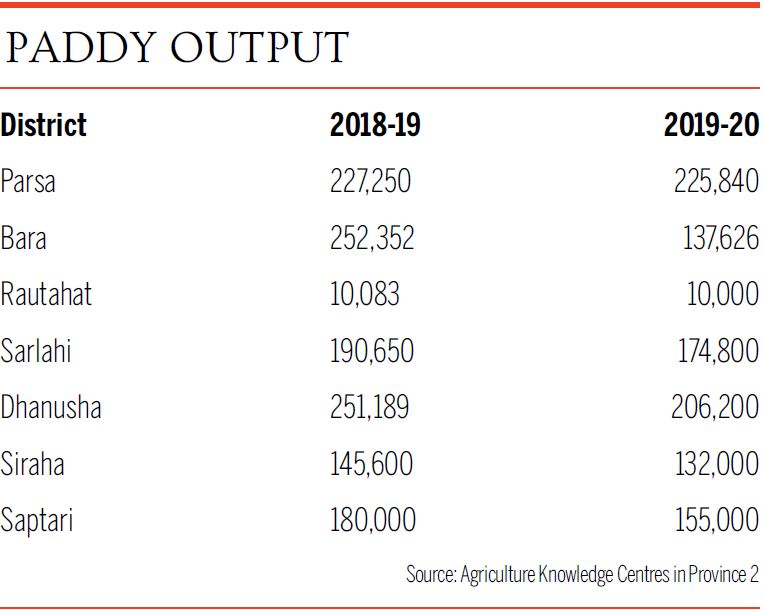 ---
---