Guranse farmers earn good income growing kiwi
Commercial agriculture has allowed farmers in the conflict-hit village to rebuild their lives.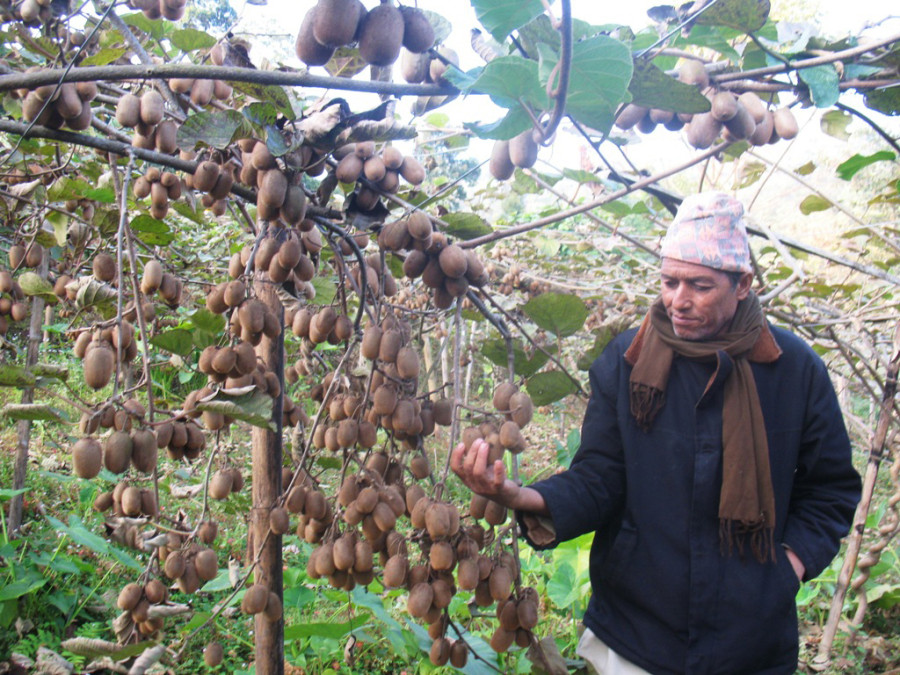 A farmer inspects Kiwi at a farm in Ilam. POST FILE PHOTO
bookmark
Published at : November 26, 2019
Updated at : November 27, 2019 06:57
Salyan
Tej Bahadur Yogi of Guranse in Chhatreshwori Rural Municipality earned Rs800,000 by selling kiwi fruits last year. He has been growing kiwi fruits commercially on 35 ropanis of land. He has 700 kiwi plants in his orchard.
Yogi's neighbour Hiralal Yogi owns 300 kiwi plants on 10 ropanis of land. Hiralal says he earns Rs800,000 annually by selling the vitamin rich fruit. Lured by higher returns, farmers in Salyan district are increasingly switching to commercial kiwi production.
One plant yields 50 kg of kiwi fruits, according to farmers. There are 22 households involved in commercial kiwi farming on 50 ropanis of land in Guranse alone. The fruit fetches Rs400 per kg. Farmers also sell kiwi saplings for Rs300 each.
The kiwi fruit originated in China and was previously known as Chinese gooseberry. Kiwi fruits grow on large vines, and usually ripen within 25 weeks after flowering.
The kiwi fruit is a brown, large egg-sized oval fruit. When sliced, it yields an attractive emerald green flesh with rows of small dark edible seeds and a light cream coloured centre.
Rich in Vitamin C and Actinidain enzyme, kiwi fruits can be grown at elevations ranging from 1,200 to 2,400 metres. The fruit is recognised for its healing properties as it helps to treat and prevent several diseases like high blood pressure, malfunctioning of the digestive system and diabetes.
Hiralal has shipped around 4 tonnes of kiwi fruits to Pokhara, Kathmandu and Chitwan this year. "I have already sold kiwi fruits worth Rs200,000," he said. "I am preparing to send the next batch to the market soon."
Farmer Pokharraj Kawar also started growing kiwi fruits a few years ago. He used to be a vegetable seeds producer.
He said that he switched to kiwi fruits as vegetable seeds didn't pay much. He has planted 400 kiwi plants on 8 ropanis of land, and most of them have started to yield fruits.
It costs around Rs5,000 to nurture a kiwi plant which is a one-time investment. The plants yields fruits for 40 years. A five-year-old kiwi plant produces 50-75 kg of the fruit. Fifteen plants can be planted on a ropani of land.
"Some plants are yet to produce fruits, but still I am earning Rs200,000 annually," said Kawar.
The villages, where a majority of the people were hit by the conflict, are making a good income today through kiwi farming, said Yogi. During the decade-long insurgency (1996-2006), most of the houses in Guranse were burnt down and 11 people in the village were killed.
After the peace agreement in 2006, the government launched a 'model village' programme in Guranse to create jobs and encourage people to engage in commercial farming. According to kiwi producers, there is little demand for their fruits in the local market, and almost the entire harvest is shipped to Kathmandu.
---
---