Monetary Policy drags down NEPSE
Investors lost Rs3.20 billion in the book value of their investment portfolio.
bookmark
Published at : July 28, 2019
Updated at : July 28, 2019 13:40
Kathmandu
Nepal Stock Exchange last week slid marginally by 2.58 points to close at 1,269.92 points, after investors reacted negatively towards the measures enforced by the Monetary Policy and rushed to sell their stocks.

Despite a marginal fall in the market index, the average daily turnover rose to Rs395.56 million last week from Rs380.23 million in the previous week.
The market which opened at Rs1,272.5 points on Sunday fell 3.75 points to close at Rs1,268.75 points. Following the opening day loss, the market picked up 2.48 points, 5.94 points and 6.9 points on Monday, Tuesday and Wednesday respectively.
However, the market plunged 14.15 points on Thursday, one day after the Monetary Policy 2019-20 was released by the Nepal Rastra Bank. As a result, the overall market index fell marginally by 0.2 percent during the review period.
Stock analysts said investors were disappointed as the central bank did not come up with measures that could boost the secondary market. "Although there are a number of provisions stated in the monetary policy that could help reduce the interest rate by improving the liquidity position with the banks, many investors wrongly interpreted the possible outcomes of the central bank's policy," said Bharat Ranabhat, president of Stockbrokers' Association of Nepal.
The sensitive index that measures the performance of Group A companies also fell slightly by 0.37 points to close at 273.47 points, mainly due to the slump in the stock prices of majority of the trading groups.
With a fall in share prices, investors lost Rs3.20 billion in the book value of their investment portfolio, after the market capitalisation shrank to Rs1,581.19 billion from Rs1,584.39 billion.
Indices of seven out of 11 trading groups went down during the review period. Life Insurance posted the heaviest loss, dropping 83.88 points to close at 5,956.83 points. Manufacturing followed next with a loss of 45.18 points.
Likewise, hydropower, development banks and non-life insurance also posted double-digit losses in their indices. Finance companies and trading lost 2.7 points and 2.62 points respectively.
Among the gainers, microfinance added 30.68 points to its index to lead the group. The market index of hotels also increased by 6.21 points while that of 'others' and commercial banks inched up 2.25 points and 0.03 points respectively.
Regarding the individual companies, Nepal Bank Limited recorded the largest transaction volume in the segment with shares worth Rs137.56 million. It was followed by Agriculture Development Bank, Prabhu Bank, Nepal Life Insurance Company and Civil Bank.
Last week, stocks worth Rs1.98 billion were traded, which was 4.21 percent more than the amount in the previous week. The total number of traded shares however decreased to 7,192,760 units from 8,599,020 units.
NEPSE listed 7,580,138.12 units of bonus shares of Civil Bank and Kisan Microfinance Laghubitta Bittiya Sanstha during the review period.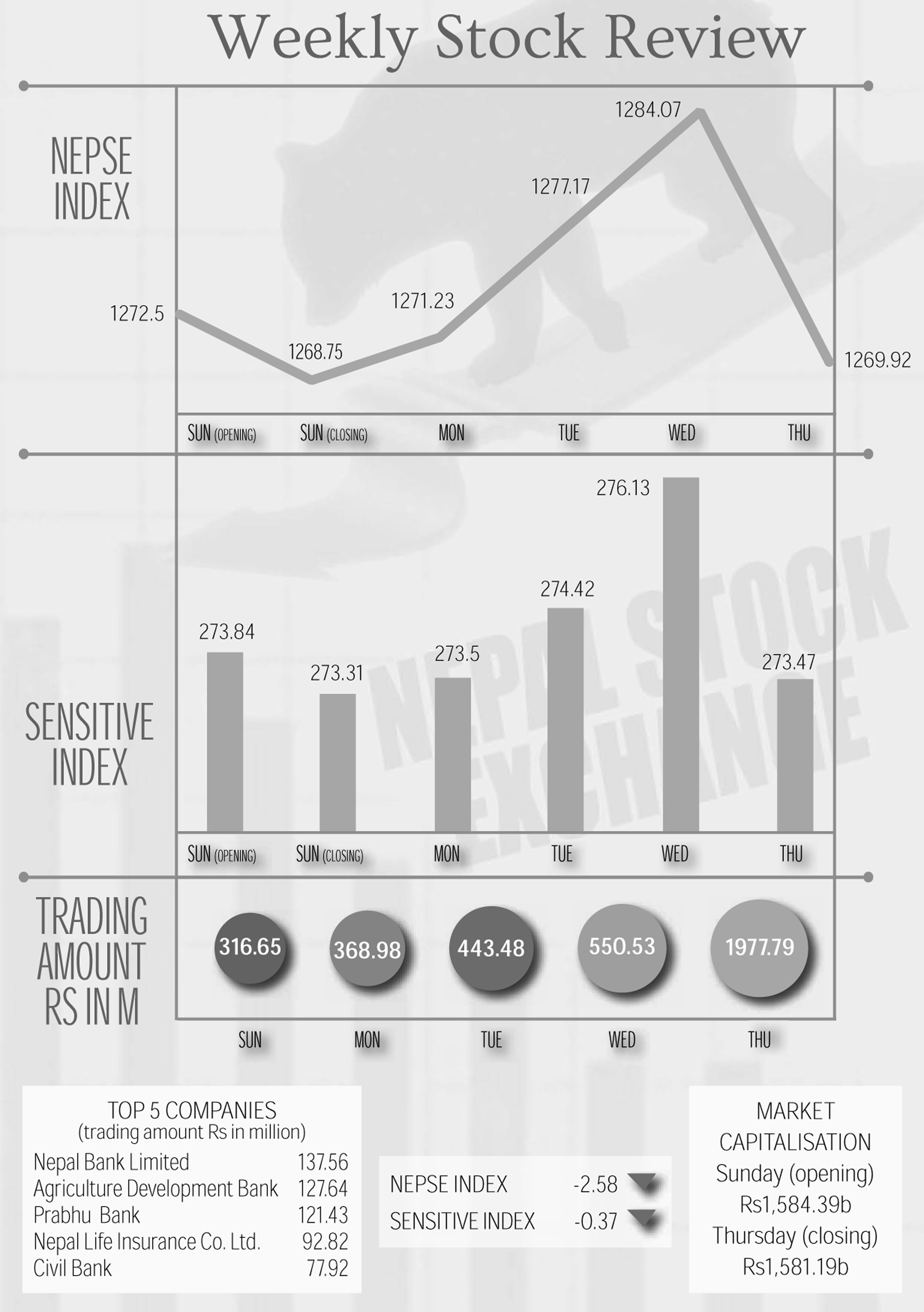 ***
What do you think?
Dear reader, we'd like to hear from you. We regularly publish letters to the editor on contemporary issues or direct responses to something the Post has recently published. Please send your letters to tkpoped@kmg.com.np with "Letter to the Editor" in the subject line. Please include your name, location, and a contact address so one of our editors can reach out to you.
---
---