75k animals to be brought for Dashain slaughter
More than 75,000 he-goats, mountain goats and sheep will be brought to the Kathmandu Valley to be slaughtered during the Dashain festival.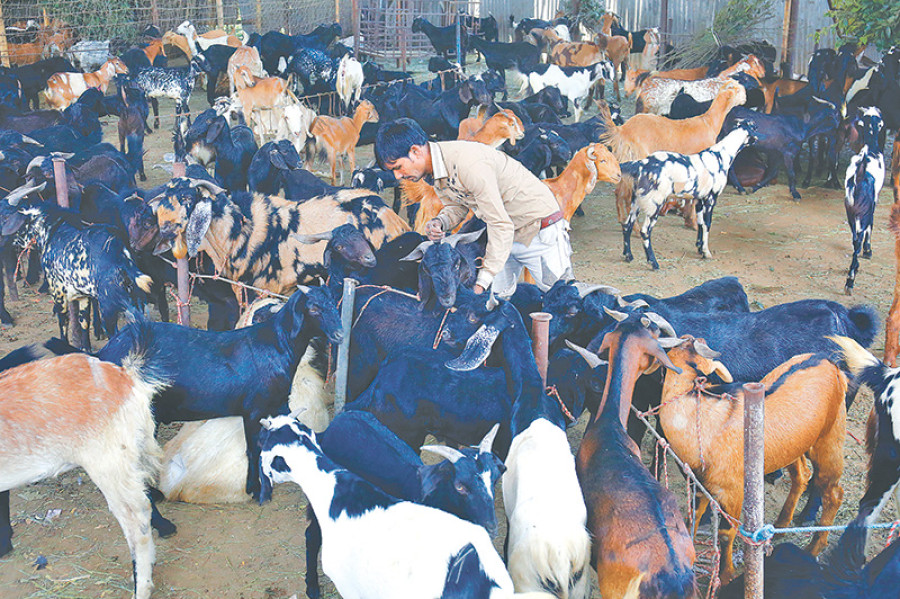 bookmark
Published at : October 10, 2018
Updated at : October 10, 2018 09:13
Kathmandu
More than 75,000 he-goats, mountain goats and sheep will be brought to the Kathmandu Valley to be slaughtered during the Dashain festival.
Traders said goat prices may reach Rs570-580 per kg or more this Dashain, up from Rs535-540 last year, due to increased transportation costs and import duty. Indian goats were being sold at Rs545 per kg on Tuesday. The price of live mountain goats is expected to rise to Rs750 per kg, up from last year's Rs700 per kg.
According to the Nepal Livestock Traders Association, the valley has been receiving more than 500 goats daily since last week, and deliveries are expected to jump tenfold from Wednesday when the ceremony of Ghatasthapana occurs.
There are around 400 traders selling goats in the main markets of the valley like Kalanki, Tukucha and Bijuli Bazaar. "We estimate that around 65,000 goats will be needed to meet the valley's requirement," said Deepak Thapa, a goat trader and former president of the association.
Of the total requirement, private traders will import 35,000 goats from India and bring 30,000 goats and sheep from different parts of Nepal. Around 10,000 mountain goats will be brought from Tibet, China, through Mustang.
State-owned Nepal Food Corporation (NFC) said it planned to sell around 3,000 goats this Dashain festival. The corporation said it had allocated Rs40.67 million to purchase the animals. NFC supplies a small quantity of goats, and the move is directed more at intervening in the market in a bid to keep prices stable than fulfilling the total requirement.
The rise in mountain goat prices this year has been attributed to customs duty. According to Thapa, traders have to pay Rs1,300 per mountain goat as import duty.
According to the Department of Customs, 100,155 live goats worth Rs771 million were imported from India for Dashain during the two-month period from mid-August to mid-September. Imports during the two-month period account for one-fourth of annual imports.
Nepal imports live goats worth Rs3.28 billion from India annually.
Nepal's annual per capita meat consumption is estimated at 12 kg. It was 9.8 kg in 2008 and 9.7 kg in 2000. Despite the growth, Nepal is still far behind other developing countries.
Buffalo meat is the most popular meat in Nepal followed by goat, chicken and pig. There are more than 5 million live buffaloes in the country, according to the Ministry of Agriculture and Livestock Development. Mutton accounts for 20 percent of the country's meat demand.
The ministry estimates that there are more than 10 million live goats in the country.
---