Handicraft traders hope for Christmas bonanza
Handicraft entrepreneurs have high hopes that Christmas and New Year will boost sales and help bring a rebound to their battered businesses.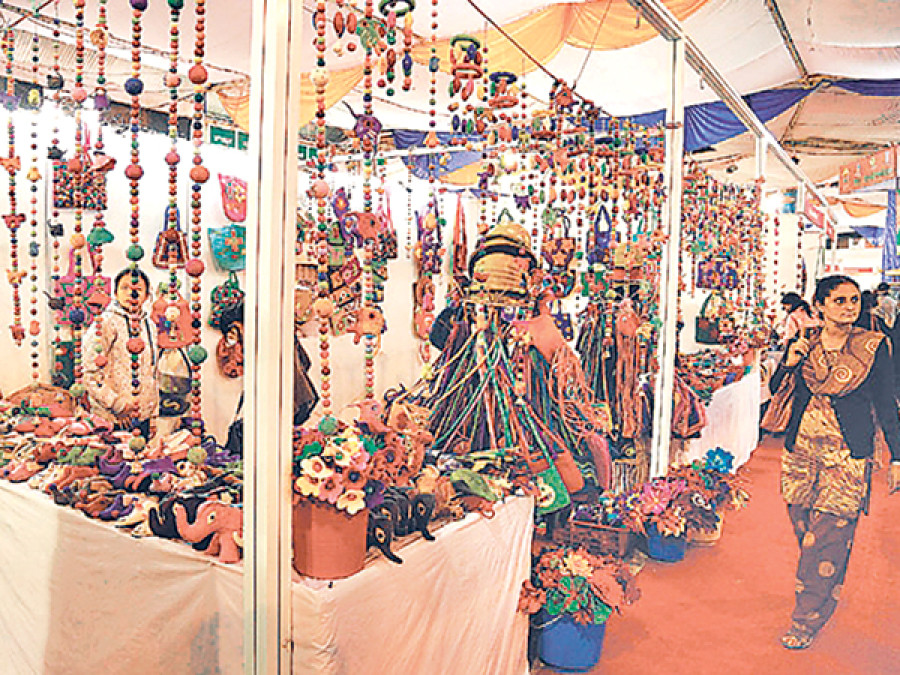 bookmark
Published at : December 17, 2015
Updated at : December 17, 2015 09:11
Kathmandu
Handicraft entrepreneurs have high hopes that Christmas and New Year will boost sales and help bring a rebound to their battered businesses. They have been holding Christmas bazaars besides launching new products in a bid to attract festival shoppers.
The bazaars being held by various organisations in the Kathmandu Valley have been a good platform to showcase their products among buyers who are mainly foreigners. Traders said that they had been seeing an increase in sales and orders from the past few days.
The Association for Crafts Producers has set up a Christmas Bazaar at its retail store Dhukuti at Kupondol. It offers a wide range of handmade gift items for Christmas like caps, trees, glasses, Santa and snowman dolls and felt, paper and ceramic decorations.
Meera Bhattarai, president of the association, said that sales usually jump 50 percent during the Christmas season. "We have launched a wide range of products made by local entrepreneurs across the country, and the store has been decorated to attract more customers," said Bhattarai.
Bhattarai added that 90 percent of the products had been designed by women entrepreneurs. According to her, around 1,000 craft producers are associated with the association which has an annual turnover of Rs20-Rs30 million. The shop offers clothes, cushion covers and various decorative items made of pashmina and wool. "People who celebrate Christmas give presents to their friends and relatives, and domestic handicrafts are becoming more and more popular as gift items," said Bhattarai.
Shailaja Kasaju, who deals in hand-knitted items, said that demand for Christmas items like caps and trees had soared in recent days. Kasaju represents the Women Empowerment Project, Sindhupalchok whose products are all made by women earthquake victims of the district.
"As people are giving local products as gifts during various festivals, we are hoping that there will be good sales during Christmas which will generate income for the earthquake victims," said Kasaju.
Likewise, Sanjeev Maharjan, proprietor of Kipoo Craft Creation located at Kupondol, said that diplomats and officials of international non-governmental organisations were the main buyers of handicraft items.
Maharjan sells various products like pashmina, Dhaka, allo, thanka, jewellery, wooden and bamboo stands and other products. He said that demand had outstripped supply as he had not been able to increase output for lack of raw materials due to the Indian embargo.
Meanwhile, Bihani Social Venture has planned to organise a Christmas Bazaar on December 19 at Tamarind, Lalitpur with the aim of promoting local products.
---