Gas shortage persists despite direct distribution
LPG is still hard to get in the Kathmandu valley despite the direct distribution of the cooking gas in "specific areas" by Nepal Oil Corporation (NOC) for the benefitof city dwellers, deale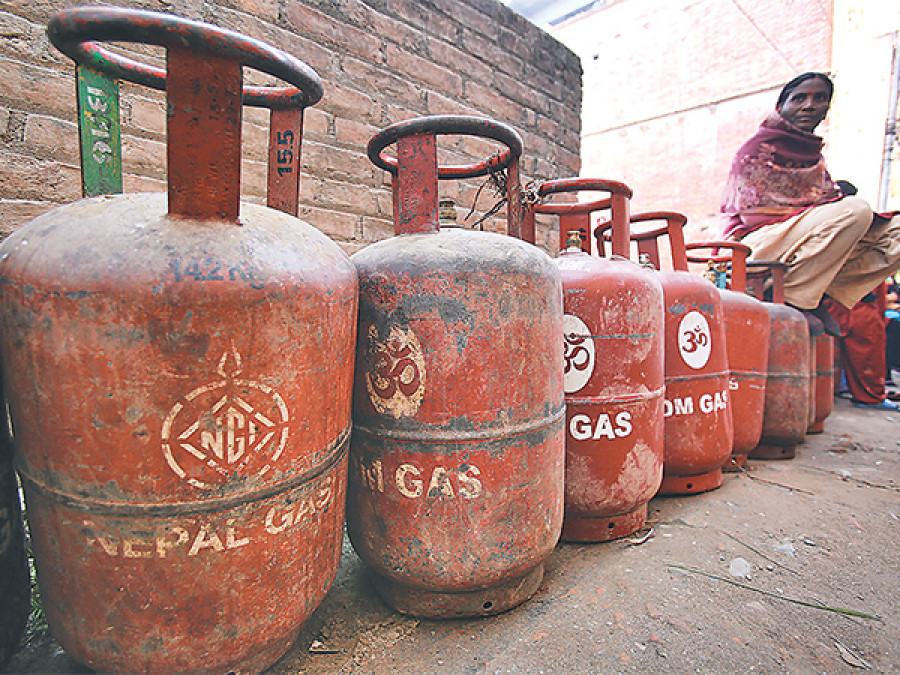 bookmark
Published at : February 3, 2015
Updated at : February 3, 2015 09:26
Kathmandu
LPG is still hard to get in the Kathmandu valley despite the direct distribution of the cooking gas in "specific areas" by Nepal Oil Corporation (NOC) for the benefit of city dwellers, dealers and consumers said.

The state-owned oil monopoly had started selling the essential fuel directly to consumers in various locations in coordination with gas retailers. However, the plan has not succeeded with many consumers complaining of being forced to return empty-handed.

Gyanu Adhikari, a local from Maharajgunj, said he was not able to buy LPG from NOC's outlet despite staying in line for the whole day. On Monday, NOC was selling LPG from depots in Maharajgunj, Budhanilkantha, Gongabu, Lazimpat, Durbar Marg, Baluwatar, Bishalnagar, Bhat Bhateni and Dhumbarahi.

Ram Kumar Khadka, proprietor of Khadka Gas Depot in Maharajgunj, said that they were sold out due to inadequate supplies from their dealers. "We received 350 cylinders of LPG, 140 each from Nepal Gas and Om Gas and 70 from Narayani Gas, but they were inadequate to fulfil the demand," he said.

However, NOC maintained that the distribution plan had been effective. Company Spokesperson Mukunda Ghimire said that they had instantly increased the supply to areas from where there were complaints. NOC has set up a control room at its headquarters to address public grievances. According to him, bottlers sold 26,000 cylinders in the specified areas on Monday.

Meanwhile, LPG sellers accused NOC and bottlers of creating a syndicate in the distribution of cooking gas. They have asked the government to cancel the current practice of selling LPG in specific localities on certain dates and increase the quota for gas depots to end the crisis.

Rajan Napit, president of the Madhyapur Gas Retailers' Association, said they had not received any LPG for the past one week. NOC has scheduled distribution of LPG in Lalitpur and Bhaktapur for February 8 and February 10 respectively.

"The bottling companies have refused to supply cooking gas to us due to the sales timetable fixed by NOC," Napit said. "The customers have not been able to buy LPG for a long time and they are very hard up for fuel, so the situation cannot be resolved by selling it from certain places for just one day."

Meanwhile, LPG sellers have also blamed bottling companies and their distributors for creating an artificial shortage. According to them, the bottlers have been selling their products through 25-30 distributors in the valley.

"The companies have been using their distributors to sell new cylinders," said Hari Shrestha of Ayusha Store, Bhainsepati. The store sells LPG of Shree Ram brand.

Krishna Govinda Suwal, president of the Khwopa Gas Retailers' Association, said distributors had been providing cooking gas in any quantity to buyers willing to purchase new cylinders instead of exchanging them.

NOC cuts fuel prices

Nepal Oil Corporation (NOC) on Monday slashed the prices of petroleum products effective from Monday night The state-owned oil monopoly reduced petrol price by Rs 2.5 per litre and price of diesel/kerosene by Rs 1.5 per liter. With the revision, petrol now costs Rs 109 per litre, and diesel and kerosene Rs 86.5 per litre each. This is the eight time NOC has revised the prices since the adoption of auto pricing mechanism on September 28. The corporation has not made changes in the prices of LPG and aviation fuel. IOC reviews export prices of petrol, diesel and kerosene fortnightly, and those of other products such aviation fuel and LPG on a monthly basis. NOC Spokesperson Mukunda Ghimire said NOC will make a profit of Rs 364.1 million per month as per the new rates. He attributed the reduction in oil prices to international market trends. Brent crude rose $2.05 at $55.04 a barrel on Monday, after leaping to $55.62, according to media reports.
---