Five team building activities everyone should try
Communication is the key to running a smooth workplace. And team building games bring people together to make this possible.

Photo courtesy: Bijayabar Pradhan
bookmark
Published at : July 24, 2019
Updated at : July 24, 2019 18:51
Being part of a team can be overwhelming at times. Trying to get along with people—who are very different from you—for the sake of work can be naturally anxiety-inducing (not to mention awkward).
To overcome this awkwardness, workplaces often host team-building activities, like picnics to charge social and creative energy within employees. In recent years, many case studies have been conducted on employees with an intention to enhance their professional and mindfulness skills. Team building activities can be organised as a workshop within the four corners of a workplace, or as an outdoor activity or even an indoor one at a new location for a change.
Here are five go-to activities that can be organised around the Kathmandu valley to keep the team spirit alive.
Wall climbing
Climbing walls has become a popular adventure sport in recent years in Kathmandu. But since most people who visit the climbing centres are beginners, instructors say that the sport is primarily being done for "fun."
In Kathmandu, while some walls—like the one at Chandragiri Hills and Godawari Alumni Association—are mainly targeting children, others like Thamel's Astrek Climbing Wall, Kathmandu Sport Climbing Center (KSCC) at Kaldhara, and Pasang Lhamu Sports Climbing Center at Dhumbarahi are usually on the radar of professionals in the Valley. The centres are open for beginners as well, as they provide a range of basic tutorials and welcome team bookings as well.
The art of climbing makes one cautious about each and every step, Pasang Lhamu Sports Climbing Center's staff Ang Phura says, thus, making one more focused. As the top rope climbing requires one to belay their partner, Sanjay Kumar Lama, the supervisor at Astrek Climbing Wall, says that the process improves the communication and trust within teammates. On an individual level, it also eliminates fear from many, adds Lama.
Besides these benefits, climbing can help keep one fit and help them be more mindful, as per Pranil Man Shrestha, the manager of KSCC.
"Many experience a feeling of achievement upon climbing the route and ringing the bell at the top," says Shrestha. "This boosts one's confidence and lets their mind feel fresh, diminishing anxiety."
One can book the walls beforehand if they're going in as a team. A certain discount is offered by all the centres. KSCC and Astrek have prices based on individual needs, which range from Rs 700 to 800, and don't have any booking charges. Pasang Lhamu Sports Climbing Center offers the wall for five hours at a cost of Rs 4,000 and can accommodate up to 90 climbers in a day.
Painting for relaxation
Inside Evoke's House of Palettes, one can experience being Picasso while sipping wine out of their glass, as they dip their brush in a water container.
One can assemble a group and paint a large canvas or work on their individual artistic endeavours at the venue. Rahul Agrawal, co-founder of House of Palettes, says that the type of art varies between clients, but they do help them with what they want to create—if they wish it.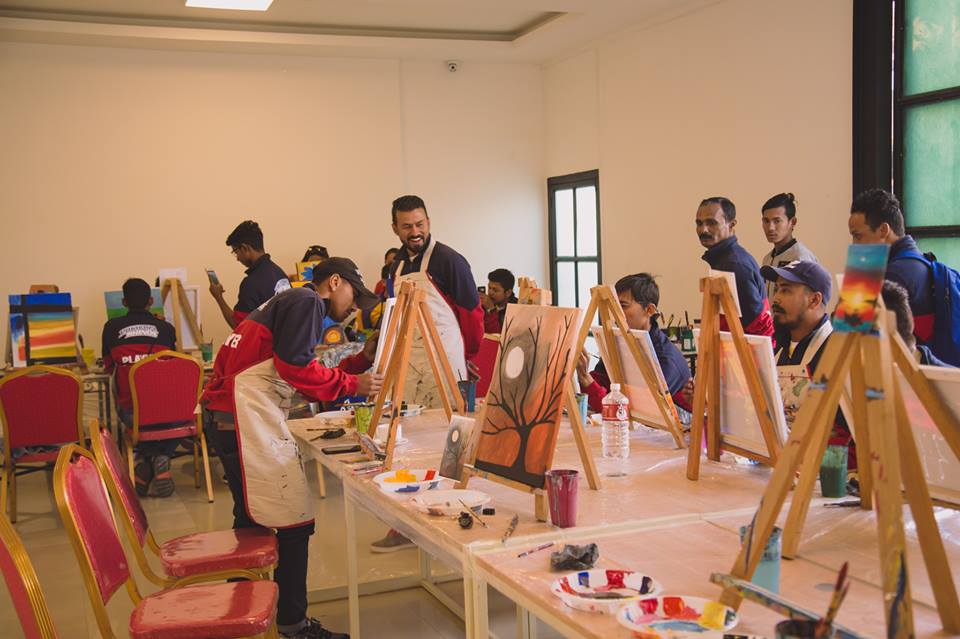 Photo courtesy: House of Palettes/Facebook
As many people from different departments in the same corporate house might not know each other, working on the same canvas is an activity that can connect strangers. "Painting together helps people socialise and bond well," says Agrawal.
According to him, many school and corporate teams visit House of Palettes to paint in a group and help each other complete their canvases. There are 200-300 reference pictures available at the venue for participants to choose from and one can take their canvases home once they're done.
The charges are based on the cost of canvas one decides to paint on, which ranges from Rs 800 to 20,000. A 10 percent discount is given when you visit the place with a team.
Archery
As most visitors are usually beginners, most teams who visit Jhamsikhel's The Best Archery come for recreation. Like any sport, Archery also helps connect people with each other depending upon the way they play it, says the owner Navin Bir Basnyet. And since it's a "mental sport," it relaxes one's body, he says.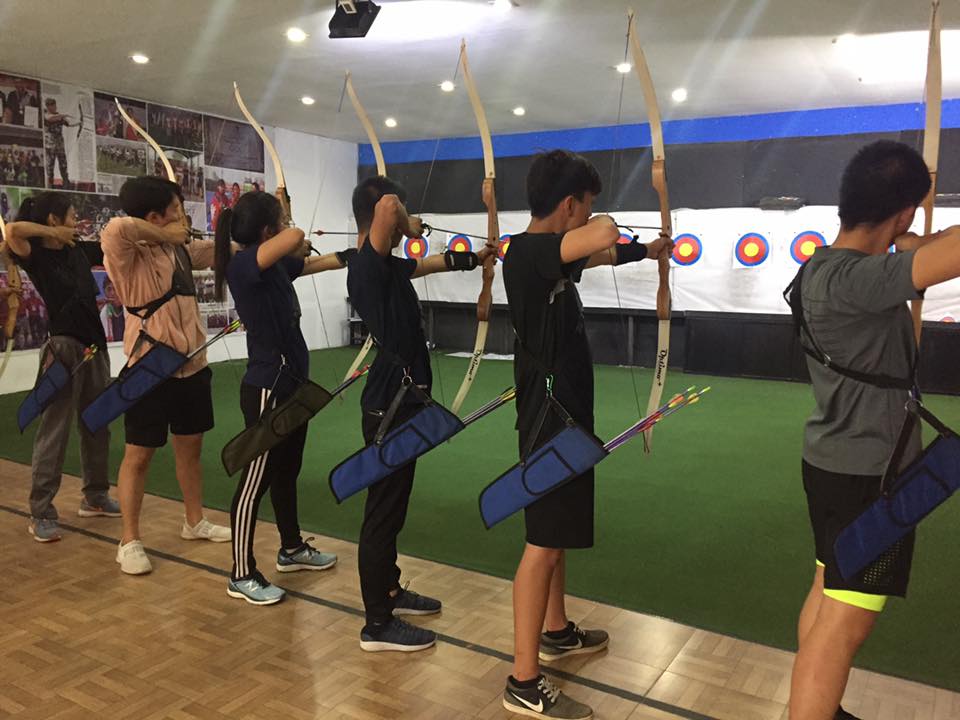 Photo courtesy: The Best Archery/Facebook
"As one needs to focus on their target, Archery is like a form of meditation," says Basnyet. It also helps one improve their memory power and concentration.
The charge for half an hour is Rs 400 and Rs 600 for an hour at The Best Archery. For groups, they provide a discount of 10 percent.
Godavari Alumni Association (GAA) at Thamel also has archery at their indoor sports arena.
Futsal
As futsal has become a go-to sport for football enthusiasts, many corporate houses and even schools pre-book courts especially during their anniversary season or sports week, says Raj Maharjan, co-founder of Dhuku Futsal Hub at Baluwatar.
The major goal is to be fit, healthy, and to enjoy some sporty and fun time with people from work. As a popular sport, futsal doesn't just strengthen ties between people who're already in touch with each other; it also helps people from different professional backgrounds connect with each other and build friendships.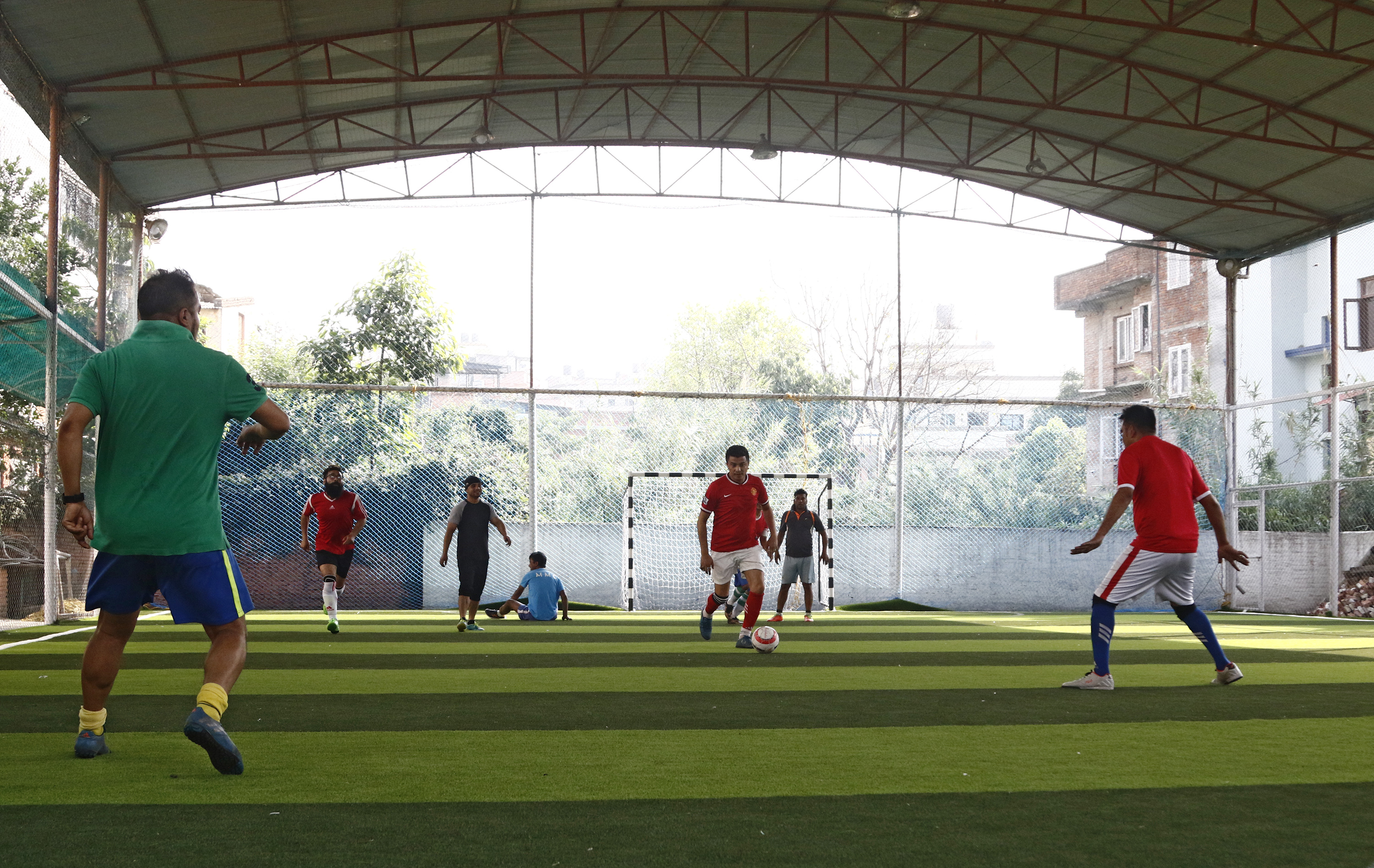 Keshav Thapa/TKP
"Some customers even build connections that they later visit," says Maharjan.

Dhuku Futsal Hub's charges range from Rs 1,200-2000 per hour depending upon which day you book and on what time of the day. As futsal grounds might be full upon arrival of the participants, owners suggest pre-booking.
Hiking and cycling
For those who like the outdoors, hiking and cycling can be a good option. And the people of Kathmandu have no dearth of nice spots for hikes—all you have to do is pick a hill you like.
Among the many beautiful trails around Kathmandu, Sundarijal to Shivapuri National Park route is a good choice for beginners and intermediates. For beginners, the hike to Jamacho, in Shivapuri Nararjun National Park in Balaju bypass, can be a short and refreshing hike once they reach the stupa at the top. Another easy hiking spot is Nagarkot, where one can start their journey from the bus station of Nagarkot and then hike to the tower.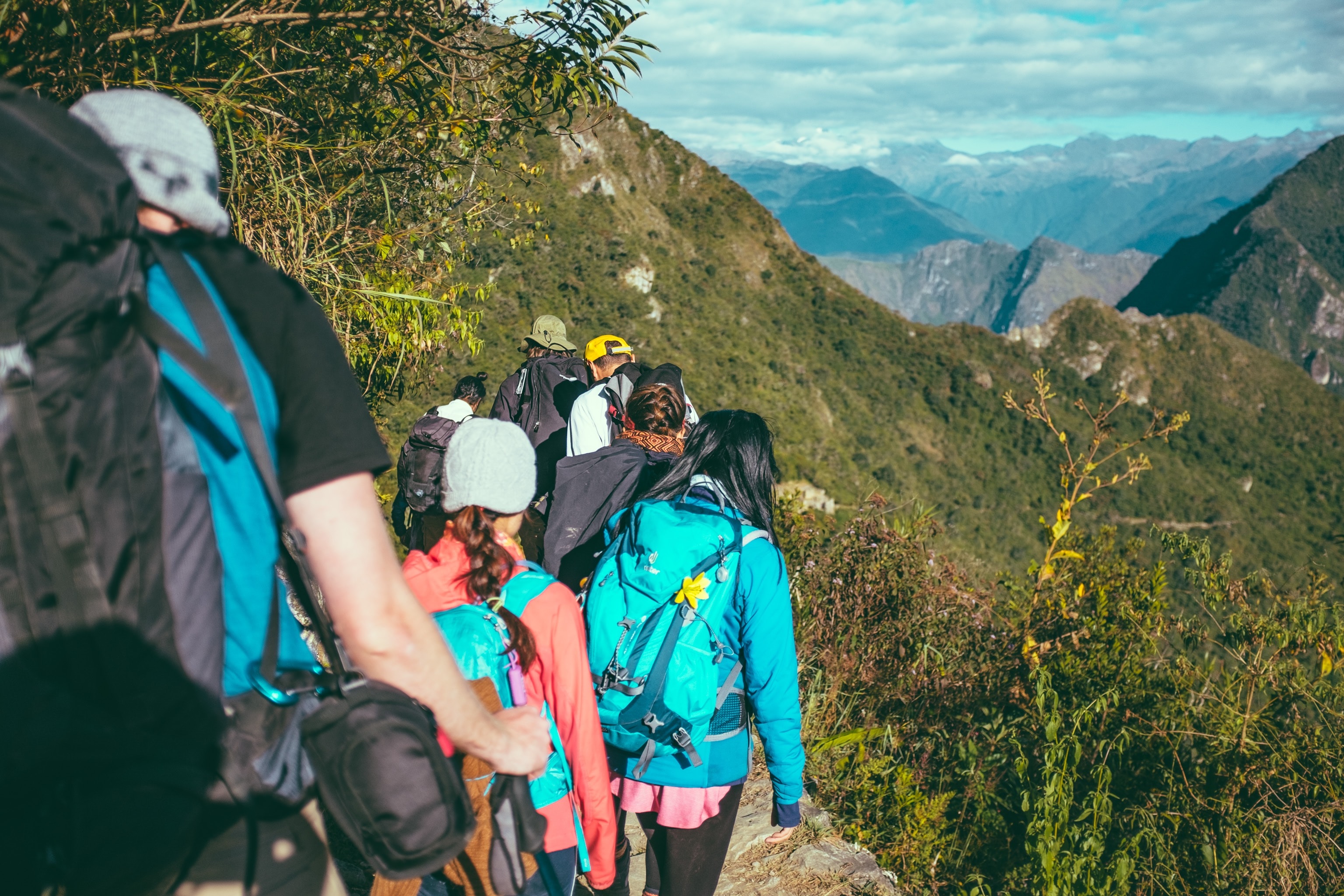 Photo courtesy: Ashim D'silva/Unsplash
Another hiking destination is Shivapuri National Park; you can walk from Budhanilkantha to Chisapani. If one's feeling adventurous, they can continue the route to Naragkot as well. Apart from these hikes, hiking up to Champadevi and Phulchowki are other popular spots.

Although one can't find lanes dedicated for cycling inside the valley, one can still attempt to organise and join cycle rallies.
You can even head to the hills with your bike—if you are up for it. Although mountain biking might not be an appropriate choice for beginners, it can still be a sound option for enthusiasts.
Depending on the duration of the trip and the enthusiasm and experience of members, a team can hike and bike on routes that are targeted for intermediate adventure enthusiasts.
Additionally, all these activities can be teamed with a nice picnic. So what's there not to like?
***
What do you think?
Dear reader, we'd like to hear from you. We regularly publish letters to the editor on contemporary issues or direct responses to something the Post has recently published. Please send your letters to tkpoped@kmg.com.np with "Letter to the Editor" in the subject line. Please include your name, location, and a contact address so one of our editors can reach out to you.
---
---