'New forces will take a decade to take full shape'
Former prime minister and Nepal Samajbadi Party chair Baburam Bhattarai on wide range of issues in the context of the rising popularity of alternative forces.

Post Photo: Deepak KC
bookmark
Published at : April 30, 2023
Updated at : May 1, 2023 07:42
Former Prime Minister Baburam Bhattarai, who was among the chief ideologues of the decade-long Maoist movement, is currently chair of the Nepal Samajbadi Party. His party contested with the symbol of CPN (Maoist Centre) in the November 2022 elections, after severing ties with Upendra Yadav-led Janata Samajbadi Party. Following the promulgation of the constitution, as a political experiment, Bhattarai ditched the mother Maoist party and formed the Naya Shakti Party. In the context of the rising popularity of alternative forces, the Post's Tika R Pradhan talked to Bhattarai on a range of issues. Excerpts:
Why has your party's declared unity with the Maoist Centre been delayed?
I left the Maoist Party in 2015 to found the Naya Shakti Party. It was an experiment that did not work. The country currently needs national unity among all the parties. Our country can plunge into deep conflict if we cannot together address the country's geopolitical and national issues. With this in mind, we tried to work in close coordination with some forces as an experiment but that didn't work because of their narrow and regional thinking. We wanted to develop a national force but they only focused on limiting us to a region. This delayed our cause. Since last year we have started a new campaign in this direction through the Nepal Samajbadi Party.
Again, what came of your party's decision to unite with the Maoist Centre?
Cooperation with CPN (Maoist Centre) was only meant for election purposes. We are a different party and have joined the ruling coalition as a separate party too. We have not spoken of unity with the Maoist Centre. We can join hands if Maoist Centre becomes a left-of-centre force and shuns the communist tag. We want to develop a new socialist force, not a communist party. We want socialism based on inclusive and participatory democracy. If Maoist Centre transforms itself, we can unite. If not, we can develop a collective front—just like the 10-party ruling coalition.
We are clear that unifying with the existing Maoist Centre cannot resolve national problems. So we are committed to developing a new socialist force.
Recently, Prime Minister Pushpa Kamal Dahal also spoke of a socialist front that was in the making. Was he talking about the same thing?
Yes. We have been discussing developing a socialist front by keeping the identities of our parties intact. We are preparing a programme for the front.
What is the message the old parties should derive from the emergence of new forces?
Let's not talk about individual parties but ways to resolve national problems. We must find solutions to the challenges facing the country. Increasing contention between the powers of the world could invite serious problems if we are not careful. Each and every party must have a clear opinion on it; they cannot serve the country by becoming pro-Indian, pro-Chinese or pro-American.
Another important issue is managing federalism and our language-related conflicts. We cannot achieve sustainable peace and development without resolving these issues. Older parties were not clear on these issues and even the newer ones have the same problem.
We should focus on how to quickly transform our agriculture-based economy into an industrial economy. We should discuss how we can achieve double-digit economic growth continuously. Older forces failed—whether the Maoist Centre or the Congress or the UML. Now, the alternative forces should think of these issues. Only populist activities won't work. We must discuss structural changes. Only the forces that have solutions to these problems will thrive for long.
Prime Minister Dahal has recently talked about reviving the Nepal Communist Party. Is that possible?
I don't think bringing together communist parties can solve our national problems. The Rastriya Swatantra Party was formed with the help of frustrated Congress leaders. We can, in a similar fashion, develop a left-of-centre force by bringing together communist forces.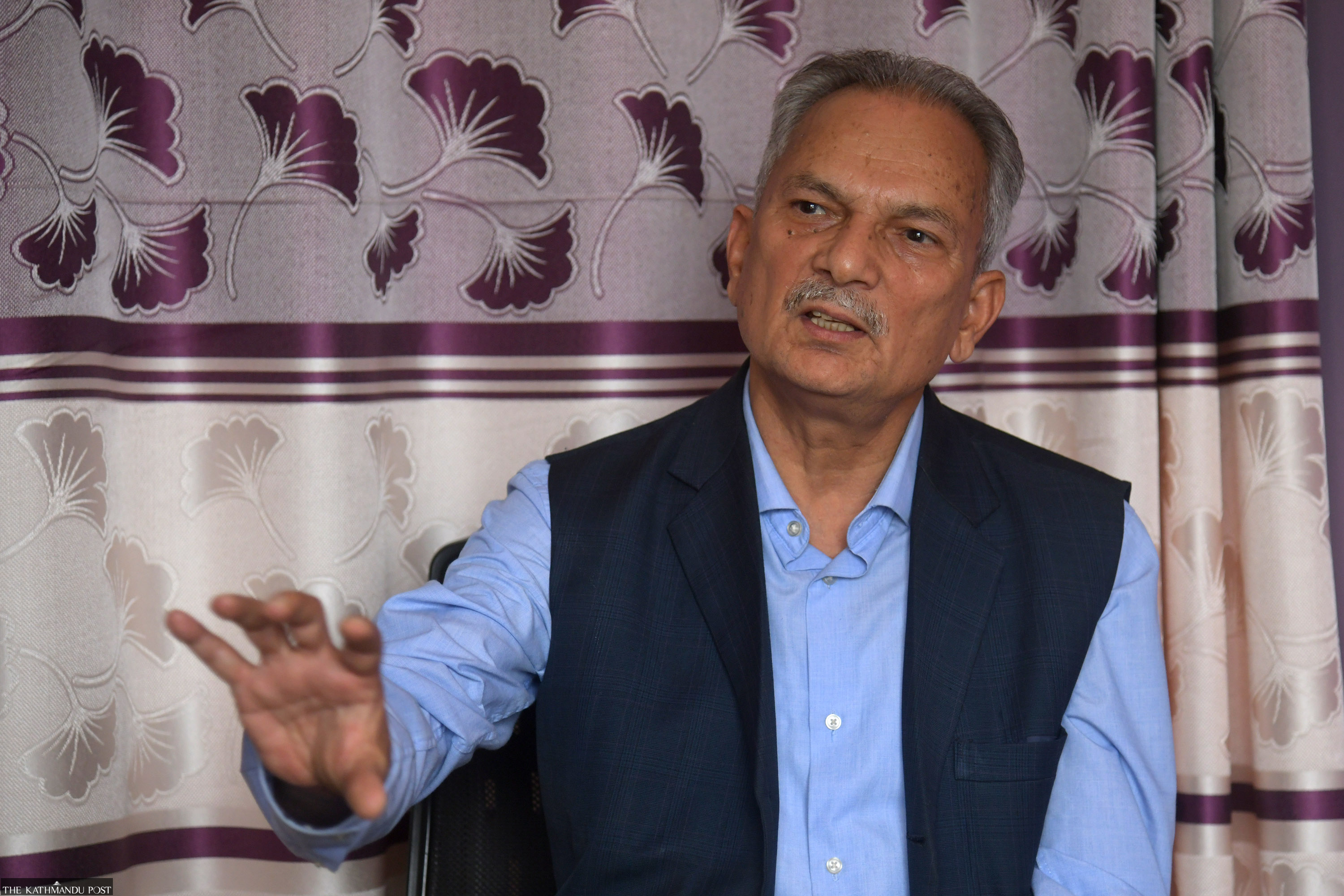 Deepak KC/TKP
So, there will ultimately be two forces in the country: right-of-centre force around the RSP, and another left-of-centre force. Instead of reviving older communist parties, we can develop the left-of-centre socialist or progressive democratic force. I have been working on that roadmap.
Who will lead such a left-of-centre force?
Anyone can take the lead. We have so many new-generation leaders. There will be a new kind of polarisation among the progressive forces and by the next general elections there could be two distinct forces—one right-of-centre and the other left-of-centre.
The sustainability of the Dahal-led government is already being questioned. How long will it last?
Without correcting the errors in our election and governance systems, we cannot expect lasting governments. I have been advocating for a directly elected President and a fully proportionally elected parliament. Without this, there will be no political stability or inclusiveness. There is no basis to believe this government can last for five years when an earlier two-thirds majority government failed.
What's your take on the country's dire economic situation?
When was our economy strong? We are one of the poorest countries in the world, with one of the largest numbers of unemployed people. Our per capita income is dismal. Our economic growth rate has not increased above 3-4 percent in the past six decades. During this time countries like Singapore, Malaysia and China became developed. Our industries cannot compete against our neighbours. Without reducing our dependence on agriculture to 15-20 percent of the economy from the current 60 percent, we cannot improve. Structural change is essential. We now need a major operation; minor surgeries will not do.
How do you analyse the results of the recent by-elections? New parties have done well. You also tried to form Naya Shakti but that could not take shape.
What happened in by-elections is not an abrupt development in Nepali politics. I started a national debate on the need for a new force after the completion of the political change with the promulgation of a new constitution. After that emerged the Naya Shakti, Bibeksheel Sajha and other alternative forces. In the local polls, independent candidates were elected in places like Kathmandu and Dharan.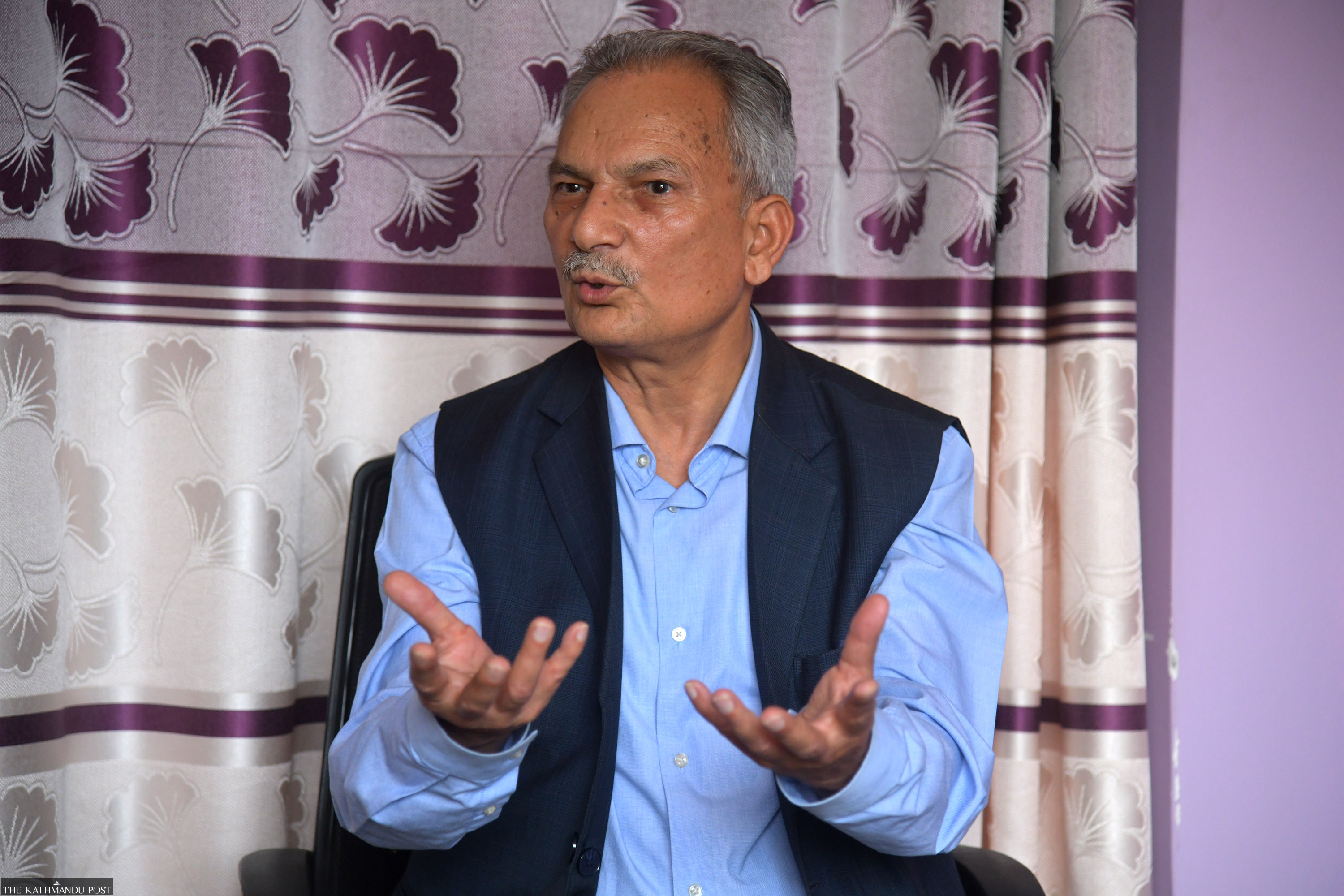 Deepak KC/TKP
Not only the Rastriya Swatantra Party. The Janamat Party in Madhesh and Nagarik Unmukti Party in Western Madhesh also surfaced in the November 20 polls last year, just like I had predicted. This is the result of older political forces failing to transform themselves as per the need of the hour. This is an indication of the rise of the new alternative forces in the country.
Why do you think your Naya Shakti failed?
Political parties are born with certain ideologies and values. After the completion of political changes, there comes a phase of economic development. But in Nepal, neither the Congress nor the Communist forces could deliver in the new context. This experiment is just the start. I think it will take around a decade for the newer forces to take their full shape as the older forces have a long history too. The Congress and the Communists won't just vanish.
What does the failure of a collaboration of major parties against a new force signify?
See it this way: in the three constituencies contested in the recent by-polls, two were retained by previous winners: the RSP in Chitwan-2 and the JSP again in Bara-2. The only change was in Tanahun-1, where Swarnim Wagle, who has a Congress background, won. And the Congress had won there earlier as well. There is no need to be overwhelmed by this result. The wave seen in favour of new forces is nothing but the result of frustrations of people against the older forces. This is the beginning of the search for new forces, not the end.
Why do you think your political experimentation failed while that of Rabi Lamichhane succeeded?
Winning 20-21 seats in a 275-strong House cannot be considered a huge achievement. We Nepalis tend to get elated and discouraged very quickly.
In city areas, things keep changing but not in rural areas. It's also because of the aggression of the youths who were compelled to leave the country. We are working on the formation of a new force, the Nepal Samajbadi Party, after the failure of Naya Shakti. It may take some time.
The RSP has no fixed political line; the party's foundation is based on feelings, not ideology. It only expresses aggression and opposes others but it has no clear way to address the country's geopolitical issues and problems of language and restructuring of the state or to develop a roadmap for the country's economic development. It's easy to protest but difficult to find solutions to problems. This is the revolt against older forces but without any proper plan to address major problems facing the country.
The rise of RSP shows neither ideology nor organisational basis is necessary to win polls. Is this a sustainable model?
It happens on special occasions. But no political party can sustain itself without an ideology and it's like a compass. Populism is also an ideology but generally does not last long. We need a sustainable alternative force. We should take the rise of RSP as a positive development but only populist and pragmatic approaches cannot resolve impending national issues. So, we are in the process of fashioning a new alternative force of our own.
The RSP is a right-of-centre force, as is also reflected in its policy and programme. They have been silent on inclusive democracy and federalism and also not spoken on the model of economic development and the role of the society and the state in it. Their right-of-centre approach has attracted those formerly drawn to Congress and non-communist forces. We have also seen royalist forces inch closer to the RSP. So, again, what we need is a strong left-of-centre or progressive force that is capable of giving a strong alternative to older forces.
---
---