Theatre is a powerful tool for social transformation
Indian actor Shabana Azmi talks about the transformative possibilities of theatre and the role of artists, intellectuals and corporates in sustaining them.

Shabana Azmi came to Kathmandu for the Nepal International Theatre Festival 2022. Suraj Subedi/TKP
bookmark
Published at : November 27, 2022
Updated at : November 27, 2022 07:18
Indian actor Shabana Azmi is in Kathmandu to give a masterclass at the ongoing Nepal International Theatre Festival 2022, organised by Mandala Theatre Nepal. A recipient of five National Film Awards, the Padma Shri and the Padma Bhushan, Azmi is well known for her defining roles in parallel cinema since the 1970s. In an interview with Dinesh Kafle and Suraj Subedi, Azmi spoke about the transformative possibilities of theatre and the role of artists, intellectuals and corporates in sustaining them.
How has Kathmandu been treating you?
Kathmandu has always treated me very well. I've come here several times. The first time was in 1974 while shooting for a film called Ishk Ishk Ishk by Dev Anand. The film made me fall in love with Kathmandu. Ishq ho gaya mere ko, Kathmandu se. I also came here when I did a play called Tumhari Amrita with Farooq Sheikh many years ago. I even came here as a SAARC Goodwill Ambassador for HIV/AIDS when I was a member of Parliament.
Having visited Nepal many times, how do you see Nepali theatre evolving?
It's quite extraordinary what is happening in Nepali theatre, where the community is getting together to develop scripts and plays and build theatres. Look at Mandala Theatre—it's unbelievable how they have got together, pulled their resources and said, "We'll build a theatre on our own". And I believe there is a sort of eruption of small theatres that the people are making. It is really admirable. The play I watched yesterday [Katha Kasturi, based on a story by Nayan Raj Pandey, directed by Deeya Maskey and performed by students of Actors' Studio] was excellent. I could not believe that it was students who had just done a three-month course and come up with an ambitious play. The fact that the students could muster that ambition up was outstanding.
Speaking of small theatre groups emerging in Nepal, what is the scenario in India? And how do we benefit by letting such groups flourish?
Well, in India also, small groups and spaces are coming up—not just for theatre but also for stand-up comedy, poetry, readings, and so on. These places allow the exchange of independent thought, which is very encouraging. In Mumbai, for instance, there is a beautiful cultural space called G5A Foundation, which organised a 20-day festival. It is just a black box theatre, but they curate high-quality content. And what they are doing is quite remarkable: They are doing this in the surroundings of a fishing village, including the community. Instead of saying "we'll come from outside and tell you what culture is", they create an immersive experience with the fishing community—their relation with the sea, the food, and so on. That is not just token integration but actual integration.
What is happening in the larger theatrical scene apart from such small-scale activities by independent theatre groups?
Things are tough because the theatres cannot sustain themselves independently. The ticket rates are so high that a family would rather see a movie or watch what is available on OTT platforms. That is the problem we have yet to be able to solve. We need support and funding from big corporate houses who realise that theatre is a vital instrument for social change and that it can shape cultures and thoughts. I've done plays for the National Theatre and the Singapore Repertory Theatre, where you find actors rehearsing from 9 am to 6 pm because they are getting enough money not to have to do another job. In our part of the world, you are doing another job because that sustains you, and then in the evening, you come and do theatre. It can only lead to a professional quality theatre if artists get paid better. Artists can only get paid better if the audience is willing to pay. So it's a vicious cycle.
Shouldn't the state sponsor theatres?
I'm apprehensive about the state sponsoring theatre, for, at some point, the state can start interfering and deciding your content and take away your autonomy. For creative artists to have the space to express themselves freely is very important. Theatres cannot be dependent only on the state. The state can give some subsidies, but ultimately, the corporations will have to come forward. Also, the big challenge for theatre is the theatre will have to establish itself as separate from cinema. The kind of experience you have in theatre should be different from the cinematic experience. Only that can entice audiences to start appreciating theatre. So the challenges are many.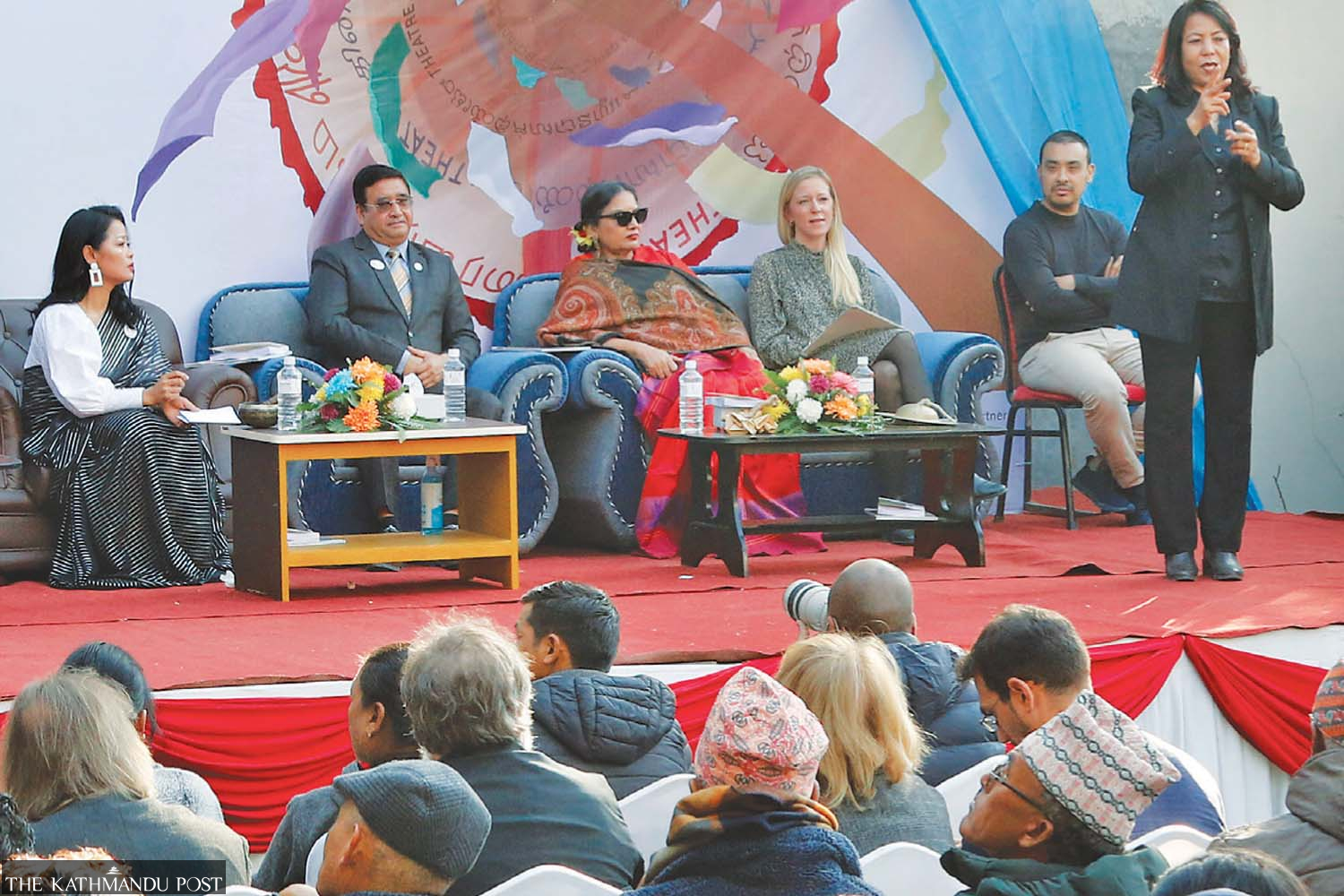 Post Photo
How can theatre survive in an age when new media and social media have come up with new platforms and disruptions?
First, it should be a proper theatre and not any comedy put together or any slipshod act in the name of theatre. Theatre has its own language, which is rarely explored. Theatre borrows heavily from clever dialogues and all that. But what about the form of theatre that can allow you to imagine things beyond the object presented on the stage, say, a man standing on the stage as a tree? We must explore the medium more to allow the willing suspension of disbelief. That can encourage audiences to think that something different is being offered there. But still, the question of finance remains, and it must come from big corporate houses that have their corporate social responsibility. They must realise that theatre is an essential medium of personality development for creating young adults who can take on the world. If the corporate houses start to look at theatre the same way they look at education and sports, then there is more hope.
In Nepal today, many theatre artists are using theatre as a stepping stone to enter the film industry because there is more money in the latter. As someone who has had a parallel career in both industries, what do you think is the best way to balance the two?
For an actor, the best combination is to do theatre and film together. Of course, it is necessary to earn a decent living, for you can't live on the street. But once you have established yourself in the film industry, you need to return to theatre because you give a lift to the theatre itself. Hollywood actor Ralph Fiennes returns to England once a while and does theatre for only 250 pounds a week. He does this because he wants to be enriched by the theatre experience. If stars like Naseeruddin Shah are doing this in our part of the world, we can also do it.
You come from a family of writer-activists, as your parents, Kaifi and Shaukat Azmi, were active with the Indian People's Theatre Association and the Progressive Writers' association. You have also negotiated art and politics together. How do you see South Asian writers, artists and intellectuals taking on the roles of social changemakers?
I grew up in an atmosphere where my parents believed that art should be used as an instrument for social change. And it comes very naturally to me. Some people think of art as only a medium for entertainment, and I don't have an issue with them. What I am asking for is a redefinition of entertainment. Why does entertainment have to be so crude? Why does it have to have abusive language? If we can redefine entertainment, you could have a bouquet. The audiences should be able to pick and choose which they want. You can't say only my way of thinking is the correct one. Also, the respect for theatre, art and film should be taught at school. They should learn about it as part of personality development. For, you cannot have somebody who has never been exposed to good theatre and good cinema to understand these forms when they are twenty suddenly.
You are known for your portrayal of distinct female characters across space and time. How do you see the portrayal of female characters evolving?
There has been a definite change in Indian cinema over time. If you look at the 1960s, there were the films like Main Chup Rahungi, with Meena Kumari in the lead role. At the time, remaining silent was considered a virtue of women. Then we entered into the completely crazy moments in the 1990s, where films like Jakhmi Aurat took a stereotypical approach about women. It was left to the parallel cinema to understand and present women with all their complexities, without stereotyping them. Nowadays, there is a transformation in mainstream cinema, where you find big stars who don't want to be seen as bimbos but as women who have an identity separate from that of hero-chasing. Due to this, we are getting many women-oriented roles. But ultimately, it depends on how the audience is willing to see it, for the filmmaker is not here to change the world but rather to do speculative business like everyone else. So, if the audience shows interest in emancipated women, this will make a difference. Everybody who feels passionately has a responsibility. My father wrote a poem named 'Aurat' 70 years back, asking women to stand up and march shoulder to shoulder with him. I grew up taking this call for equality for granted. Only when I was 19 did I realise that what I took for granted was an exception. So I started working with women. Today, I can see moving beyond liabilities and becoming individuals with identity. Most of the time, we feel that the problem is too big, so we hesitate to make small efforts. But we should think differently; each of us has the power to be the catalyst for change.
You have been involved with theatre, films, activism, politics and even the UN. Which agency would you believe is best suited to change society?
Each one of these, I would say. If I am an artist, I can't say, "Alright, I'll stop being an artist and become a person". In whatever capacity you can contribute to change, you must do it.
What is your advice for Nepali theatre practitioners?
More power to them! For, the movement they are leading under given circumstances is praiseworthy. I am very proud of them.
---
---