Pradeep Gyawali: 'I am here with the objective of making Nepal-India ties even stronger based on trust.'
The foreign minister on his visit to Delhi which is taking place not only after a long gap of engagements but also at a time when there is a political crisis in Kathmandu and his agendas and priorities.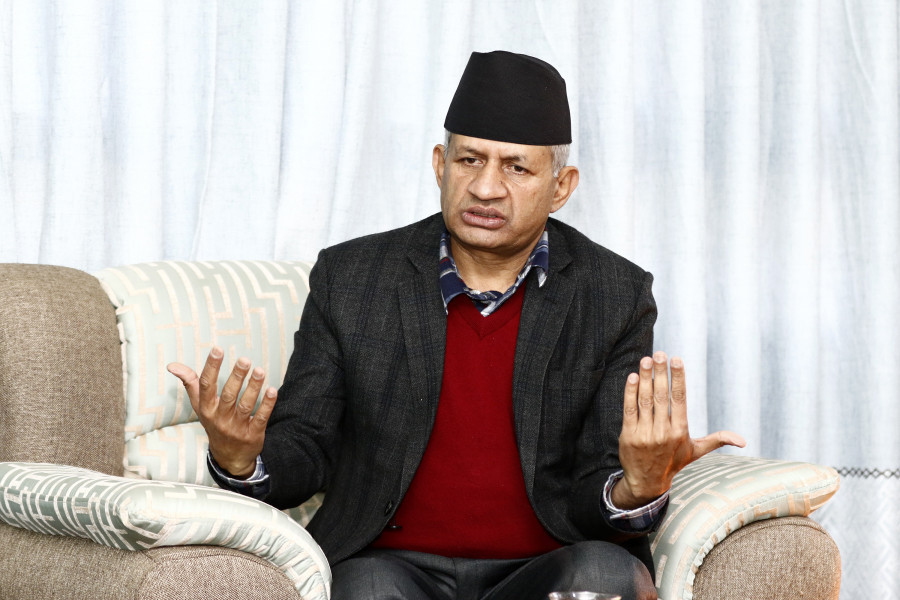 Post file photo
bookmark
Published at : January 14, 2021
Updated at : January 14, 2021 23:33
Foreign Minister Pradeep Gyawali arrived in New Delhi on Thursday afternoon on a three-day visit. Gyawali is in the Indian capital to participate in the Sixth Meeting of the Nepal-India Joint Commission, which deals with the entire gamut of bilateral relations between the two countries. This is the first visit from Kathmandu at the highest level in over a year. The visit is taking place after Nepal-India relations hit a rock bottom over the boundary issue. Nepal is expecting to raise the boundary issue with India during Gyawali's stay in Delhi. Gyawali's visit is significant also because it is taking place at a time when there is a political crisis in Kathmandu caused by Prime Minister KP Sharma Oli's decision to dissolve the House. The Post's Suresh Raj Neupane caught up with Gyawali to know about this visit, his agendas and priorities.
The interview has been condensed for clarity.
What expectations do you have from the meeting?
The Joint Commission's meeting is being held after a gap. That the meeting is taking place in itself is important. The way our relations have gone through in the recent past, I believe this meeting will not only help bring the ties in the previous state but also will open the doors for further enhancing them. I have come here with the objective of making Nepal-India relations even stronger based on trust. I believe our Indian friends too have similar expectations. We will discuss all the facets of our ties and come up with a conclusion.
While Nepal has been saying that it will raise the boundary issue with priority, India's Ministry of External Affairs has said that the joint commission and boundary talks are two different mechanisms.
I am not aware of India's reaction. So it won't be appropriate to comment on that. But this Joint Commission has a very wide mandate. Political, border, security, development and transportation issues fall under it. We will hold discussions on all these issues and come up with a necessary conclusion. Nepal will discuss the issues that it has prioritised and will try to find a resolution.
What kind of discussions are expected with India regarding Covid-19 vaccines?
India has conducted successful trials of two vaccines. I would like to congratulate the government of India and the scientists involved. We believe that Nepal should take the benefit of the vaccines developed in India. And we have made a request accordingly. They have also said that they have kept Nepal on priority. As India is rolling out mass vaccination, we firmly believe that Nepal will be on their priority. With the confidence that Nepal can procure the vaccines, we have prioritised the issue and put it high on agenda.
Are you expecting any commitment from India on this?
I believe that there will be some concrete development on this issue.
It is said that some political meetings too are lined up? What will those meetings focus on?
In the meetings with the Indian leaders, I will, naturally, convey the message of the President and the prime minister. Basically, I will convey to them the message that Nepal wants to build a problem-free relationship with India based on trust, where both the countries can benefit. History has left some problems with us. It's time to find a solution to those problems. It is not in anyone's favour to let the problems linger. Discussions will focus on how we can build an environment of trust. That finding solution to all these problems only will help us focus on our shared future will be at the centre of the discussions.
It is also said that your visit is aimed at garnering support of the government of India amidst the recent political development in Nepal.
I don't want to talk about Nepal's internal political matters on foreign soil. My entire attention is towards Nepal-India relations.
---
---