Pradeep Gyawali: A 'strategic partnership' is for achieving development and prosperity.
The foreign minister on Xi's recent visit to Nepal and how the country wants to pursue its independent foreign policy.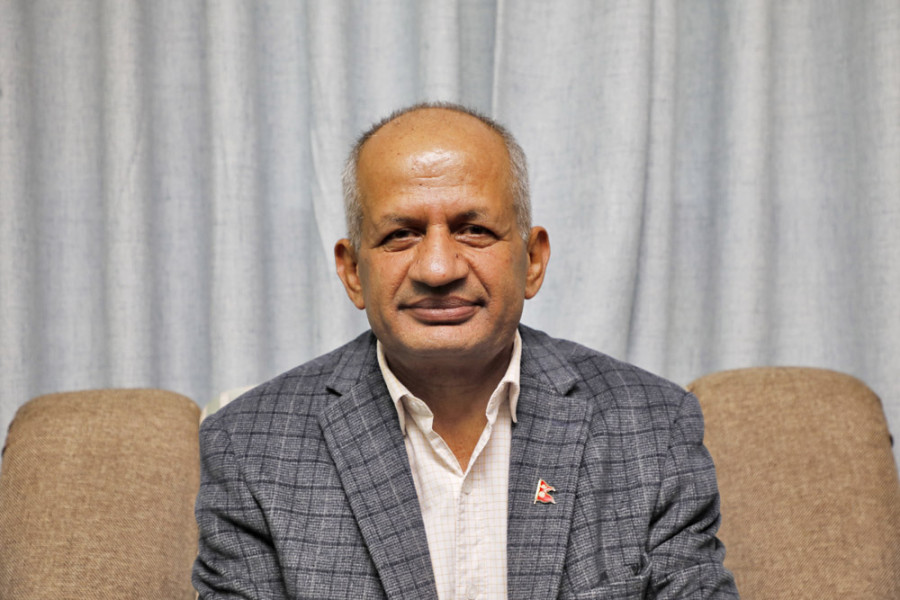 Foreign Minister Pradeep Gyawali. Sanjog Manandhar/TKP
bookmark
Published at : October 22, 2019
Updated at : October 22, 2019 14:02
The Chinese President, Xi Jinping, made a historic visit two-day to Nepal from October 12-13. Xi is the first sitting Chinese leader to visit the South Asian nation in more than two decades. During the visit, leaders of the two countries signed and exchanged 20 agreements to boost connectivity, trade, economic assistance, and security relations. With the Oli-led government in place, Nepal is trying to redefine and consolidate its foreign policy vis-à-vis its immediate neighbours as well as the world, as it strives to achieve economic development. The Post's Avasna Pandey met with Foreign Minister Pradeep Gyawali right before he flew to Myanmar with President Bidya Devi Bhandari who is going for a five-day state visit to talk about what made the visit possible and what does following a long-term vision of a 'strategic partnership' with China exactly mean.

This interview has been condensed for clarity.
How did the visit come to happen in the first place?
Nepal and China have been enjoying a cordial bilateral relationship for years. This relationship has been problem-free, tension-free. Yet, a high-level visit from China was overdue, primarily due to a protracted period of political instability in Nepal. Our foreign policy in the past lacked clarity. But right now, we are in a phase of political stability and there is a strong government at the federal level. It has charted out its foreign policy in a more clear, objective and proactive way. Amidst this background, we continuously tried and made preparations to make the visit by the Chinese president possible. So perhaps Nepal's changed context and our relentless pursuit to invite the world's emerging leader made this visit possible.
How do we envision a strategic balance in the neighbourhood when China is entering Nepal ambitiously and India still wants to hold its ground?
I think you are talking about the perspective of our neighbours, but we should start from how we perceive them. Nepal has always pursued balanced, independent and friendly policies with its neighbours. We are fortunate enough to be located between the world's two largest markets. So we need to change our perspective. Rather than talking about the contesting phenomenon between the two neighbours, we should widen our perspective on China and India, especially when it comes to engaging with them.
There is one school of thought that continues to believe in Nepal as a country sandwiched between two giants. It believes Nepal is fertile ground for the two emerging economic powers to fight over. Applying this lens is biased and stems from a kind of paranoia. Rather, we should look at this situation positively. Nepal has categorically told both India and China that it wants to establish a good relationship and economic linkages with both of them. A stable, prosperous and peaceful Nepal is in favour of our neighbours as well. People are free to form their own perspectives but the strategic balance is envisioned in a way where we broaden our perspective and not be consumed by the paranoia that has been surrounding us regarding our engagement with Beijing and New Delhi.
Many see the growing proximity between Nepal and China as simply a knee-jerk reaction to India's domination, especially the 2015 blockade. Is there some truth to this perception or are we following a long-term vision of a 'strategic partnership' with China?
Nepal's growing engagement with China is not any kind of a reaction; it is the necessity of time. Being a landlocked country, we end up paying 20 percent more when it comes to production and transportation. Meaning, our competitiveness in the global market is being hampered. To overcome the challenges imposed by our geography, we have to develop broader connectivity with both our neighbouring countries. We need to have roadways, railways, motorways and all other means of transportation so that we can enhance our production capacity and reduce the cost and prove our competitiveness in the global market. This should have happened a long time ago and we want to deepen our cooperation so that Nepal can benefit.
But what exactly is a 'strategic' partnership?
It is simply a terminology that reflects the level of our friendship. Earlier, the relationship between Nepal and China was described as a 'comprehensive partnership'. But by calling this bilateral relationship a 'strategic partnership', we are trying to elevate our friendship to a new level with a renewed focus on development and prosperity.
Why this change in terminology if it's only got to do with friendship? Friendship is usually defined by cooperation rather than strategy.
Strategy means a long-term plan of action to achieve the desired result. For instance, the Asian Development Bank (ADB) recently published a strategy for cooperation with Nepal. What does that mean? Is the ADB going to pursue any type of defence or security cooperation with Nepal? No. Unnecessary controversy on the terminology makes our achievements futile. A 'strategic partnership' is for achieving development and prosperity, and there should be no room for any other kind of interpretation.
There's a growing concern among Nepalis about the Chinese debt trap that has devastated smaller economies like Sri Lanka and many African countries. How is Nepal going to negotiate with China in a way that is beneficial to the country?
Nepal is one of the few countries which has a minimal share of foreign debt in its GDP. It's around 15 percent and if we include the domestic debts too, the figure comes to be around 28 percent—which is very less. The share of Chinese investment in the form of loan is quite modest. So when there is a discussion going on among Kathmandu elites regarding the so-called debt trap, it is not fact-based. Their opinions and discussions are oftentimes politically oriented.
Second, people often cite the Sri Lankan example. If one goes by facts, even in that particular case, China's lending is minimal compared to that by other multilateral agencies or countries. In Nepal's context, right now, the so-called fear psychology that surrounds the Chinese debt trap is baseless.
Yes, we should be capable enough to chart out our own interest and our bottom lines, and be capable enough to identify our national priorities. Nepal should also be smart enough when negotiating the terms and conditions of investments and soft loans. But so far, there aren't any problems. Nepal's current problem is not the debt trap but the trap of underdevelopment and our incapacity to fully utilise the available resources.
We have already announced that Nepal will graduate from least developed status to a middle-income country in two years. For this, we need around $18 billion in capital expenditure annually. Looking at the structure of our budget, the federal government is spending around $5 billion, the provincial and local governments combined spend about $2 billion and private sector spending reaches about $6-7 million. Meaning, we are still spending $5 billion less than what is required. Therefore, our momentum for development has not been as expected. So we need more resources in the form of Official Development Assistance (ODA) but we all know it is limited. We welcome FDI and are open for soft loans, by negotiating the most favourable terms and conditions in Nepal's interest.
India has been reluctant to accept the Belt and Road Initiative, which has partly to do with the perception that China is consolidating world power through this project. Isn't it pertinent for a small economy like Nepal to wait and see rather than jump on the bandwagon immediately?
No, I don't think so. The Belt and Road Initiative with a core concept of inclusive development, shared benefits and sovereign choice of nations is a transformative initiative put forward by Chinese leaders. So far, more than 150 countries and more than 30 multilateral institutions have joined it. As the world becomes more interconnected and interdependent, such type of initiatives help us connect with the global market. So Nepal's decision to join the Belt and Road Initiative is an informed choice.
China is expanding its soft power through language teaching, training, scholarships and business. The Nepal government has mostly remained a mute spectator. Isn't this going to leave space for China to increase its foothold and soft power in Nepal?
We should have access to spoken international languages because it is the best way to interact and connect with people. It's imperative to widen our cultural interactions, not just with our Indian or Chinese friends but equally with other civilisations and cultures as well as the world community.
Nepal inherits the ancient value of Vasudaiva Kutumbakam, which means the world is one family. So I don't see any negative consequences of bringing cultures together. Whether we may like it or not, China is an emerging power. It is important to learn about Chinese society, its mindset and its principles. In fact, I was quite surprised at the hue and cry surrounding the training programme on Xi Jinping Thought. We should know what Xi Jinping Thought is, what Modi thought is, Trump thought, Boris Johnson thought, and also what are the principles and policies of Vladimir Putin. Only then can a country adjust itself or make appropriate decisions to safeguard its national interests.
You spoke about transitional justice last month in the US. How is Nepal to face the world when it has not resolved its transitional justice issues?
Let me make it clear, Nepal's peace process is a homegrown, nationally led process. The two major components of the Comprehensive Peace Agreement have been successfully completed. The first one was state restructuring, drafting a new constitution and adopting an inclusive democracy. The next challenge was the management of combatants and weapons. Governments in the past have settled these problems successfully and in a unique manner. So we will be able to address the last segment of the peace process, which is transitional justice.
The two commissions have solicited complaints and primary information. Everything is documented and archived. We will be appointing new commissioners soon and will amend the Transitional Justice Act as per the Supreme Court's verdict and the concerns of victims.
There are some fundamental guidelines on transitional justice. The prime minister and I have time and again made it clear that Nepal's transitional justice will be guided by the spirit of the Comprehensive Peace Agreement, victim's concerns and the ground reality.

***
What do you think?
Dear reader, we'd like to hear from you. We regularly publish letters to the editor on contemporary issues or direct responses to something the Post has recently published. Please send your letters to [email protected] with "Letter to the Editor" in the subject line. Please include your name, location, and a contact address so one of our editors can reach out to you.
---
---