'Books have taught me to be less judgemental and more empathetic'
Anbika Giri on importance of children's literature and her top picks.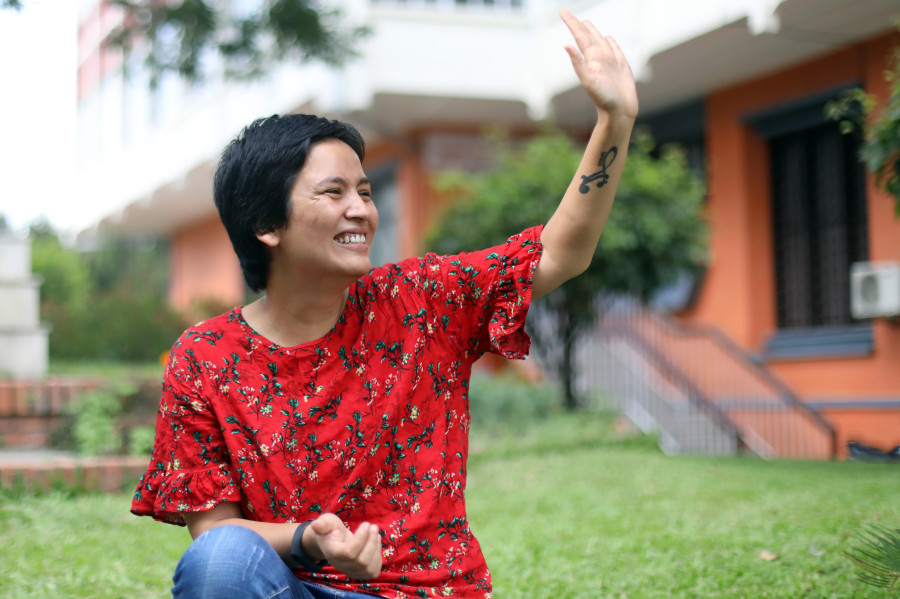 Elite Joshi/TKP
bookmark
Published at : August 17, 2019
Updated at : August 17, 2019 11:45
Kathmandu
Anbika Giri started her career as a writer in 2004 with her book Hamro Kura Pani Sunnus, a children's book. More than a decade later, she has penned five children's book, a novel, and a collection of fiction. She also translated the book Walking with the comrades, by Indian writer Arundhati Roy, to Nepali. Giri identifies herself as a storyteller before a writer and advocates gender equality and cultural diversity through her writings. In an interview with the Post's Sachitra Gurung, Giri talks about her inspirations for her books and her recently released works: Saniko Gyani Kura and Aamale Saknuhunchha. Excerpts:
How did you first come to love books?
I started reading because of my mother. When I was younger, she used to tell me stories. She is an amazing storyteller, and I could always visualise the stories she used to tell in my head. I enjoyed listening to her stories and it was the best part of my childhood. When I was a little older, I started reading by myself. I first started reading fiction then moved to non-fiction. Some of my early reads were Naso by Guru Prasad Mainali, Dosi Chasma by BP Koirala, The Mother by Maxim Gorky (Nepali version).
What do your new books delve into?
In Saniko Gyani Kura, I have tried to aware children about good touch and bad touch. The book talks about family relationships, especially for young girls. Abuse can happen from anyone, and the book encourages young children to talk to their trusted family member or parent if someone makes them uncomfortable. Aamale Saknuhuncha is a story about a family where the protagonist, the mother, solves family problems. When I went to Accham, I asked some primary level students what their parents do, almost all of them answered that their fathers work in the field, while their mothers stayed home. But that's not true, a mother does so much to run the household smoothly. I wondered if today's children aren't acknowledging their mother's efforts, and how we can expect them to treat women equally in the future when they don't understand what their mothers do at home. We need to teach them these things while they are growing up. It's a story about challenging supposed gender roles of our society, a mother's effort, and gender equality.
Why do you think such books for children are important?
After reading such stories, young readers will internalise the message. This kind of content is missing in our children's literature, that's why I try to write more of it, as it helps them become aware of said gender roles and fighting social taboos. These things need to be taught to kids from a young age. If we are not familiarised with it from a young age, it will be difficult for them to accept it when they grow up. In the textbooks, the woman is always with a broomstick and the man is always an office worker. Such things paint the picture of gender roles in a kid's psyche.
What was the last book you read and did you like it?
BP Ko Bidroha by Jagat Nepal. It about BP Koirala's rebellion, life struggle, struggle in Varanasi, jail time, and Nepali congress's history. The language is very simple; everyone can read and understand it easily.
What five books would you recommend as must-reads?
The why-why girl by Mahasweta Devi, We Should All Be Feminists by Chimamanda Ngozi Adichie, Lilaam by Jagadish Ghimire, Totto-chan: The Little Girl at the Window by Tetsuko Kuroyanagi, and Aama Januhos by Maya Thakuri.
What books are currently on your wish-list?
Nothing specific but I want to read more books about Nepali congress history, BP Koirala and Mahendra Bir Bikram Shah Dev.
Why do you think reading and writing is important?
Reading helps people broaden their perspective. It also helps us make the right decision and makes us calmer, but then it depends on what kind of book you read. Books taught me to have a different perspective, be less judgemental and more empathetic, understand different periods of time, cultures, and communities.
What book has influenced you the most and why?
There is a book close to my heart called Totto-chan: The Little Girl at the Window. I read it time and again. The main character in the book, the child, is curious, and somewhat fickle. And the teachers don't like it, which is why her mother is called to school often. I can relate to it. My daughter is a very curious child and doesn't like being in the same place for too long so she gets in trouble with her teachers because of that. I didn't think it was a problem, but the teachers thought it was. Like the mother in the book I also feel like children should be given freedom to think freely and the school should be more student-friendly. Their story is similar to me and my daughter.
How do you draw inspiration for writing?
Some events have had a great impact on me, and I have turned them into stories. I travel, I talk to people, listen to their stories and observe them and their environment to draw inspiration. That's my inspiration, source of content and research.
How long does it take for you to write a book?
It depends on what kind of book I am writing. I finished writing the draft for Aamale Saknuhuncha in a week. Then there is a book that I have been trying to write for the past five years. Also, since I only start writing after finishing my research and being mentally prepared, the writing part alone doesn't take me a long time. I spend more time thinking.
How do you overcome writer's block?
I don't force myself to write if I don't feel like writing. I just let it be. I take my time and get back to it when I feel comfortable. I write because I enjoy writing, and if I have to force myself then there's no point.
In your opinion, what do you think a book should be? What advice do you have for aspiring writers?
Any book should be thought provoking and informative. It should provide people with different perspectives. People aspiring to be writers should do proper research, read and reread before jumping into writing.
---
---