Uterine prolapse epidemic in Bajhang worsened by poverty and lack of treatment
In Thalara Rural Municipality alone, over 200 women suffer from the condition.

Women of Thalara wait at a local health post for uterine examinations in this recent photo. Basanta Pratap Singh/TKP
bookmark
Published at : May 9, 2023
Updated at : May 9, 2023 14:56
Bajhang
Thirty-three-year-old Nanda Bohara's husband died in India nine years ago. At the time of her husband's death, their daughter was only two and son six years old. With no other familial support, Nanda was left to fend for herself and her children.

The residents of Gadhigaun in Thalara Rural Municipality in Bajhang, Nanda and her husband, Man Bahadur Bohara, lived a difficult life. To ease the financial strain, Man Bahadur had decided to go to India to earn money. But his untimely death after being hit by a running train in India left his family in dire financial stress.
With hardly any option left to her, Nanda started working odd jobs at construction sites. It was during these ordeals that Nanda's health deteriorated. She suffered from uterine prolapse caused by strenuous physical work.
Uterine prolapse is a condition where the uterus slips down and bulges into the vagina because the muscles and ligaments that hold it in place become weak.
Today Nanda is in frail health and can walk or do household chores with difficulty.
"I still work at construction sites. Some days the pain is so unbearable that I can't even sleep at night," said Nanda. She has contracted a severe infection in her uterus and has been advised to seek treatment immediately.
"Health workers at the local health post told me I am suffering from uterine prolapse and that I should go to Dhangadhi immediately, but I can't even afford to go to the district hospital in Chainpur," she said.
Belu Bohara, Nanda's 40-year-old neighbour, is in an even worse condition. The mother of four has been living with the pain of a prolapsed uterus for more than a decade. Belu too has been advised by medical officers to get treatment immediately since she had an infected swollen uterus. But Belu is in no condition to pay for the treatment.
"My 20-year-old son travelled to New Delhi in search of a job so that I can get treatment. He sent home Rs15,000 last month, but I had to choose between paying off the loans we had taken when he went to India and seeing a doctor," said Belu. "I paid off the loans since the lenders were breathing down my neck. I would rather suffer in agony for a little while longer than have lenders knocking on my door every day."
Belu's suffering is unimaginable. She hasn't been able to sit down comfortably for years without searing pain shooting through her body. "My problems are aplenty. Sometimes I wish death upon myself just to be able to feel nothing."
A recent survey conducted by the rural municipality showed that more than 200 women in several wards of the rural municipality are suffering from various degrees of uterine prolapse.
Although most of the women in the village suffer from the medical condition, many of them do not get the necessary treatment, said Janaki Khati, a medical volunteer at the rural municipality's health office.
"Women in almost all households here suffer from the same medical condition. The main reason why they don't seek treatment is their poor financial conditions. Since most women suffer from the condition, men overlook the seriousness of the illness assuming it to be normal," said Khati.
Khati also pointed out that most women, suffering from the problem, tend to live with the pain since they are uncomfortable with sharing information about their reproductive health condition with the men in their families.
Junu Airee, a public health officer stationed at the health office, says the number of women suffering from uterine prolapse is higher than reflected in the recent survey.
"Many women do not come for a medical checkup. They excuse themselves by saying they are busy or citing the distance between their house and the health office," said Airee. "However, even the women who get a diagnosis from the health post do not get proper medical treatment for their illness because they don't have the financial resources."
Airee estimates the number of women suffering from uterus prolapse within the rural municipality to be upwards of 330 with more than 50 women in Ward 2 of the rural municipality alone suffering from the condition.
The rural municipality recently organised a health checkup programme for women with reproductive health issues. The jarring revelation of the health condition of most women in the rural municipality has worried Airee.
"Most women are living with uterine prolapse with a majority of them in a serious condition," said Airee. "Some women are in such a pitiful state that they can't even move. Their infected uterus has protruded outside of their vagina and releases a foul smell. The pain they are living with is unimaginable."
Doctors use various methods, depending on the severity of the condition, to treat a prolapsed uterus. One of the commonly offered treatments is ring pessary insertion wherein a small disc is placed high in the vagina as support to the uterus. In severe cases, women are advised to undergo surgery to repair weakened tissues, insert a synthetic mesh to replace damaged tissues or undergo a hysterectomy (surgical removal of the uterus).
At a health camp organised by the district hospital four years ago, some women had ring pessaries inserted. According to Airee, the ring needs replacement every three months or as recommended by the physician.
"The health condition of some 50 to 60 women who have had ring pessary insertion has not improved," said Airee. "In some cases, the unreplaced rings have caused severe infection to the point that the only solution for the women is to opt for a hysterectomy."
Anita BC, a local of Ward 2, recently turned 25. Her husband, who travelled to India for work, has been out of contact for a long time. The mother of two suffered from uterus prolapse two years ago and now lives an extremely painful life. BC worked as a labourer, carrying sand and cement bags, during the construction of a temple in the area.
"I carried sand and cement bags weighing over 50kgs throughout the day during my week-long stint at the construction site. That is when my uterus prolapsed," BC said. "My husband has been out of contact ever since he left for India so I have no choice but to continue working."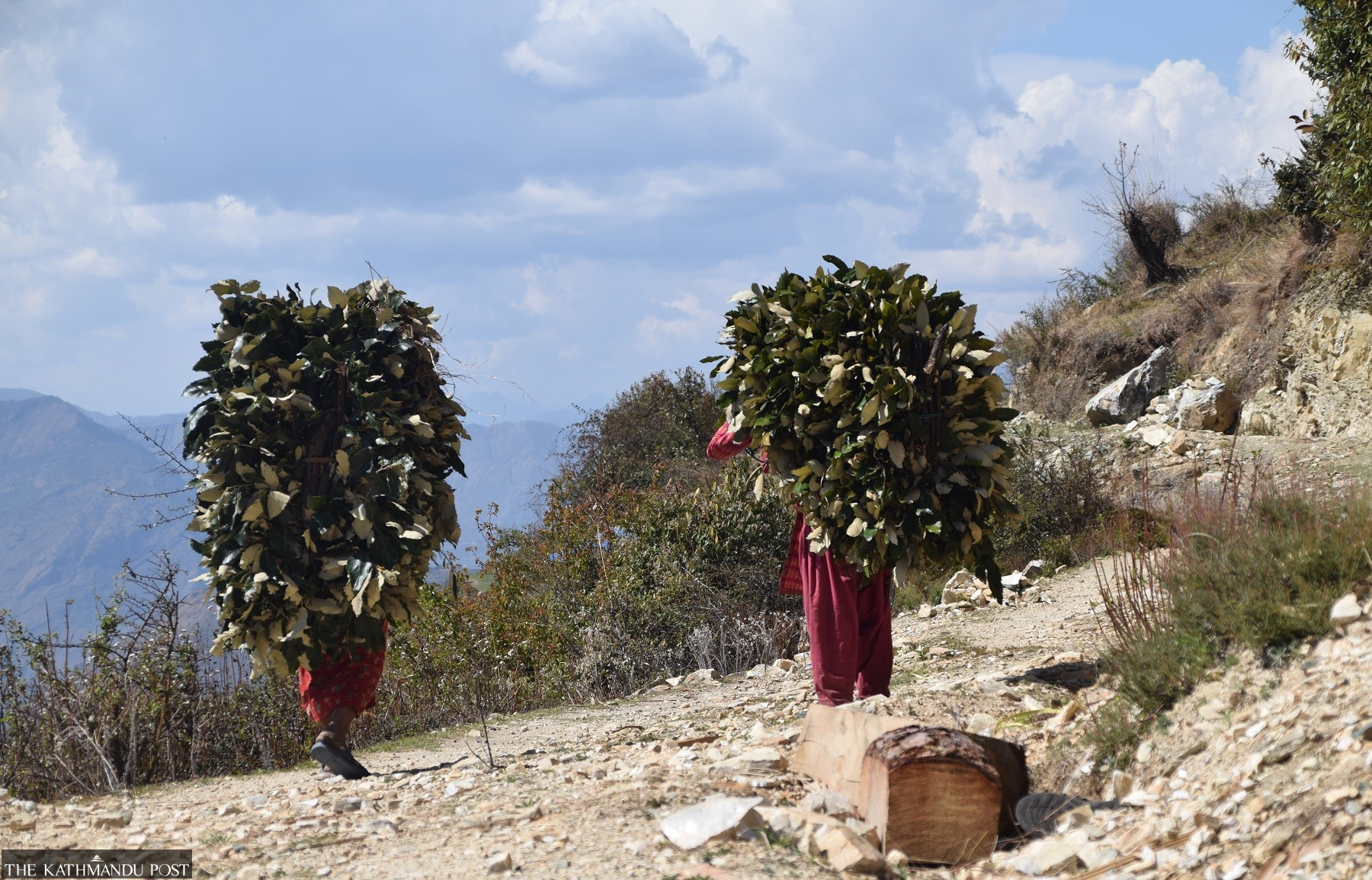 Women of Kafalkanda return home with loads of tender foliage from a nearby jungle to feed their cattle. Basanta Pratap Singh/TKP
BC faces difficulties when performing laborious tasks. She experiences pain in her hips and lower abdomen.
The condition of the women has been worsening due to a lack of timely treatment, inadequate rest, and lack of support from their family members, says Airee. "Women with prolapsed uteruses are forced to engage in sexual intercourse by their husbands. In the villages, men get drunk and force themselves on their wives. The women can't say no and suffer in silence," she said. "Engaging in sexual intercourse in such a situation has made the women's condition worse and led to the spread of the infection."
According to Basic Health Rights Campaigner Shantalal Mulmi, another reason for the worsening reproductive health condition of women is that women do not opt for immediate treatment due to fear of the men in the family, only reaching out for help when their condition has worsened.
"Women in the villages try to hide their problems as much as possible due to the fear of being mistreated by their families. They only seek medical assistance when the pain becomes unbearable, by which time their condition becomes very hard to treat," Mulmi said.
Bearing children at a very young age, frequent pregnancies, hard physical work during pregnancy, lack of nutritious diet, and lack of regular health checkups are some of the main reasons for the increasing number of uterus prolapse cases in women, says Padam Oli, spokesperson at the Thalara Rural Municipality health post.
"The ongoing survey has been completed in three wards of the rural municipality," said Oli. "We are organising health camps in the remaining wards as well. Even we had not imagined the number and severity of the condition in the women here."
Oli says that even though the condition is so widespread in the municipality, there is no treatment for it in the district.
"Our work is to find such cases and refer them to treatment facilities outside the district. The patients must travel to proper treatment facilities outside the district on their own," said Oli.
Rural Municipality Chairman Prakas Rokaya says the local unit is reaching out to various governmental and non-governmental organisations to help them identify uterine prolapse cases in the villages and find a financial solution to offer them treatment free of cost.
"Once we learnt about the painful situation of women in our villages, we launched a campaign to find out the number of women suffering from the condition," said Rokaya. "We cannot bring such a large number of women to Dhangadhi or Kathmandu for treatment and not all of them can be treated in the district. We are trying our best to tackle the problem."
For 70-year-old Devi Kimadi, there is no immediate respite in sight. She has been living with a prolapsed uterus for the past three decades. "The health workers at the health camp said my uterus is infected but what will I do with that information?" she said. "It is beyond my means to get treatment outside the district. Living with the pain feels like living in hell. When I was younger, I somehow managed to get through the days, but now it's unbearable. My hip hurts and I can't sit down. I can neither stand up for long nor can I bear the pain while sitting down."
---
---