Deprived of timely care, Karnali mothers die untimely deaths
Seventeen pregnant women, mostly between the ages of 15-25 years, lost their lives in the last fiscal year.

Kalasi Shahi, 30, of Sarkegad in Humla district being medevacuated by a Nepal Army helicopter after labour complications on March 10. Photo Courtesy: Nepal Army
bookmark
Published at : May 4, 2023
Updated at : May 4, 2023 07:19
Birendranagar
Dhanrupa Bishwakarma died an untimely death. She was only 35 years old when she died of postpartum haemorrhage after giving birth to her baby in January last year. For two days after the delivery, she bled excessively and died before she had the chance to be taken to a hospital.

The district hospital in Gamgadhi, the district headquarters of Mugu, is just two hours' walk from Dhanrupa's village, Jiula in Chhayanathrara Municipality. But the journey is not an easy one for a pregnant woman to cover, says Ram Bahadur Bishwakarma, Dharupa's husband. "The way to the district hospital is quite difficult. The men from the village usually take pregnant women there on a stretcher," he said. "But as luck would have it, on the day we had decided to take my wife to the hospital, there were hardly any able-bodied men in the village to help us."
Pregnant women and postpartum mothers in Karnali, the country's most remote province, live dangerously throughout their pregnancy and post-delivery. More often than not, these women do not get the medical attention they require in the course of their pregnancy and after.
Eighteen-year-old Bimala Shahi of Nergaun village in Soru Rural Municipality Ward 5, Mugu, went into labour in February. She gave birth to her baby before her family could take her to the district hospital. But she suffered from retained placenta, a clinical condition where the placenta fails to discharge partially or completely, after delivery. It would have taken Bimala and her family two days on foot to reach the district hospital so her family called in a faith healer as a last resort when Bimala's condition worsened. She soon died leaving behind her newborn.
According to the data made available by the Karnali Province Health Directorate, as many as 172 pregnant women and postpartum mothers have died over the past nine years in the province. Thirty-three women died in the fiscal year 2014-15 while 17 pregnant women lost their lives in the last fiscal year 2021-22. According to Padam Bahadur KC, information officer at the directorate, around 80 percent of the deceased were between the ages of 15 to 25 years.
There are a total of 359 birthing centres in Karnali Province. However, such centres are not accessible to women from remote locations. A study conducted by the Social Development Ministry of Karnali Province last year shows only 23.6 percent of households in Karnali can reach a health institution within a half-an-hour walk. For the rest, a visit to the nearest health institution takes hours, if not days.
However, inaccessibility to birthing and health centres is not the only reason behind the high maternal mortality rate in Karnali. Safe delivery for women from areas where birthing and health centres are comparatively in close proximity is also not guaranteed. Parvati Shahi, aged 23, of Thatikandh Rural Municipality Ward 1, Dailekh, reached a primary health centre in her ward to give birth. But when she suffered from postpartum haemorrhage, the health centre could not save her.
"Her condition worsened after giving birth at the health centre. It took about four hours for us to arrange money and an ambulance to take her to Surkhet. She died on the way," said Parvati's brother-in-law Tek Bahadur Shahi.
The federal government's President Women Upliftment Programme is designed for needy pregnant women and postpartum mothers. Under the programme, pregnant women in remote areas are airlifted to city hospitals free of cost. A total of 135 needy pregnant women and postpartum mothers were medevaced from various remote villages of Karnali over the past four fiscal years. However, many pregnant women and postpartum mothers do not get immediate air rescue.
Article 38 of the Constitution of Nepal affirms that every woman shall have the right to safe motherhood and reproductive health. Safe Motherhood and Reproductive Rights Act 2018 was enacted to make health services safe, qualitative and accessible for safe motherhood.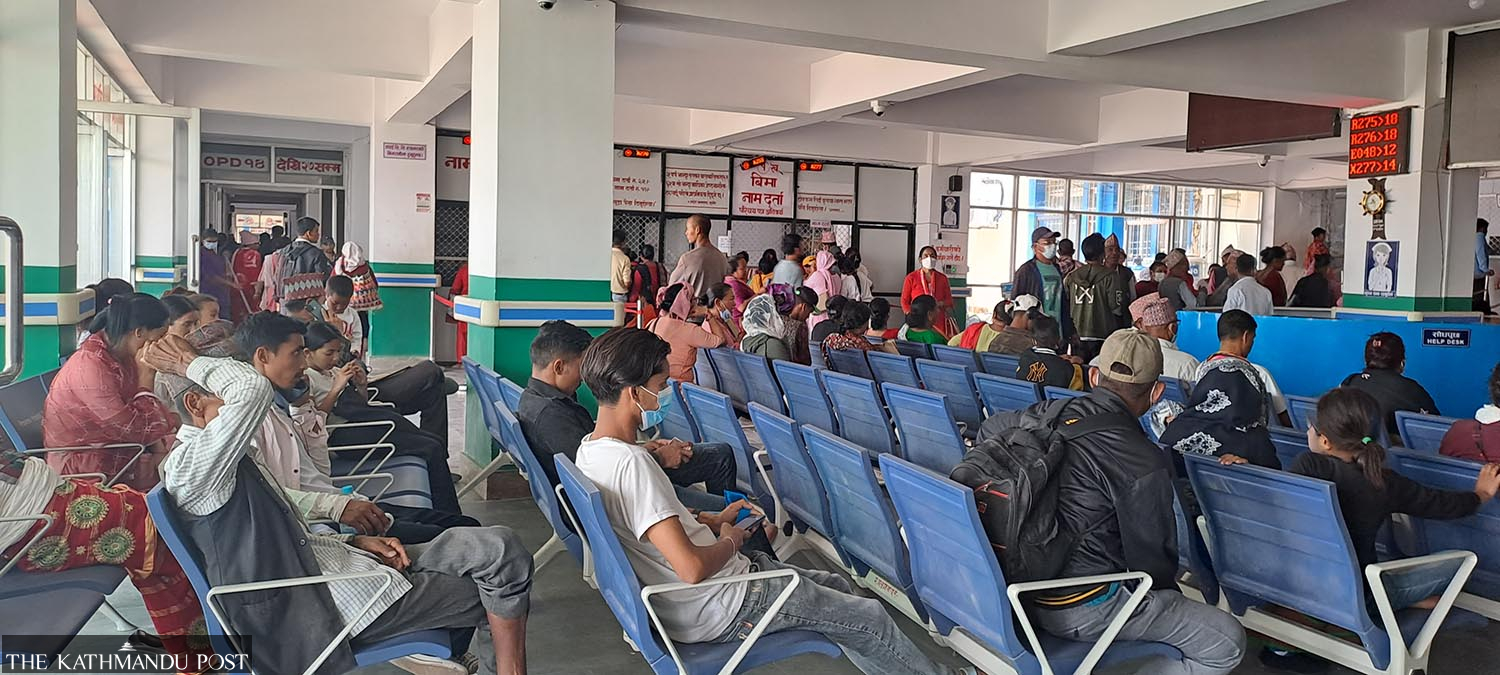 Patients and their families at the waiting lounge of the provincial hospital in Surkhet in this recent photo. Tripti Shahi/TKP
The lack of health institutions in close proximity and poor roads coupled with substandard services in local health facilities contributes to avoidable deaths of pregnant women and postpartum mothers in the province. The lack of skilled human resources and necessary equipment in health institutions in rural areas leads to patients being referred to big city hospitals, inadvertently delaying urgent medical intervention.
In the villages, people's first point of contact in times of medical emergencies is a faith healer. Only when the condition of patients, in this case, pregnant and postpartum women, fails to improve, do they seek medical help, says Rabilal Basnet, the ward chief of Kalimati Rural Municipality Ward 1 in Salyan district.
"Around 30 percent of the people in our ward call shamans first for any kind of medical emergencies. The patients are taken to hospitals at the eleventh hour resulting in the death of the pregnant women and the newborn," Basnet told the Post. "Poor awareness level and the difficulties in reaching well-equipped hospitals contributes majorly to the high maternal and infant mortality rates in Karnali."
According to the Karnali Provincial Health Directorate, a total of 777 infants died across the province in the past four years. As many as 199 infants died in the last fiscal year alone.
A report made public recently by the Karnali Province Commission, put the neonatal mortality rate, infant mortality rate and child mortality rate at 47, 29 and 58 per 1,000 live births, respectively.
Intensive physical labour during pregnancy and a lack of a nutritious diet during and after pregnancy results in high maternal and infant mortality rates in Karnali, says Dr Nabaraj KC, a paediatrician at the provincial hospital in Surkhet. "Women are compelled to do hard physical work during pregnancy and they do not get to eat nutritious food. These factors play a major role in the mother and the baby's poor health," he said.
Twenty-one-year-old Samjhana BK, is a mother of two daughters aged one and five. The resident of Kanak Sundari Rural Municipality Ward 4 in Jumla is struggling to feed her children who are severely underweight.
"The agricultural produce from our fields is only enough for our family for three months," said Samjhana. "In such a situation, it is difficult to provide nutritious food to my children. I took both of them to a health camp organised in the village three months ago. The health workers told me both my daughters are malnourished. They are receiving treatment under the supervision of local health workers. I hope they will recover soon."
Samjhana who was banished to a chhau shed [a menstruation shed] during her postpartum period and denied healthy and nutritious foods says her poor health led to her babies' poorer health. "I myself did not consume any nutritious food during the time of both of my pregnancies," she said. "But I didn't know my frail health would affect my babies too."
According to the Karnali Provincial Health Directorate, a total of 2,511 malnourished children received treatment under the integrated management of acute malnutrition programme in the last fiscal year of 2021-22. Six among them died.
The Multiple Indicator Survey-2019 showed that the prevalence of wasting among children in Karnali Province was 17.6, the highest in the country followed by Province 1 (14.3 percent), Sudurpaschim Province (14.1 percent), Province 2 (13.9 percent ), Lumbini Province (13.7 percent), Gandaki Province (8 percent) and Bagmati Province (4.7 percent). Malnutrition has been a long-standing problem in Karnali mainly due to food scarcity and shortage of nutritious foods.
---
---