Health Ministry asks COVAX to resume supply of Pfizer doses
The vaccine-sharing scheme has committed to provide 1.5 million doses per month from March to October but supply remains halted since March at Nepal's request.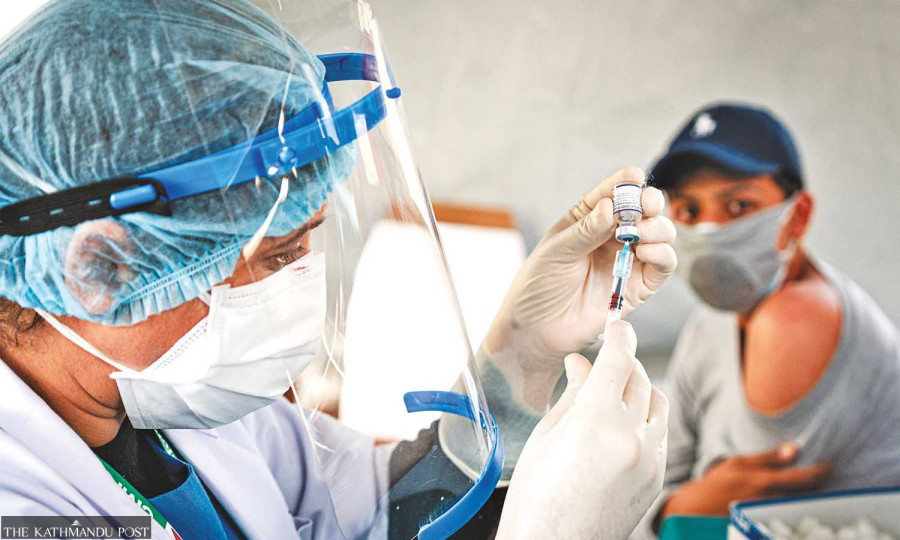 A health worker prepares the Pfizer-BioNTech vaccine against Covid-19 at Civil Hospital in Kathmandu in this file photo. Dipendra Rokka/TKP
bookmark
Published at : August 12, 2022
Updated at : August 12, 2022 07:56
Kathmandu
The Ministry of Health and Population said it has requested the COVAX facility for the resumption of the supply of Pfizer-BioNTech Covid vaccine doses, which has been halted since March.

Officials said they have requested for deliveries, as the stock of the doses have been decreasing.
"We don't have many doses of the Pfizer-BioNTech vaccine in stock so we have asked COVAX to resume the supply," Dr Surendra Chaurasia, director at the Logistic Management Section under the Department of Health Services said. "Uptake of booster shots have been increasing a little bit of late."
COVAX facility, the United Nations backed international vaccine-sharing scheme, which had committed to supply 9.2 million doses of Pfizer-BioNTech Covid vaccine (1.5 million doses per month from March to October), has halted the supply at the request of the government, given the slow uptake of booster shots by the public and the country's limited capacity to store vaccines.
"As per the agreement, the facility will supply us 1.5 million doses per month," said Chaurasia.
The Pfizer-BioNTech doses for adults need to be stored at minus 80 degrees Celsius in ultracold freezers and can be stored in normal temperatures (2 to 8 degrees Celsius) for up to 31 days. If not used within 31 days of the rollout, the vaccine doses must be discarded.
The Health Ministry can only store around two million doses at minus 80 degrees at the moment.
The administration of the booster shot has not increased significantly despite an increase in Covid cases of late.
"Around 100 people have been taking booster shots from each vaccination center," said Basanta Adhikari, chief of Health Office Kathmandu. "Those, who are aware of the risks and importance of the booster shots have already received the additional shots and others, who are not aware or do not have much confidence are not seeking the vaccine doses proactively."
The Health office, Kathmandu has been administering booster shots from 22 immunisation centers in various places of the district including at busy market places like Ason and vegetable markets, and the Department of Passports, among others. Officials at the Health Ministry concede that despite the surge in new cases of the coronavirus, there has not been a marked increase in the uptake of booster shots.
"We have requested all agencies concerned to focus on vaccination drives," said Dr Samir Kumar Adhikari, joint spokesperson for the Health Ministry.
So far, 74,05,167 people or around 25.4 percent of the total population have received the booster shots. The Health Ministry said that 20,646,379 people or 70.7 percent of the total population have been fully immunised.
On Thursday, 31, 761 people throughout the country were vaccinated against Covid.
The Health Ministry said that five people died and 815 people tested positive for the coronavirus—465 in 2,411 polymerase chain reaction tests and 350 in 2,123 antigen tests in the last 24 hours.
Active cases stand at 5,869 throughout the country.
Public health experts said that vaccination is only reliable means to prevent severity and deaths from coronavirus infection and stressed for measures to boost the vaccination coverage. Experts have also requested the officials concerned to administer second booster shots to elderly people and those with compromised immunity.
"As studies have shown that immunity of vaccine or natural infection declines after six months, second booster shots should be given to those with compromised immunity and frontline workers," said Dr Prabhat Adhikari, an infectious disease and critical care expert.
Nepal so far has received 61,776,770 Covid vaccine doses of 19 various brands—AstraZeneca, Vero Cell, Moderna, Janssen, Sinovac-CoronaVac, and Pfizer-BioNTech—including 8.4 million pediatric doses.
---
---