All you need to know about Nepal's vaccination status
Nepal so far has received 18,857,590 doses of Vero Cell, AstraZeneca and Janssen and vaccinated 6,546,237 people fully. As many as 8,594,274 people have taken at least one dose.

A health worker prepares to administer a Vero Cell shot at a vaccination centre in Kathmandu. Post File Photo
bookmark
Published at : October 23, 2021
Updated at : October 26, 2021 18:28
Kathmandu
A little over 21 percent of the over 30 million population have been fully vaccinated in Nepal. If those who have taken partial doses were to be counted, the vaccination progress stands at a little over 28 percent. Despite its announcement, the Health Ministry failed to achieve the target of inoculating 33 percent of the population before Dashain. Officials, however, say the vaccination campaign has been encouraging as vaccines have been coming into the country. China recently pledged to provide 2 million doses while Nepal is all set to buy 6 million doses of Pfizer-BioNtech vaccine.
Here is what you need to know about Nepal's vaccination status.
When did Nepal launch its vaccination campaign against Covid-19?
Nepal is among the first countries in the world to launch its vaccination drive against the coronavirus. Nepal rolled out its Covid-19 vaccination drive on January 27, a little over a year after the country confirmed its first coronavirus case on January 24, 2020. Nepal started vaccinating its people with the 1 million doses of Covishield, the AstraZeneca type of vaccine manufactured by the Serum Institute of India, that India had provided under grant assistance. When Nepal started vaccinating its population, as many as 2,020 had died of the complications resulting from Covid-19 infections.
What types of vaccines has Nepal used so far?
Nepal has used AstraZeneca (including the India-made Covishield), Vero Cell and Janssen vaccines to inoculate its population.
How many doses has Nepal received so far and from where?
As of October 22, Nepal has received 18,857,590 doses of Vero Cell, AstraZeneca (including India-made Covishield) and Janssen vaccines.
Of the total vaccine doses that have arrived in the country, 4,422,740 doses were AstraZeneca, 11,900,000 doses were Vero Cell, and 1,534,850 doses were Janssen.
Of the 4,422,740 doses of the AstraZeneca type vaccine, 2,448,000 were Covishield, manufactured by the Serum Institute of India. India had provided 1.1 million doses to Nepal under grant assistance.
The government in February signed a deal with the Serum Institute of India to buy 2 million doses of Covishield. In the same month, the Serum Institute supplied 1 million doses but stopped shipment of additional doses, citing the coronavirus crisis in India. The remaining 1 million doses arrived on October 9.
COVAX had supplied 348,000 doses of the Covishield directly.
Besides, Bhutan supplied 230,000 doses, Japan provided 1,614,740 doses and the United Kingdom gifted 130,000 doses of AstraZeneca vaccine to Nepal.
Of the total 11,900,000 doses of Vero Cell Nepal has received, 10 million doses were bought and rest were provided by the Chinese government under grant assistance.
What is the country's current Covid-19 status?
After 708 new coronavirus cases were reported on Thursday, the nationwide infection tally has reached 902,001 with 10,946 active cases.
The Covid-19 death toll stands at 11,337.
Are more vaccines coming?
Shipments of 5.9 million doses of Vero Cell vaccine are likely as soon as the government paid the price of jabs to purchase through COVAX cost sharing mechanism.
Officials told the Post before Dashain holidays that they were in the final stages of signing the deal to purchase 6 million doses of Pfizer-BioNTech vaccine, which they say will be administered to children between 12 to 17 years.
China has pledged 1.6 million and 2 million doses on different dates, but their delivery dates have not been fixed yet. On Tuesday, Chinese Foreign Minister Wang Yi during a phone conversation with Minister for Foreign Affairs Narayan Khadka announced the commitment of an additional 2 million jabs. China has also offered to provide 1 million doses of the Sinovac-CoronaVac Covid-19 vaccine to Nepal.
The vaccine is developed by the Beijing-based Sinovac Life Sciences Co Ltd of China.
In August, the government said over 42 million doses of vaccine will arrive by mid-February next year.
The government has already paid for 4 million doses of Moderna vaccine through the World Bank to the US manufacturer of the vaccine, and delivery is expected by mid-February.
How many people does Nepal need to vaccinate?
Around 78 percent of the 30 million population–or around 25 million people need to be vaccinated, as per the government's new plan to also vaccinate those aged between 12 and 14. The government earlier planned to vaccinate only those aged above 14 years. Since around 4-5 million people are said to be living abroad, the government needs to vaccinate around 19-20 million people. For this, the country needs a little over 40 million doses of double-shot vaccine.
As COVAX has committed to providing around 13 million doses, enough to vaccinate 20 percent of the population, the government needs to manage around 30 million doses on its own.
When will COVAX supply vaccines to Nepal?
There were hopes of more doses from COVAX, the international vaccine sharing scheme backed by the United Nations, to Nepal after India last month announced that it would resume exports of Covid-19 vaccines in October.
Reuters reported on Tuesday that India has delayed committing supplies of vaccine to COVAX after one of its key backers, the World Health Organisation, said the agency could not "cut corners" to approve a domestically developed vaccine.
The world's biggest vaccine maker resumed exports of Covid-19 doses this month for the first time since April. It has sent about 4 million to countries such as neighbouring Bangladesh and Iran, but none to COVAX, said Reuters.
If COVAX gets hit, Nepal might not receive vaccines from the vaccine sharing scheme. COVAX has committed to supplying 13 million doses of vaccine, enough to inoculate 20 percent of Nepal's 30 million population.
How many people have been vaccinated so far?
As many as 8,594,274 people have received their first doses and 6,546,237 people have been fully vaccinated.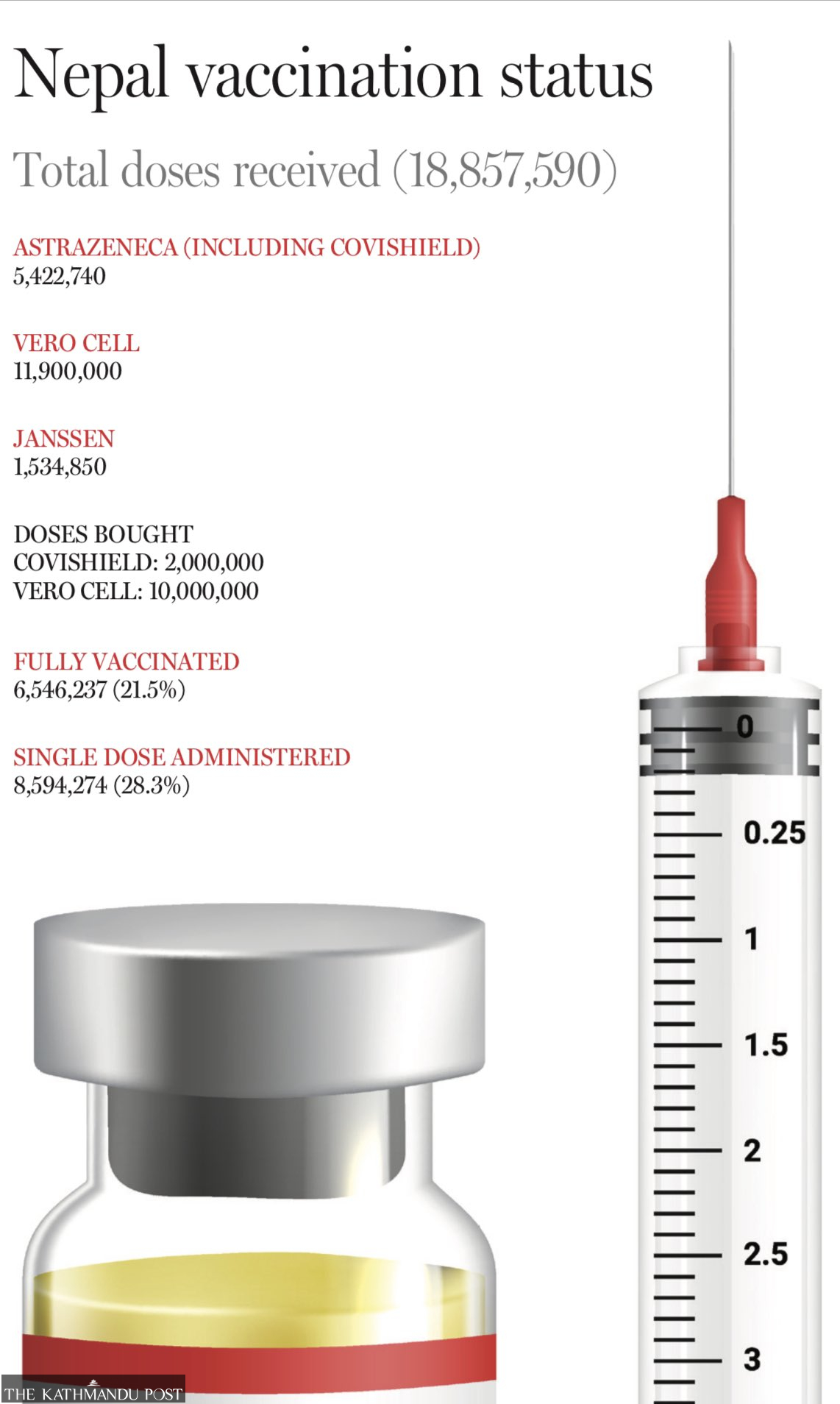 ---