Hospitals requiring recommendation for oxygen raises concerns about red tape
Authorities say there is uneven distribution of oxygen and they needed to step in to address shortage in a coordinated way. Police have also stepped in.

Police take note of an individual buying oxygen at the Patan Industrial Estate on Sunday. Beeju Maharjan/TKP
bookmark
Published at : May 10, 2021
Updated at : May 10, 2021 09:08
Kathmandu
There is a widespread scramble for bottled oxygen across the country.
With surging cases of Covid-19, hospitals are facing oxygen shortage, prompting many to declare that they will take no more Covid-19 patients without increased oxygen supply.
Authorities have stepped in but that has not been widely welcomed.
Blaming the current crisis on mismanagement in oxygen distribution, the Ministry of Health and Population on Saturday issued a circular in the name of 10 oxygen manufacturers, most of them based in Kathmandu Valley, instructing them not to supply oxygen to hospitals whether they are public, private or community-run without its recommendation letter.
Private hospitals have condemned the government's decision, saying that the decision would be harsh on private and community hospitals and that it adds bureaucratic hassles just to get the life-saving gas.
"At a time when the country needs a unified response from the government, private sector and all other sectors in the current Covid-19 crisis, the government's unilateral decision is aimed at harassing hospitals run by communities and the private sector," the Association of Private Health Institution of Nepal, a grouping of private hospitals, said in a statement.
Kathmandu-based oxygen plants produce around 8,000 cylinders a day but manufacturers say the current demand far exceeds their capacity.
But oxygen manufactures are following the directive.
"From Sunday, we have stopped supplying oxygen to anyone without a recommendation from the ministry," said Gaurav Sharda, president of Oxygen Industries Association.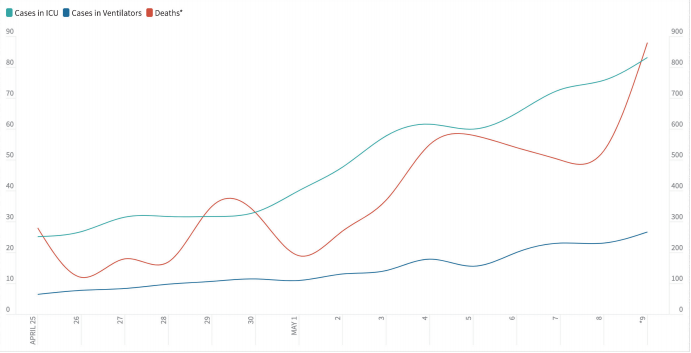 Source: Ministry of Health
Private hospitals have also criticised the manufacturers' decision. They say that oxygen manufacturers have failed to fulfil their contractual obligation of supplying oxygen to private hospitals after the government's 'unwanted' intervention.
"The government hospitals are without beds. The private hospitals, where beds are available, have not been able to provide services due to the lack of oxygen due to the government's decision," the association said.
Kumar Thapa, senior vice-president of the association of private hospitals, said they were forced to make rounds of the government authorities when oxygen should be made available urgently.
"We have been queuing at oxygen plants till now. With the government's decision, we have been forced to queue up at the ministry for the recommendation letter," said Thapa, who is also a promoter at Alka Hospital.
But the government has argued that the Health Ministry's recommendation was made mandatory to address the shortage of oxygen in a coordinated way.
"Who knows how many patients are there in every hospital, how many are in ICUs, on ventilators and wards?" asked Jageshwar Gautam, indicating that only the government has such data. "Therefore, oxygen should also be distributed as per the number and condition of the patients in each hospital. For this, the government got involved to ensure that oxygen is distributed properly."
Despite Gautam's claims, the government every day publishes data on the number of Covid-19 patients in hospitals. However, the data is not complete. For example, there were 50 Covid-19 patients at Kist Hospital on Saturday, according to the hospital but the situation report for Saturday does not show Kist Hospital as having any Covid-19 patients.
The hospital ran out of oxygen on Saturday afternoon and was able to get it from a government hospital to save the lives of its patients on oxygen.
Also, according to Gautam, the move on the need for recommendations to avail of oxygen is also aimed at discouraging distribution of oxygen to individual households amid shortage of oxygen at hospitals.
Oxygen manufacturers say they have been distributing oxygen to individuals too as per the prescription of hospitals or doctors.
Public health experts too have questioned whether the government's decision would be practical.
"Hospitals that are overwhelmed by Covid-19 patients might require oxygen even at midnight," Dr Baburam Marasini, a former director of the Epidemiology and Disease Control Division, told the Post, adding, "Will the ministry prepare a recommendation letter at midnight?"
Authorities, however, say that the process of seeking recommendation letters would not hamper hospitals' ability to receive oxygen in time.
"The hospital management remains aware of its oxygen stock and they should not wait to get a recommendation letter until the hospital is about to run out of oxygen," said spokesperson Gautam.
But oxygen continues to be a scarce commodity as well as the cylinders that hold it.
Nepal Police has started collecting oxygen cylinders from businesses and factories and distributing them to hospitals.
According to the data provided by Nepal Police, till Saturday evening they have collected 2,781 oxygen cylinders from across the country.
"Nine hundred oxygen cylinders were given to hospitals that were in need of emergency supply while 1,881 cylinders were distributed to oxygen manufacturers," according to senior superintendent Basanta Bahadur Kunwar, also the spokesperson for Nepal Police.
According to SSP Kunwar, oxygen cylinders which were being used by businesses for non-medical purposes were taken by the police after requesting the owners.
"Many people were also found to have kept oxygen in stock, while some were selling oxygen cylinders in the black market and also hiding cylinders in shops and warehouses for future use. Those were confiscated by the police," Kunwar told the Post.
But despite the efforts, the supply may not meet the demand.
There are over 80,000 infected people in home isolation, according to the Health Ministry.
"Even if 20 percent of them need treatment, we are not in position to provide treatment," an official at the Department of Health Services, told the Post, asking not to be named.
On Sunday 88 Covid-19 related deaths were recorded throughout the country. The Health Ministry said that 52 of them died in the last 24 hours.
"The other 36 people had died in different periods and different places,' Gautam, the spokesperson. "Some had died on the way to hospital, some at home and some tested positive after their death only."
The country recorded 8,777 new cases in the polymerase chain reaction tests.
Active cases stand at 88,160.
As the Covid-19 pandemic continues unabated, doctors warn of fatalities increasing if patients with breathing difficulties are not provided oxygen support.
"If we have 2,000 beds and sufficient oxygen supply, that will make a lot of difference," Dr Kiran Pandey, physician at the Hams Hospital, told the Post. "The major problems are in the management and coordination among the agencies concerned."
(Arjun Poudel and Shuvam Dhungana contributed reporting.)
---
---