As Nepal prepares for Covid-19 vaccination drive, challenges are huge, experts say
From transportation to chain of command issues, from training of health workers to surveillance of the population as each needs two doses, much has to be considered.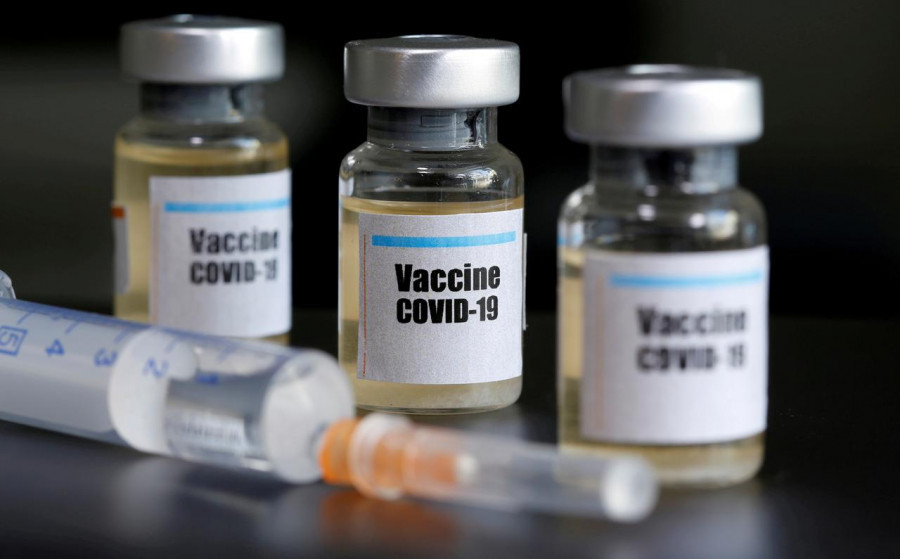 Reuters
bookmark
Published at : January 19, 2021
Updated at : January 19, 2021 07:38
When the District Health Office in Humla directed local health offices to send a list of health workers and female community health volunteers working under them for Covid-19 vaccination programme, Hansa Mahatara, a health coordinator at the Adanchuli Rural Municipality in the district followed the order.
But he wonders how it will be possible to conduct mass vaccination in the rural municipality, which is three days' walk from the district headquarters of Simikot.
Vaccines for babies there have had to be carried by people.
In preparation for mass vaccination, Nepal's drug regulator has granted emergency use approval for Covishield, a vaccine manufactured in India, just as it has received assurances from the country that it would supply "some" doses of the vaccine within January.
"Vaccines against the coronavirus will come soon," Dr Jhalak Sharma, chief of the Child Health Section at the Family Welfare Division under the Department of Health Services, told the Post.
Further, Covid-19 vaccines for three percent of the population, to be provided by the World Health Organisation under the COVAX facility in the first phase, will be available by April-end, according to the Health Ministry.
Health workers will be among the first to be vaccinated, as per the government's priority list including those serving in remote parts of the country like Adanchuli Rural Municipality, the remotest part of the district, which borders Mugu and Bajura districts.
"Yes , we have a lot of challenges to roll out coronavirus vaccines for the population," said Sharma. "We will micro plan at the district level. We have time for it."
If Mahatara's experience in vaccinating babies is anything to go by, the challenge is indeed a huge one.
Even after carrying vaccines to villages, 80 percent goes to waste due to lack of cold storage facilities in Adanchuli Rural Municipality. As a result there is a lack of sufficient doses of vaccines for babies. Often, Mahatara says, there are not even enough syringes.
Covishield, developed by University of Oxford and the pharmaceutical giant AstraZeneca, is Nepal's vaccine of choice because Nepal's vaccine storage and transport infrastructure supports it.
"We have a refrigerator provided by UNICEF some two years ago to store vaccines, but it has been gathering dust because there is no electric power to support it," he said.
The situation in Adanchuli Rural Municipality reflects the challenges that the country faces in vaccinating its population against Covid-19.
Of Nepal's population of some 30 million, 72 percent have to be vaccinated as children under 15 will not be vaccinated since existing vaccines have not been tested on them.
The Health Ministry is preparing to immunise 300,000 health workers and supporting staff in the first phase and necessary preparations are being made accordingly, according to Sharma.
Officials at the ministry say that as the coronavirus vaccines for all will not come at once, additional human resources and other mechanisms are not needed.
"We have completed the first phase of preparation," said Dr Roshan Pokhrel, chief specialist at the Health Ministry. "We have taken account of the storage facilities, transportation and cold chain maintenance, among others."
Other than the challenges faced by remote areas like Adanchuli Rural Municipality, there are other challenges that experts are wary of.
"If there is any adverse side effect after vaccination, a patient has to be brought to health facilities immediately," Dr Bikash Lamichhane , former director at the Child Health Division of Health Ministry, told the Post. "Health workers have to monitor the people after vaccination, and for that too we need health workers in place."
In Nepal people do not generally question the effects of jabs being provided free of cost by the government.
But there have also been incidents where people have been reluctant to take medicines distributed in mass drug administration programmes like against the lymphatic filariasis.
Even after 12 rounds of programmes, the disease has not come under control in some districts.
Doctors say that giving the coronavirus vaccine is not like the mass drug administration programme and in the drive, live virus will be inserted in the body of healthy people, which causes some side effects.
"No vaccine or medicines is 100 percent safe and some adverse effects could be seen after vaccination, as the coronavirus vaccine is new and many things are yet to be known,'' Dr Shyam Raj Upreti, coordinator of Covid-19 Vaccine Advisory Committee, told the Post.
Public health experts also point out that existing vaccine distribution systems, which are designed to immunise children will be used for the large scale adult vaccination programme, which will not be easy as expected.
Over 16,000 immunisation camps operate throughout the country every month and thousands of trained health workers are in place. The Health Ministry officials say these camps and health workers will be used in the coronavirus vaccine drive.
Over 52,000 female community health volunteers are serving throughout the country and they can play a crucial role in the nationwide drive, according to the officials.
Coordination among the three tiers of government—federal, provincial and local—which are independent in themselves will be crucial in making the nationwide vaccination drive a success.
But some experts fear that chain of command problems will be a big issue in the successful mass immunisation programme.
"Strong oversight mechanism should be created before rolling out the vaccine," Dr Krishna Kumar Aryal, a public health expert, told the Post.
There could be decisions that need to be made when unforeseen problems come up and there should be mechanisms on how to address them, according to Aryal.
Floating populations could be another challenge in places like Kathmandu Valley, which could make it difficult for authorities to locate vaccine recipients, as two doses of vaccine have to be administered to each person.
Another challenge is that the new more contagious variant of the coronavirus, first detected in the United Kingdom, has been detected in Nepal, and this could pose threat to the vaccine rollout plan, according to experts.
"If the new variant of the virus leaks into society, and infects many people at once, it will set back our mass vaccination drive," Dr Sher Bahadur Pun, chief of the Clinical Research Unit at the Sukraraj Tropical and Infectious Disease Hospital, told the Post. "Our surveillance system should be stepped up to minimise the risks."
Officials too agree that surveillance is a key for a successful drive.
"Poor surveillance and the lack of health workers in remote places to take care of people in case of vaccination side-effects could prove to be a challenge in the drive," said Upreti, coordinator of the vaccine advisory committee.
Apart from this, training for health workers like female community health volunteers, whose role will be crucial in creating awareness, data collection and surveillance, has not begun yet.
"Enough preparations are needed for pre-immunisation and also for post-immunisation scenario," Lamichhane, former director at the Child Health Division, told the Post. "Aggressive preparations are needed, implementation strategy should be made, confidence of the public on the programme should be boosted and there should be a mechanism to address the adverse effects of vaccines."
A successful immunisation drive would mean that Nepal becomes free of the coronavirus that causes Covid-19 .
"The virus will remain in society if we fail to immunise all eligible citizens," said Aryal, the public health expert. "Strong oversight mechanism should be created before rolling out the vaccine."
---
---