Pandemic makes life tougher for children with autism and Down syndrome
Parents and child care experts say that the Covid-19 crisis has only exacerbated already existing challenges for children with development challenges—and there are no easy solutions in sight.

Children receive virtual classes by caregivers of Down Syndrome Society Nepal. With the centre closed because of the prohibitory orders, children have been forced to depend on remote learning but there are many challenges. Photos courtesy: Down Syndrome Society Nepal Photos courtesy: Down Syndrome Society Nepal
bookmark
Published at : September 9, 2020
Updated at : September 9, 2020 06:07
Kathmandu
For as long as Biraj Shrestha can remember, he has been attending a day-care centre run by Autism Care Nepal Society, a non-governmental organisation dedicated to helping individuals with autism. Fifteen-year-old Biraj was diagnosed with autism spectrum disorder when he was three years old. He also has anxiety issues.
At the centre, Biraj was part of a special classroom that has a huge support team that works closely with him. "Biraj was learning life skills and interacting with other children. Overall, he was making good developmental progress" said Kripa Shrestha, Biraj's mother. Going to the centre was part of his daily routine.
However, his routine came to an abrupt halt when the Covid-19 pandemic forced his day-care centre to shut down. At first, Kripa said her son was excited to be home. "He was happy to spend more time with us," she said.
But things changed in a few days. It took the centre some time to get their special education classes online, and when they finally did, Biraj could not adjust to this new routine. Kripa realised then that things were going to get hard for her son, who, like most people with autism, does not adapt to changes well.
"From the beginning, Biraj struggled to keep up with his coursework on online platforms. The harder we tried to engage him in online learning, the more aggressive he became," said Kripa. And then there was the added frustration of being stuck at home and not being able to return to the day-care centre, to his friends, which Biraj started expressing by being physically aggressive with her mother. "So now, we have stopped forcing him to join online classes."
The closing of schools across the country has affected all students in one way or another, but for children with developmental challenges, such as autism spectrum disorder and Down syndrome, who often struggle to manage academic and social skills even in the best of times, parents and childcare experts say that the Covid-19 crisis has only exacerbated already existing challenges.
Around 300,000 people in Nepal are currently living with autism, according to an information booklet produced by Autism Care Nepal Society and the Ministry of Education. The 2011 census shows that 1.9 percent of the Nepali population has Down syndrome.
Autism spectrum disorder covers a broad spectrum of neurological disorders that affect a person's psychological development. People with autism show repetitive and restrictive behaviour, and tend to have problems in social interaction and communication. The term 'spectrum' in autism spectrum disorder refers to the wide range of symptoms and severity.
On the other hand, Down syndrome is a genetic disorder caused by the presence of all or part of a third copy of chromosome 21. Individuals with Down syndrome tend to have mild to moderate developmental issues along with impairments to their cognitive ability and physical growth.
Due to these reasons, people with such disorders need special care. "But due to the lockdown, many parents are deprived of getting their children to needed therapies. Many are worried that their children's progress will stall or reverse," said Sunita Maleku Amatya, the chairperson of the Autism Care Nepal Society.
Kripa also feels that in the absence of a dedicated aide, her son is not only missing developmental milestones but also losing key skills necessary for an independent life. "At the day-care centre, there was an occupational therapist, a speech therapist, a learning behavioural therapist and various teachers who would work individually with him every day. But now, he has been deprived of all these facilities," said Kripa. "The only way he can get experts' guidance is through online platforms, but for Biraj, that too is difficult."
While distance education has become the only means of learning for children with special needs, even for organisations that specialise in assisting these children, the challenges with remote learning are profound.
In the absence of guidance from the Ministry of Education, different organisations working with children with developmental challenges have been planning their own learning programmes so that these children are not left behind during the pandemic.
For instance, since the lockdown started in March, along with everyday learning sessions for children, Autism Care Society Nepal—which teaches 20 students from 6 to 21 years olds in the Capital—have been offering training sessions for occupational therapy to parents so that they can help with their child's therapy in the absence of a therapist.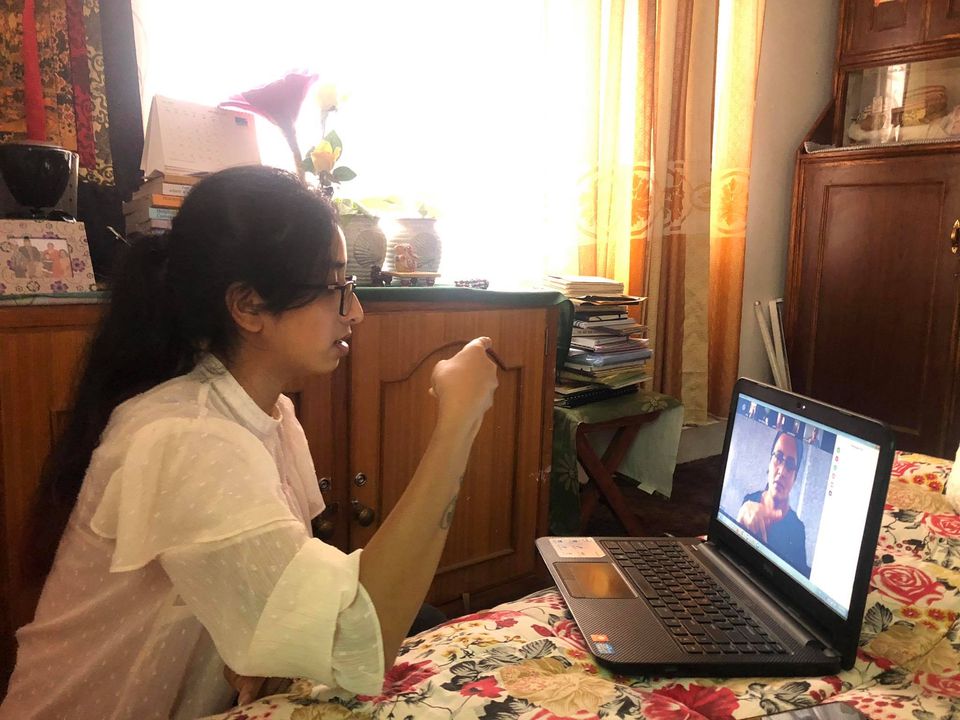 Likewise, Down Syndrome Society Nepal is virtually providing sign language classes, physical training, and art therapy for children with Down syndrome, while teachers at Special Education and Rehabilitation Centre (SERC)—a centre that provides therapy, rehabilitation, schooling and vocational classes to disabled children—has been posting all assignments online and reaching out to the parents to follow up their children's progress. Apart from that, SERC is also taking care of 25 children, who are physically and intellectually disabled, in its shelter home located in Chapagaun, Lalitpur.
According to the Parent Federation of Persons with Intellectual Disabilities (PFPID), a non-governmental organisation working to empower people with intellectual disability in Nepal, there are around 36 organisations around the country that are working with the intellectual disability.
Despite the efforts put in by individual organisations, Shila Thapa, president of Down Syndrome Society Nepal, said that their online classes are not enough to reach to individual children, as the classes are designed keeping the entire class in mind and not according to each child's individual needs.
And then there is the financial constraint that is also preventing them from providing individual interaction sessions to each student. "Therefore, it is still a challenge for us regarding how we are going to meet the needs of our most vulnerable children," said Thapa, who is also vice president of the parent federation of persons with intellectual disabilities.
But the biggest challenge for both Thapa and Amatya is getting the parents' coordination and cooperation for online participation.
"Right now, we are relying on parents to be there for their kids to help them with their assignments. But parents are themselves physically and mentally tired from juggling work and taking care of their children. As a result, there has been a tendency of missing classes or even discontinuing the programme altogether," said Amatya.
Kripa agrees that she is currently burned out. "It is even more difficult to balance time between work and childcare when your child needs special attention," said Kripa. "Biraj's anxiety attack has gotten much worse and we are now giving him medicine. Because of such stress, there are times when I find myself on the verge of having a mental breakdown."
To help parents and children struggling amid the lockdown, Merina Shrestha, paediatrician at Teaching Hospital, suggests that perhaps adjusting to a new routine could help problems.
"We know kids like Biraj are rigid and they respond only to structures. Therefore, it will be easier for them to adopt a lockdown period if parents come up with a schedule to build more structure and consistency in their lives," said Shrestha.
Thapa, whose son Satyam, 18, has Down syndrome, too said that providing a structured daily schedule has helped her son from getting bored and flustered. But the change in routine was possible only because everyone in the family encourages and supports Satyam's growth, she said.
"Although he doesn't join online classes because his attention span is fickle, every day, he sincerely follows what has been assigned to him as part of his daily routine. He wakes up exactly at the scheduled time, then he goes cycling and the day follows as per what is there in his routine. That way he has been able to put his anxiety under control," said Thapa.
Kalpana Basnet, a physiotherapist and founder of SERC, also recommends parents to include their children in tasks like grocery shopping and doing light work around the house so that they could learn independent living lessons they would typically get at school.
In the midst of such struggles, another major concern that looms over parents' minds is the challenges that they must fight against if their children get infected by Covid-19.
"These are children who require a great level of patience and attention from us. Those with severe autism or Down syndrome often struggle to understand basic things, let alone the impact of Covid-19 on their health. I am worried about how to take care of them if they or their parents get Covid-19," said Basnet.
Kripa was diagnosed with Covid-19 last Saturday and is living in isolation at her home. Since then, she hasn't been in direct contact with her son Biraj while her mother-in-law and her husband are helping him carry out his daily activities. Although Biraj hasn't displayed any Covid-19 symptoms yet and has tested negative, deep inside, Kripa fears for the worst possible scenario: "I just pray that my son doesn't get Covid-19."
---
---