Malnutrition takes toll on vulnerable communities amid lockdown
Government plans to distribute fortified flour in affected areas, but experts say that's not a long-term solution to the problem.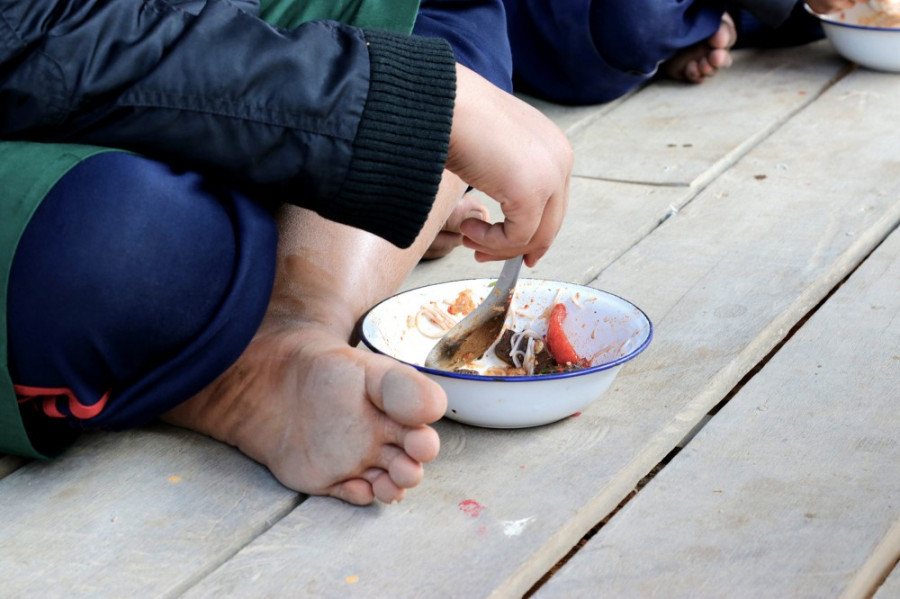 Shutterstock
bookmark
Published at : July 17, 2020
Updated at : July 17, 2020 07:12
Kathmandu
One-month-old Kabita Chepang of Mansing Danda, Benighat Rorang Rural Municipality of Dhading weighs just two kilograms. Suresh Chepang, 2, of Gothi Bhanjyang of the same rural municipality, weighs seven kgs, and 12-month-old Laxmi Chepang of Gothi Bhanjyang is only six kgs in weight.
The list of malnourished children in the impoverished and marginalised Chepang communities of Dhading is long, a study carried out by the Nutrition Section at the Family Welfare Division under the Department of Health Services during the Covid-19 lockdown shows.
"Not only are the children malnourished, but even pregnant women, new mothers and elderly people suffer from malnutrition," Shankar Duwadi, health coordinator at Benighat Rorang Rural Municipality, told the Post.
Malnutrition among members of the Chepang community is not new, but the ongoing Covid-19 epidemic and the prolonged lockdown, which has confined people to their homes, has left thousands unemployed, said Duwadi.
Malnutrition had been dubbed Nepal's "silent crisis" even before the pandemic. According to the Nepal Demographic Health Survey (2016), 36 percent of children under five years of age suffer from chronic malnutrition (stunting or low height-for-weight) and 10 percent from acute malnutrition (wasting or low weight-for-height). Another 27 percent are underweight and one percent are overweight, according to the survey.
According to the Nutrition Section, malnutrition has not only been observed in Chepang communities of Dhading, but also among children from the same ethnic group living in Makwanpur, Chitwan and several districts of the Tarai.
The Ministry of Health aims to address the malnutrition issue by distributing fortified flour in affected communities, but officials are clueless about the course of action if the problem is reported in more places across the country and among women and the elderly, especially during the pandemic.
"We are working towards distributing fortified flour to over 5,000 malnourished children of the Chepang communities of Dahding, Makwanpur and Chitwan," Kedar Parajuli, chief of the nutrition section, told the Post.
"We are also launching a flour distribution programme in eight municipalities of four districts of Province 2, where cases of severe malnutrition have been seen after the lockdown."
Nutritionists and public health experts, however, said malnutrition can't be addressed just by distributing fortified flour.
"Malnutrition is a political problem rather than that of nutrition," said Dr Aruna Uprety, a public health expert. "Now children are suffering from malnutrition, pregnant women, elderly people and young people will suffer slowly if the problem is not addressed politically."
The problem might be more severe in the far-flung villages and hinterlands, which were not only affected by the epidemic, but also by chronic food shortages, according to Uprety.
"People should be taught to eat locally available resources and unemployment problems should be addressed to resolve malnutrition-related problems," she added. "For that, political will is necessary, which is lacking in our government and political parties. Agencies working in nutrition are also busy distributing flour," she said. "It's easy to do that as officials can benefit from procurement deals."
The government aims to reduce the stunting rate from the existing 36 percent to 24 percent by 2025, and to 14 percent by 2030, in order to meet Sustainable Development Goals. However, nutritionists are sceptical that the target will be met.
"We are nowhere near achieving the SDG targets," said nutritionist Dr Atul Upadhyay. "It will be a very big thing if we can prevent existing conditions from getting worse."
He also said that distributing flour was not a long-term solution as it only makes people dependent on handouts.
People are unable to come to health facilities due to the fear of Covid-19. Several nutrition rehabilitation homes have been shut down and converted into quarantine centres, and isolation facilities, which also risked the lives of severely malnourished children.
"Malnutrition is being reported from the places we visited," said Upadhyay. "We don't know the condition of the other places where the marginalised and the vulnerable live."
---
---