WHO declares public health emergency as coronavirus spreads, but there are questions over first—and only—case in Nepal
The patient has contested the authorities' claim that he ever had the coronavirus and said he has been meeting friends and family ever since he was discharged.

A doctor puts on protective goggles before entering the isolation ward at a hospital, following the outbreak of a new coronavirus in Wuhan, Hubei province, China on January 30, 2020. Photo via China Daily/REUTERS
bookmark
Published at : January 31, 2020
Updated at : March 30, 2020 11:39
Kathmandu
Now that the World Health Organization has declared the spreading novel coronavirus outbreak a 'public health emergency of international concern', Nepal will need to ensure that it acts in accordance with the UN body's guidelines when it comes to prevention and detection.

Mahendra Prasad Shrestha, spokesperson for the Ministry of Health and Population, said that the government is in regular contact with the WHO country office in Nepal regarding the measures Nepal can take.
Read: Nepali authorities being too slow to recognise disease outbreak threats is not new, experts say
"We will strengthen our health system, increase surveillance and take all measures necessary for the safety of our people," Shrestha told the Post.
According to Shrestha, the Health Ministry will begin training health workers from all hospitals, and also sensitise provincial and local governments about the risks.
The WHO defines a public health emergency of international concern as "an extraordinary event which is determined...to constitute a public health risk to other States through the international spread of disease; and to potentially require a coordinated international response".
In tandem with the WHO declaration, the Global Preparedness Monitoring Board, an independent body that works towards preparedness for global health crises, recommended that "countries, institutions, communities and partners must ensure that all relevant information about the outbreak is shared openly and rapidly".
Read: As other airports institute stringent screening, TIA installs thermal scanners and a health desk
The board has also said "all countries and local governments, including those that have not yet been affected, must urgently dedicate resources to building their essential preparedness capacities to prevent, detect, inform about and respond to the outbreak, to strengthen their health systems, and are urged to follow WHO technical guidance for control measures."
The coronavirus outbreak, which originated in Wuhan in the Chinese province of Hubei, has killed 213 people and infected over 9,000 people in 20 countries, according to latest data. The infection was first detected in mid-December and has since spread rapidly throughout the world at an alarming rate. WHO's declaration of a public health emergency came "amid concerns for countries with weaker health systems," said WHO director-general Tedros Adhanom Ghebreyesus.
Even as the world gears up to combat the continuing threat of the coronavirus, medical professionals in the country—and the patient himself—have raised questions about the authorities' handling of the only person who has tested positive so far in Nepal.
The Nepali student who tested positive for the new strain of coronavirus has disputed doctors' claims, saying that he "is fine" and has been meeting relatives and friends ever since he was discharged from the hospital.
The 31-year-old had returned from Wuhan, the epicentre of the coronavirus outbreak that has so far killed 170 people with over 7,000 infected worldwide, on January 5.
"When I returned, one person had died and 40 people had been infected in Wuhan," said the man whose identity the Post is not disclosing for privacy reasons. "Since I had also returned from Wuhan, I visited the Teku hospital on my own volition for a mild fever, cough and cold."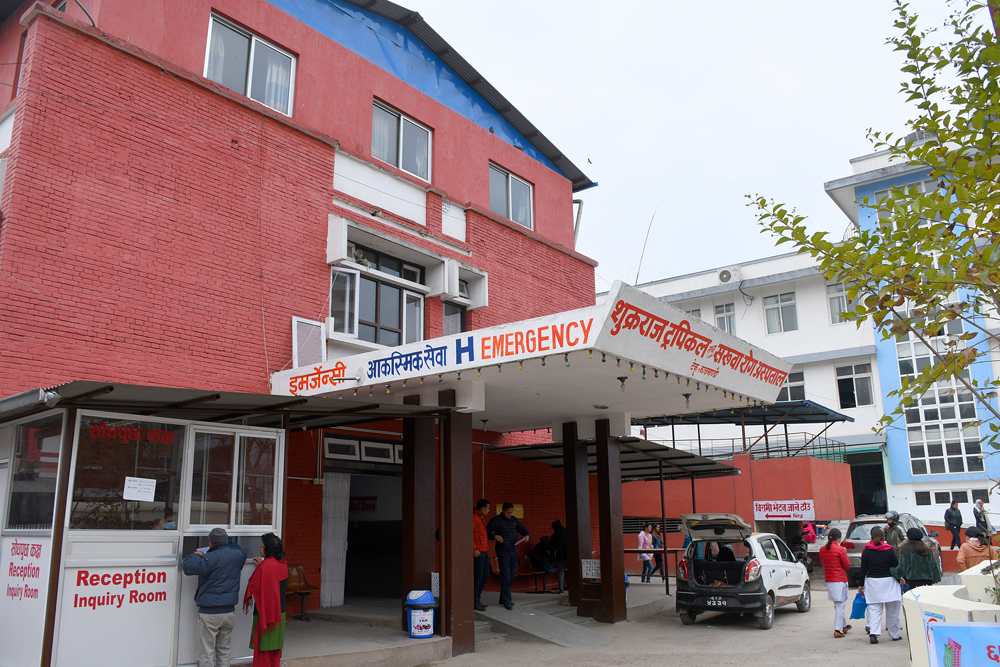 Sukraraj Tropical and Infectious Disease Hospital in Teku, Kathmandu. Anish Regmi/TKP
Doctors at the Teku-based Sukraraj Tropical and Infectious Disease Hospital told the Post on January 24 that specimens collected from the man had tested positive for coronavirus at the World Health Organization's Collaborating Centre in Hong Kong.
The man was discharged on January 17, days before the results of the test came in, according to a Teku hospital doctor.
Read: Officials confirm coronavirus in Nepali man who returned from Wuhan
But in an interview with The Post on Thursday, he said he was discharged on January 16, not January 17 as stated by doctors.
"Yes, I was at the hospital and the doctors were involved in my treatment. But I stayed in the hospital for only four days," the man told the Post. "I was discharged on January 16."
The man said that he was called in again by the hospital authorities on January 26 and his specimens sent to the National Public Health Laboratory for testing the next day.
"It was negative," he told the Post. He even doubted the results of the test carried out at the WHO Collaborating Centre in Hong Kong.
According to Dr Anup Subedee, a consultant infectious disease physician at HAMS Hospital, the virus may not be detected when it is not in the active stage.
"But since the man had tested positive earlier, it means that the virus was once active. There is a possibility he could have spread the virus then," Subedee told the Post. "The concerned authorities need to trace those who the patient interacted with and all those who have returned from China."
The World Health Organization's director-general Ghebreyesus, who visited China this week, said most people who contracted the virus were suffering only "milder symptoms", but about 20 percent had severe effects such as pneumonia and respiratory failure, according to the BBC. The current outbreak of the novel coronavirus carries a fatality rate of two percent, which is much lower than that of SARS, which had a fatality rate of around 10 percent.
No new cases have been confirmed in Nepal but health experts say the way the first confirmed case was dealt with is problematic.
Read: Two more coronavirus cases suspected but government agencies are woefully prepared to combat its spread
Though the Teku hospital claimed it was in close contact with the patient, doctors admitted that they had only spoken to the man over the telephone and asked him to take precautionary measures. But according to Subedee, this is a poor attempt at testing and surveillance.
"Polymerase chain reaction tests should be conducted on those people who have come in contact with the confirmed patient," Subedee told the Post.
Polymerase chain reaction tests are used to amplify trace amounts of viral DNA in the samples of patients.
The patient told the Post that he began to feel better within two days and felt that there was no need for him to remain at the hospital.
"Ever since I was discharged, I have been meeting family members, friends and neighbours," he said. "No one has developed any influenza-like symptoms."
The novel coronavirus has an incubation period of around 14 days, during which symptoms are not visible but the carrier can transmit the virus.
But doctors too assume that the man "should be fine" and that there's no threat of the virus spreading. Pandey said that the doctors and nurses who were involved in the treatment of the patient too have not shown any symptoms.
"Nonetheless, we are in touch with the patient," he said.
Frequently asked questions about the coronavirus outbreak
UPDATED as of September 22, 2020
What is Covid-19?
Covid-19, short for coronavirus disease, is an illness caused by the coronavirus SARS-CoV-2, short for severe acute respiratory syndrome coronavirus 2. Common symptoms of the disease include fever, dry cough, fatigue, shortness of breath and breathing difficulties. In severe cases, the infection can cause pneumonia, severe acute respiratory syndrome, kidney failure and even death.
How contagious is Covid-19?
Covid-19 can spread easily from person to person, especially in enclosed spaces. The virus can travel through the air in respiratory droplets produced when a sick person breathes, talks, coughs or sneezes. As the virus can also survive on plastic and steel surfaces for up to 72 hours and on cardboard for up to 24 hours, any contact with such surfaces can also spread the virus. Symptoms take between two to 14 days to appear, during which time the carrier is believed to be contagious.
Where did the virus come from?
The virus was first identified in Wuhan, China in late December. The coronavirus is a large family of viruses that is responsible for everything from the common cold to Middle East Respiratory Syndrome (MERS) and Severe Acute Respiratory Syndrome (SARS). After an initial outbreak in Wuhan that spread across Hubei province, eventually infecting over 80,000 and killing more than 3,000, new infection rates in mainland China have dropped. However, the disease has since spread across the world at an alarming rate.
What is the current status of Covid-19?
The World Health Organisation has called the ongoing outbreak a "pandemic" and urged countries across the world to take precautionary measures. Covid-19 has spread to 213 countries and territories around the world and infected more than 31,405,983 people with 967,505 deaths and 22,990,260 recoveries. In South Asia, India has reported the highest number of infections at 5,557,573 with 88,943 deaths. While Pakistan has reported 306,304 confirmed cases with 6,420 deaths. Nepal has so far reported 65,276 cases with 427 deaths.
How dangerous is the disease?
The mortality rate for Covid-19 is estimated to be 3.6 percent, but new studies have put the rate slightly higher at 5.7 percent. Although Covid-19 is not too dangerous to young healthy people, older individuals and those with immune-compromised systems are at greater risk of death. People with chronic medical conditions like heart disease, diabetes and lung disease, or those who've recently undergone serious medical procedures, are also at risk.
How do I keep myself safe?
The WHO advises that the most important thing you can do is wash your hands frequently with soap and water for at least 20 seconds or use hand sanitizers with at least 60 percent alcohol content. Avoid touching your eyes, nose and mouth with unclean hands. Clean and disinfect frequently used surfaces like your computers and phones. Avoid large crowds of people. Seek medical attention if symptoms persist for longer than a few days.
Is it time to panic?
No. The government has imposed a lockdown to limit the spread of the virus. There is no need to begin stockpiling food, cooking gas or hand sanitizers. However, it is always prudent to take sensible precautions like the ones identified above.
---
---