How to get the right treatment for your burns
In Nepal, doctors say that not many people are well-informed on how to prevent and effectively treat mild as well as severe burn-related incidents and injuries.

The risk of being exposed to burn injuries increases during winter as usage of fire and electrical appliances escalates during colder months. Bimal Khatiwada/TKP
bookmark
Published at : November 7, 2019
Updated at : November 7, 2019 07:54
Kathmandu
A few weeks ago, Roshni Tamang, a resident of Kathmandu, was heating water to bathe when the hot saucepan slipped from her hands and spilled the water all over her feet. Her immediate reaction was to run cold water on her feet and then later apply some aloe vera to the affected area. Several blisters appeared, and according to her, the pain was unbearable, but not once did she consider going to the hospital to treat her injury.
"I didn't feel like it was something I had to go to the hospital for because it seemed like a minor injury that I could treat myself," says 37-year-old Tamang.
As winter approaches and the use of fire and electrical appliances for heating increases, burn injuries like the one Tamang suffered from tend to become more frequent, warn doctors, who add that not many people are well-informed on how to prevent and effectively treat mild as well as severe burn-related incidents and injuries.
"A lot of heating sources that people use during winter increase the risks of being exposed to burn injuries," says Dr Rojina Shilpakar of the Sushma Koirala Memorial Hospital at Sankhu. "But the prevalence of burn injuries is specific to Nepal, particularly in many rural places, because people tend to work in unsafe environments."
There are many types of burns, and they originate from different sources. While thermal burns are caused by flames, unattended hot liquids, or heating equipment like saucepans and kettles, electrical burns result from contact with exposed parts of electrical appliances, that is widely used during the cold season. Injuries from these sources can pose risks ranging from mild to severe, depending on the extent and degree of the burn.
According to the World Health Organization, burns are the second most common injury in rural Nepal, accounting for 5 percent of disabilities. According to the National Academy of Medical Sciences, more than 50,000 people suffer from various types of burn injuries every year, with many either losing their lives or being forced to live with lifelong disabilities and trauma.
But many people are limited in their knowledge on how to prevent burn injuries and receive treatment for them.
"Many people do not know that burn treatment, especially when it is a major burn, involves multiple operations and hospitalisation, and it can be very expensive and even fatal," says Dr Shankar Man Rai, a reconstructive plastic surgeon, who has worked extensively with ReSurge International, a non profit organisation that provides free reconstructive surgery for people in developing countries.
A study carried out by the Sushma Koirala Memorial Hospital in 2018 showed that a lot of people did not have sufficient knowledge on burn injuries, and instead of immediately sending patients to the hospital, they sought treatment at local health posts or pharmacists. More so, the study showed that community people first relied on home remedies before seeking proper medical treatment.
This alarming statistic, indicative of how ill-informed people are when it comes to burn injuries, is also dangerous.
"The first 24 hours after suffering a severe burn injury is extremely critical because the body loses a lot of fluid," says Shilpakar. "Patients should seek immediate medical treatment to replace the lost fluid, otherwise their condition will worsen and it will become very difficult to treat them."
But many people continue to rely on home remedies and mistakenly believe that placing ice, toothpaste, tomatoes or even cowdung over the injury helps treat the burn; when in fact, doing so can cause the wound to get infected, and the infection to enter the bloodstream and lead to multiorgan failure.
Rather, in case of needing immediate treatment for a severe burn, people should consume oral rehydration salts to replace lost fluids in the body, says Dr Ishwor Lohani, who is a plastic surgeon and burn specialist at TU Teaching Hospital. "Running the injury under tap water for about 20 minutes to cool the skin or using the 'stop, drop and roll' method when clothing catches on fire are also useful methods to minimise the severity of the injury," he says.
The most common place where a person can get burned is his/her own home, especially inside the kitchen, as many Nepali households, especially in the rural areas, use a traditional open fire for cooking purposes. But even in urban areas, the risks of burn injuries are prevalent. In addition to the use of electrical equipment, wearing loose fitting clothes and using poorly regulated gas cylinders increase the risk of burn injuries.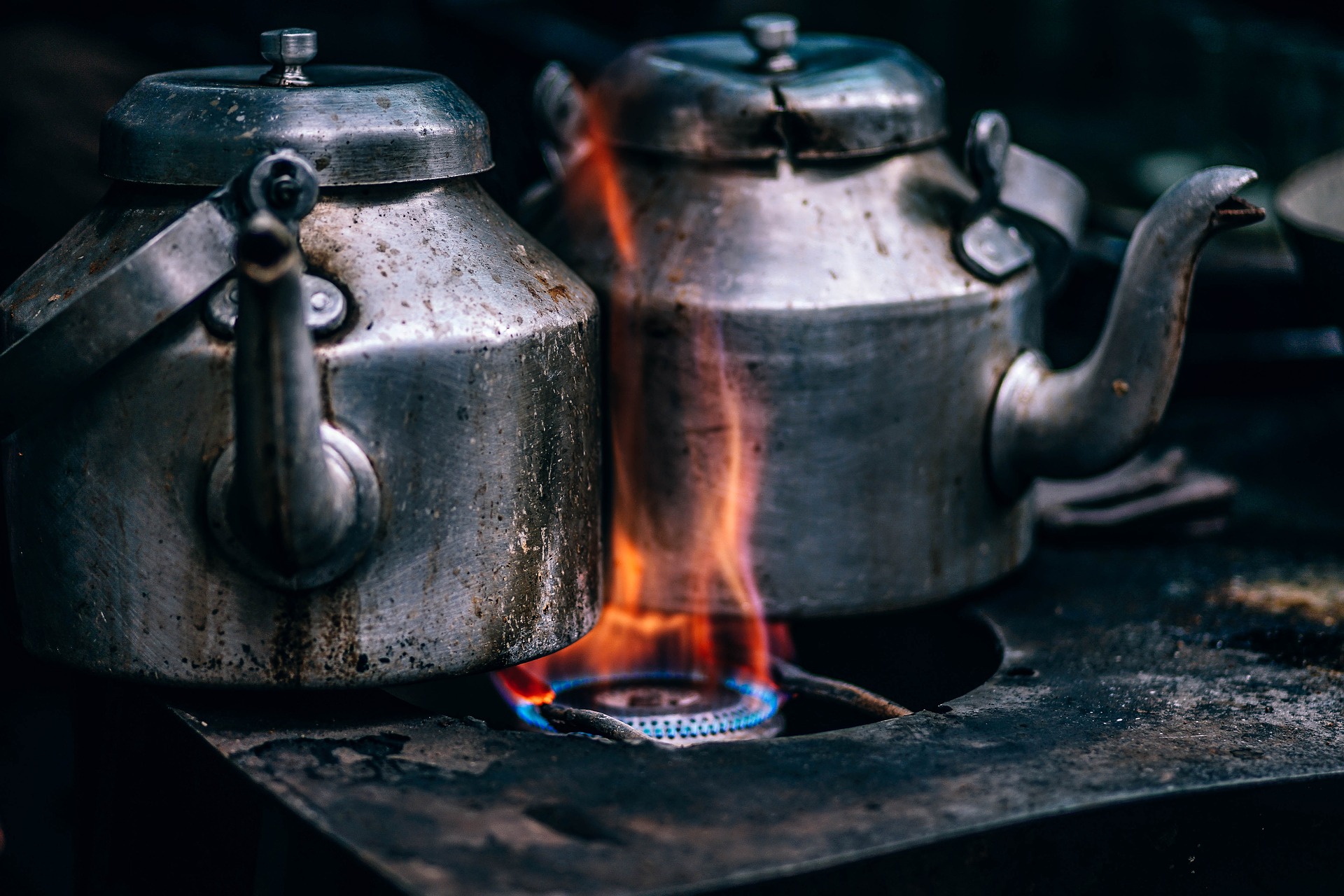 Pixabay
"Gas leaks and bonfire parties are common sources of burn injuries during the winter in urban areas," says Lohani. "On an everyday basis, people are also prone to burn accidents when they pray using burning oil lamps."
Burn injuries vary in their types and severity, which is also why it is so crucial for patients to receive the proper care and treatment. While first degree burns caused by hot water or objects can be treated by running water, second, third and fourth degree burns require immediate medical treatments, such as surgery and skin replacement.
Shushma Thapa, who suffered an electrical burn from a loose electric kettle wire earlier this month, says she was lucky that her wound only affected the top layer of her skin, and was able to treat it with some ointment and medication. "Had the burn been more severe, I would have probably had to be hospitalised," she says.
But in many cases, people are unaware of the facilities available to them at usually affordable costs, and instead spend a fortune seeking treatment in a non-specialised setting, often times seeing no improvement in their condition. Furthermore, disparities exist between the rural and urban areas when it comes to being exposed to the risks of and treating burn injuries, where people from rural areas are less likely to seek medical treatment for their injuries due to lack of proper knowledge and resources.
"Every winter, we receive patients from rural areas who show up only after three or four days to treat their burns, and by that point, there has already been about a 55 to 60 percent damage to their body, which becomes very difficult to remedy no matter how hard we try," Lohani says. "The problem is not that we do not have enough resources, but that people do not seek treatment on time."
However, currently, there are no hospitals outside of Kathmandu that specialise in the treatment of burn injuries, with the Sushma Koirala Memorial Hospital and Nepal's Cleft and Burn Center in Kirtipur being two of the few places that do provide such treatment. As a result, many patients are brought into the hospital late, when their wounds have already gotten worse.
In addition, people avoid seeking treatment at hospitals because they are unable to afford them. But according to Surendra Jung Basnet, head of the Burn Department at Kirtipur Hospital, the cost of treatment depends on how severe the injury is, which is why it is so important for people to seek treatment on time. "While superficial burns can be treated with proper cleaning and dressing, deeper wounds require surgery," says Basnet.
Thus, to reduce the prevalence of burn injuries during the winter season, doctors advise that people take extra precautions and preventative measures to be more careful while cooking and doing other activities that are in close proximity of hot sources. Wearing proper clothes, being mindful of heating equipment and keeping hot liquids and electric appliances away from children are some precautions that doctors advise people take.
"There are many ways to treat burn injuries and that depends on the type and severity of the burn, but the best thing to do is to be more careful and take preventative measures to avoid injuries in the first place," says Lohani.
---
---