Busting the myths behind vaping
E-cigarettes were conceived as smoking-cessation tools, but the long-term health consequences of their use could be dangerous.

Shutterstock
bookmark
Published at : September 12, 2019
Updated at : September 12, 2019 12:54
Kathmandu
Smoking or using tobacco in any form is an addiction and not just a simple habit. Like any addiction, it can be difficult to quit.
The nicotine that is present in the tobacco fuels this addiction. In conventional tobacco smoking, nicotine is inhaled by burning the tobacco, but in an e-cigarette, nicotine is inhaled by heating the liquid that contains nicotine. This form of smoking does not contain tar but the nicotine is usually accompanied with propylene glycol, with or without glycerol, and flavouring agents in addition to other chemicals, even metals like tin, lead, arsenic, nickel, which are considered to be toxicants.
E-cigarettes or vape pens, all of these fall under the Electronic Nicotine Delivery System (ENDS) and were first introduced in the 1960s, but the first modern e-cigarette was developed in 2003 in China by the Chinese pharmacist Hon Lik.
ENDS is a battery-operated device that uses heat to deliver nicotine. It contains a liquid-filled cartridge, an atomizer and a battery. The atomizer heats the liquid which is converted to aerosols and then inhaled. Contrary to what most users think, the aerosol that is inhaled is not harmless "water vapour" but a mixture of potentially toxic ingredients.
Although ENDS was first thought of as an aid to quit smoking, it has not been found to help smokers overcome nicotine addiction. But now, with the growing misconception that electronic cigarettes are harmless and do not contain nicotine, the usage of e-cigarettes among young adult groups has been spreading alarmingly. E-cigarettes are not safe for health and one can quickly get addicted to them.
Up to 80 percent of smokers who switched to e-cigarettes continued using e-cigarettes for nicotine addiction in the first year than just nine percent of those smokers who used nicotine replacement therapy.
While e-cigarettes have helped some conventional smokers quit smoking, smokers who use e-cigarettes are one third less likely to quit smoking than smokers who do not use e-cigarettes. In some cases, smokers who have used ENDS to cut down cigarettes smoking have ended up using both cigarettes and e-cigarettes.
ENDS is not an approved option for smoking cessation therapy. The long-term health consequences of ENDS' users are largely unknown but emerging data shows the potential adverse effects of e-cigarettes.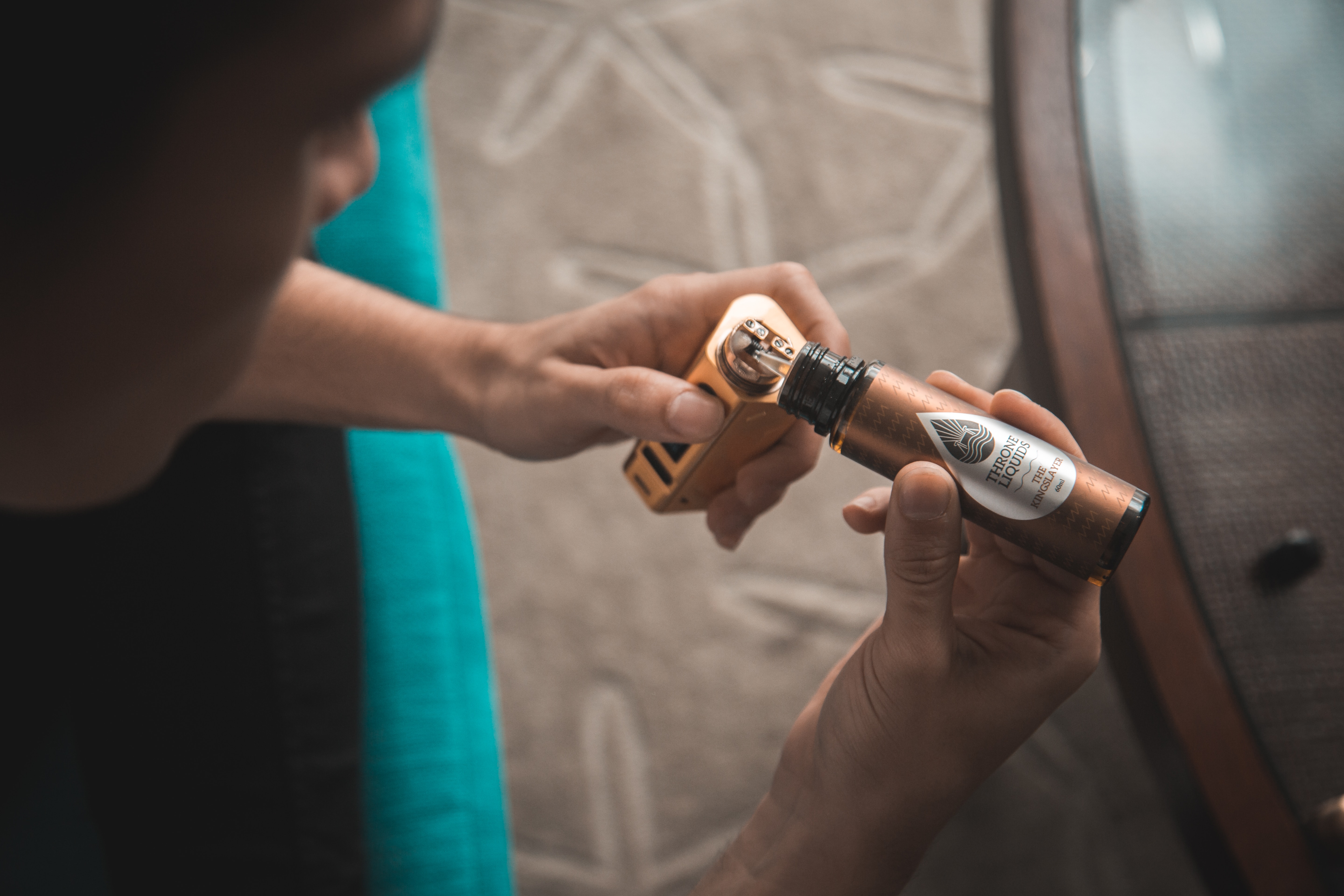 Vapeclubmy/Unsplash
Just like it took decades to prove the now irrefutable harmful effects of smoking on health, the harmful effects of e-cigarettes will take time to come to light since e-cigarettes haven't been around long. But one thing has been ascertained: While e-cigarette users don't inhale tar, they do inhale the chemicals like formaldehyde which can cause cancer.
E-cigarettes were primarily designed for smokers to help them with smoking cessation, but the majority of its users are first-time smokers. This introduction to nicotine in the form of ENDS can quickly turn into addiction due to its highly addictive nature. E-cigarettes may, in fact, be a gateway to cigarette smoking among those who have never smoked before. Young adults who use e-cigarettes are more likely to take up cigarettes than those who don't use e-cigarettes.
The high nicotine levels in the liquid may cause brain injury, seizures and even death if ingested. There have been reports of deaths after people accidentally ingested the e-cigarette liquid. The vapour in e-cigarettes at high heat may be carcinogenic.
Long term risk to the heart and lungs is unclear but studies have linked ENDS' use to heart and lung diseases. Increased cough and bronchitis have been reported in youths who use ENDS.
Nicotine exposure in an e-cigarette can also cause harm to pregnant women, the fetus and the brains of adolescents.
Additionally, the flavouring used in an e-cigarette may also cause harm. There have been reports of deaths and serious respiratory illnesses among e-cigarette users in recent times.
The tobacco industry is promoting the use of e-cigarettes and targeting youths by portraying the cigarettes as a safe alternative to conventional smoking. These businesses that are promoting a "smoke-free world" are in reality promoting their own products.
So it is advised by health professionals that one should not try an e-cigarette thinking it is a safer option—especially if they are not smokers, to begin with. If a smoker is thinking of quitting, switching to e-cigarettes does not ensure smoking cessation. Nicotine replacement therapy and specific medicines are proven alternatives for quitting cigarette smoking.
---
---