Dengue patient dies in Chitwan hospital
Bharatpur Hospital records 91 dengue cases in the last two weeks.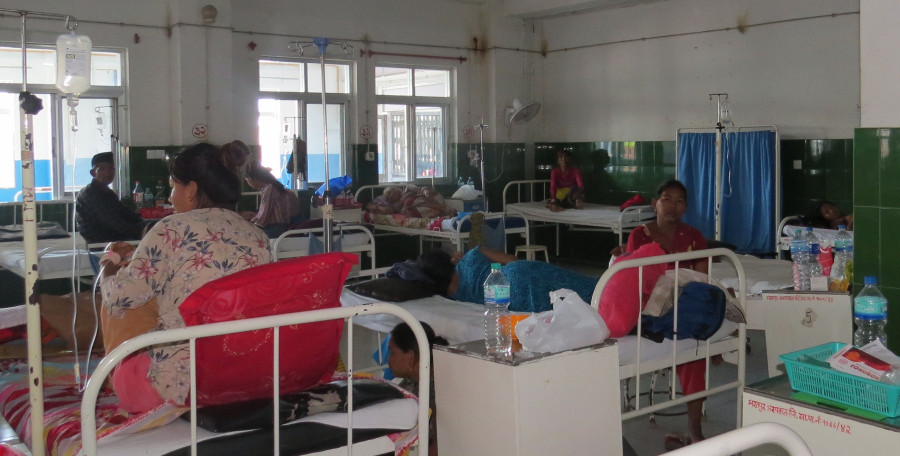 Dengue patients undergo treatment at Bharatpur Hospital. Ramesh Kumar Paduel /TKP
bookmark
Published at : August 27, 2019
Updated at : August 27, 2019 08:47
Chitwan
A 71-year-old man from Nawalparasi, who was temporarily living in Gangotri Marga in Narayangadh died of dengue, a mosquito-borne disease, in the course of treatment at the Teaching Hospital of Chitwan Medical College on August 16.
He was taken to the Bharatpur Community Hospital on August 14 and was later referred to the Teaching Hospital. Ram KC, a vector controller at the Chitwan District Health Office, said that the elderly man had tested positive for dengue. "We were informed about his death only on August 23. The District Health Office hadn't disclosed the identity of the victim before that."
According to KC, increasing cases of dengue are being reported from Gangotri Marga, Kamalnagar area, and Bharatpur area. "We have been conducting awareness campaigns in these dengue-affected zones to control the spread of the disease."
According to Bharatpur Hospital's data, 91 people were found infected with dengue within the last two weeks.
Dr Shreeram Tiwari, medical superintendent at the Bharatpur Hospital, said that dengue can turn life-threatening if not treated immediately. "The incubation period of the dengue virus is one week, which means that when mosquitoes bite a healthy person, symptoms surface within one week," said Tiwari. "Chitwan is currently at risk of an outbreak until the end of the summer season."
In 2010, 739 people were infected with the dengue virus in Chitwan. "Among them, five people had died of dengue fever that year. That was the highest recorded cases of dengue in the district so far," said KC.
Dengue-transmitting mosquitoes breed in clean water and are active during daylight. Uncovered water tanks and discarded plastic cups and bottles could become a breeding ground for dengue-carrying mosquitoes.
Dengue is transmitted by the female Aedes aegypti and Aedes albopictus mosquitoes. The same mosquitoes also transmit chikungunya, yellow fever, and Zika virus, according to the World Health Organisation. Mild to high fever, severe muscle pain, rashes, severe headache, and pain in eyes are some of the symptoms of dengue, doctors say.
---
---