How Nepal's oldest hospital, and the government that runs it, continue to fail the country's poor
Beset by a lack of staff, mismanagement and political interference, Bir Hospital has become a shell of its former self.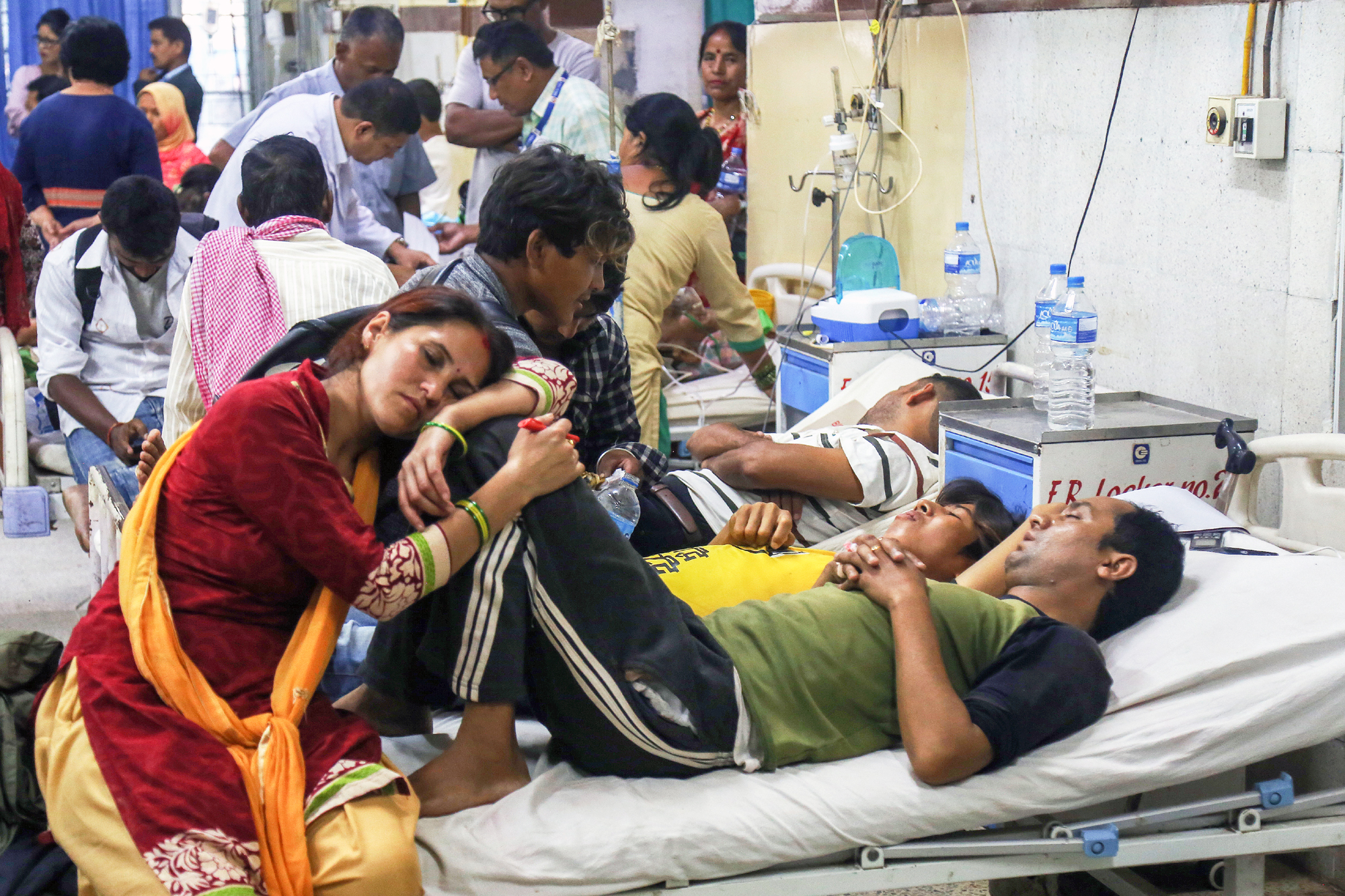 With only paramedics and medical officers attending to the emergency ward, patients often have to wait days for a doctor to see them. Kabin Adhikari/TKP
Published at : August 24, 2019
Updated at : August 26, 2019 09:27
Laxmi Prasad Niraula was brought to Bir Hospital in Kathmandu on July 29, all the way from Ilam. Niraula was suffering from jaundice and had fluid accumulating in his stomach. He had been referred to Bir Hospital by the Nobel Medical College in Biratnagar and required immediate treatment. On the afternoon of July 30, Niraula remained on a bed in the emergency ward, awaiting treatment. Attending doctors had told his relatives that Niraula couldn't be admitted to the hospital because there were no beds free in the general ward. He could seek treatment at a private hospital instead, he was told.

"I wouldn't have come here if I could afford private care," 52-year-old Niraula told the Post. "I will stay here until I receive treatment or I will die."
Every day, dozens of underprivileged patients like Niraula visit Nepal's oldest hospital, not because it is the best medical care facility in the country but because it performs a vital public service—it treats the poor for free. But every day, numerous patients face the same dilemma that is plaguing Niraula. The hospital is overcrowded and it doesn't have enough beds, forcing doctors to ask patients, even desperately poor ones from the country's hinterlands, to seek treatment elsewhere. But these patients can't afford care anywhere else, so many of them end up camping out in or outside Bir Hospital, waiting for a bed in the general ward.
As one of the country's few tertiary care medical facilities, Bir Hospital receives referred patients from all over the country, especially those who cannot afford private, or even subsidised, medical care. But the last refuge for the country's sick and poor has long been beset by mismanagement, political interference and a lack of human resources.
At the time of reporting, for two days, not even a nurse came to see Niraula. Since the hospital is so understaffed, not a single doctor or nurse works the night shift at Bir, say administrators.
"Only paramedics and medical officers see patients at night," Dr Kedar Prasad Ceintury, hospital director, told the Post.
After spending all night in the emergency ward, sharing the narrow bed with one, or at times two other patients, Niraula and his relatives were frantic. His family members were attempting to contact anyone they knew in positions of power who could help Niraula, but to no avail.
"Every day, over a dozen people—ministers, lawmakers, political leaders and others—call me for a bed on behalf of someone they know," said Ceintury. "No recommendation is needed when we have vacant beds."
But Ceintury conceded that every day, dozens of patients who come to the hospital for quality care at an affordable price are forced to seek private care due to a lack of sufficient beds at the hospital.
"When patients are forced to wait for days if not months for treatment or even to just meet the doctor, all their hopes shatter," said Gagan Thapa, a former Health Minister. "They are forced to seek private care and all their expectations from the state and government are destroyed."
Most patients seem to know that getting admitted to Bir Hospital is a long shot, and yet, there are few choices for the poor.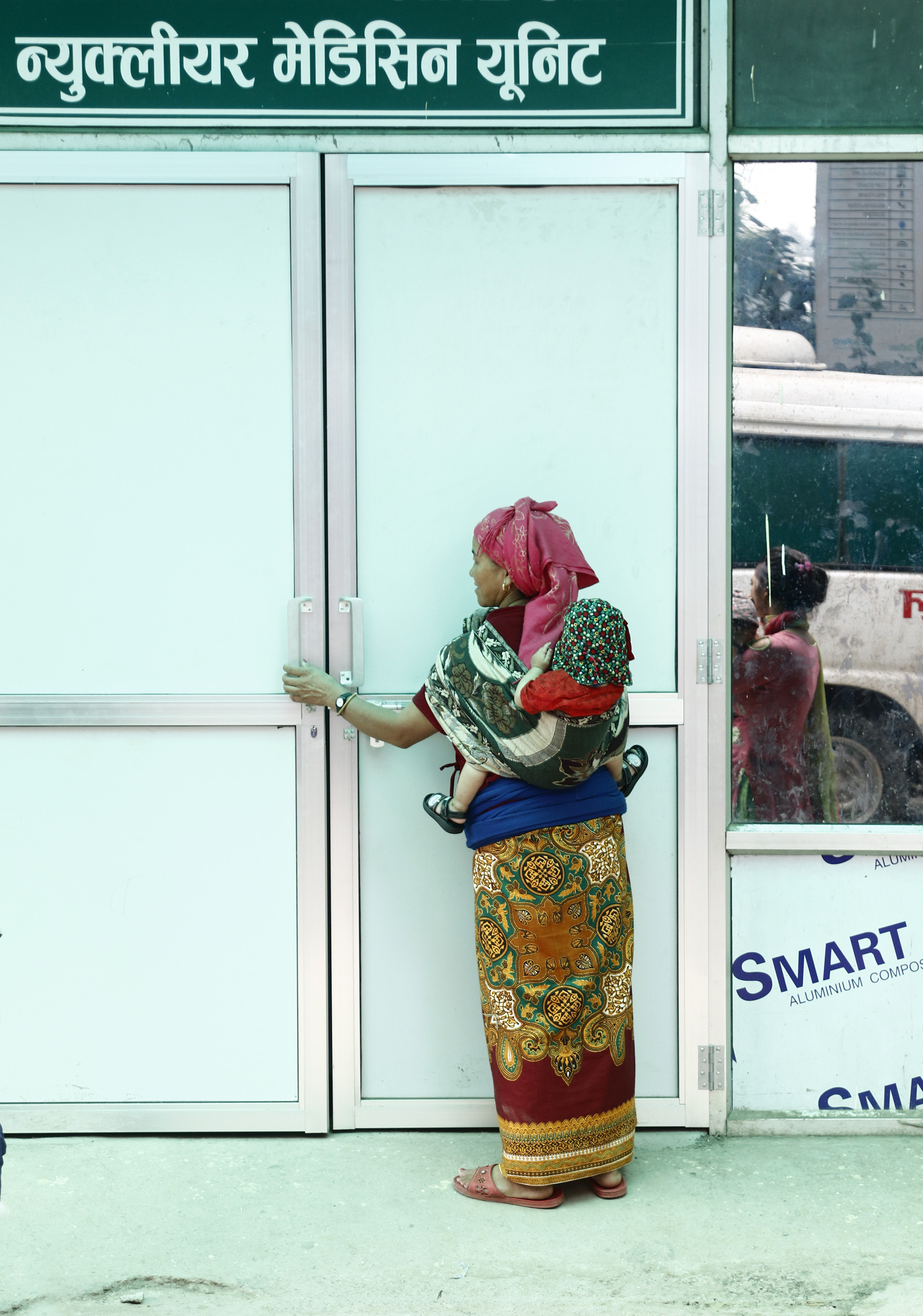 Patients from across the country visit Bir Hospital as the national referral centre. Keshav Thapa/TKP
Ever since its establishment in 1889 by Bir Shumsher as the nation's first public hospital, Bir Hospital has been a bastion for those who cannot afford to seek treatment anywhere else. Every day, around 2,000 patients from across the country visit the hospital after being referred there by local healthcare centres in their hometowns. Last fiscal year, there were 422,801 out-patients and emergency patients while 13,159 people received in-patient care and 6,877 underwent surgeries, according to the hospital's records.
The hospital is operated by the National Academy of Medical Sciences (NAMS), an academic body directly under the Ministry of Health. Along with Bir Hospital, the Thapathali Maternity Hospital, Kanti Children's Hospital, Nepal Army Hospital, Patan Hospital and Nepal Eye Hospital are all affiliated to the academy. Students at NAMS are resident doctors at Bir Hospital.
As a tertiary care hospital, Bir provides all manner of medical services, from the Out-Patient Department to residential care and all major surgeries and procedures. But all of these are provided either for free or for minimal charges.
Of the 378 beds currently in operation in Bir's general ward, nearly 90 percent, or 330 beds, are offered for free to patients. The hospital only charges patients for the remaining 10 percent of beds in the general ward, beds in the intensive care unit, and cabins, but even these are available at rates that are twice as cheap as the rates of private hospitals. For comparison, an ICU bed at Bir Hospital costs Rs 3,000 including the doctor's fee for a night while the same bed at a private hospital would cost Rs 6,000 plus the doctor's fee.
Patients who are admitted to the free beds also get free treatment, including free surgeries. Those who come to Bir with recommendation letters from local representatives and local health facilities stating an inability to pay for services even receive medicines for free, according to the Health Ministry's policy of ensuring free treatment for the poor and marginalised, patients with disabilities, senior citizens, and survivors of gender-based violence. Such patients can receive treatment from designated hospitals across the country but have to present a recommendation letter from the local health facilities of their respective districts.
But even for those who don't comprise the poorest of the poor, the cost of treatment at Bir Hospital is nominal, even when compared to other government hospitals. While Bir Hospital charges up to Rs 3,000 for major surgeries like neurosurgeries and cardiac surgeries, Tribhuvan University Teaching Hospital and Patan Hospital, both public hospitals, charge over Rs 30,000 for such surgeries. While Teaching and Patan Hospital charge Rs 600 to 700 for an ultrasound x-ray, Bir Hospital charges Rs 400 only. Even MRIs, a notoriously expensive procedure, cost just Rs 7,000 at Bir.
In addition to the free, or very cheap, services, patients are provided with two square meals a day, along with milk, eggs and biscuits as snacks, according to hospital director Ceintury. Even visitors can get meals, if they can't provide for themselves, he said.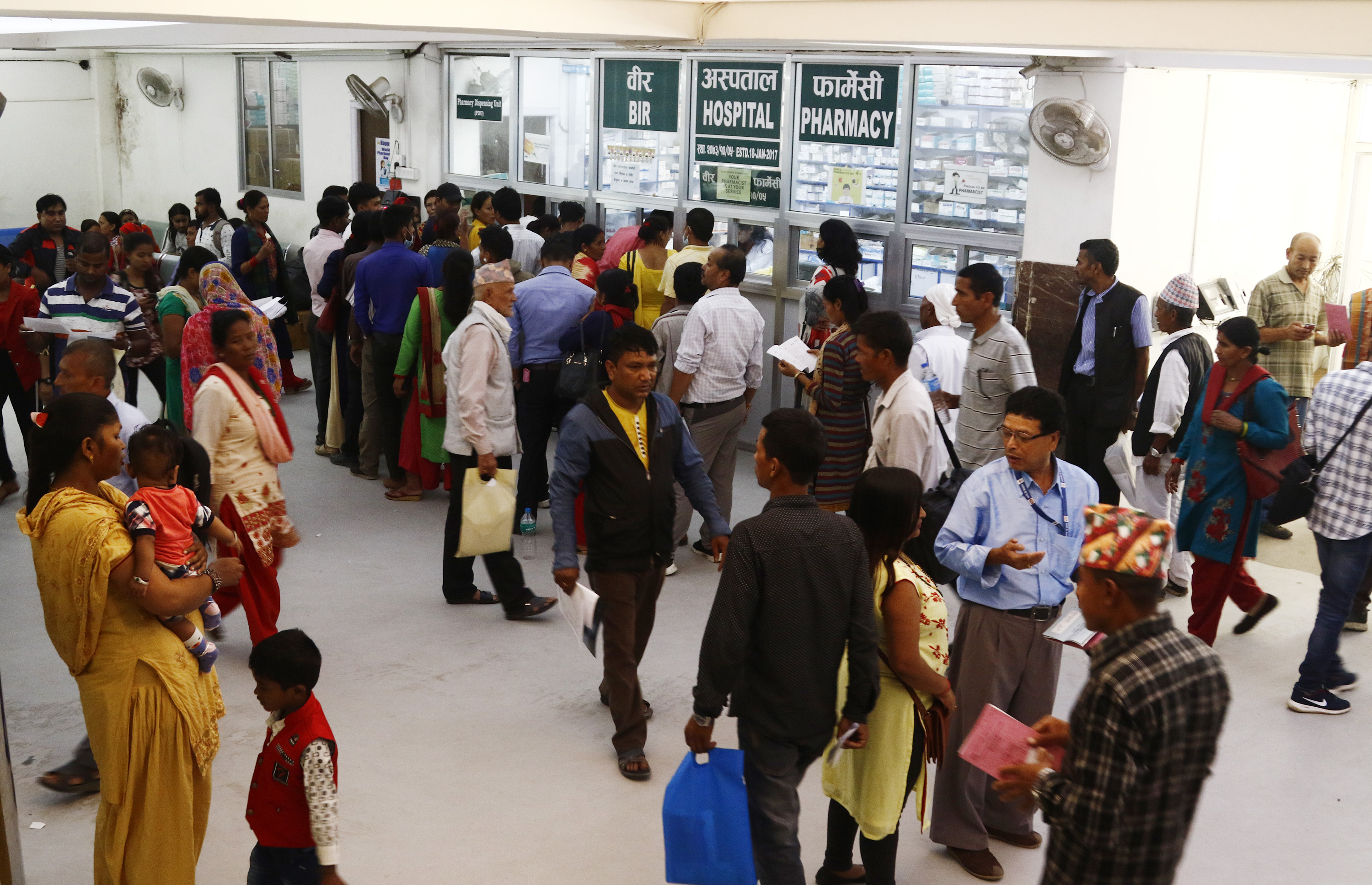 Due to lack of adequate resources, the hospital is almost always crowded. Keshav Thapa/TKP
Khil Bahadur Thapa Magar was brought to Bir Hospital from Sailungshwori in Dolakha in an ambulance on June 20. Seventy-eight-year-old Thapa Magar had an enlarged prostate gland that needed immediate surgery, which was unavailable at the local hospital. But beyond inserting a catheter to release his urine and giving him some medicine for emergency relief, doctors told Rupa, Thapa Magar's daughter, that there was little they could do immediately.
"We've been asked to come back every week for a surgery date," said Rupa, who has been visiting the hospital ever since her father was admitted.
There is usually a six-month wait for prostate surgery, said director Ceintury, as there are hundreds of patients in line. Many like Thapa Magar cannot afford private care so they are forced to wait it out hoping for a surgery date.
Along with a number of other senior specialists, there is currently no urosurgeon at Bir Hospital. There are also no neurologists, neurosurgeons, plastic surgeons, cardiothoracic surgeons, oncologists, radiotherapists, hepatologists, pulmonologists, endocrinologists, clinical geneticists, and kidney transplant surgeons. In one instance, after pulmonologist Dr Aashis Dhungana was promoted and transferred last month to the National Tuberculosis Centre, the hospital hasn't been able to hire his replacement.
"Now we are compelled to deny services to patients suffering from respiratory diseases," said Ceintury. Every day, hundreds of patients from across the country reach Bir Hospital for treatment but are then either forced to seek private care or, like Thapa Magar, wait for months.
"Patients from across the country come to Bir Hospital through the national referral system. Health facilities in remote places lack trained manpower, due to which patients are compelled to come to the capital," said Dr Sharad Onta, assistant dean of the Institute of Medicine. "But even here, due to a lack of human resources, they are left with no option than to seek private care, which is several times more expensive than Bir Hospital. Those who cannot afford private care are forced to wait months in the Capital, which often costs more money than the treatment."
It is not just doctors; the hospital lacks all manners of human resources, from janitorial and administrative staff to nurses.
Take nurses—the hospital needs a minimum of 600 nurses, but it currently only has 270, according to Goma Devi Niraula Shrestha, chief of the nursing department. This means that one nurse has to look after nearly 30 patients, leaving the hospital with no nurses in the emergency ward at night, said Shrestha.
"Often, we are unable to give medicines to our patients on time because of the workload," said Shrestha. "Our nurses have to start giving medicines 30 minutes before the prescribed time and until 30 minutes after."
The hospital could hire more nurses on a contract basis but that would require Bir to pay them itself through its earnings, which are negligible. Hiring more nurses could lead to an increase in the service charge, which would defeat Bir's purpose as a hospital for the poor, said director Ceintury.
The lack of nurses doesn't just affect medicine intake but also all manner of medical procedures where doctors require trained nurses to help. "There have even been instances of patients dying due to a lack of nurses," said Shrestha. "If you visit the surgical wards or the ENT wards at night, you will see the picture."
Ceintury said that both services and the number of patients have increased several-fold in the last 26 years but additional posts for doctors, nurses and other staff have not been created in conjunction. And the few posts that are available are currently vacant.
"The government has not created additional posts in the health sector for over two decades," said Onta. "The number of patients has increased and the patterns of diseases have changed, but the government has not hired the manpower required to fulfill those needs and expectations."
Former health minister Thapa agrees that there aren't enough staff to cater to the increased population of patients or even man the several new specialised services that are offered at Bir.
"I tried to improve the hospital when I was health minister, but I had to give up in the middle after the government changed," said Thapa. "The government should provide a sufficient budget and adequate human resources, as the trust of a lot of people is on Bir Hospital."
Bir Hospital, as a public entity, is beholden to the government for the hiring of replacement doctors, who must come through either the National Academy of Medical Sciences or the Public Service Commission. NAMS, which runs Bir Hospital, Nursing College and the National Trauma Centre, said that it had drawn the Ministry of Health and Population's attention to Bir's acute shortage of human resources, but they've yet to receive a concrete answer. NAMS can only hire a certain number of staff, all of whom Bir has to pay the salaries for; all others are hired by the Health Ministry and paid for through the ministry's budget.
"The ongoing employee adjustment process has prevented us from carrying out an organisation and management survey to increase posts as required," said Dr Bikas Devkota, chief of the policy planning and management division at the Health Ministry. "Once the employee adjustment process is complete, we will work towards addressing the problems."
Critically ill patients are sent to private hospitals due to a lack of beds. Those who are lucky enough to get admitted to Bir often have to visit private laboratories and radiology centres for CT scans and MRIs since those services are either unavailable or booked through for days, said Ceintury.
"Some departments have more than enough manpower, but others are understaffed," said a former director of the hospital who did not wish to be named. "For instance, up to 300 patients visit the urology department for out-patient services but there are only two consultant doctors. Quality care will be compromised when one doctor has to see over 150 patients in three hours. The same doctors have to attend to patients at the wards (including emergency), conduct surgeries and also engage in their academic duties."
Without adequate staff, many of the hospital's resources are underutilised. After the 2015 earthquake, the Japan International Cooperation Agency had constructed a new three-story building which can accommodate a hundred beds. The building, which is for gastroenterology, cardiology and nephrology wards, was handed over to the Ministry of Health and Population first and later to the hospital by the aid agency in May. But three months later, the building has not come into operation due to a lack of staff.
Hospital administration said that it had demanded an additional budget and human resources to bring the newly constructed building into operation, but the Health Ministry has yet to respond.
Health Minister Upendra Yadav agreed that there is a problem with Bir Hospital, but said he is powerless.
"No matter who the [health] minister is, he can do nothing except deliver speeches," Yadav admitted on July 3 at a programme organised to unveil the country's health policy. "A minister is not going to perform surgeries. We need doctors for that, and we don't have enough doctors."
Yadav admitted that there were significant problems with the country's public health sector but his ministry just didn't have the budget for it.
"It is difficult for us to even organise a press meet with this budget," said Yadav.
The government has allocated Rs68.78 billion in the budget for the upcoming fiscal year for the health sector, 4.48 percent of the total Rs 1.53 billion budget. But a large portion of this will go towards the salaries of staff and on carrying out day-to-day tasks at government hospitals, with little left over for new hires. Bir Hospital's budget for the last fiscal year was Rs 2.1 billion, but the hospital administration says this is not nearly enough.
"Health facilities can hire manpower on a contract basis, but the problem arises when these staffers gain experience. That's when private hospitals offer better pay and poach them," said Onta. "This problem can be resolved if the government just makes those staff permanent. But that will require a bigger budget, which actually will not be a big burden on the state."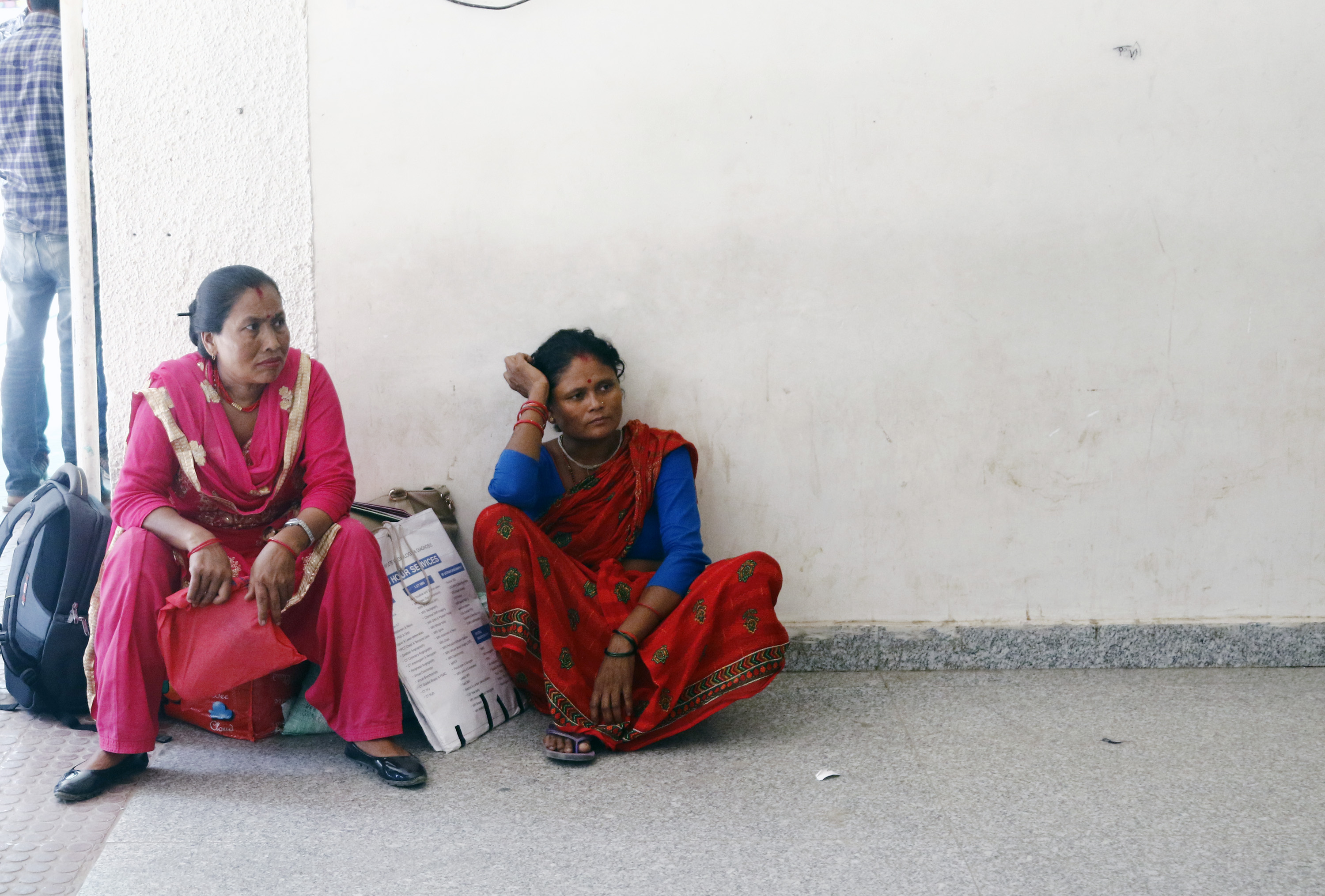 A severe lack of specialists has meant that patients often end up waiting for days. Keshav Thapa/TKP
Bir Hospital's perennial human resource crunch can largely be attributed to not creating additional posts of doctors, nurses, technical staff for a long time. But there are more pervasive problems at the country's biggest hospital.
As a government-run institution, the hospital suffers from the same problems that plague many other state-run bodies: politicisation and mismanagement, according to Dr Swyam Prakash Pandit, former director of Bir Hospital.
"Despite having dozens of experts, we are unable to provide effective services to the patients when private hospitals have better services with limited manpower," said Pandit. "The hospital lacks doctors, nurses and other staffers but if all the existing staff fulfill their duties, a lot of patients will benefit. But the issue is that most of the staff are part of employee unions that are very politicised."
According to Pandit, hospital employees spend more time taking part in union meetings and other political events than attending to patients and their hospital duties.
But the problem with political interference goes deeper. As it is government operated, Bir Hospital's leadership changes whenever there is a change in government, and the new health minister appoints people they are close to. This has a knock-on effect, where the new leadership then transfers hospital employees based on their political leanings.
"Incumbent office-bearers have even transferred an electrician from the store," said the former director who also asked to speak on condition of anonymity. "An endoscopic assistant has been assigned to work in the procurement unit without ensuring his replacement."
According to the former director, transfers tend to take place into and out of the procurement unit since that is the department that deals directly with tenders and money, providing opportunities for graft.
"Several pieces of equipment that have been purchased for millions of rupees, like intraoperative CT-Scan machines and tomotherapy machines, have been gathering dust as office bearers are not interested in bringing them into operation. They're only interested in the procurement," he said.
The wait for some complicated procedures can lengthen into months. Keshav Thapa/TKP
There is also a general apathy from the leadership, according to both current and former hospital officials. The gastro ward's endoscopic retrograde cholangiopancreatography machine has been out of order for three months but the administration hasn't bothered to fix it, despite the fact that Bir is the only public hospital in the country that owns this machine. The hospital's CT-scan, angiogram and mammogram machines, along with numerous other pieces of hi-tech equipment, are also dysfunctional.
Even doctors themselves are engaged in malpractices. Senior doctors holding private clinic hours during their duty hours at Bir have been reported time and again. The hospital administration has attempted to address this problem by instituting electronic attendance, which has reduced absenteeism to some extent but the problem remains.
"Moreover, some doctors as well as other health workers have also been found luring patients to private centres for commission," said the former director.
The problems with Bir are numerous, but for patients like Laxmi Prasad Niraula, there are few other alternatives. Too poor to afford private care, or even care at moderately priced public hospitals like the Tribhuvan University Teaching Hospital and Patan Hospital, Niraula has no choice but to wait it out.
"The hospital is a mirror of the country, where the people are able to judge how responsible the government is towards its citizens," said Thapa.
If that is the case, then Bir Hospital is an example of just how little the state cares about its citizens.
Dear reader, we'd like to hear from you. We regularly publish letters to the editor on contemporary issues or direct responses to something the Post has recently published. Please send your letters to tkpoped@kmg.com.np with "Letter to the Editor" in the subject line. Please include your name, location, and a contact address so one of our editors can reach out to you.
---