For limbless children, this organisation is here to lend a hand
e-Nable Nepal is providing free 3D printed artificial hands to children without one.

Eleven-year-old Prativa Adhikari of Bhotewodar in Lamjung was born without right hand. Courtesy: e-Nable Nepal
bookmark
Published at : August 22, 2019
Updated at : August 22, 2019 11:39
Kathmandu
Seven years ago, nine-year-old Sanjit Kumar Thakur was flying a kite from the roof of his home in Budhanilkantha when all of a sudden it started pouring. The rain soaked his kite, and it landed on a live wire. A high voltage current passed through the soaked rope, electrocuting Thakur and rendering him unconscious. His family immediately rushed him to Kanti Children's Hospital in Maharajgunj, where Thakur gained consciousness after a month. His right hand had to be amputated.
Since the accident, Thakur has struggled to learn to do everything with his left hand, which has not been easy. But three months ago, Thakur, who is now in the tenth grade, received great news: he was going to receive a 3D printed prosthetic hand.
This was made possible by e-Nable Nepal, a non-governmental social organisation that consists of educationists, journalists, philanthropists and Non-Resident Nepalis from Canada and America. The organisation is part of a global volunteer organisation initiated by Jon Schull in 2013 that creates free 3D printed hands and arms, with chapters in over 80 countries.
The prosthetic hand has enabled Thakur to make use of his right arm again. He can now shake hands with his friends, ride his bicycle, carry lightweight objects and even juggle balls.
"Earlier, wearing a full sleeve shirt used to look weird. Now, I can wear my school uniform and I don't feel weird not having a hand. The prosthetic arm has given me my confidence back," said Thakur.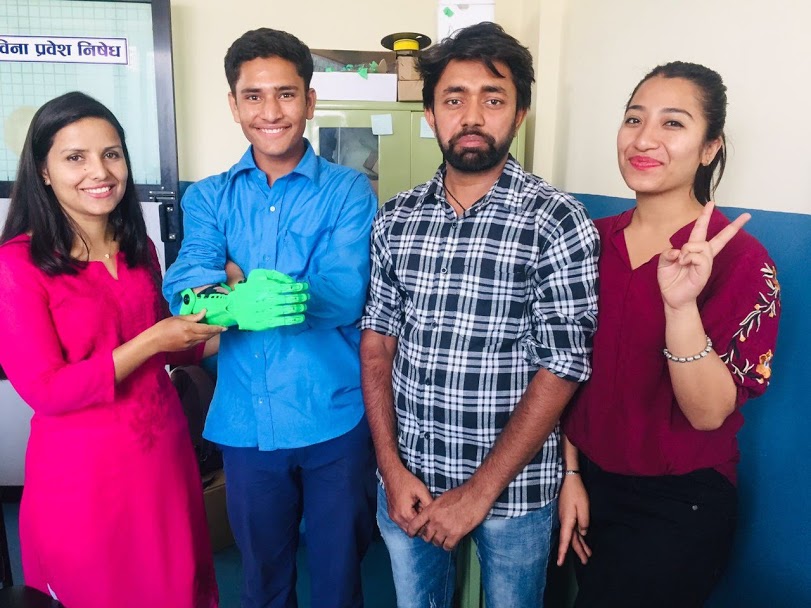 Sanjit Kumar Thakur (second from left) poses for a group photo after receiving a 3D printed prosthetic hand at e-Nable Nepal's office. Courtesy: e-Nable Nepal
Prosthetics are devices designed to help those with full or partial limb loss. Thakur, now 16, is currently preparing for the Secondary Education Examination from the Adarsha Higher Secondary School in Thimi.
"I have never seen Sanjit this happy before," said Lal Babu, Thakur's father, who sells chatpatey for a living. "We only know the real value of things when we lose them. It's a miracle that my son has received a new chance at life."
Unlike Thakur, 11-year-old Prativa Adhikari, from Bhotewodar in Lamjung, was born without a right hand. Her mother Rita learnt of e-Nable Nepal from relatives who lived in Kathmandu. She came to Kathmandu along with her daughter last month to get a prosthetic hand.
"We are grateful that we received it for free. How else would working-class people like us obtain such machines?" said Rita.
With her new hand, Prativa is now able to do minor tasks, such as carrying light things. But she has not been able to adjust to going to school with an artificial hand, said Rita.
In the past year, 60 other children between the age groups of five and 16 have received prosthetic hands from e-Nable Nepal. These children are from across the country—Sarlahi, Birgunj, Pokhara, Baglung, Butwal, Sankuwasabha, and Chitwan.
e-Nable had started providing free prosthetics from July last year, after establishing a 3D printing lab with five machines donated by e-Nable Canada. Rishi Shrestha, a Non-Resident Nepali mechanical engineer, brought in Peter Byron, founder of e-Nable Canada, to train four volunteers on 3D printing. It takes 24 to 48 hours to make a complete artificial hand, depending on the size. Children can also choose the colour of their new hand. The organisation currently carries out its operations from the Sinamangal-based Nobel Hospital.
"It feels good to see smiles on both children and their parents after they receive a new hand," said Shikshya Gautam, manager of e-Nable Nepal, which currently operates out of the Sinamangal-based Nobel Hospital.
The nonprofit is currently looking forward to introducing a bionic hand that will work under the direction of the human brain, and also to extend facilities to all seven provinces, said Hemanta Gautam, vice-chairperson of e-Nable.
"We have already consulted with the province chiefs and municipality mayors so hundreds of school-going children can have prosthetic hands," said Gautam. "If we can reach every corner of the country, we can help so many children."
---
---